Work Culture Transformation
Is the office outdated, a relic of the past, a burden on the transformation to a new world of dynamic workplaces? The short answer is: no.
Drawing on new data, remote work and office presence do not have to be an either/or proposition. Instead, the two can be complimentary. Understanding how dynamic workplaces can look and what lies beyond "9 to 5" will help you to remain on the cutting edge of work culture transformation.  
Questioning the Status Quo: Why 9-to-5 Is Outdated
In order to understand where we're coming from and why the time of change is upon us, we need to go back in history. Henry Ford introduced the eight-hour workday in the early 1900s. Intended as a maneuver against labor unions, this decision marked the invention of the 40-hour workweek. The business perks for Ford quickly emerged: strong employee retention, higher productivity, and increased profit margins. 
What started as an exception became the norm by 1938. That's when the United States Fair Labor Standards Act set the maximum workweek at 40 hours.
Fast-forward to today: technology and digitalization have transformed how work gets done. Flexible hours, remote working options, and a schedule focused on the employee experience that adapts around personal needs are reshaping work culture. Companies can be local or multinational, with teams dispersed in different time zones and physical workplaces that are agile environments with evolving, open-plan offices and "hot-desking" solutions. 
The continuing Covid-19 pandemic certainly contributed to emerging discussions about reinventing the way we work and shaping how the future of work will look.
The good news is that one year of remote work has taught us a great deal about fostering employee autonomy. We are already in the midst of a transition phase away from micromanagement and toward greater employee empowerment. So, what comes after the traditional 9-to-5 workday structure?
Prioritizing Flexibility: The 3-2-2 Model 
Although the pandemic has driven change at the workplace, it is by no means the only trigger for it. Knoll Research from 2011 already identified five major key drivers for dynamic workplaces. Among them: shifting demographics, evolving technology, and the need for individual choice regarding workstyle. We saw a big shift away from traditional office settings toward open-plan spaces. Meeting rooms and "think spaces" evolved. This was before 2020. Nowadays the question is raised: what can a return to the office look like after Covid-19?
Harvard Business School professor Ashley Whillans has a prediction: the 3-2-2 model. The idea behind the numbers: Three days in the office, two days remote work, and two days off. According to Whillans, this could be the perfect middle way between work-from-home advocates and those who desire in-person interaction. This structure gives employees guidelines, while signaling respect for time constraints and mindfulness of personal schedules. Whillans suggests that "Employees will demand greater flexibility and organizations will require it." However, the individual implementation of such a working model will depend, of course, on the specific requirements of different sectors and regions.
Remote Work: The Perks and Pitfalls
Discussing a post-pandemic work scenario has also been part of the strategic planning of the People Experience team at Staffbase. We currently have 11 offices covering different time zones all over Europe and North America, and employ 450+ people. A distributed workforce was a reality for us long before the pandemic; however, we used to have a regular office presence. Now, we are looking back on 12 months of mainly remote work. We have conducted an internal survey to compare our learnings from this time with the individual experiences of our employees. 
The results show that there are two sides to the coin. While many employees came to appreciate the time savings generated by less commuting, negative effects on company culture were also seen.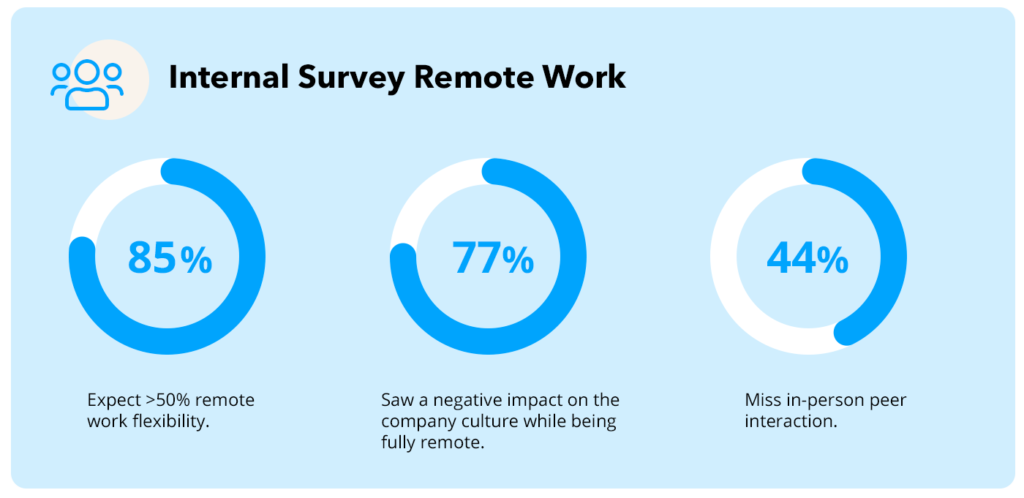 It is hard to replace spontaneous hallway talks with scheduled virtual alternatives. The informality of such face-to-face interactions is impossible to completely mirror in remote video calls. 
Our take on the aftermath of Covid-19 is to offer the best of both worlds and move towards a hybrid working model where employees can choose between office and remote work. Likely, the 3-2-2 distribution will apply to many employees at Staffbase. 
Distributed Workforce: Activating New Talent
Why are we asking Staffbase employees about their preferred ways of working? One answer is easy: in order to retain and attract diverse talent. According to the 2021 Work Trend Index from Microsoft, over 40% of the global workforce will consider leaving their employer this year. This alarmingly high number underpins the need for a thoughtful approach to new working models. 
With a hybrid work that offers flexible options for in-office attendance, companies can tap into a new pool of virtual talent. This will offer unlimited opportunities as it provides access to talent from anywhere in the world and removes the immediate need to relocate. Of course, as it does not come without pitfalls, such an approach requires extensive collaboration with legal departments. However, it is a great chance for recruitment to cast a broader net over the talent marketplace and activate new talent groups. 
Benefits of Remote Work Options
Remote job postings on LinkedIn increased more than five times during the pandemic. In the long run this could have a positive impact on the equality of opportunity. Recent data shows that underrepresented groups in particular benefit from remote work options.
For the big picture, it is also important to mention that remote work isn't possible in every work sector. The information and technology sector, where Staffbase sits, shows a high adaptability towards remote work after the pandemic. However, many jobs still require at least some physical presence, mainly in the manufacturing sector. 
Remote work potential isn't distributed fairly: the share of remote workers increases in proportion to the economic development of a country. However, in sectors with the need for a high physical presence, the pandemic made an impact in terms of workspace design, putting people's needs for health and safety in the spotlight.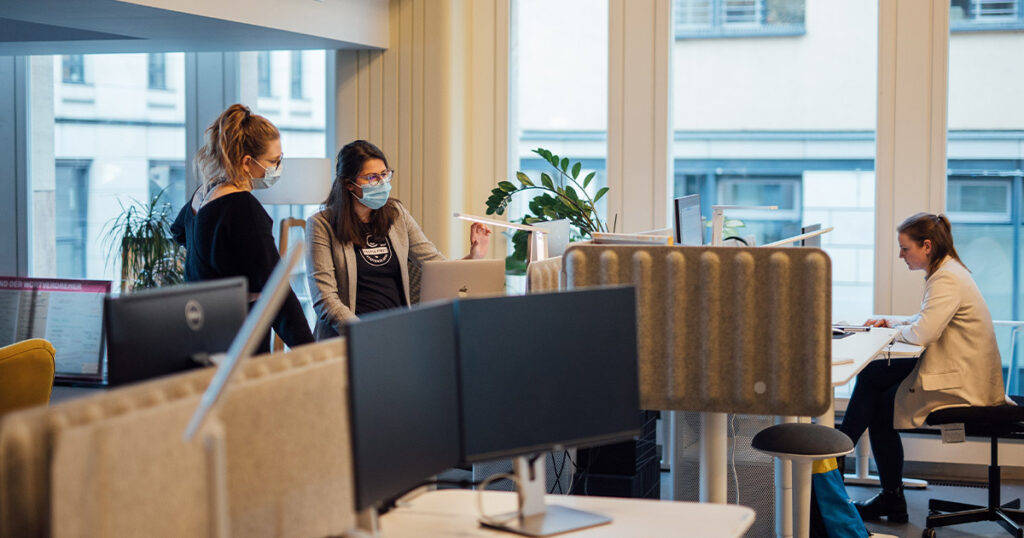 Remote Work and In-Office Time: A Peaceful Coexistence
At the beginning of this text, we asked provocatively whether offices are outdated and a burden on new work transformation. The previous paragraphs demonstrate that this is not the case. When talking about new ways of work, offices aren't slowing down transformation. In fact, they're an important component of it. The point is: dynamic workplaces with a greater focus on digitization and individual work modes will shape the future of working.
Remote work options, open-plan offices, individual office spaces with greater focus on silent work, and team spaces all go hand in hand. Together, they recognize the physical, mental, and social dimensions of work, and address individual needs to fuel productivity and enhance resilience. 
New work is paving the way for a shift toward a more employee-centered work environment, offering different paths for different needs. Spotify calls it "controlled chaos." We think of it as a new kind of empowerment. By providing a framework for workers that consists of clear expectation setting in regard to goal achievement and KPIs, executive leaders can create an environment for individuals to flourish, whether they're in the office or working remotely.