Did you know that 75% of employees would stay longer at an organization that listens to and addresses their feedback? Sure, your annual survey is one way to check in with employees, but shouldn't there be a way to hear from them more than just once a year?
How your employees feel changes moment by moment, based on their day-to-day experiences at work. If you want to understand what's really going on and identify potential problems before they become real ones, it's critical to check in with employees on a regular basis.
This type of feedback may sound like a big project, but it doesn't have to be. Today, we're excited to announce the launch of Quick Pulse Surveys, a new way to make day-to-day feedback a scalable part of your communications strategy. The new feature allows you to create and send fast check-ins to your employees, and get results to help you understand their in-the-moment feelings on a number of topics.
Check-Ins to Help Your Company Keep Getting Better
With Quick Pulse Surveys, your employees can easily provide feedback on the topics that are most interesting to your company at a given time. Find out whether your communications is really working for your workforce, start understanding what employees really think about company culture, and help other stakeholders understand how their work is seen by employees. Some example questions may include:
Your Company Communications
How well do you feel informed through our employee app?
How satisfied are you with the frequency of posts in our company app?
How would you rate our company communications compared to other companies you've worked at?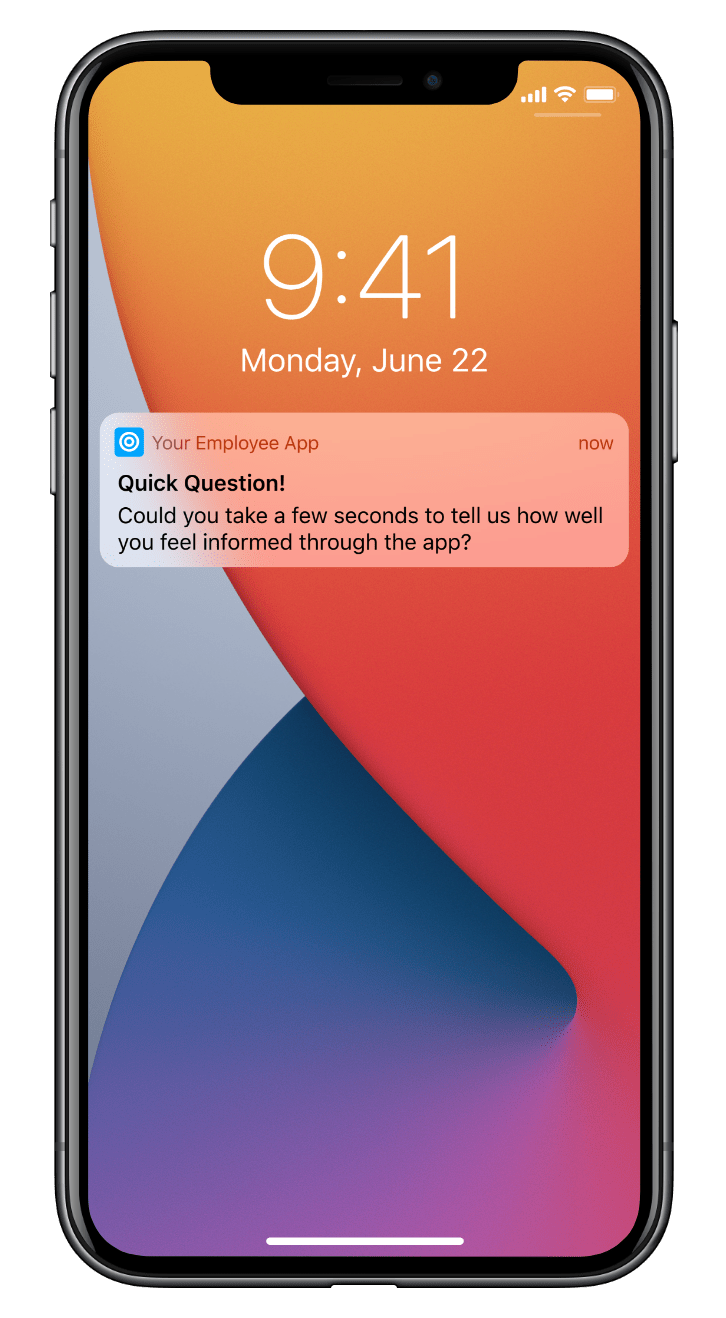 Company Culture
How would you rate our company culture?
How well do you feel that our culture supports your work goals?
To what extent do you personally identify with our company values?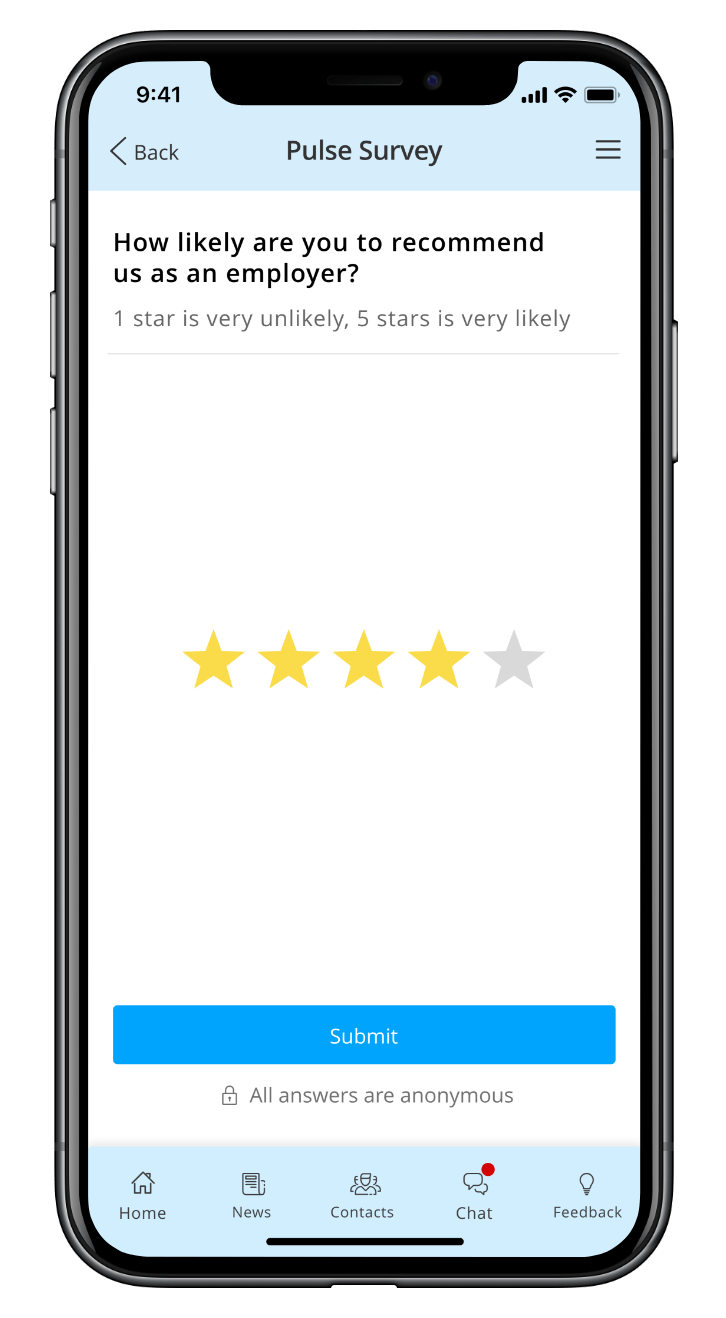 Management Initiatives
How useful and informative was today's town hall meeting for you?
How well do you feel like the new PTO policy meets your personal needs?
How clear do our company mission and vision seem to you?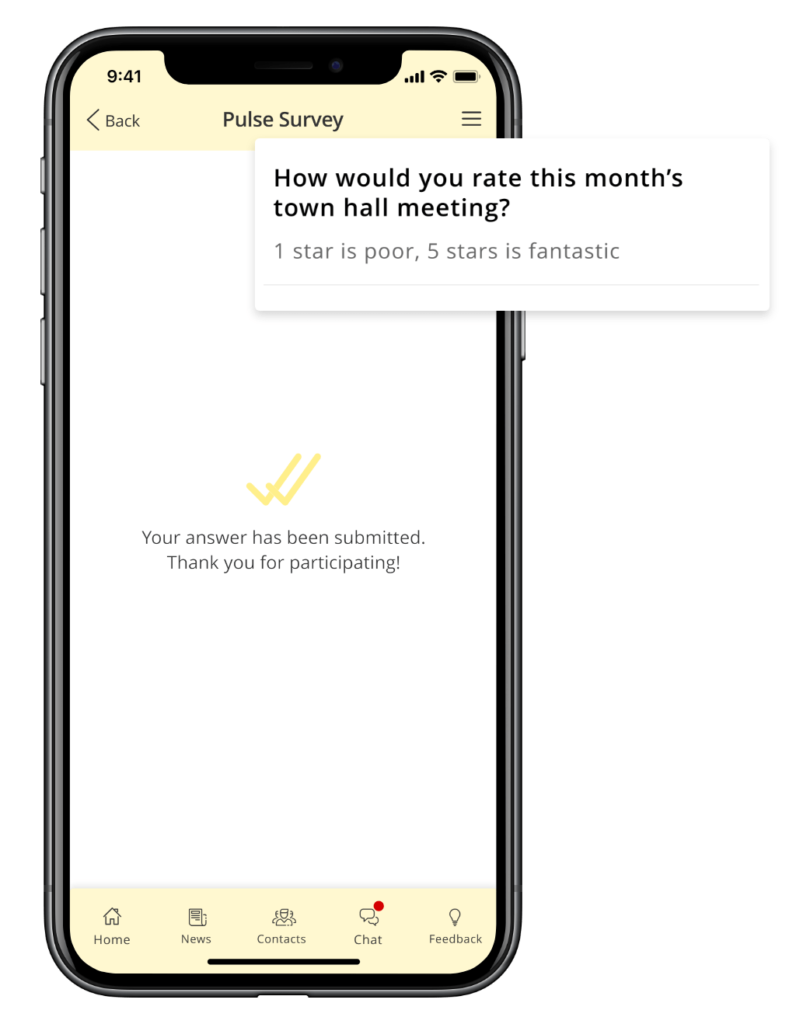 To ensure that providing feedback is convenient and accessible for every employee, each quick survey is delivered as a personal notification via their mobile phones, or in the notification center on desktop computers.
One Place to Build and Manage Your Feedback Loop
When your workforce is large, gathering day-to-day feedback may seem like a daunting task. But in the Staffbase Experience Studio, you have one place to easily manage all your surveys.
All it takes is a few clicks to create a Quick Pulse Survey:
Click on the Quick Pulse plugin in the Experience Studio, and hit "Create Survey."
In the planner, give your survey a title and a question, and decide whether it should be sent one time, or on a recurring basis.
Hit "Schedule" and watch results start coming in.
You can always see an overview of all of the surveys you have running at a given time, and note whether it's a draft, currently active, or has ended already.
Results That Help You Take Action
Driving a better employee experience is easier when you know how employees are feeling. Once you've published your survey, you can watch results come in directly from the Experience Studio. Track survey participation, check average ratings, and watch progress for recurring questions over time. 
All of the numbers are arranged in easy-to-understand graphs, so you can share your insights with stakeholders, and start informing changes that will transform your business.
How to Get Started
We believe that high-impact communications should include the voice of the employee, which is why Quick Pulse Surveys will be a free feature, available to all Staffbase customers. 
In March 2021 additional features for more complex surveys will be available to purchase as an addition to your Staffbase solution. Watch out for more information on what we'll be offering to help you up your survey game in 2021, and read more about our vision to include the voice of the employee in every communications platform here.
Whether you're a current customer or still considering Staffbase, we want to help you take steps to build a meaningful and actionable feedback loop, right in your communications platform.
If you're ready to get started, reach out to your Customer Success Manager, or schedule your demo today.
Read more about employee surveys: