What is the main cause of failure in transformation processes? Unfortunately, in most cases it's inadequate communication. However, presenting change successfully and bringing everyone on board is more business-critical than ever before. Internal communication plays a key role here. Only when the reasons, goals, and circumstances for change are transparent right from the start, can everyone ultimately be convinced of the value transformations bring. So, what does this have to do with internal communication trends?
Today's IC must constantly evolve and improve in order to meet the increased demands of transformation processes and, above all, to bring everyone along on the sometimes thorny path of change.
We've been thinking about what will be particularly important in internal communications in 2022 to meet these high demands. We've compiled the seven most exciting internal communication trends here. Feel free to let us know in the comments what other top priorities you see for internal comms in 2022.
1. CEOs are prioritizing communication and taking a leading role in its practice
According to the latest Edelman Future of Corporate Communications Report, the role of communications has become more materially important to CEOs, board members, and the C-Suite. 🥳 So it's about time to also get these executives themselves more involved in communications.
On platforms such as LinkedIn, CEOs are becoming increasingly present and sending very clear messages. What can internal communications learn from this? And how can it support CEOs in making similar efforts for internal comms?
Tips for effective CEO communication
The biggest hurdle is often convincing CEOs to become more visible in the first place.
Arguments against it usually include a lack of time and the personality of the CEOs (or a lack thereof). Some seem to be born for the spotlight, while others aren't even comfortable with video interviews. But especially in transformation processes, CEOs can no longer avoid taking a more active role in communication. Already, CEOs are having to become even more present in order to communicate the goals, reasons, and circumstances of necessary change in a transparent way. And to be truly successful, it's a part that only they can play.
So as an internal communicator, what can you do to make this happen?
Choose focus topics for CEO communication that are in line with corporate strategy. 
Develop special, but appropriate content formats . . .
Then follow them through consistently and post regularly.
Keep the CEO's personality in mind with all formats and ideas. For some, open Q&A sessions are the way to go; for others, it's smaller discussion groups.
Support where you can with the implementation of the formats and choose the ones best suited to letting your CEO shine.
Take care of community management and, if necessary, coordinate responses to questions by utilizing functions such as ghostwriting. The most important outcome is that employees feel heard. 
If you work for an international company, be sure to consider cultural differences when choosing formats! The understanding of hierarchy may be different in other countries and cultures than in yours.
CEO communication should be personal, and sometimes even a little emotional — employees want to see the human side of their CEOs.
There's simply no way around it: CEOs must be among the most important organizational communicators, and maybe even the main ones. By adopting an open and personal communication style, they not only create authenticity and transparency among all employees, but they also act as role models for fostering better leadership communication throughout the whole organization.
2. Communication is becoming more immediate — and more personal — than ever before
What do internal communications and TikTok have in common? 
Your first thought might be: nothing! But both are about storytelling. And that's where internal communications can learn a thing or two from the popular platform.
Whether or not you're a TikTok fan, the app has changed the way content is created and stories are told, especially for younger generations. It's fueling our trend to communicate more immediately while delivering very personal messages. In TikTok's algorithm, it's the quality of the content that plays a key role in determining reach, not the number of followers. 
The fact is, a short video that can explain a topic creatively and comprehensively is now more appealing to many than a long text. The classic news article on the intranet accompanied by a static picture almost looks old-fashioned. 
Experiment with formats and involve your employees
What can internal communications learn from this? 
Of course, TikTok style videos aren't suitable for every topic. However, in certain campaigns and also for important strategic subjects, capturing the attention of employees in a new and unconventional way can be very beneficial. Ultimately, your goal is to get your message across and make it understood by as many people as possible.
So, that's why the lesson of this trend is: Try new formats! Is it possible to explain your new hybrid working policy in a short and engaging video instead of a long written text? Is a printed hand-out really still the best format for onboarding and orienting new employees, especially young people? Or are there opportunities for incorporating digital formats like video snippets to illustrate key steps in onboarding here as well?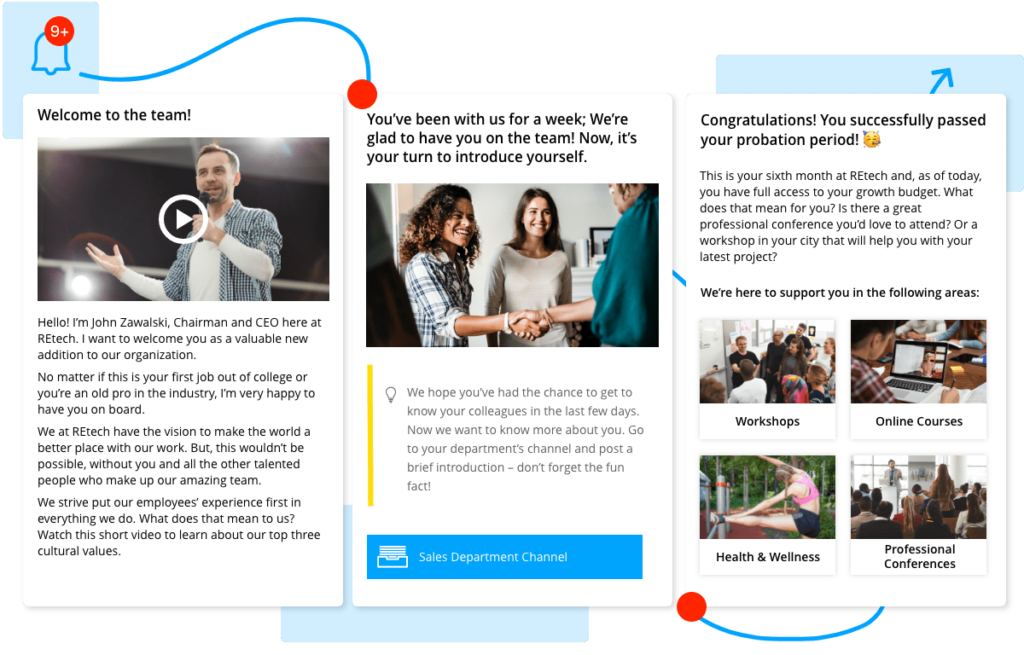 And because there's often an astonishing amount of creative potential right within your workforce, why not involve your employees in this effort? Organize a video challenge, for example, where all employees can submit a video on a specific topic and use it to tell their very own story. And maybe even win something. People love prizes! You can then feature these videos on your intranet or employee app, bringing fame and glory to your workforce. 😉

By making your communication more immediate and more personal than ever before, not only will you be giving your employees a voice and a platform for their own personal messages, you'll be encouraging them to try out new formats. As always, authenticity is key, and you can't get more authentic than that.
3. Internal communication is moving toward a multi-channel approach and reaching employees where they are
Trying to reach every one of your employees in a single channel never really worked in the past. So why should it be your strategy for the future? Internal communication trends are clearly moving toward meeting employees where they are. Not the other way around. This requires communicators to utilize a variety of channels: an employee app for frontline workers, an intranet for employees in administration, a communication channel in Microsoft Teams for project managers, screens in production halls for factory workers, email newsletters for sales and management staff. But does this mean that communicators have to individually manage an array of different channels or even different platforms? Fortunately, the answer is far simpler than that. 
The trend toward multi-channel intranets provides communicators with one place to bundle all of their communications: planning them, managing them, and then sending them out to different target groups in the channels where they're most likely to be seen. This practice also allows IC pros to measure the success of their communications efforts in a single place.
Internal communication trends make tech investment a top priority for 2022
Despite the clear benefits, getting budget approval for such technologies often still requires a lot of convincing on the part of the communications department. But there is hope: 70% of communications executives see investing in communications technology as a top priority for next year. The many recent mergers in the comms tech sector also paint a similar picture on the part of the vendors.
The multi-channel approach, which could also be called a "best-of-breed" strategy, allows companies to choose the technologies that best meet the needs of their employees. These technologies — including modern intranets focused on communication and culture building — are ultimately used only for what they do best.
The benefits of this platform and technology approach:
News and information reach employees where they are. Not the other way around.
Communication is reduced while relevance is increased for all target groups.
The option exists to "push" comms to specific channels.
Provides a single place to create and manage all messages and communications.
Communication success is measured centrally.
For a more detailed discussion of the multi-channel guiding principles, check out this informative article from James Robertson's Step Two. 
4. Email is still an important strategic channel for internal communication 
Many have confidently predicted the end of email communication. That includes us. But we were wrong. The fact is that the email inbox is still a place where employees spend a lot of time. Our motto is to meet employees where they are (see multi-channel approach), and that means email is and remains an important communication channel. So let's use it properly.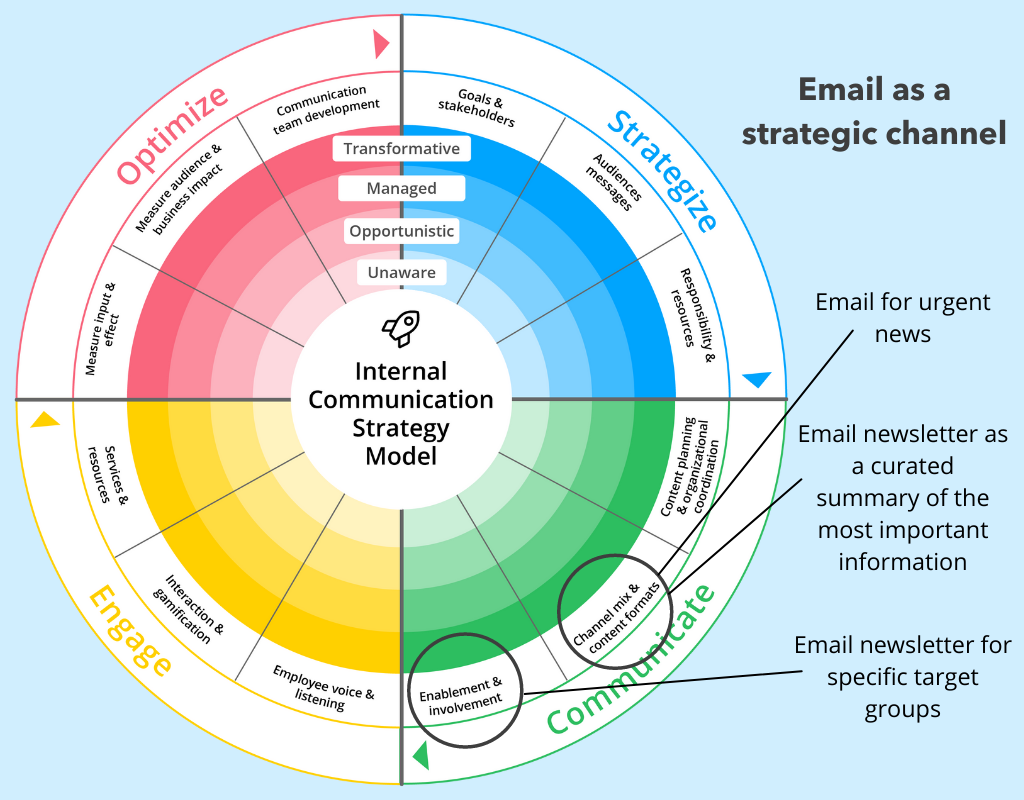 3 essential use cases for email communication in IC
We see three topics for which email will be important in the future, without triggering the dreaded email and information overload:
Email communication for important and urgent information such as lengthy security updates or detailed crisis communication. (But beware, only use email occasionally for emergency purposes, otherwise you'll risk being accused of crying wolf.)
A primary focus on curated summaries in the form of internal newsletters containing all-important information and links to interactive channels such as the intranet or employee app. These should be sent regularly so employees can come to expect them. (We recommend sending newsletters at the end of the week or on Mondays, at a specific time).
Email communication to specific target groups (executives, sales team, etc.), also in newsletter form and sent out situationally or even regularly. Here, the focus is on topics such as enablement or important weekly or quarterly updates.
5. IC is using internal influencers strategically
Do you know who your internal influencers are? If the answer is yes, then why aren't you including them in your communication strategy?
Just as in our private lives, the topic of influencers has become increasingly important in a corporate context. Influencers have always existed at work. The question is: How can their influence be used in the right way? By failing to give influencers a space on your own corporate platform, you run the risk that they find other, possibly informal communication channels and undermine your messages.
But how do you get your internal influencers involved in your messaging? A good strategy will depend heavily on the conditions in your company, your available platforms, and your desired goals. There's no guarantee that your internal influencers are also the brand ambassadors of your company. Nevertheless, you need a dedicated strategy for internal influencers that's integrated and aligned with your communication strategy.
Tips for a successful strategy to utilize your internal influencers
First, find your internal influencers. Who in your company fits the following statements? 
Has great intrinsic motivation, meaning that they're particularly committed and motivated without necessarily pursuing a specific goal.
Are fully committed to their topic.
Has a strong network and is the face of a community.
Build a relationship with these individuals and think about how you can work with them. (Above all, listen closely and fully understand your colleagues' motivations.)
If necessary, give your influencers the opportunity to communicate on your platform themselves (if possible, directly in specific employee groups, topic forums, or dialog formats).
Determine if the topics that your internal influencers advocate are strategically important and relevant to you (e.g., women's advancement). If so, give these topics a stage and highlight them with the help of the influencer in the channels where they make the most sense.
6. Internal communicators are learning to occasionally hit the comms "pause" button
Has the volume of your messages and notifications increased significantly over the last two years? It's no wonder, given the never-ending flow of crucially important news: New hygiene regulations, concepts for hybrid working, post-lockdown guidelines, changes to corporate strategy, etc.  It has been a lot. And even though we hope your crisis comms are gradually slowing down, there's still so much change happening that there remains a lot that needs communicating.
But let's face it, we're all exhausted by the constant information bombardment of the Covid-19 era, and not just in our professional lives. We've reached the point where we only want to know what's really important to us, and preferably we'd like to hear about it in a simple and straightforward way.
Your employees probably feel the same. (Is it time for a survey to find out?) So we clearly see one quality that's particularly important for the year 2022: Silence. Now, this might sound somewhat contrary to the goal of most communicators to be ever-present, reach everyone, and share as much information as necessary. And those goals remain as always. But what about the benefits of deliberate communication breaks; days, or even just an hour here and there when no one has to experience the fear of missing out?
How to embrace silence
As internal communicators, you know better than anyone that timing is everything. And that knowledge extends to knowing when not to communicate. Information overload is one of the biggest causes of poor employee "digital well-being." The constant alarmism of our news and the obsessive attention-grabbing tactics of social media all combine to overwhelm and demotivate our target groups — especially now in the context of New Work. All of it is putting your employees under stress. And that's the last thing you want.
Communication must be relevant. Your messages should help their recipients, not overwhelm them. Too many irrelevant messages and your audience will switch off completely. So, as you plan for the new year, be sure to include periods of silence in your internal communications, and give your audience a chance to hit "pause." Consult with your team or other stakeholders to decide the best way to time these important breaks. A well-planned editorial calendar will help enormously here.
Although this may be one of the more counterintuitive internal communication trends, there are two main points we want to make:
We need to communicate less! There's nothing wrong with setting fixed break times for official communication. For example, send no newsletters between 12 and 1 pm. Let people eat lunch in peace. No intranet updates on Fridays. That's when sprints are finishing and deadlines are being met.
We have to communicate better! Above all, that means giving employees a voice and letting them have their say. Use formats that allow them to speak for themselves or at least help them to better express themselves. But don't forget: Listening to what they have to say is just as important as giving them a chance to say it.
7. Listen up! New dialogue formats are flattening hierarchies in the new world of work 
Dialogue formats were an important topic in internal communications even before the Covid-19 crisis. And even then we knew that real dialogue was more than comments and likes on the intranet. Our advantage back then: live events were possible and a fixed part of our communications strategy. During the pandemic, creative remote formats emerged out of necessity. And now? 
Hybrid working is the new normal. And with it comes a host of new challenges for communicators. The days when employees were all under one roof are over. Which is why two-way communication remains more crucial than ever.
New dialogue formats need to be an important part of your communication strategy for the new year. Employees want to have their say and, above all, they want to be heard.
That's why it's crucial to heed one of the most important internal communication trends by enabling two-way communication with dialogue formats suitable to the new world of work. Doing so will help companies build a foundation of trust that will foster faith in change processes and, above all, help manage future crises.
Listening is a fundamental part of communicating
In this new world of work, in which everyone is more physically disconnected than ever, listening is just as important as telling. That fact is directly connected to the trend in silence: Use communication pauses to enable better listening, and establish formats in which active listening is possible. Create a shared understanding of good dialogue with all stakeholders and establish how feedback from conversations can be processed. What are your goals and how can feedback about reaching them ultimately be implemented? 
How can internal communications contribute?
Above all, internal communications must bring people together and offer forums and channels that enable open dialogue for everyone from every level of your organization, even, and especially, in a hybrid working world. You need to make it easy for employees to get involved and actively participate, well beyond comments and likes. 
How should such formats look?
Dialogues happen more quickly when there's a known place to bring common topics or causes in need of discussion. For example, when executives and managing directors are aware of the specific interest groups (e.g., the DEI committee) where direct conversations can take place and, more importantly, listening is possible. Simultaneously, open forums like these can prepare managers for the kinds of questions they can expect in the future.
Many companies bundle these types of forums under their own brand or in a series of events. In this way, a common thread runs through the various groups, all of which can be made available both situationally and regularly to any employee interested in voicing their opinion.
Such forums should be established as quickly and sustainably as possible. If you succeed in creating dialogue-oriented communication in the new working world of hybrid and remote work, you will reap the benefits even after the Covid-19 crisis (finally) ends.
Conclusion: Authenticity, relevance, and the right channels are key for a successful communication strategy
The internal communication trends discussed here should make one thing very clear: internal communications must continue to be bold and open to new ideas in 2022. But as important as it is to be able to adjust on the fly, good planning is more important than ever before. 
To ensure that internal communications can act proactively, a communications strategy that aligns with your overarching corporate strategy and goals is essential. Just as importantly, in order to be able to check the progress of your objectives continuously, you must be able to measure all communication efforts and their outcomes.
So, for the year 2022, make a resolution to define your communications strategy and the goals for your internal communications, and definitely keep authenticity top of mind. How can internal communications support the company's overall goals and initiatives? What are your most important messages and how can they best be communicated? And how can you get all employees involved and on board, even as more and more work from outside the confines of the traditional office? It will take some effort, but luckily for you, the tools are available to make it all possible. It's up to you, internal communicator! You can do it!
We wish you every success and a healthy 2022!
Read more about employee communication best practices: