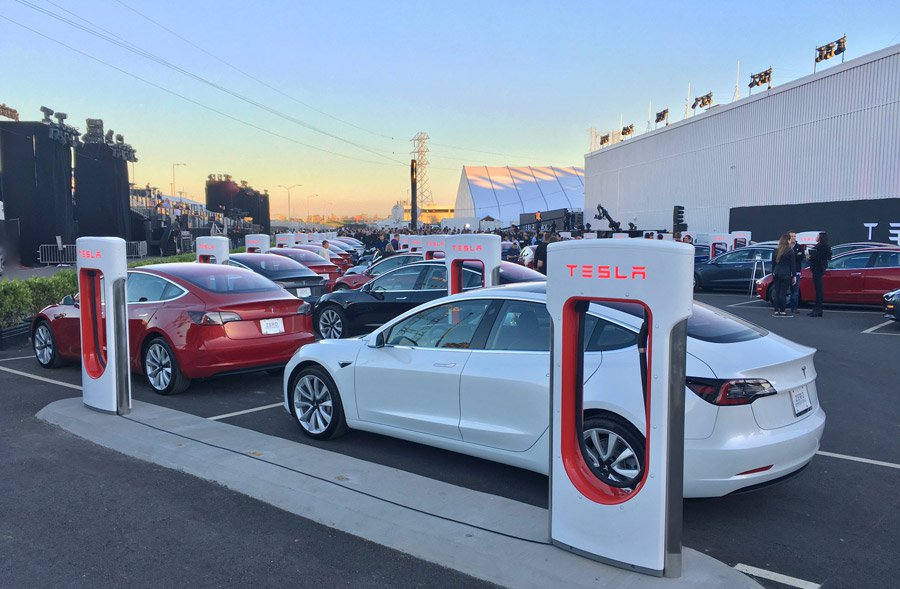 Some people don't like change, but you need to embrace change if the alternative is disaster."

Elon Musk, CEO, Tesla, Inc.
Managing change has become the key source of competitiveness in the automobile industry, which is in the midst of unprecedented, seemingly boundless transformation. Innovation is now the primary driver of anticipated business growth, with Tesla leading the way. In April 2017, shares of the electric car manufacturer surpassed Ford Motor Co. to become the number two automotive brand in the U.S. based on market value.
Automakers around the world have taken notice. Many industry leaders, speeding to adjust to this fundamental disruption, have recognized the need for an entirely new approach toward both their employees and their organizational capabilities. They know that the industry's digitization will create challenges as well as opportunities, all of which must be effectively communicated to workers at every level and touch point in the employee experience.
There's no question that the automotive trade is undergoing its greatest upheaval since leading the transition from the horse-drawn carriage. Tesla's Model 3, which began rolling off production lines in July 2017, has dramatically changed the field. Many car companies—including Daimler, Ford, General Motors, Volkswagen, and Volvo—have all begun ramping up their investments in electric cars powered by rechargeable batteries.
Japanese automakers such as Toyota and Honda are making heavy investments in eco-friendly cars, even exploring hydrogen powered vehicles. Volvo is taking these initiatives even further than its rivals, announcing plans to make all of its cars either fully electric or hybrid beginning in 2019.
And that's just the tip of the iceberg. While traditional car companies are taking an evolutionary approach to transitioning from ICE to electric vehicles, tech companies like Apple, Google, and Tesla have already set about building what are essentially computers on wheels. In 2018 the first publicly available self-driving cars will appear, and by 2020 the whole automotive industry will be in disruption. 
I believe the auto industry will change more in the next five to ten years than it has in the last fifty."

Mary Barra, Chairman and CEO, General Motors Company
Automakers are uneasy about the future. According to a 2016 global survey by PwC, 53% of auto industry CEOs agreed that there are more threats to the growth of their companies now than there were three years ago, compared to only 14% who disagreed. Asked how concerned they are with the speed of technological change, 24% replied "extremely."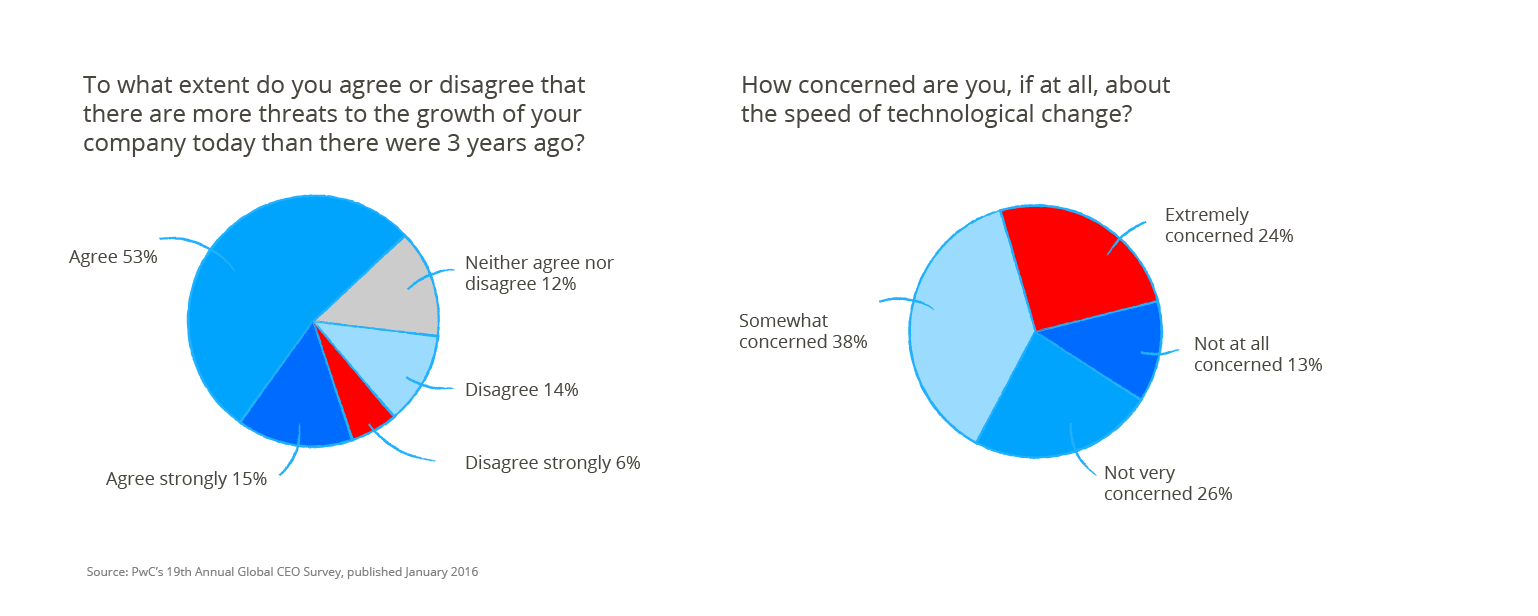 Communication Drives Innovation
The point is, the future is now in the automotive industry. Whether companies respond to change with an evolutionary approach or a revolutionary one, effective management in times of such enormous transformation means that organizations need to invest heavily in their people, optimizing their organizational capabilities in regard to education and adaptability. The first and most important step in any strategic plan for dealing with exponential change is to launch, learn, and adapt faster than ever before.
Implementing a cycle of "listening and learning" and "explaining and engaging," with shared information flowing freely up and down hierarchies and across functional and seniority levels, depends upon clear communication from leadership regarding new technical methods and cultural attitudes. 
Likewise, being able to nurture front-line, offline, and non-desk employees whose accumulated wisdom and experience can be a valued source of new ideas will give companies a head start on competitors who discourage such input. Efforts to engage employees at all levels, and to reach them at multiple touch points throughout the employee experience, can also be an effective means of assuaging the fear that naturally accompanies change, addressing the concerns of employees eager to know just where they stand in a rapidly changing landscape.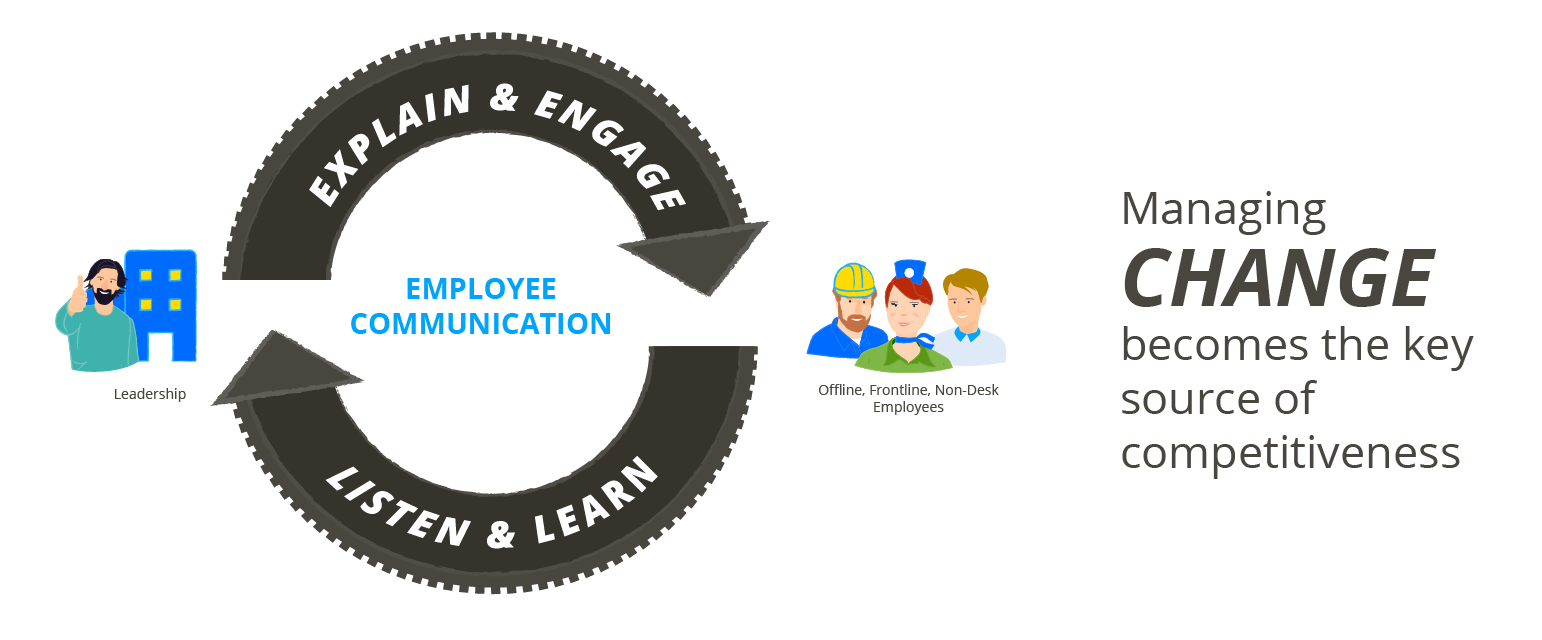 Employees with efficient tools for transferring wisdom and openly voicing opinions and attitudes—while also encouraging the creation of support groups which can disseminate best practices and corporate values—are bound to be better adjusted, more productive, and happier overall. The ultimate goal is to deal better and faster with change and to adapt and learn as an organization. Not only does digital communication help to better explain new ideas, it strengthens a quality possessed by all good communicators, the ability to listen.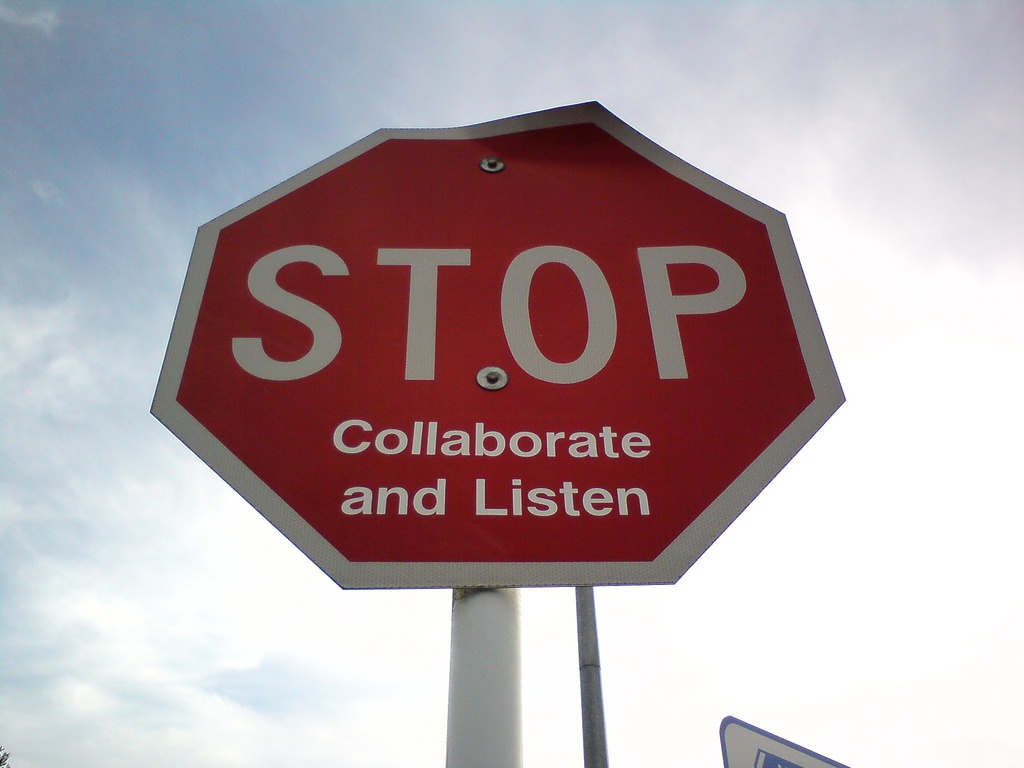 Managing Change with a Mobile Digital Communications Channel
Automotive companies have been using internal social networks for years in an effort to improve knowledge-exchange and learning, but all too often these tools were used by just a fraction of all employees. Digital communication tools, like employee communication apps or modern intranets on the other hand, are designed to reach everyone. This is essential. In order to be effective, strategies for dealing with change must be shared among all employees who—independent of their specific functions or location—will themselves become empowered to take part in the open exchange of information and opinion.
The resulting web of social networks will feature horizontal links that stretch across functional and geographic boundaries as well as vertical relationships that transcend hierarchies, for example in mentoring and teaching relationships. They will also foster informal bonds based on mutual interests and concerns.
Such connectivity allows the process of change to become a shared experience, better preparing employees across the board to embrace new ideas and cultural values. By fostering the creation of networks that flow in all directions and include employees at every level, a powerful tool like an internal communications app can become an integral part of the digital engine driving innovation in today's automotive industry.
Audi Brussels Leads the Charge in Auto Industry Transformation
      AUDI APP from Toast Agency on Vimeo.
One company that has already embarked upon a mobile digital approach to internal communication is Audi. The German-engineered automobile maker is one of the best selling luxury car brands in the world. Their slogan "Vorsprung Durch Technik" means "Advancement through Technology," and holding true to this motto, the company's manufacturing plant in Brussels has implemented the "my Audi Brussels" app. They use the app for a variety of practical use cases, all aimed at improved employee communication and transparency: news, events, comments and likes, chat, and "Say How You Feel" (a kind of "happiness calendar that many agile development teams have used to measure moods").
Audi believes that their employee experience app will enable them to get the best from all of their people and their organizational capabilities, gathering new ideas from everyone no matter where they are: the office, the field, and the factory floor. They know that just as the cars of the future will be connected, so too must be the people who produce them.
Read more about employee communication apps: