BYOD is short for "Bring Your Own Device," which is defined by Google as the practice of allowing employees of an organization to use their own personal devices for work purposes. This includes mobile phones, laptops, and tablets. BYOD policies can be a great way to increase worker satisfaction and convenience, and >74% of organizations are either utilizing this trend or plan to do so in the near future. The global BYOD and enterprise mobility market are expected to reach $296.4 Billion by 2030, up from just $94 billion in 2014.
Let's look at some of the advantages a BYOD policy has to offer particularly when it comes to effective internal communication.
What's that? Phones are already cool at work? Well then . . .
Mobile communication has been a best practice in our private lives for some time now, and the trend is flooding the corporate environment. More and more companies are establishing mobile-first internal communication channels lime employee communication apps or modern intranets and are asking themselves which devices serve them best.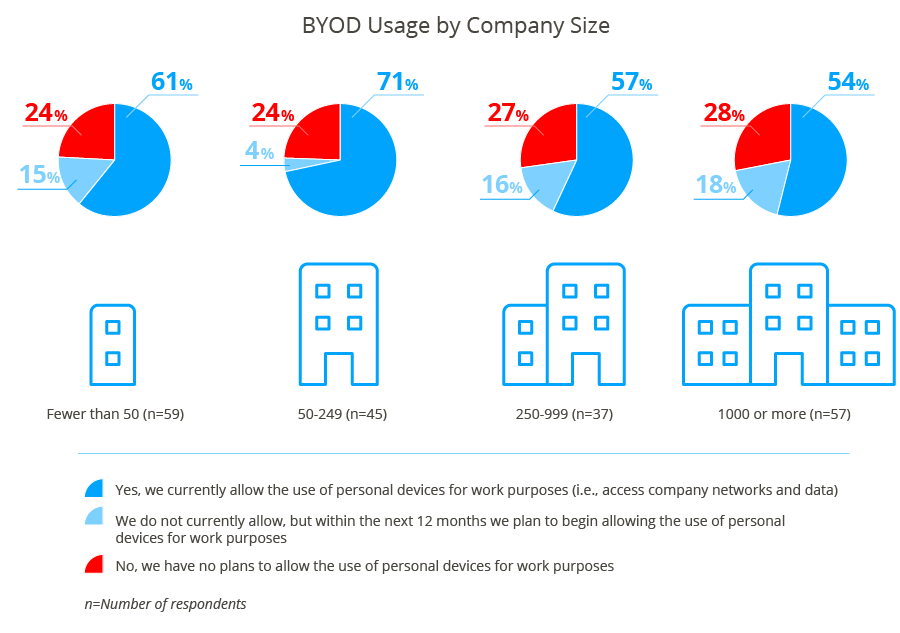 For companies with high numbers of non-desk workers, the discussion surrounding BYOD is especially important. Allowing a remote workforce to use their personal mobile devices enables companies to bridge the sometimes wide communication gap between desk-bound employees and their non-desk counterparts. But is it really a good idea to allow private devices at work? Aren't they a distraction?
The numbers say no. In fact, the story they tell points to the astounding success of private smartphones in the corporate environment.
1. 55% of high-performing, customer-oriented workforces already allow BYOD
The fact that more than half of today's top companies authorize personal device use at work should come as no surprise. According to Microsoft, 67% of workers use their mobile devices in the workplace. Smart companies have taken the initiative by successfully establishing BYOD practices, a decision that makes sense when considering that whether or not they're authorized to do so, a majority of your workers are already using their personal devices on the job.
2. According to a Forbes study, 49% of employees say that they're more productive when using their own device
People tend to avoid communication if forced to do so on a device they don't feel comfortable using. We're no longer working on desktop computers alone, but with tablets, smartphones, laptops, notepads, ultrabooks, smartwatches, and good old paper. People on average have five email addresses, three phones, two laptops, and four phone numbers, making it harder and harder to cut through the noise. To ensure that important information gets to your employees on the right channels, it's best to let them work with the one device they know best: their own personal smartphone.
82% of workers believe that smartphones play a central role in employee productivity. And collecting otherwise scattered information on a single device results in US workers saving an average of eighty-one minutes per week at work.
In addition, implementing BYOD means less time for training: employees are already familiar with their own devices and typically have the most up-to-date technology. This also results in a reduction in the time needed to complete tasks, which in turn increases productivity.
3. 78% of employees believe that using a single mobile device helps them to balance their personal and professional lives
As mentioned above, having all of your data accessible on one smartphone has several advantages for your employees. Not only is information accessible at all times, but it's easier to work with.
The bottom line is that BYOD can be easily integrated into the lives of your employees. This enables greater work–life balance and leads directly to higher productivity. Just consider the hours your employees spend commuting: work-related information received during this time is all the more likely to be seen and acknowledged immediately.
This of course means that employees face a certain trade-off with BYOD: they get better and more information to help them do their jobs, and it's available via the most familiar channel, but their private lives will sometimes be invaded by work. This is a compromise which many workers will gladly accept, especially if clear guidelines have been established that aim to minimize discontent.
4. Flexibility is one of the key factors for employee happiness
BYOD is part of workplace flexibility, which millennials in particular value as being one of the key factors leading to job satisfaction. Workplace flexibility in general increases loyalty, morale, and employee engagement. Personnel who are allowed to decide on the tools they use and choose where they use them have a greater work–life balance and are, as a result, not only more productive but also less likely to take sick days or leave the company.
5. Finally connect your non-desk workers
Richard Absalom, an IT consultant at Ovum, says: "Trying to stand in the path of consumerized mobility is likely to be a damaging and futile exercise." Private devices are so established in the daily lives of your employees that they're going to be used for work no matter what.
As for non-desk or remote workers, they have limited options for getting connected. They aren't provided with desks or phones, and they often feel left out of the information loop. By facilitating BYOD, you'll be able to reach all of your employees, no matter where they are, on a device that's very likely already in their pocket.
6. Save money, more than $1,097 per employee to be precise
Have you ever tried to calculate just how much money it would cost to provide all of your employees with corporate, mobile devices?
The average smartphone user spends $363 on their device. This cost can now be shifted from the company to the employee. When you tack on an additional $734 average per user for corporate data plans, not to mention regular updates, support, and insurance, this adds up to huge savings.
Setting Up a BYOD Policy
Once your employees are allowed to bring their own devices to work there are certain questions that need to be answered. Below are five topics that every BYOD policy should cover.
Acceptable use:

How is personal use handled? Should certain websites be blocked? Should the camera and video function be disabled? Are there areas in which the WiFi has to be deactivated? Do you need to determine a list of forbidden apps? Should there be a specific policy for texting?

Security:

Measures must be taken in order to avoid unnecessary security risks. Ask your IT department and

set guidelines for password protections, user session times, and rules for downloading attachments or pictures. Also consider limiting access to company data and carefully consider the content you make available.

Reimbursement:

One of the questions your employees will immediately ask is whether the company will subsidize the cost of devices and data plans. Be sure to set up a clear expense policy to avoid confusion, misinterpretations, or employees who feel unequally treated.

Risks and liabilities:

Make it clear from the start that employees are expected to use their devices ethically, and that disciplinary actions can be taken for noncompliance with company policies.

Devices and support:

BYOD covers a large array of devices, so it might be helpful to determine exactly which ones are allowed. Who in the IT department will be responsible for support? There must be at least one contact person and the exact level of support should be defined.
In general, our customers have experienced few if any problems with BYOD. While it's advisable to discuss your plans with your workers council, the trend is often eagerly anticipated by employees. After all, 84% of smartphone owners say that they couldn't go a single day without their mobile device.
Read more about employee communication apps: