Is your intranet fit enough to meet the demands of today's changing workforce? Or could it stand some shaping up? Read on for a summary of the six invigorating workouts from the 2023 Staffbase Intranet Bootcamp. We hope they'll give you a sense of what's in store when you download the entire program.
Think your intranet's got what it takes to kick some serious butt? There's only one way to find out.
Intranet Trends of 2023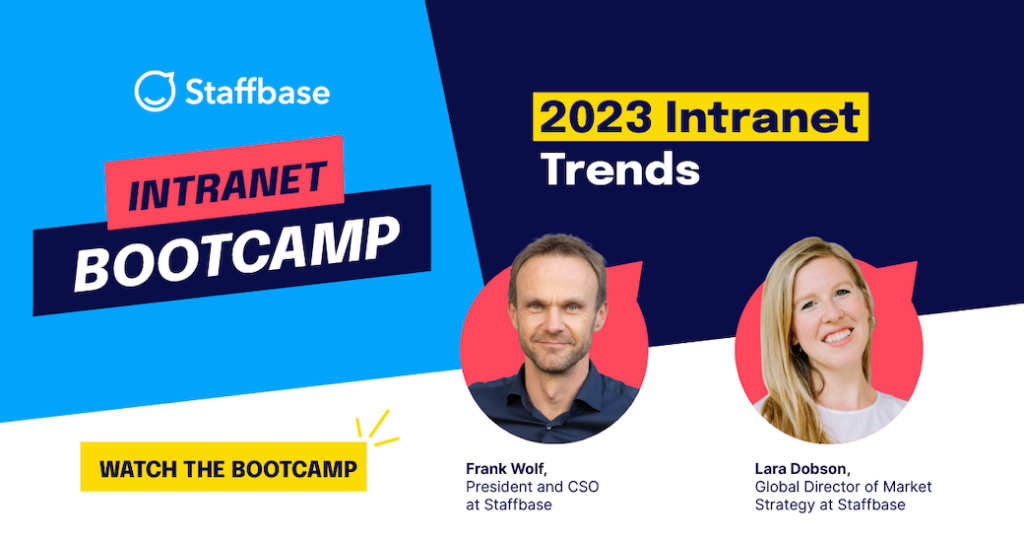 Does your current intranet meet the needs of a 21st-century employee? Staffbase co-founder and CSO Frank Wolf, and Lara Dobson, Global Director of Market Strategy, bring their expert insights to a lively discussion of the current trends effecting modern intranets and the benefits they bring to your workforce!
Join them as they take a deep dive into the power of branding, the increased focus on communication and multiple channels, and the movement toward less clutter and complexity.
KPIs & Everything In Between: Measuring the Success of Your Intranet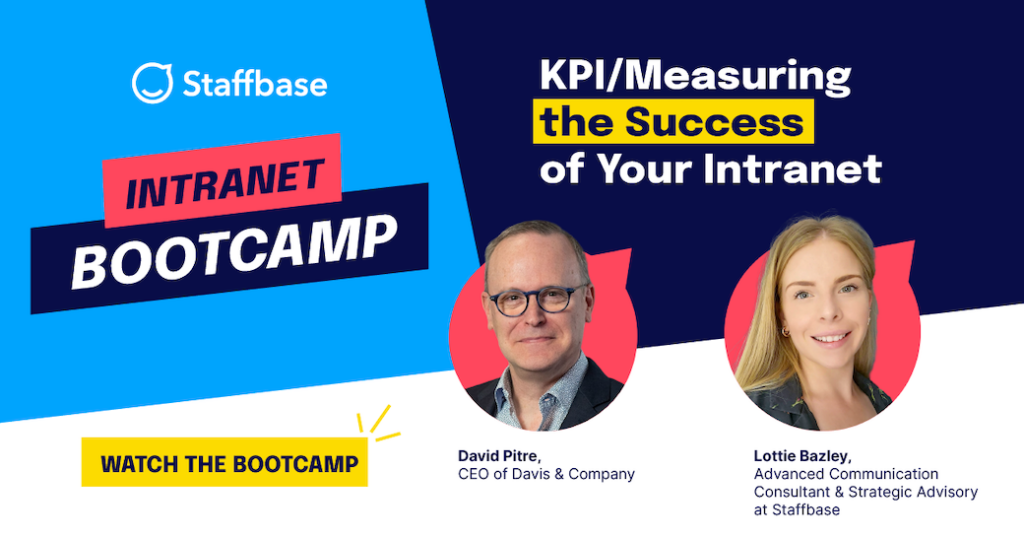 More and more of today's communicators are being held accountable for measuring the success of their intranet. For some, it's new territory. For others, it's about digging deeper. Learn from intranet experts David Pitre, CEO of Davis & Company, along with Lottie Bazley, communication consultant and strategy advisor at Staffbase. They'll discuss measurement best practices and the steps you can take to improve your metrics before they reach a dashboard.
In particular, they'll talk about how, when it comes to measurement, numbers alone aren't enough. They'll give the relieving advice that you don't need to be measuring everything. And they'll talk about the fact that success doesn't look the same for every company. Instead, they'll help you figure out the purpose and goals of your specific intranet. Their tips will help you make sure you're measuring the things that matter most.
Front Door Intranet + Microsoft 365: Dream Duo or Tools at Odds?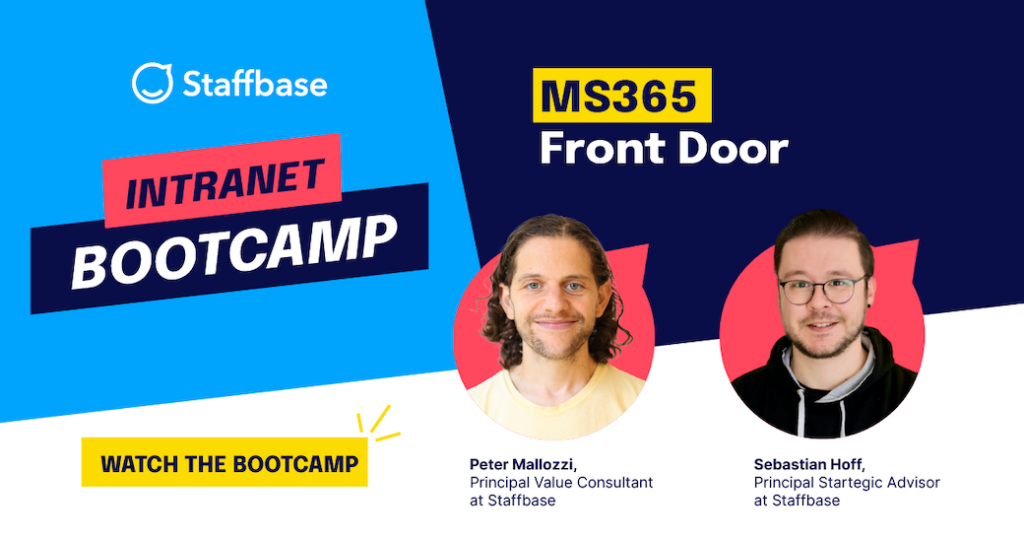 Intranets still consistently top the list of company communications channels, edged out only by face-to-face meetings. (Remember those?) Despite their popularity, however, intranets remain notoriously contested. This is especially true regarding their existence with, alongside, or in spite of Microsoft SharePoint and Teams.
In this session, Staffbase's Sebastian Hoff, Strategic Advisor, and Peter Mallozzi, Principal Value Consultant, unpack 2023's biggest intranet trends when it comes to independent intranets and Microsoft solutions. In particular, they'll explore the question, "Why is this an exciting time for intranets and how does it all fit — or not — with Microsoft 365?"
A Modern Intranet Migration "How To"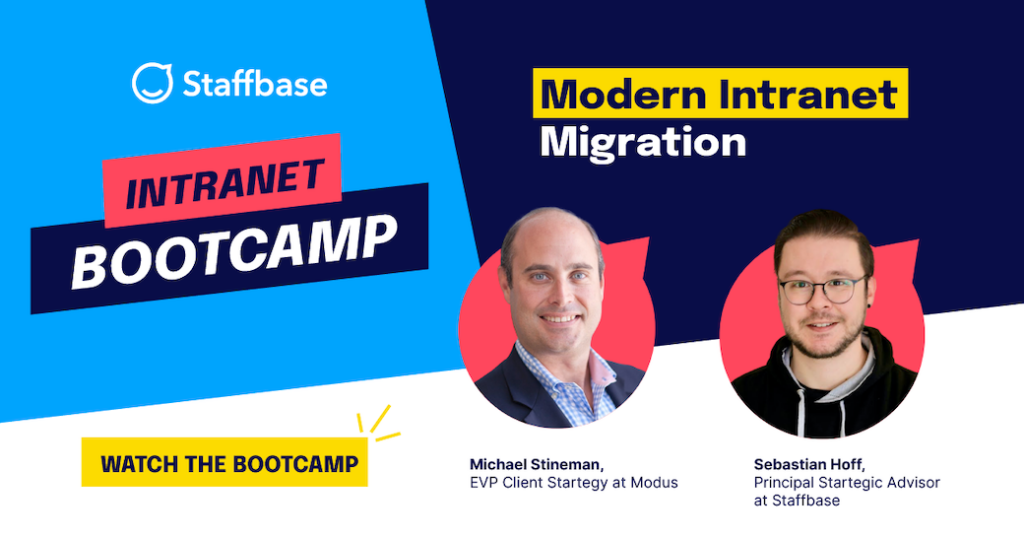 The time has come to switch over to a newer, more modern intranet. But there's one big question standing in the way: What do we do with all the old stuff? We get it. Knowing what to keep, kill, or edit is one of the biggest factors when it comes to the success of a new intranet.
Join industry-leading consultants Michael Stineman, EVP of Client Strategy at Modus, and Staffbase's Sebastian Hoff, as they share their views and best practices on how to use the migration stage to bring focus and purpose to your new system.
Make-or-Break Factors for the Intranet of 2023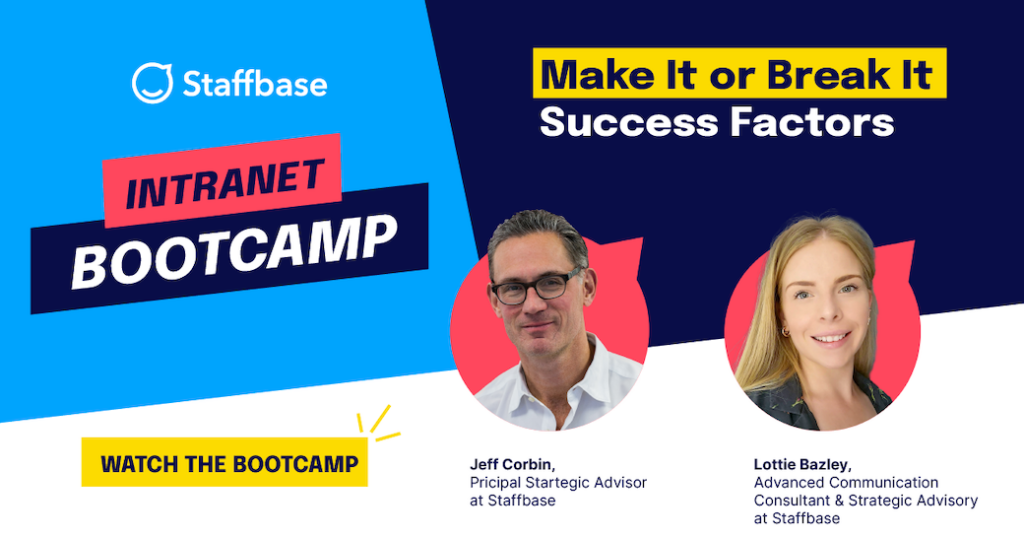 According to a recent intranet study conducted by Staffbase, 50% of all communicators are dissatisfied with their intranet. But why? In this session, Staffbase's Jeff Corbin, Principal Strategic Advisor, alongside Lottie Bazley, take us through today's top intranet challenges. Particularly in regard to the crucial areas of adoption and engagement, they'll lay out the essential success factors for implementing a new intranet or improving on one that's already there.
A Fireside Chat with True Platform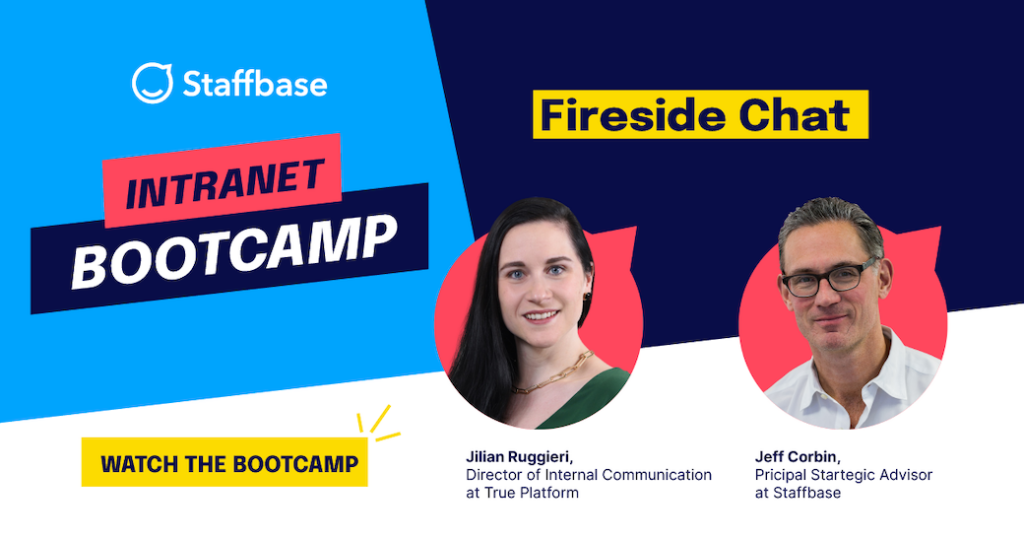 Jeff Corbin sits down with Jillian Ruggeieri, Director of Internal Communication at True Platform, to discuss how a modern intranet can be implemented with Staffbase. You'll learn how Jillian started the search for a modern intranet, how she worked closely with Staffbase to design and implement a platform unique to her company's needs, and her plans to engage and connect the entire True Platform workforce.