The brand is among the most important aspects of a company, evident in everything they do. From the website to the letterhead, a reminder of it should be present everywhere. The intranet is no exception, as internal branding is crucial to the success of a company.
Brands create trust, and a well-thought-out internal branding strategy can strengthen this trust and turn employees into brand ambassadors that augment the external brand. The intranet is a central platform that must capitalize in particular on internal branding in order to orient employees and create emotional loyalty.

According to the latest State of the Global Workplace report from Gallup, only 15% of workers report being highly involved in and enthusiastic about their work and workplace. With the remainder reporting "neutral" or "active" disengagement, it's more important than ever for companies to ensure buy-in to the internal brand. 
This becomes especially important during times of uncertainty like COVID-19, during which the employer has become among the most credible sources of information, according to the 2020 Edelman Trust Barometer. If the workforce is then also widespread or working completely remotely, the intranet is among the remaining touchpoints to engage employees.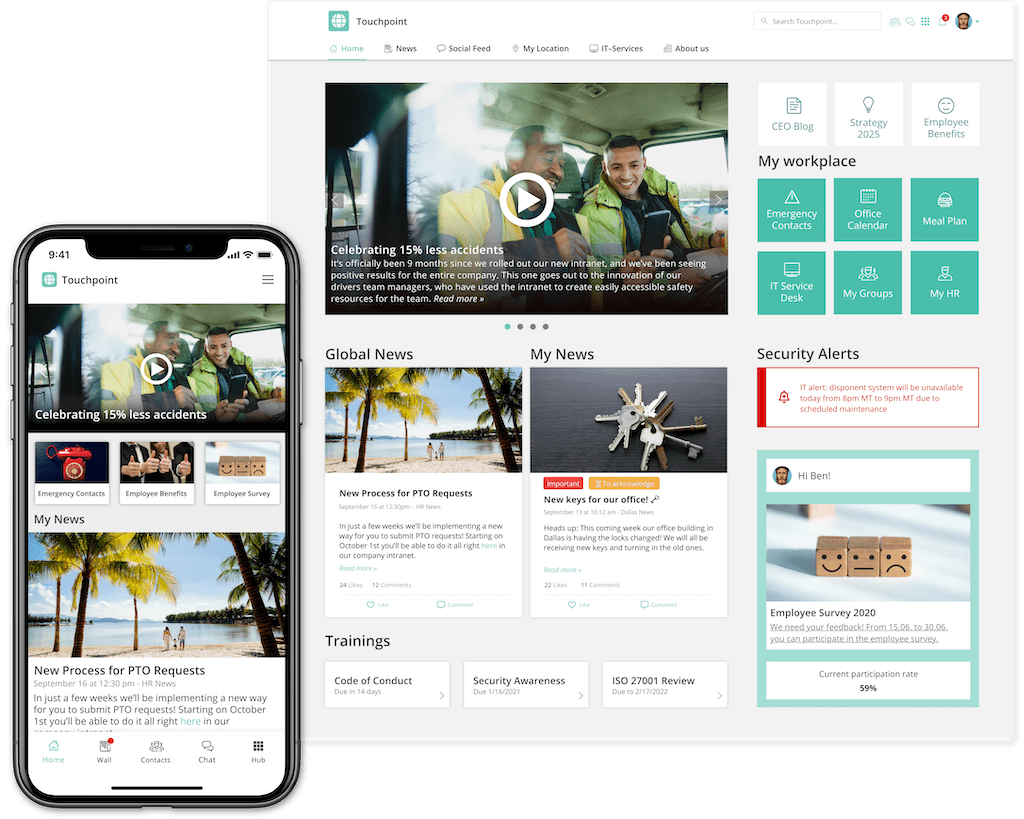 The 3 Most Important Benefits of Intranet Branding
1. Intranet Branding Creates Trust
Transparent communication plays a decisive role in building trust between employers and employees. Especially during COVID-19, a time in which there is so much uncertainty, lack of policy precedent, employee disparity, and everyday working life for most people simply looks different, communication platforms such as intranets must be available as a central access points that ensure employees continue to see themselves as part of a larger whole.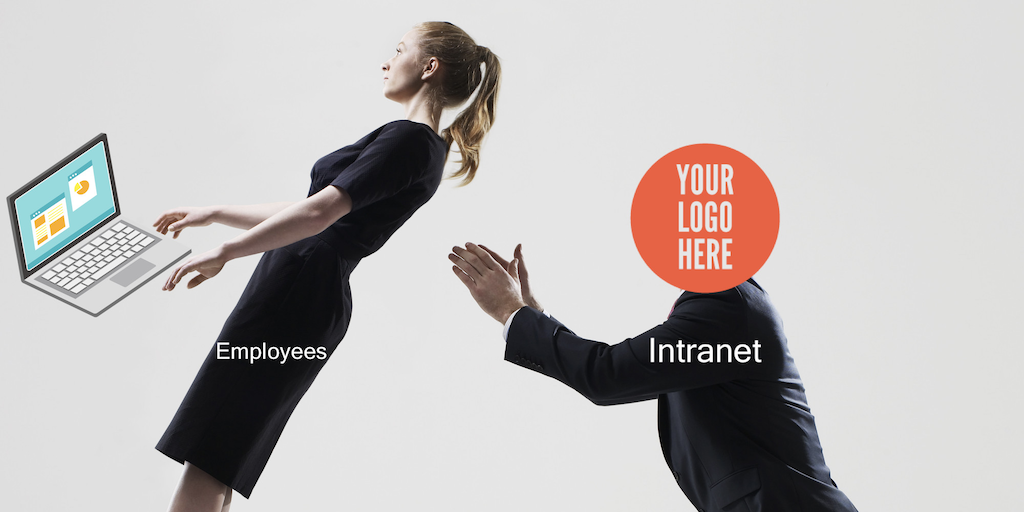 However, a nice name and intranet design alone do not automatically create trust. Above all, the content, structure, user-friendliness, and ease of use in everyday work make intranets trustworthy sources. The brand of the intranet should have a positive effect on user acceptance and help to build trust among your employees, but this is only possible if the platform delivers what its branding promises.
2. It Reduces Complexity
An intranet is, if executed correctly, the most important point of contact for employees to communicate with one another, find information, access features like lunch menus, or handle HR services like vacation requests. If the brand identity remains visible across these actions, maintaining a sense of trust, an intranet can significantly reduce work complexity for employees.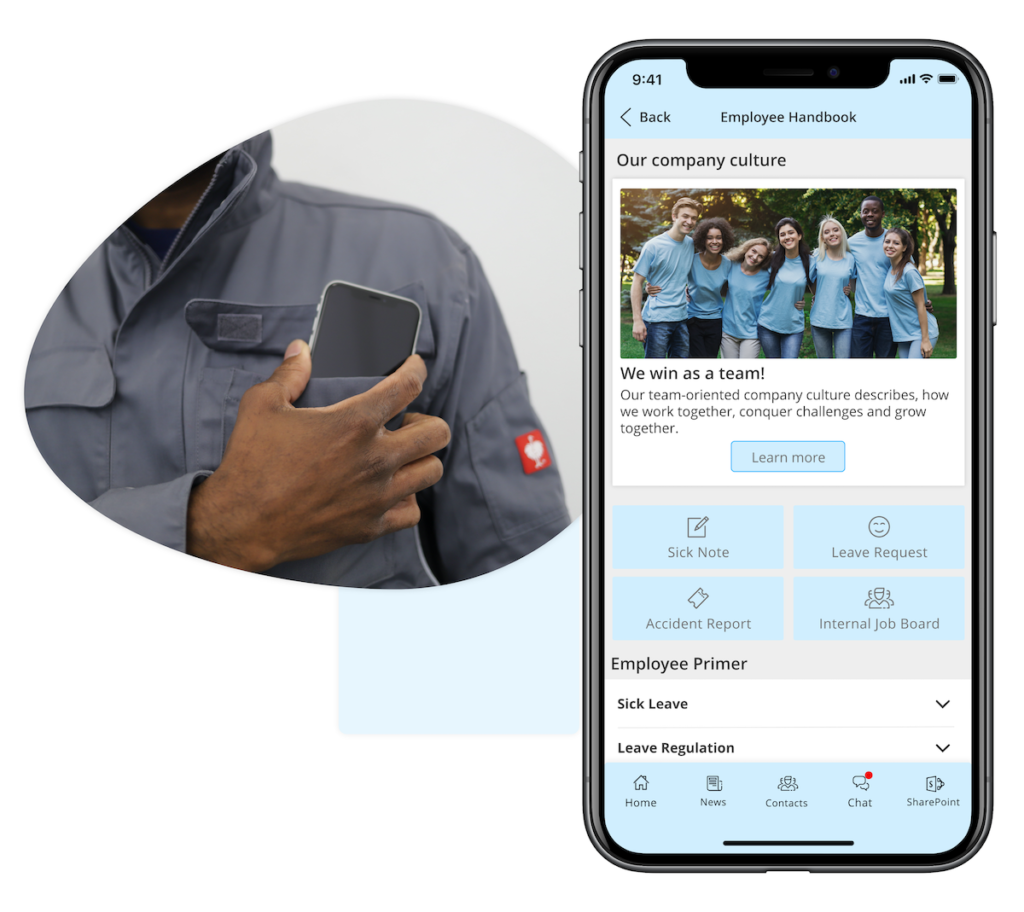 To put this into perspective, let's think of ourselves as consumers: How do we make purchasing decisions? Do we opt for the product we don't know that looks like all the others, or the one whose brand is familiar to us and whose values we like? 
Brand building deals primarily with these notions of trust and emotion. And trust helps to make decisions faster. With a constant flood of information, a strong brand plays a decisive role in recognition value.
If this thesis is applied to the employees of a company, they would sooner turn to a source they know, trust, and identify with. Branding should therefore give a clear sense of the purpose behind an intranet and its role in relation to your employees. To achieve this, it must have a strong identity. An essential part of developing this identity depends on its distinctive brand.
Official content and authoritative information must be instantly recognizable as such, even when employees also work with other tools of the digital workplace, such as Microsoft Teams. An intranet with its own name and consistent design from desktop to app makes it easier for everyone to find these official and important news items and it also brings the internal brand closer to everyone.
3. It Promotes Identification
Remote working is here to stay—according to research from Gartner, nearly three quarters (74%) of CFOs expect to transition previously on-premise employees to remote work permanently in the wake of COVID-19. 
However, despite the fact that employees have a demonstrated boost in productivity when working from home, this shift brings serious risk with regard to emotional disengagement. The longer employees are apart, the easier it is for them to disengage with the company emotionally, causing brand identification to suffer.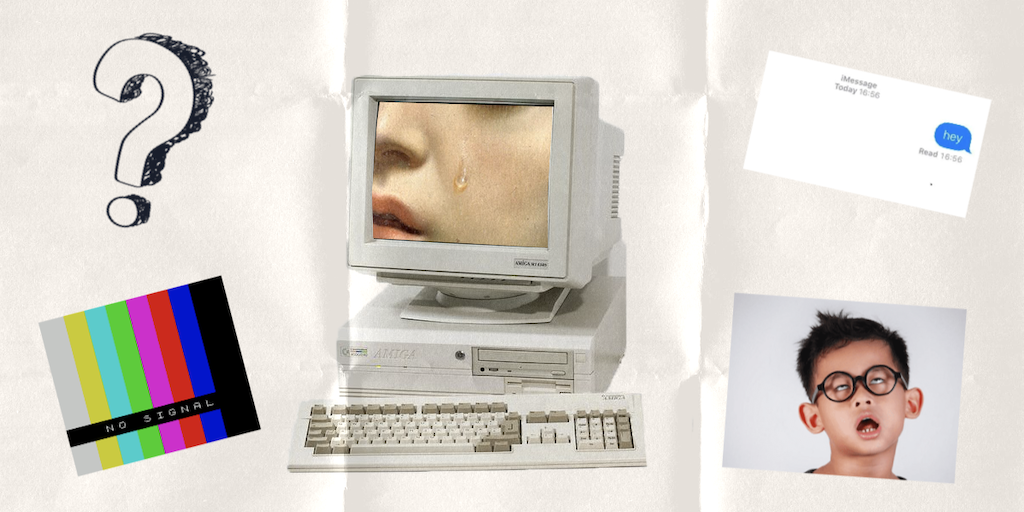 Well thought-out branding naturally promotes identification with the company, and an intranet based on brand and corporate values can improve identification with the company for all these target groups within an organization.
Intranet Branding: How to Start
1. Give it a Name
It's often argued that an intranet doesn't need a name and logo. It's simply "the intranet" and that's that. However, when it comes to establishing an internal brand and a suitable identity for your own intranet, names and logos play an important role. They are the first thing new employees learn about the intranet and see everyday after. A good name and logo give the intranet an identity and fosters a trusted connection, making a technical platform feel more personable.
The right intranet name increases trust and promotes identification with the platform. The name should therefore...
have a reference to the company and its values
have a high recognition value
be easy to understand 
be easy to pronounce and easy to remember.
This is trickier than it seems.
In just one or two words, an intranet name needs to capture the essence of the corporate culture, but encourage easy understanding of the role of the intranet. If everything is right, it will be the most used word in your company. 
Option 1: A name based on company values
As already explained, the intranet must embody the internal brand and thus also the corporate values. So why not choose a name for it that directly expresses all this? 
With an intranet name inspired by the corporate values, the steps are quite simple:
What are your corporate values?
What are the main goals of your intranet?
Which value best fits these goals?
Be creative and let the value live in the name.
Houston-based US AutoLogistics introduced a communications platform called "Flipper" in 2017 with the intention of creating an app with a memorable name that also has real meaning within the logistics work environment. 
In the auto transport world, a flipper is a short, hinged ramp on the back of a trailer which is integral in the vehicle loading process. For USAL, this naming embraced their core values of integrity, trust, and pride as it relates to their employees.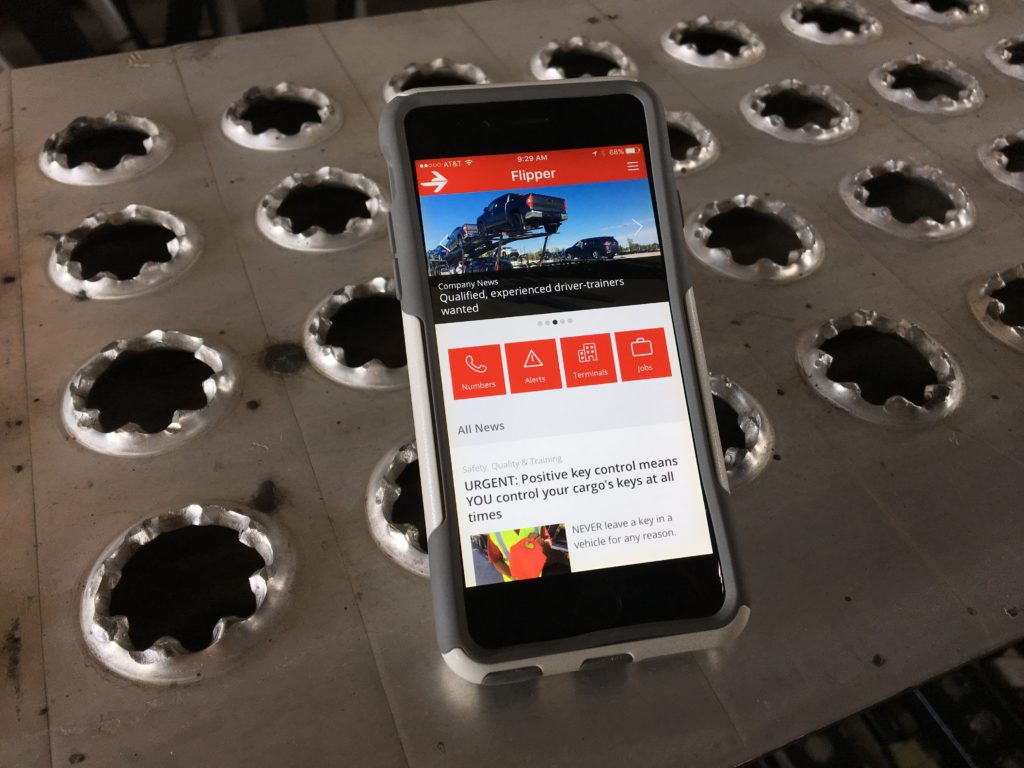 Option 2: A version of the company name
The name of the intranet should be easy to understand and have a reference to the company. The easiest solution, then, would be to simply use the name of your company. Even if this variant lacks creativity, it immediately creates a brand association. 
A combination with a term that ultimately reflects the aim of the intranet, or with a suitable prefix, is often the most popular iteration. 
Here are some examples:
My BayWa, My SRH: The prefix my can be used to express that it is a platform for everyone.
Heraeus touch, LGA Update, Attensam Inside:Additional words to the company name such as touch, Central, Update or Hub make the purpose of the intranet clear. 
SVC2go (City of Chemnitz): Abbreviations of the company or organization name make the name short and on the point. But beware: The abbreviation should be known to the employees, otherwise it might not really be a hit with your workforce.
Option 3: Industry puns
A pun that refers to the industry in which your company is located can result in many funny intranet names. A refrigeration manufacturer might call their intranet "The Fridge," which is conveniently more than just an industry reference—in a fridge you can literally find everything you need. 
SAK Construction, a construction company specializing in the restoration of pipelines, has named its platform "SAK Pipeline" to lightheartedly convey ideas of connection.
Option 4: Involve your employees
The intranet is intended for the employees. It therefore makes sense that they should have some say in the naming process. No matter which approach you choose, be it one of the aforementioned or a completely different one, you should always involve your employees in some way.
You can involve your colleagues in the following ways:
a naming competition
a survey
a vote
focus groups with employees from different divisions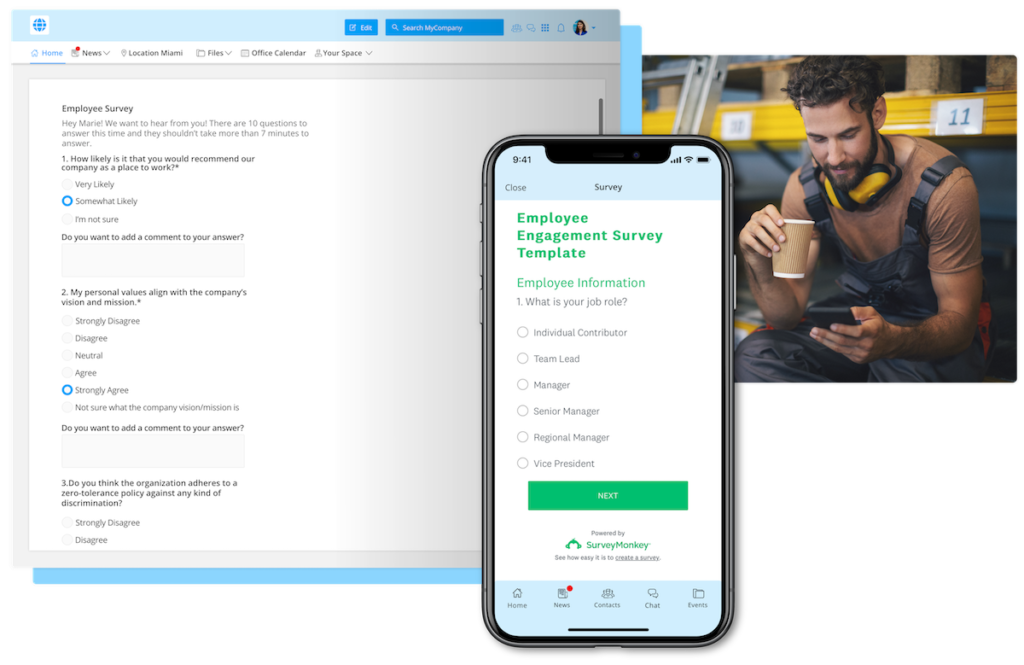 2. Design Your Intranet Logo
A logo is also crucial for the identity of the intranet. Like the external brand, a logo is something that promotes identification and has a direct connection to the internal brand. Furthermore, a logo can of course additionally express what an intranet stands for.
You should pay attention to the following things regarding the design of your logo. These generally also apply to the appearance of your intranet:
Recognition value: The logo of your intranet should be immediately recognizable, even outside the working context. A high recognition value is therefore important, be it through the colours or the specific design. In most cases, intranet logos are created in the company colors so that a direct reference can be made. In any case, it should express the identity and brand of the intranet.
Simple: The simpler the logo is designed, the better it can be internalized and recognized. The best logos are usually those that you could simply draw yourself.
Consistent: The logo should be visible on every page and within every function of the intranet. Integrated tools and services are of course an exception. Modern intranets are usually designed to be mobile and come with their own app. The logo should be the same everywhere.
3. Choose a tone and writing style for your intranet
While name and logo are important, the most important aspect of an intranet is ultimately the content. A consistent tone, or "house style," used to convey this content is crucial to the success of the internal brand.  
The language style, for example, can be quite different on the intranet than on the public website. Depending on the goals and purposes of your intranet, you can choose a casual style that appeals to employees more than the style of the company website.
Read more about modern intranets: