Storytelling is no easy task.
Believe me, as a writer, it can be tough to find the most engaging angle. There are countless books, guides, and opinions on how to craft a compelling story.
Storytelling is an art that is often overlooked — but with the right approach, it can help change the world.
As a communications professional, you know the power of compelling storytelling. Stories are crucial to engaging an audience and inspiring action.
Luckily, we had the opportunity to learn more about the skill from an expert.
At VOICES 2022 in New York, comedian, author, and documentary producer W. Kamau Bell sat down with us to talk about the art of storytelling. 
For his Emmy Award-winning docu-series United Shades of America, Kamau has interviewed many American voices to understand the challenges they face. From the ongoing struggles of Native Americans to the conditions of mass incarceration and even insights into the KKK, Kamau's goal is to tell authentic stories. 
He tackles tough topics with empathy and respect. And he also harnesses humor to cut through the tension and connect with his interview subjects.
Here are 4 powerful storytelling lessons W. Kamau Bell shared with us at VOICES 2022:
1. Listening is more important than talking
The biggest thing that people have to learn when dealing with sensitive topics, when talking to people who have issues that they are sensitive about, is how to shut up. First, you've got to shut up and then you've got to listen."

W. Kamau Bell
Telling an engaging story is impossible without learning how to listen first.
When we sit down to interview someone, for example, we shouldn't assume to know their story — or even our angle — beforehand. Keeping an open mind and actually understanding where someone is coming from is critical:
Sometimes we come from such different contexts. We're not really capable of understanding the nuance of people outside of our communities."
We all come into situations with our own biases. That's why it's so important to listen carefully in an interview. What are the nuances of your interview subject's story? How can you capture that person's story accurately?
As Kamau says, focus on the person whose story you are telling.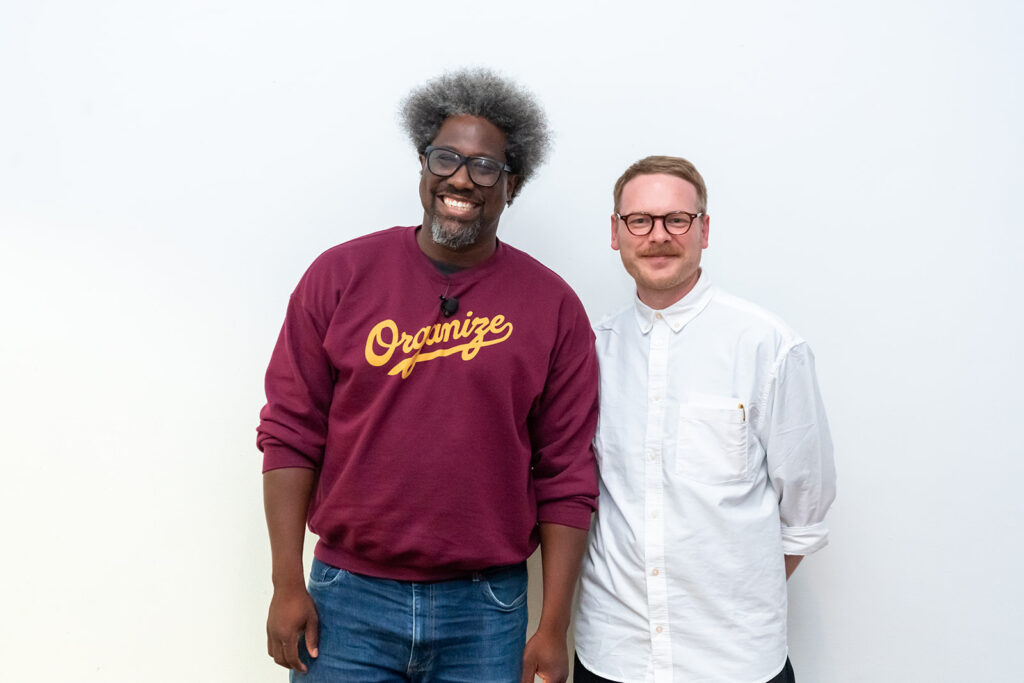 2. Make your interview subject feel valued
Right from the top of your interview, Kamau advocates for telling your interviewee that it's a privilege to be there and to ask questions:
"You have to make the person who showed up feel like you're lucky they showed up."
Make them feel comfortable and appreciated. This is especially important when people are nervous — it can help ease any tension, help you connect more one-on-one, and open your interviewee up.
Kamau also recommends repeating what your interviewee said to be sure you understand correctly. By doing this, you can show that you're actively listening. This also gives the storyteller an opportunity to reflect on what has been said and clarify any points. 
3. Be empathetic
"If empathy is a stock, you can buy it. It's low right now."
Kamau sees a deficit of empathy in the United States. Over the course of working on United Shades for seven seasons, this observation has impacted him deeply in how he approaches his work.
That's why Kamau has made it his goal to emphasize empathy in his interview style and storytelling.
He focuses on hearing someone's story without judgment or prejudice. Even if two people come from vastly different backgrounds, beliefs, and life experiences, they can reach common ground through empathy.
Kamau highlights a couple of key questions that storytellers can ask themselves to achieve this:
"How do I create empathy with this person? How do I let go of my preconceived notions and then build them back up through this conversation?"
But Kamau also points out that empathy isn't always easy to practice. 
For example, when your interview subject has opposing or troubling viewpoints, it can be hard to extend empathy — and understandably so. It's hard to find the right angle or to be excited. Sometimes you even forget why you've been trying to tell this particular story in the first place.
Kamau's recommendation is to focus on the person behind the opinions:
"How do I find a way to get through to this person, and sit with this person in a way where I am seeing them as a human being and not as an issue?"
Connect with your interviewee by seeing them as a whole person instead of reducing them to the issue they might represent in your mind. And never put yourself in the position of speaking for others, even if you disagree with them. This is especially important to make sure everyone is accurately represented and will be understood by your audience.
4. Engage your audience and inspire them to act
When you emphasize listening, making others feel valued, and practicing empathy in your storytelling, you can create meaningful connections with your interview subject.
Sounds pretty impactful, right?
But here's the thing: stories are most effective when they inspire action.
This is an approach that Kamau is passionate about. First, he tells us that engagement is key. But he doesn't mean engagement measured in "clicks" or some other metric — something we often think about working in communications. Kamau reminds us that engagement is about human interaction in the real world. 
For him, Kamau focuses on teaching his audience how to engage with the community around them. His goal: help move someone from consuming a story to actively solving an issue:
"It's not enough to just say: Isn't this a sad story? Isn't this person going through tough circumstances? Instead, it should be: What can the person watching do to figure out how to help?"
As you're working on your next comms piece or applying storytelling practices to your work, ask yourself: What kind of impression do you want this story to have on your audience? And how will this story move your audience to act?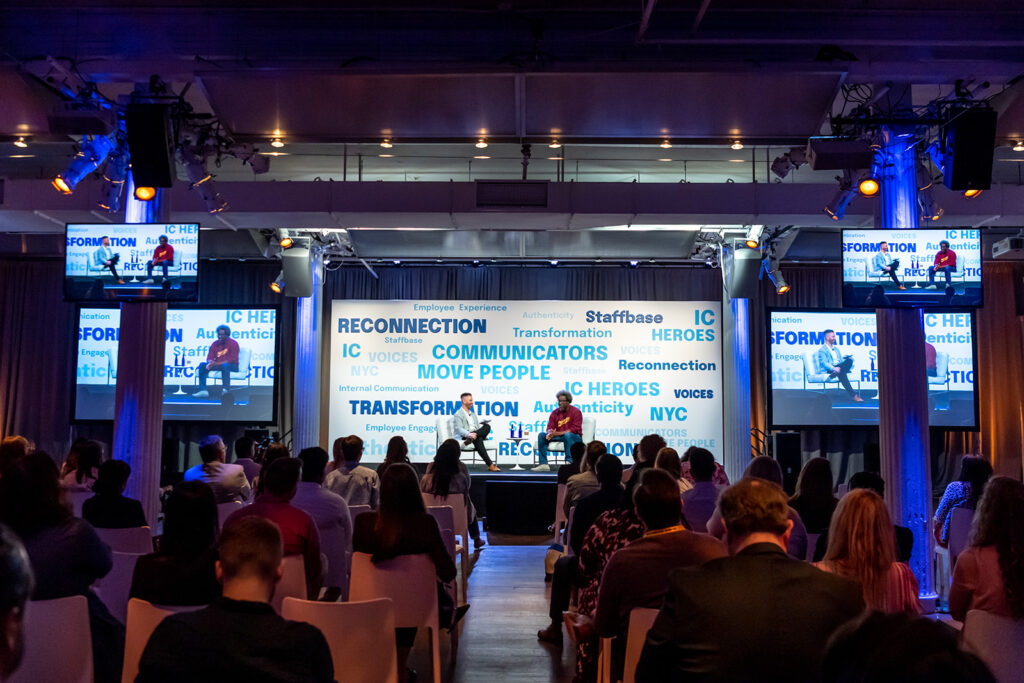 Ready for more storytelling insights? Join us at VOICES 2023
We were privileged to hear W. Kamau Bell speak at VOICES 2022.
And we can't wait for more great insights into all things storytelling and employee communication at VOICES 2023.
Want to join us? You'll be part of the biggest employee comms event worldwide, with the best speakers, plenty of networking, and great entertainment.
See you in New York for VOICES 2023 on April 26 and 27! 🎉