Internal communication counts. You know it. We know it. And many of the world's largest businesses are catching on, too. But even as organizations turn to internal communications to support their strategic initiatives, ⅔ of  IC professionals admit they don't have a formal strategy.
Creating content and getting it to the employees who need it is often a full-time task. Many teams rarely have the time, resources, or manpower to exclusively focus on internal communications. And even if you do work in a large, established communications department, 65% of teams say the only tool they have for strategic content planning is a short-term calendar. And, ⅕ of communicators report having no tool at all!
In short: Taking internal communications from reactive to strategic can seem like a real challenge. But, it's also a crucial process and many internal comms pros are already well on their way.
Why? Because effective internal communication creates real business results and can make or break an organization's connection to its most important resource: its people.
So, wondering how to get more strategic?
Well, you don't have to go it alone. At Staffbase we're committed to supporting communications professionals as they unite their companies and employees behind a common purpose. In fact, our platform is already helping 1,000+ communications professionals worldwide reach their goals and level up their comms.
That's why today we're particularly excited to introduce Campaigns, a new way to create, manage, and measure your internal communications strategy — all in one place. 
Drive Your Strategic Initiatives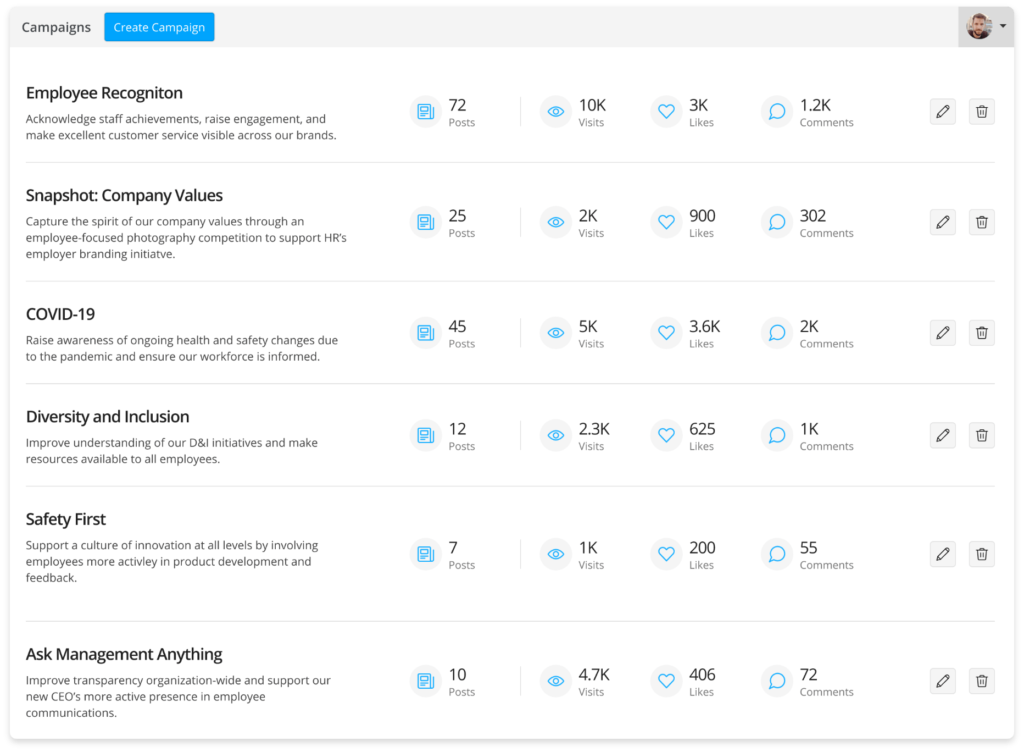 Whether you need a better tool for strategic planning and content creation or are just looking for a place to start, Campaigns is your mission control. 
With Campaigns you can:
1. Plan and implement a unified internal comms strategy that works across all your channels without breaking a sweat.
2. Set goals and track performance for your communication on a strategic level.
3. Align your comms strategy to business strategy and directly support key business objectives.
Managing Comms Strategically . . . It's Simpler Than You Think
With Campaigns you have one sleek, simple, and unified dashboard to start creating, managing, and measuring your strategic initiatives — directly from the Staffbase internal communications platform. 
Creating a new campaign in the dashboard is simple:
Go to the Campaigns tab in the Experience Studio and click the "Create Campaign" button.
Give your campaign a title and define its goal. This can be anything from "increase engagement with employee recognition news for non-desk workers by X%" to a goal specifically tied to a business objective like, "Support reduction in turnover for non-desk workers by ensuring employee achievements are recognized frequently." 
Start creating new strategic content to support your campaign's goal or connect existing pieces from across your platform.  
See the results!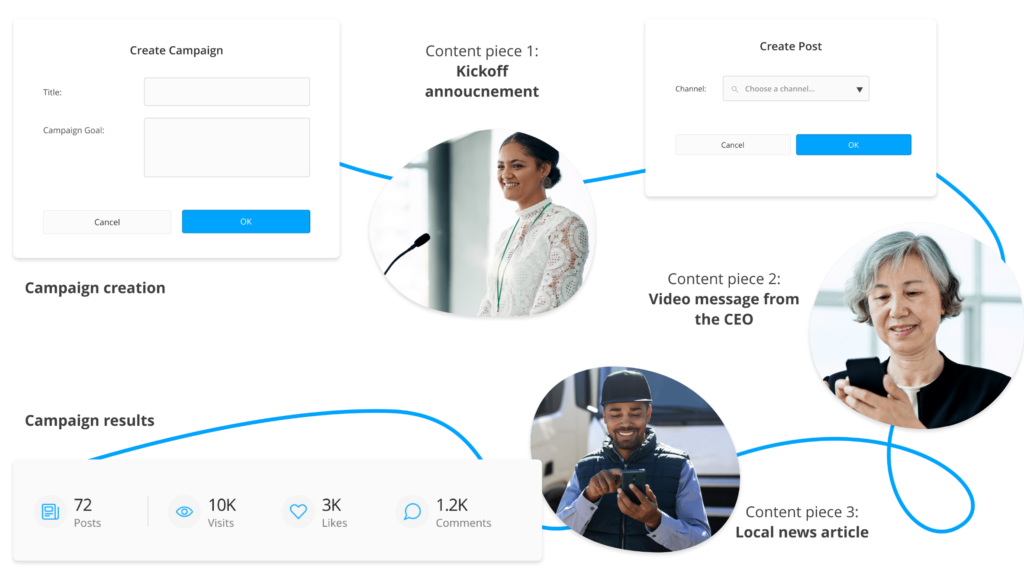 As you define campaigns, you'll have an overview of all your initiatives at a glance right from the Campaigns dashboard.
While Campaigns makes it simple to kick off a new strategic initiative, creating a campaign doesn't mean starting from scratch. You can easily build a campaign from existing content. For example, you may already have a lot of news on topics that matter to your organization, such as:
Covid-19 
New product launches 
An upcoming merger or business change 
Workplace safety
Employee recognition
Diversity & inclusion
By organizing that content into a campaign, you'll have a clear overview of how the broader topic is performing with employees and where there's  potential to expand your initiative. 
Create and Manage Your Campaigns and Strategic Content In One Place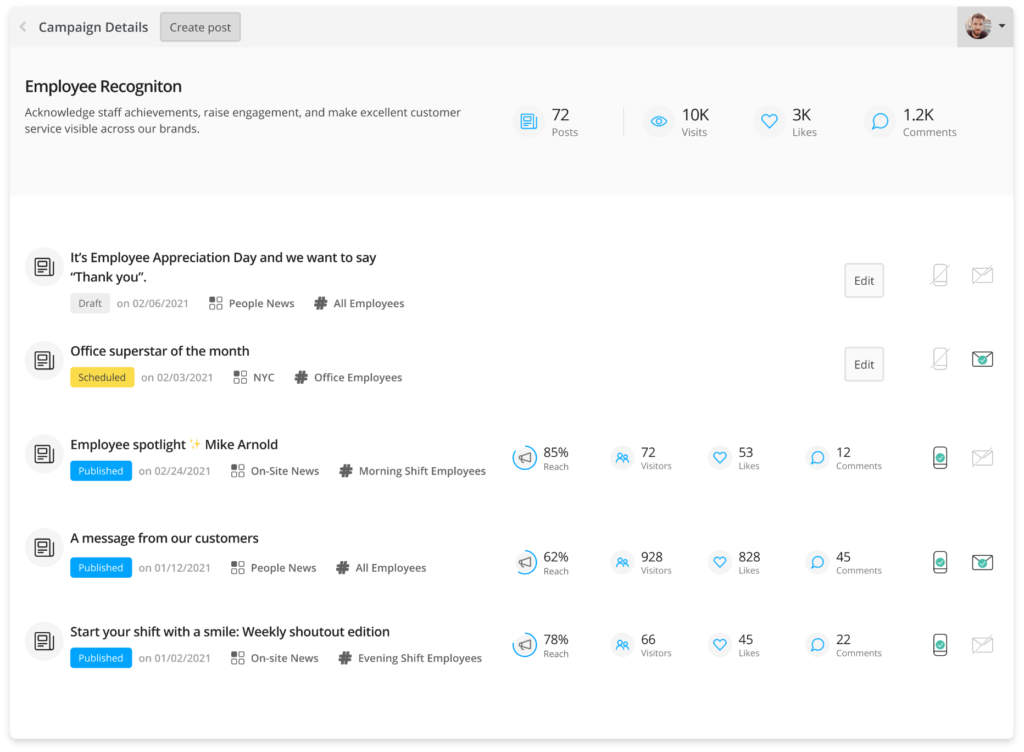 Your Campaigns dashboard will give you both a high-level overview of all your initiatives and the chance to dive into the details of individual campaigns — all from the same starting point.
From the detailed campaign view, you can see and manage all of the content pieces that are supporting your goal — drafted, scheduled, or published. This is especially useful if you work in a large, distributed organization with many local editors.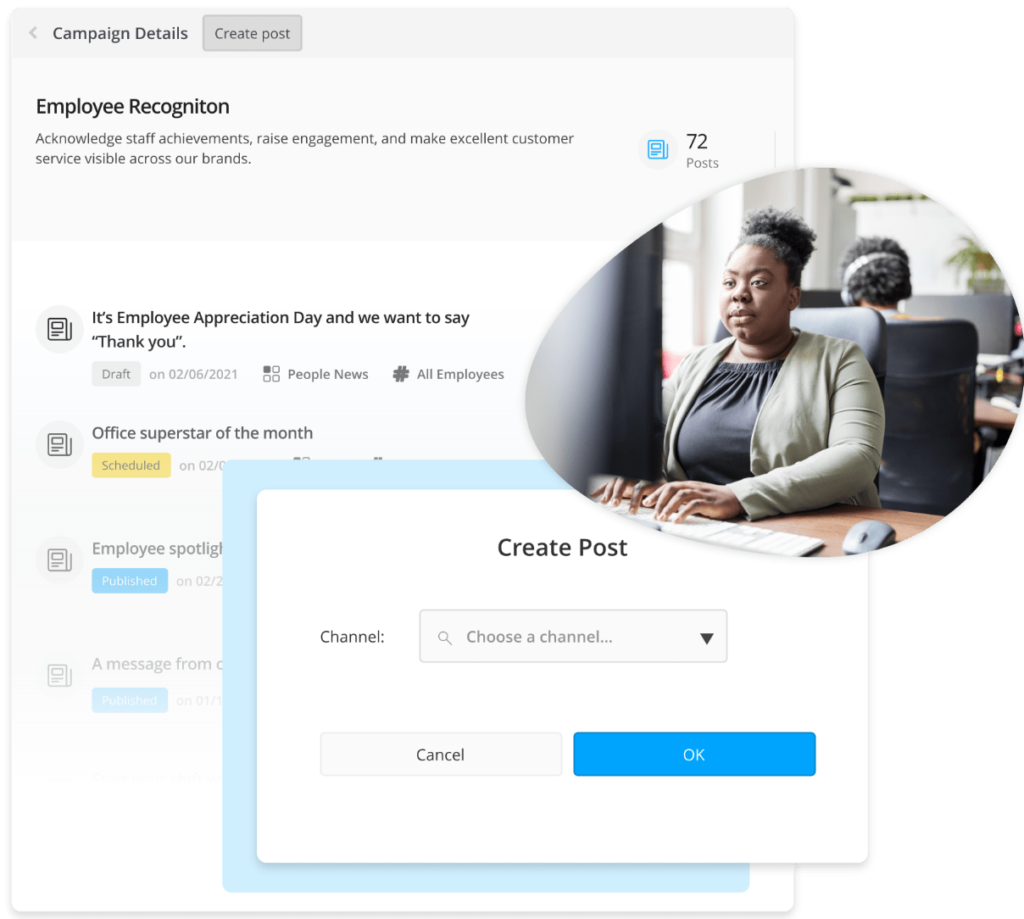 As a global editor, you can create new content to support a campaign directly in the dashboard and push it to your target audiences, channels, and devices with a click. Or, you can map out all the content for a campaign and have local teams to fill in and publish the end communication. If a local team or department publishes a piece ad hoc that's related to the campaign, you can easily link it back to your global campaign dashboard.
With more employees turning to their employers for credible news and information than ever before, IC professionals are tasked with pushing more business-critical news more often. Campaigns ensures you can always keep sight of the strategic goals your communication supports, while giving you an overview that makes it simple to stay organized, keep your content focused, and save you valuable time. 
Measure and Understand the Impact of Your Campaigns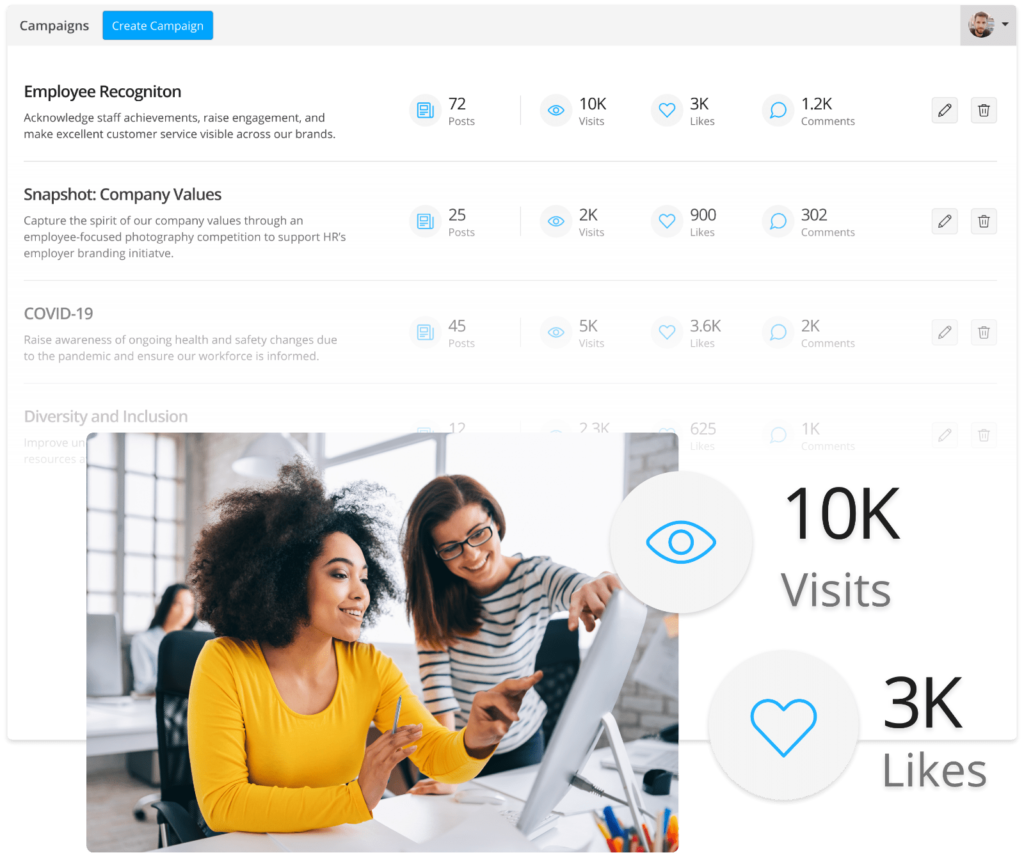 So, you've used Campaigns to help you create and launch a strategic initiative or establish an internal communications strategy to meet your year or quarterly goals. Now it's time to measure your success. Or is it? According to a recent survey, just three in five internal communicators measure the impact of their campaigns.
We can't say we're surprised. We hear often about ancient tech that either doesn't track comms performance at all or makes it impossible to get the numbers you need. But a more strategic role also means more scrutiny. It's important for communicators to be able to measure their work, show off their results, and apply the learnings from data to make sure they're meeting their organization's needs. That's why Staffbase's platform makes it simple to track, test, and transform your communications platform-wide using easy-to-use, understandable analytics. And Campaigns is no exception! 
Campaign Analytics
With Campaigns you have a straightforward and fast way to measure your work on a strategic level — without having to manually tally piecemeal stats for each piece of campaign content. 
Easily see and share exact engagement metrics for all your campaigns in real time, including:
You can also analyze campaign performance on a deeper level with reach and engagement analytics for each piece of connected content, shown directly in the detailed campaign dashboard. This is a simple way to analyze trends within a campaign, see what resonates with your audiences, and where there's room to improve — no Excel table needed.
After all, the best communicators know it's not the metrics that matter, it's their impact! That's why Campaigns make it simple for you to apply analytics to your work so you can: 
Align results for your strategic content across topics, audiences, and channels.
Back up the direct impact your communication has on business objectives to management.
Use insights to improve future campaign performance.
Set and Reach Your Strategic Goals with Staffbase
Internal Communications pros are well on their way to a more strategic role. We want to help you get there. With Campaigns, you'll have the perfect tool to set and reach your goals and scale your internal comms.
Starting May 6, 2021 current Employee App and Intranet customers can test Campaigns for free. Reach out to your Customer Success Manager for further information.
Not yet part of the Staffbase community? Let us show you the difference strategic communications could make at your organization.