Microsoft introduced Viva in February 2021, calling it an employee experience platform. It currently consists of four individual apps that all live within Microsoft Teams. Anyone who wants to use Microsoft Viva for internal communication must therefore be licensed for Teams. They can then access the Viva functions either via Teams on the desktop or the Teams mobile app.
In this post, I want to specifically discuss the potential and limitations of Viva for internal communications. Of the four Viva applications, Viva Connections is the most interesting in this context. The other three, Viva Learning, Viva Topics, and Viva Insights, certainly have related touch points, but they lack a communications focus.

What Is Microsoft Viva Connections?
Viva Connections aggregates content from Microsoft 365 and other tools, such as news in the form of a feed. It then displays it within Microsoft Teams. The news can come from SharePoint as well as from Yammer. As of June 2021, further details on the logic of this newsfeed are not yet available. At this time, it's impossible to answer important questions such as, "Can third-party systems also write to the Viva feed?" or "How can editorial teams control the order and duration of news in the feed?"
Viva Connections is part of Teams and is therefore available as a mobile app as well as on desktop. Looking at these two variants, one quickly realizes that technically, Viva is a SharePoint home site embedded in Teams.
On the desktop, Microsoft is suggesting much more with the new name than is really taking place under the hood. In contrast, the Teams mobile Connections app is definitely a step forward. Microsoft has made limited investments in the SharePoint app in recent years. With the integration into Teams, a mobile strategy is finally apparent.   
The question is: What exactly does this mean for communications teams in organizations using Microsoft 365 today?
We have discussed this question in depth with independent experts, partners, and Microsoft itself. I've been a guest at various events and webinars and have spoken about the Staffbase view of Viva. Here I'll summarize my findings on its potential and limitations.
The Potential of Viva Connections for Internal Communication
A channel where users spend a lot of time
The Corona crisis and its impact on the world of work has turned many of us into permanent Microsoft Teams users. We spend hours in online conferences or chatting within Teams. The number of active Teams users has grown to more than 145 million worldwide. Teams has thus clearly become the most important platform in the Microsoft 365 universe.
Communications cannot and should not ignore this fact. Teams is an important channel in the communications mix. Viva Connections displays content within Teams and doesn't require much configuration or development effort to do so. 
Clarity about the center of the Microsoft 365 platform
This second point fits with the previous one and re-emphasizes the importance of the decision to make Teams the "home" of the Viva Connections app. A few years ago, that home would likely have been in SharePoint or even Yammer. With this move, Microsoft removes any ambiguity as to where the future heart within Microsoft 365 will beat.
SharePoint is technically the basis of the Connections app, but Viva Connections only runs within Teams. However, this clear decision in favor of Teams also creates ambiguity about the future role of SharePoint. 
Advancements in mobile use
The Viva Connections mobile app isn't ready yet, but at least the focus on a dedicated mobile app with a modern design is a good sign for all Microsoft users. Communications departments will wonder to what extent the Connections app can be easily accessed and used within the Teams app. For instance, can it permanently reach target groups who spend a few minutes a week, rather than hours per day, in Teams?
The first point of the Viva's limitations deals with exactly this topic.
The Limitations of Viva Connections for Internal Communications  
Challenges for employees who use Teams little, rarely, or never
As mentioned, Viva Connections only works for employees who are already actively using Teams. The high level of information complexity with many Team rooms, as well as updates, become problematic when people are on Teams less frequently; e.g., weekly. We see this ourselves in the Staffbase employee app: Use must be as simple as possible. Employees often have limited opportunities for training and therefore should be able to completely use the platform without support. Viva Connections, on the other hand, entails that employees first need to understand Teams, and then within Teams they also need to learn to use Viva Connections.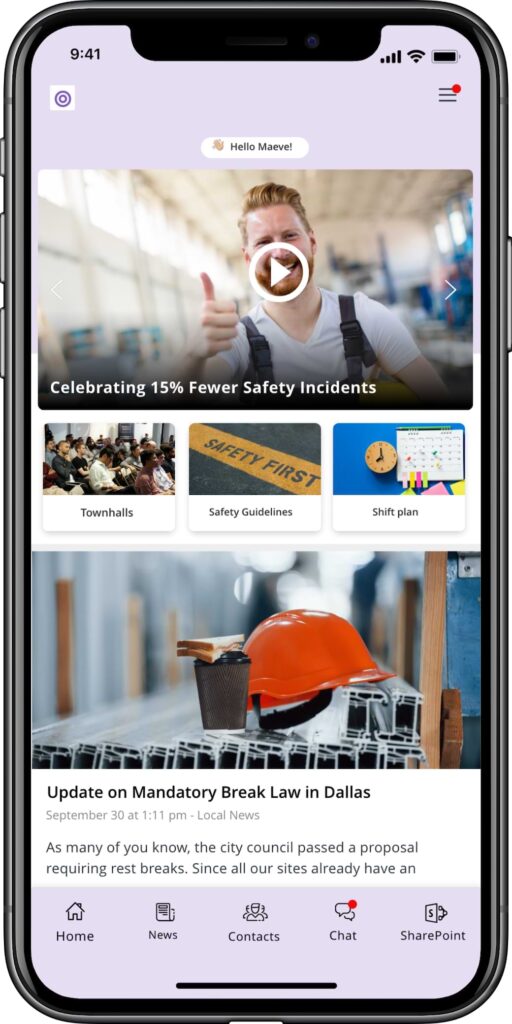 We see this challenge often today with our customers who have rolled out Teams. One particular statistic from Microsoft tells the story in a nutshell: Out of 300 million Teams licenses sold, only 145 million — not even half — see active use. Especially because certain target groups don't actively use Teams (despite owning a license), it should not be used as a company's sole communication channel. 
For communication teams and editors, Viva Connections doesn't bring improvements
As a technology, Viva Connections brings information together on the end-user side. However, the way to create content remains completely the same. Content comes either from Yammer or SharePoint. This means that classic communication in particular remains in SharePoint, a platform that cannot be used intuitively by most editorial departments.
This is a particular challenge for larger companies with many distributed editors who often only maintain content part-time and have difficulty using SharePoint. In addition, there is a lack of functionality for comprehensive communication control, such as campaigns.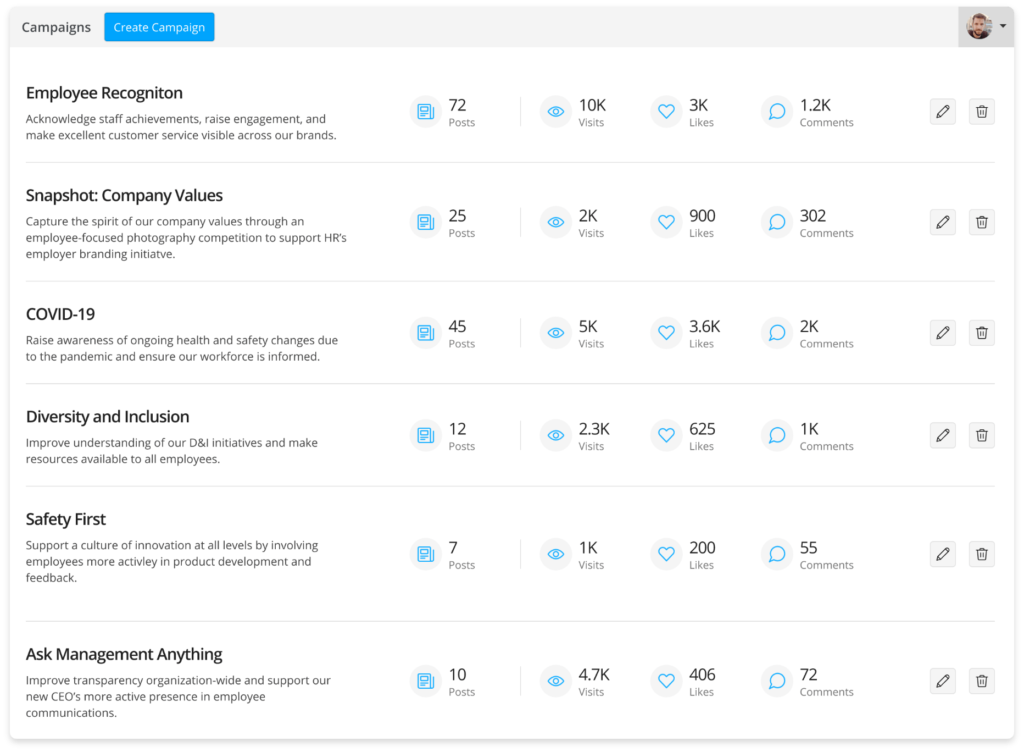 The Viva Connections news concept doesn't seem very innovative
At this point, a disclaimer: Little is currently known about how Connections will organize news. Please don't let buzzwords like Artificial Intelligence (AI) be a distraction. Especially in corporate communications, algorithms and approaches from the external social media world (where users preferably receive content that will keep them on the platform for as long as possible) should be viewed with skepticism. It's much more important how easily the editorial team can curate content and how it succeeds in bringing together local topics with a global focus. 
The current images of Viva Connections suggest that there will be a single feed that somehow brings together all news. The fact that it will feed social network (Yammer) content into the same feed as corporate communications is reminiscent of the less-than-successful Activity Stream concept of the 2010s.
At Staffbase, we have invested a great deal of time and effort to ensure that our platform makes important updates sustainably visible and reliably distributed to all employees. It is currently unclear how Viva Connections plans to solve this challenge.
Teams is becoming a kind of "general store"
I got this point from a long-time Microsoft expert, and while not exclusively of interest for internal communications, it highlights a problem with Microsoft's current strategy. A few years ago, Microsoft put a lot of new functionality into SharePoint because it was designed to be a central workplace hub. The result was unmanageable complexity for development, administration, editing, and use.
Microsoft is phasing these features out of SharePoint (Teamrooms, Lists, Power Apps), but is now taking the same approach with Teams: Teams is becoming the operating system where everything runs, but at the cost of a lot of noise and distraction. Keeping important communication content from being drowned out will definitely be a major challenge. 
Viva Connections does not automatically make SharePoint a better intranet
SharePoint takes a back seat with the Viva strategy. This is meant quite literally, because SharePoint already acts as a repository behind Teams and is now, with Viva Connections, the editorial system for news in Teams. Microsoft never built a dedicated intranet with SharePoint, instead leaving a lot of configuration and development to partners. This resulted in the creation of a separate market of so-called "Intranets in a Box."
Viva Connections could now tempt even more companies to use SharePoint directly as an intranet ("The start page looks great, doesn't it?"), without making necessary investments into information architecture, navigation. and the training of editors.
The Staffbase View
Our goal with Staffbase is to develop the best internal communications platform. Today, over 90% of our customers already rely on Microsoft technology in their digital workplace. Staffbase therefore also works very well as a standalone platform alongside Microsoft. In the context of Microsoft 365 and their tools SharePoint, Yammer, Teams, and now Viva, Staffbase has two key advantages:
1. Effective internal communication channels for all target groups
Within these channels, communication is the focus. The most important strategic topics get the attention of employees.
This happens by separating general communication from more specific departmental content on the one hand, and operational newsfeeds from collaborative content on the other.
Particularly important here is that these channels adapt to the specific working conditions of your respective target groups. Communication channels will look very different for desk-bound employees than they will for nurses, bus drivers, or assembly line workers.
In addition to the employee app, these channels also include a lightweight intranet that works on mobile and private devices and which many of our customers use as a "front-door intranet" alongside existing SharePoints. Other very effective and often under-appreciated channels include terminals, screens, and curated email newsletters.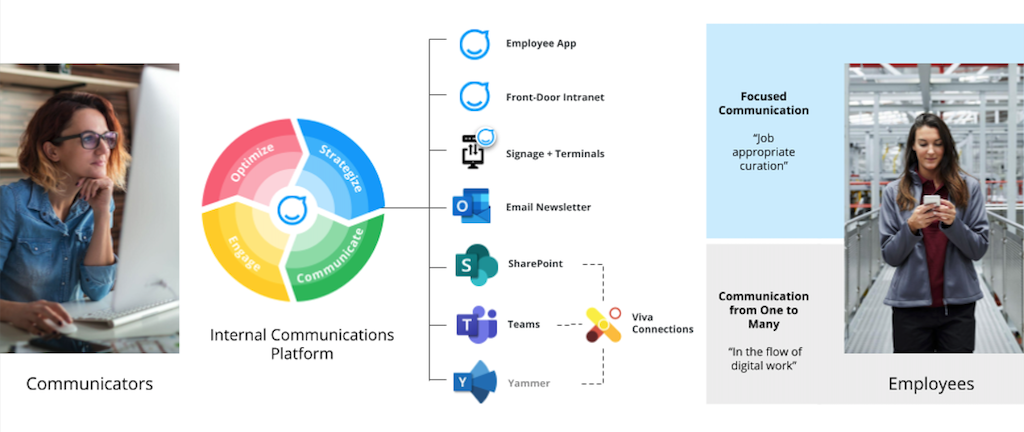 2. A platform for the internal communications team where everything comes together
Robust digital process support has been available to marketing, sales, and finance teams for a long time. Modern communications wants and needs to become more data-driven to optimize its channels, content, and results.
Modern communications teams want to plan campaigns, coordinate with distributed editorial teams, distribute content across multiple channels (including MS Teams and then Viva Connections), collect feedback, and measure their results across all channels.
As a basis for these tasks, we have developed a strategy model for internal communications in collaboration with communications experts and our customers. With the aid of a comprehensive platform, today's internal communicators can manage their complex work and demands with greater efficiency and in a more networked manner.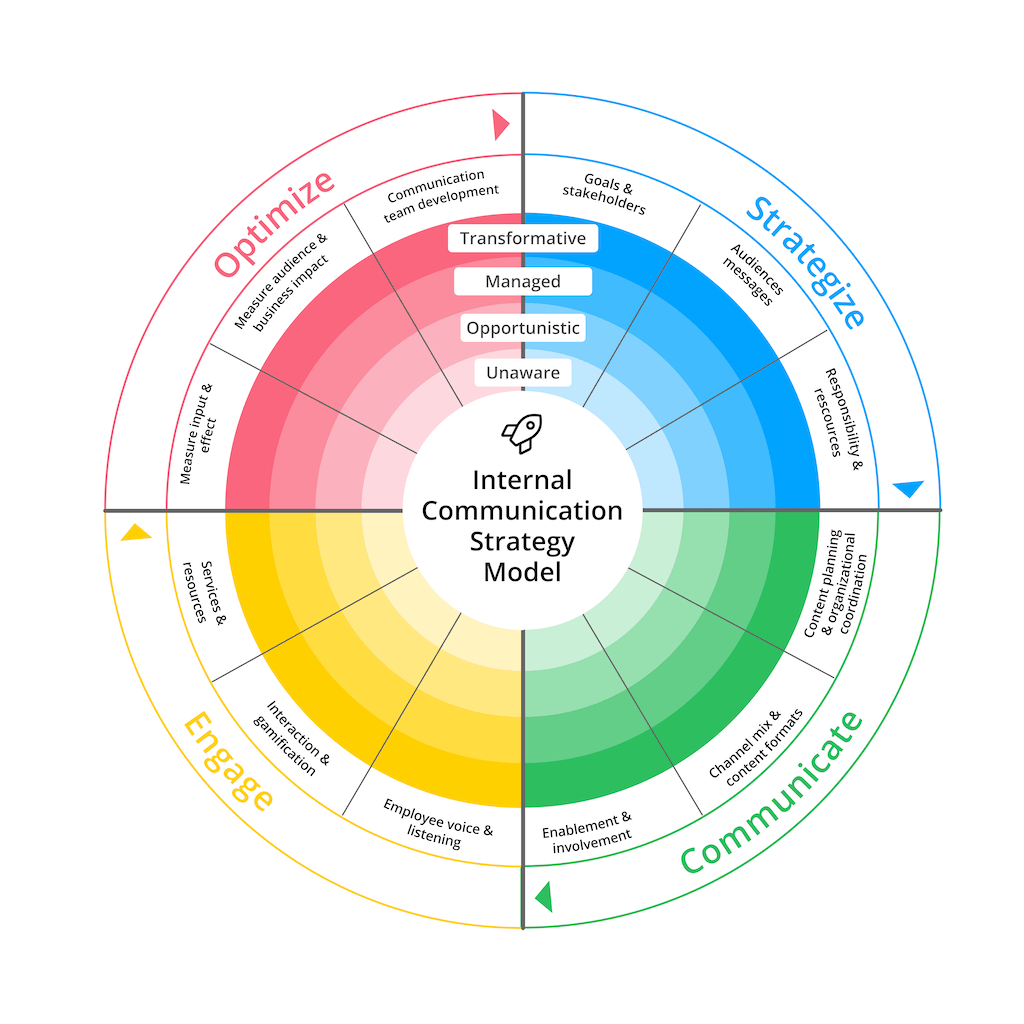 Read more about employee communication apps: