Yammer has long been a neglected tool in the ever-growing Microsoft 365 world, and it has become increasingly overshadowed by the collaboration tool of the hour, Microsoft Teams. But how effective is Yammer at meeting the top needs of today's internal communicators? Let's have a look.
When Yammer was first launched in 2008 as an enterprise social network, its aim was to replace email. But ironically, it is Microsoft Teams that has clearly established itself in that regard, while Yammer has become more and more of a tool that Microsoft intends to be used for comprehensive knowledge sharing in larger organizations (in fact, Yammer rarely even appears in the plans for smaller businesses). 
But because the leap from a tool for cross-company discussions to a corporate communications platform might appear to be a short one, Yammer occasionally gets thrown into the mix for meeting this greater purpose ("We have Yammer as part of O365 anyway," is a popular refrain). 
Yammer does in fact have some features that can be used for internal communication, but it also has clear weaknesses that result in significantly reduced effectiveness — especially for larger and more complex organizations with more than 1,000 employees or workers who aren't regularly seated at their desks. 
For this reason, the world's leading technology analysts at Gartner rate Yammer as "generally ineffective" managing an internal communication strategy throughout an entire company.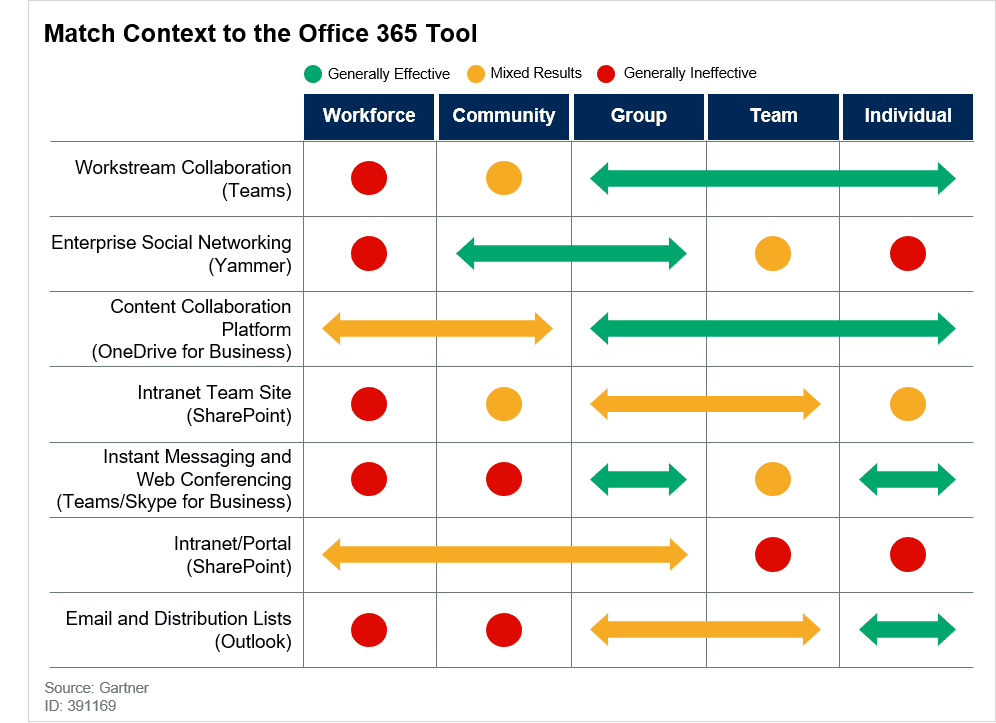 The reasoning behind this assessment is based in particular on five internal communications requirements, which this article will explore in detail: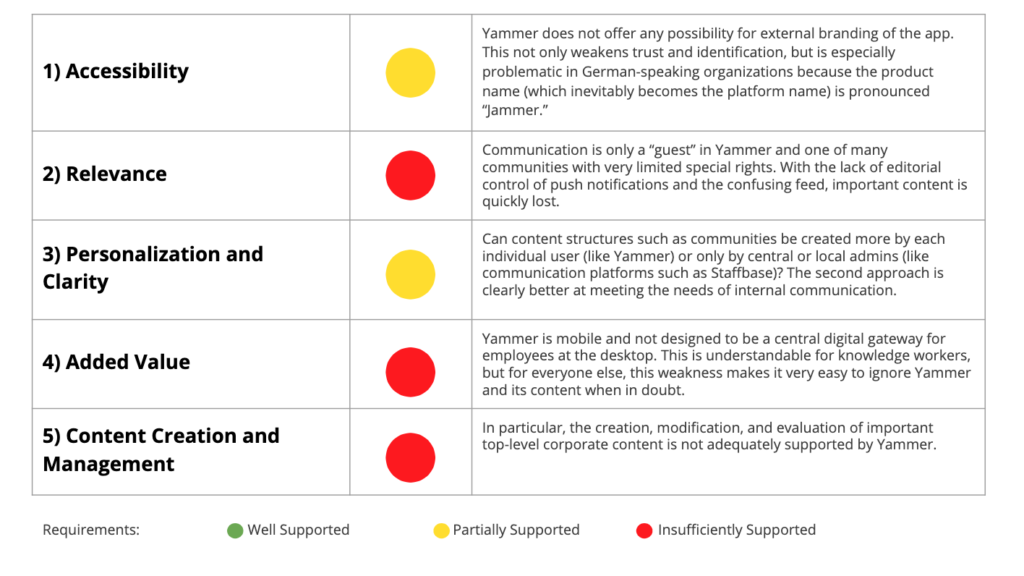 This evaluation is based on functional tests with Yammer, currently available information about its scheduled updates and roadmap (as of October 2020), as well as the experiences of Staffbase customers who are using Yammer; for example, Deutsche Post DHL Group, which uses Staffbase as a communication platform, operates Yammer as an enterprise social network, making it one of the largest Yammer installations in the world. 
There is also an in-depth report about employee communications apps published by Clearbox in September 2020. Yammer was one of the reviewed platforms and ended up on the lower end of the evaluation. In terms of a fit for internal communications, the Clearbox analysts mentioned the following points:
Yammer has a limited capability as a company communication channel owing to a lack of targeting and content authoring tools.
Analytics capabilities are very basic, particularly from an internal communications perspective.
The notification logic may not be suitable for all users, especially front line / first line employees.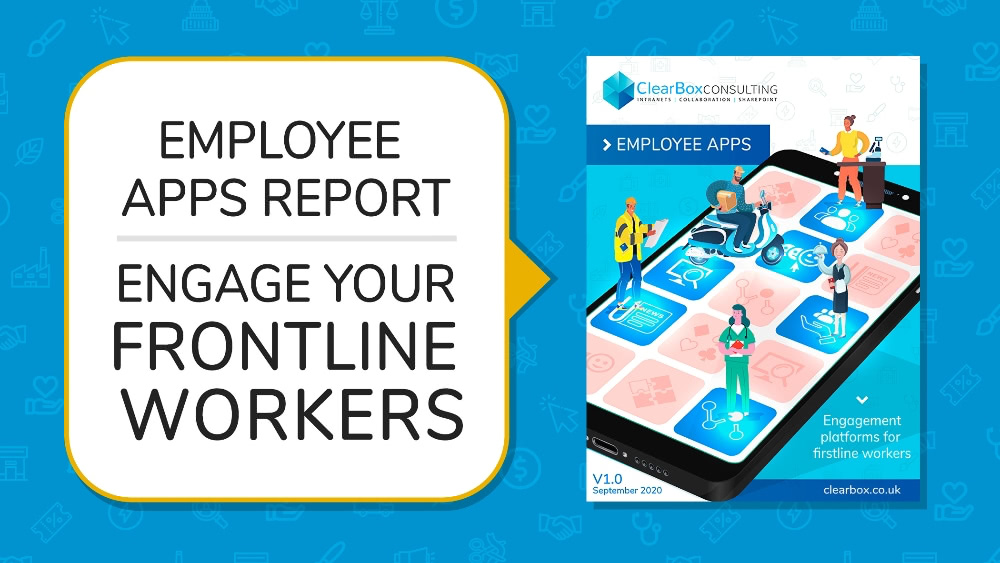 Evaluations of technology platforms are often subjective and greatly depend on the intended uses that they examine. So while it is true that Yammer is strong in networking communities and groups, this article will explicitly focus on its use as a company-wide communication platform. 
Therefore, let's start by outlining what our experience has shown to be the five most important requirements for a modern communication platform. 
5 Critical Requirements for Internal Communication
Effective digital employee communication involves writing and publishing more than one article or post. Many current intranets suffer from a lack of reach and relevance because attaining these goals simply isn't that easy. 
The top challenges are also outlined in the most comprehensive internal communications study available, the "Gallagher State of the Sector Report."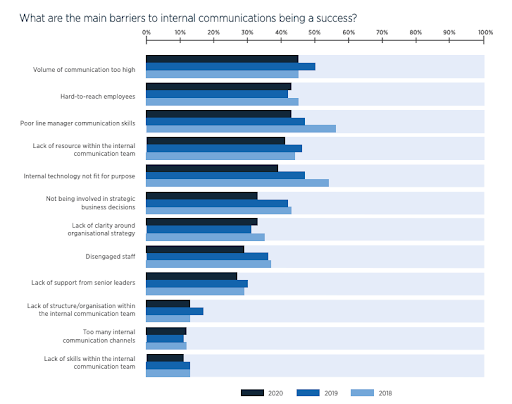 As we can see, the two main challenges are 1) an excess of information that overwhelms employees and 2) the difficulty of getting information to hard-to-reach workers, especially those who aren't always sitting at a desk. 
Based on these challenges and our practical experience with more than 400 large companies, we've distinguished five requirement areas which can be examined in regard to Yammer's available functionality: 
Accessibility: How easy it is for employees to get initial access to the communication platform and to maintain it for regular use. This is especially true for access from personal devices and mobile phones. 
Relevance: How relevant is the content that the user sees in the application? How easy is it to use and is training required? How relevant or "annoying" are the notifications?
Personalization and Clarity: How is content personalized and how can users subscribe to it, and who is allowed to create structures? How can particularly important moments (e.g. onboarding) be made special and individual? 
Added Value: The greater the relevance of a platform's content, the better and more sustainable communication via this channel will be. How well is communication content linked to other sources of information, such as a Cafeteria Menu, Employee Directory, Holiday Overview, Shift Schedule, FAQ pages, Surveys, etc.?
Content Creation and Management: How well is the important work of content creators supported? How convenient is the content management system? How do analysis tools help to further improve the platform?
Does Yammer Meet the Top IC Requirements?
1. Accessibility
Positive: Yammer offers a mobile app in addition to the desktop version. As a cloud application, Yammer is generally available outside of the corporate network and can be used on private devices. 
Negative: Yammer is only available for employees with Office 365 licenses. Often, this makes Yammer unavailable to commercial employees. Providing them with Yammer is an expensive proposition, because it cannot be purchased as a stand-alone alone tool, yet a full license will include other Microsoft services, many of which will be of no use to remote workers. 
Individual branding of the Yammer app is not possible. The advantage of employer branding is that it makes finding the app easier for employees, it gives employees more confidence in the security of the app, and it allows employees to better associate the app and their use of it with their company.
92% of our customers tell us that their app's branding is either "very important" or "important" for the success of their platform.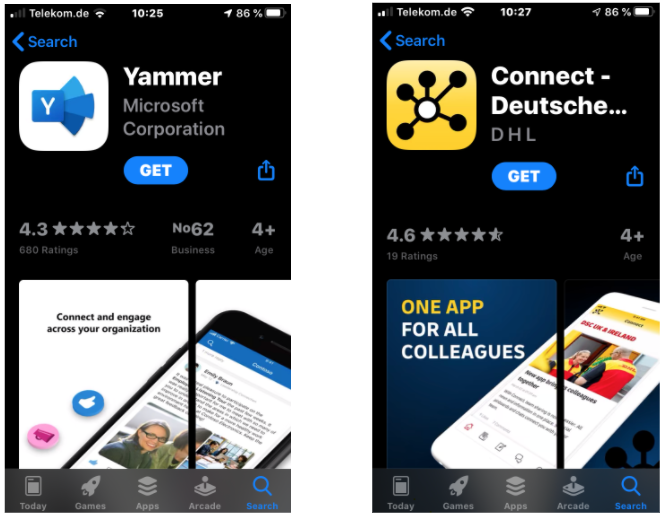 Conclusion: If Office 365 licenses are available, Yammer is basically easily accessible. A major disadvantage is the lack of branding possibilities for the app.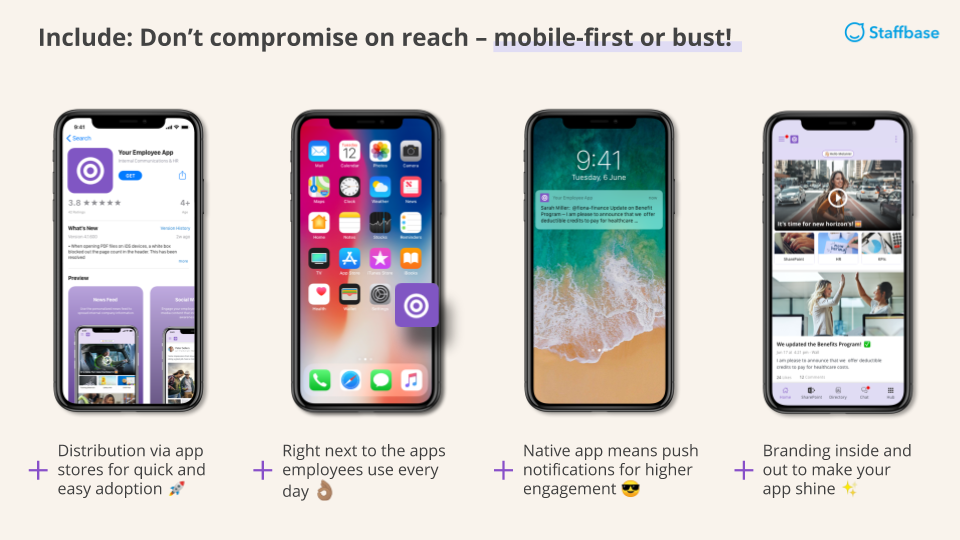 2. Relevance
Positive: Yammer was initially developed as being an "Internal Twitter," in other words, it was designed for internal microblogging, and in this regard it has its strengths. So when considering project teams or comprehensive knowledge communities concerned with a specific topic, then Yammer is in its element (although MS Teams is even better). This is exactly how Microsoft itself categorizes Yammer, calling this use case the "outer loop" of its own communication. 
Negative: The central point of criticism of Yammer for internal communication is the way the Yammer Feed works. All updates from Yammer Communities appear on the homepage in a long list — the feed. Important news can be pinned within a community, but not on the central feed. Frequent users who also do project work in Yammer tend to ignore the feed and go directly to their operationally relevant communities. 
On the other hand, occasional users who rely on the feed for news will see everything and nothing there. A top-level article, for example, "Achievement of Objectives and Strategic Outlook 2020," will be pushed down by a lower-level announcement such as, "Max Weber has joined Group Office Hamburg" within a very short time. 
A communication-oriented app, such as Staffbase, allows the feed to be split and curated into individual sections, thus creating maximum relevance and reach for important content without losing sight of "peer-to-peer" content: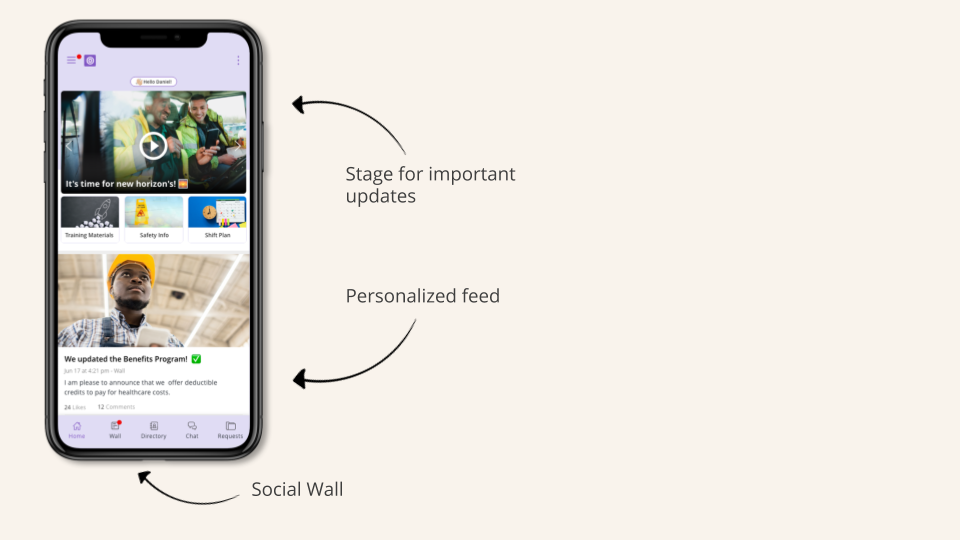 Top news apps such as the one offered by The New York Times also don't rely on a loose feed, but offer curated content. 
In addition, Yammer offers very limited possibilities for content creators to manage push messages in a targeted manner. Push messages for mobile phones are a very important and effective tool for increased reach. On average, news is read 3x more often when sent via "push."
However, push messages can also quickly become annoying. This is especially true for a company app that's only a "guest" on a private device. Yammer assumes that the mature and technically skilled user will self-regulate push messages. But this defeats the purpose when targeting a broad group of users such as "All Employees." 
That's why communication platforms such as Staffbase allow administrators and content creators to decide which channels can send push messages. Users can also decide for themselves whether or not to disable push, but the goal is that they won't be compelled to take this step because content creators will have already paid close attention to the volume and relevance of the messages being sent.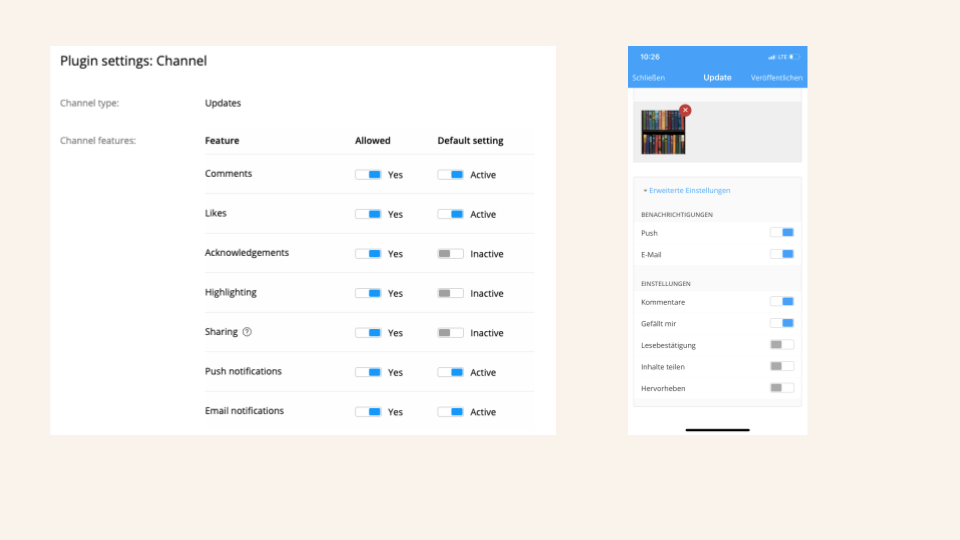 The above illustration shows the limits of what's possible concerning the control of notifications in Yammer. Advanced features such as resending a content-modified push message to users who've failed to read important information (currently in development at Staffbase) are not on Yammer's roadmap. 
Conclusion: This is the most serious of the five points being discussed here. Communication is only one of many communities in Yammer with very limited special rights. Important content goes unnoticed because most users have either completely turned off push messages and email notifications after being swamped by an initial flood of them, or simply because such information is easily lost in a confusing, ever-updating feed. 
3. Personalization and Clarity
Positive: Yammer offers good possibilities for personalization. Users can either actively join communities or can be passively managed through dynamic groups based on Azure Active Directory attributes. Each user can easily create a new community and actively add other users to it.  
Negative: What's positive for Yammer's use case as a decentralized community platform leads to problems when it's being used company-wide. Yammer installations in larger companies sometimes contain thousands of groups, only a fraction of which are actively used. This makes the platform confusing, because there will be several location channels with similar target groups or general content intended for a broader audience, all of which will quickly overlap and therefore weaken each other. 
Modern personalization concepts (which are key to the "employee experience") not only refer to content that user groups will or won't see, but also relate to the individual situation of an employee. In this context, Staffbase has introduced "Journeys" — a feature which provides the option to automatically display very individual content to individual employees, e.g. during onboarding. According to Yammer's roadmap there are currently no plans in this area. 
Conclusion: Should the creation of content structures such as communities be placed more in the hands of individual users (Yammer) or handled by central or local admins (the approach of communication platforms such as Staffbase)? When it comes to effective internal communication, the second approach is clearly better.
4. Added Value
Positive: Yammer scores here with its community functions. You can imagine, for example, that it could be used to display a virtual bulletin board or to create a classified ads channel. But for knowledge workers, the main reason for using Yammer has been its use as a platform for operative project communication.
Negative: Yammer basically consists of communities and the updates that users can share within them. If Yammer is used alongside other desktop tools, then this main use case will get the job done. However, if Yammer is used as a central digital gateway for employees, it's simply not enough. The more relevant the content that can be found on a platform, the better and more sustainable communication via this channel will be. 
How well is communication content linked to other areas such as a Cafeteria Menu, Employee Directory, Holiday Calendar, Shift Schedule, Info Pages, Surveys, etc.? At Staffbase, for example, we've seen that companies offering an Employee Directory in the app will increase its usage rate by about 10 percent.
In addition there are "gamification" approaches such as the "Do You Know Your Colleague?" quiz, a feature which many communicators use to their advantage given its proven ability to increase user activity.
Your content needs a single point of access that's also the doorway through which all other important employee content can be found. This is not what Yammer is designed to be, and as part of the ongoing Office 365 strategy, it is already becoming more and more of a tool in its own right, and is likely to move further into Teams (with an even greater team focus). 
Conclusion: Yammer was not designed to act as a main digital doorway for employees working on desktop computers. This is a shortcoming for knowledge workers who solely rely on Yammer's primary use case of project communication. For everyone else, this weakness makes it very easy to ignore Yammer and its content. 
5. Content Creation and Management
Positive: Yammer is strong where you would expect it to be because of its origins: it was designed with simplicity in mind. Even multimedia content can be created quickly on all platforms (mobile and desktop). For editors, there is even a special content type called "Announcement," in which a news item can be given a title. 
Negative: Yammer does not allow for the scheduled publication of content. This may sound like a minor shortcoming at first, but scheduled publication times are often very important for structuring internal communication in large organizations and it facilitates the coordination of often diverse individual activities. The sharing of important information needs to be tied to the minute so that internal news appears BEFORE it becomes public knowledge. 
Content authors are always very centrally visible in Yammer. In the social feed this is completely fine, but with important news that can't always be written in the first person, it's hard to maintain in the long run.
There is also no way to formulate teaser text, meaning that the beginning of an article appears in the feed. This look often fails to meet the standard that communication should deliver for important and curated content. 
Media content such as images and videos can be added, but they cannot be subsequently changed. This is impractical before publication, when changes are often necessary, but it becomes truly annoying after publication. Comments and likes that have been generated by an article will disappear if it needs to be revised and published again. 
Yammer's analytics functions focus on individual communities. It isn't possible to evaluate the usage of individual target groups (for instance, "How good is our reach for corporate updates in each of our ten production locations?"). Evaluations of how users access content (push; viewed in the newsfeed; etc) are also not possible. 
Yammer also doesn't allow granular permissions for authors to map review and approval workflows. 
Conclusion: The creation, modification, and evaluation of important top-level corporate content isn't sufficiently supported by Yammer. These needs can be dismissed as unnecessary perfectionism for certain kinds of communication, but when it comes to business-critical messages, the responsibility of all parties involved is very high. They need every bit of support and flexibility from the communication medium in order to do their job well for an audience that often consists of thousands of employees.  
Conclusion
It should come as no surprise that platforms which fail to offer sustainable relevance for a wide range of employees are ultimately only used by a fraction of the workforce.
Today, more than ever, modern internal communication needs a digital medium that reaches, informs, and involves all employees in a sustainable way.
Yammer is not a structured communication platform for connecting with your entire company. The larger and more distributed your organization is, or the more employees you have who aren't regularly working from their desks, the more apparent Yammer's failings become. 
Read more about employee communication apps: