For many in internal communications, the company intranet has long been seen as the office coffee machine: It's clunky and old. There's only one person who actually knows how it works, and employees aren't exactly raving about it.
But, the entire company relies on it and can't imagine the office without it.
While that lackluster reputation is changing with better software, there is still vast potential to use your intranet to your company and employees' advantage. 
Intranet Ideas & Examples
A well-designed and engaging intranet can be the keystone for your organization's internal communications, HR, and employee engagement strategy. Yes, for frontline workers too! Modern options like an employee experience intranet and employee app make it possible to communicate, connect, and share information company-wide.
To stick with the coffee metaphor: your intranet doesn't have to be a bad cup of joe. Make it the neighborhood cafe, with something for everyone!
Ready to boost your intranet's potential? Get started today with these ideas and examples for your best intranet and employee app.
Use your Intranet for Internal News & Keep Employees Updated
The classic intranet use case is a home for company resources. But, that doesn't mean your intranet pages need to be dumping grounds for outdated information. Keep your company news and information modern, relevant, and targeted with the following ideas.
1. Local News & Announcements
Keeping all of your employees in the loop while recognizing that, in large organizations, not all information is relevant to everyone can be a big challenge for comms professionals. A local news page in your intranet can be the perfect solution. Consider deputizing local content creators, to keep news close to the source and boost employee engagement. An intranet with targeting capabilities means employees will only see content and pages that are specifically relevant to them—so employees at the storefront downtown won't be flooded with updates about the uptown site.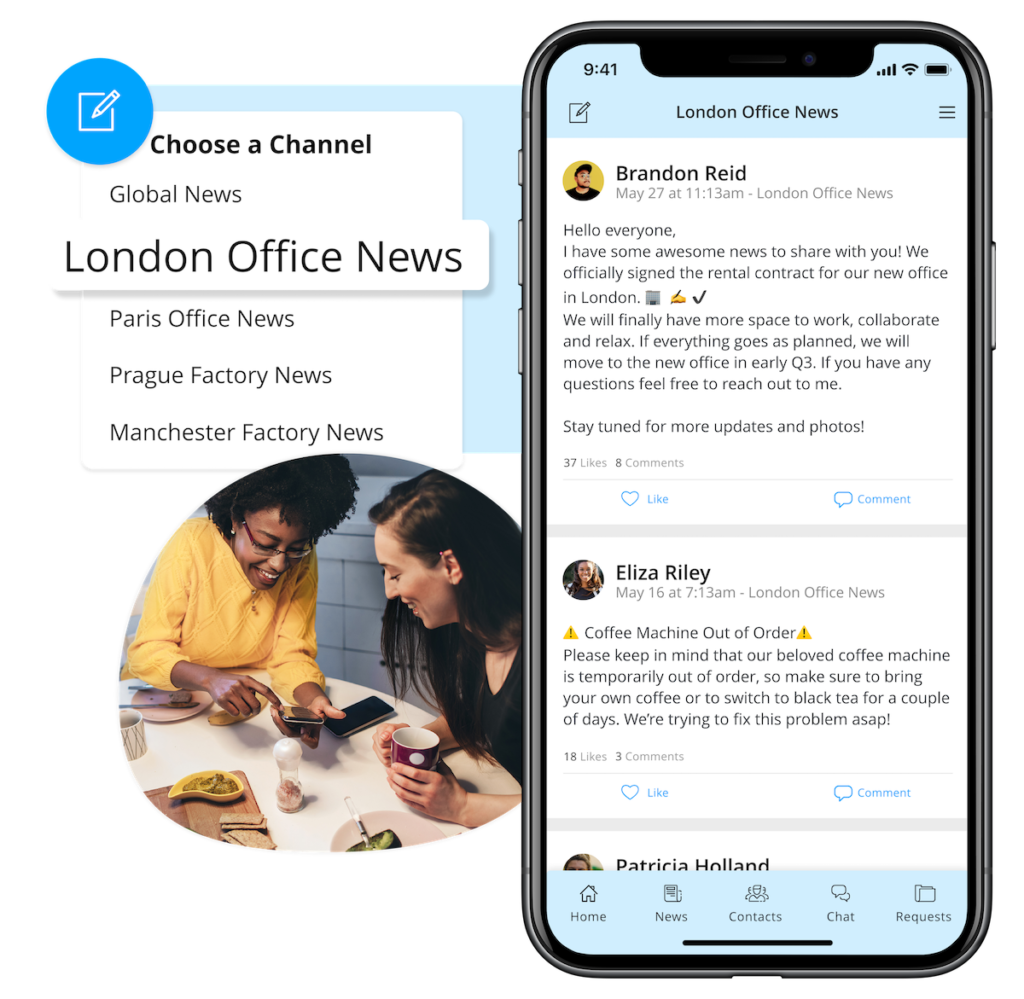 2. Corporate Communications Hub
Where do employees get information about your business? Is it scattered across multiple channels, at different times? Or left to wilt on a pinboard in the break room? A dedicated page for essential company news & info lets you be the definitive source for all employees. Keep messaging aligned and make your intranet the go-to place for important company announcements.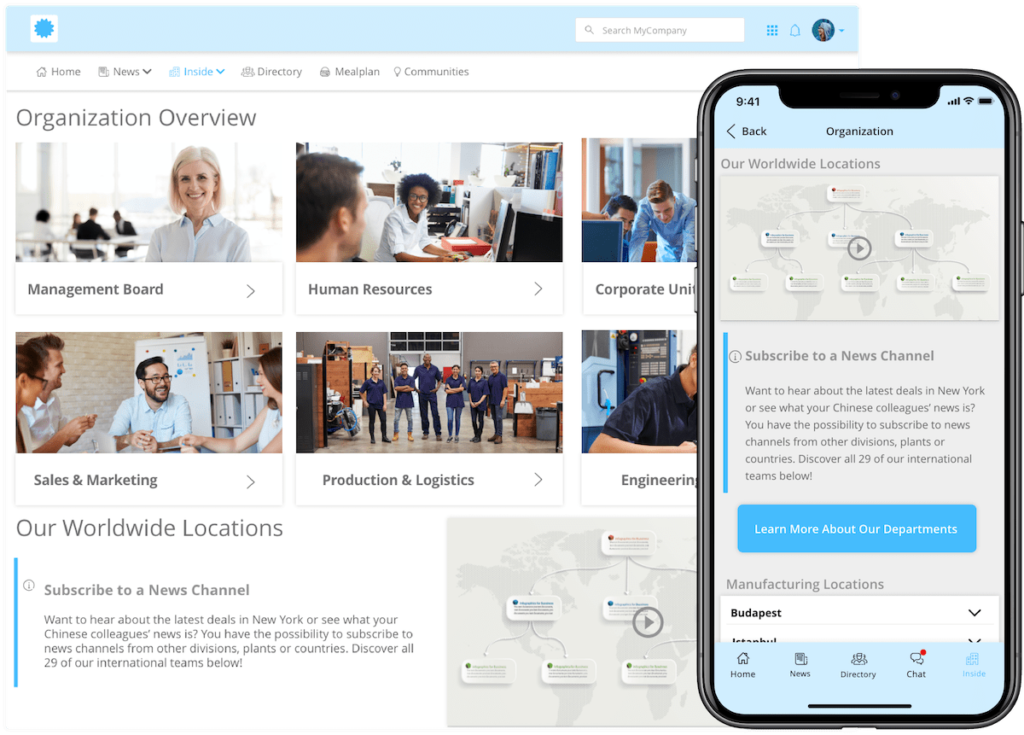 3. Workplace Safety & Security Resources
Are you still counting on employees to dust off a manual, just to find a safety policy that might already be out-of-date? Make critical information accessible and interactive with a safety resources page. Keep important documents and contacts unified, highlight policy with training videos and interactive tutorials, and ensure that all of your employees have actually read security regulations and are aware of changes.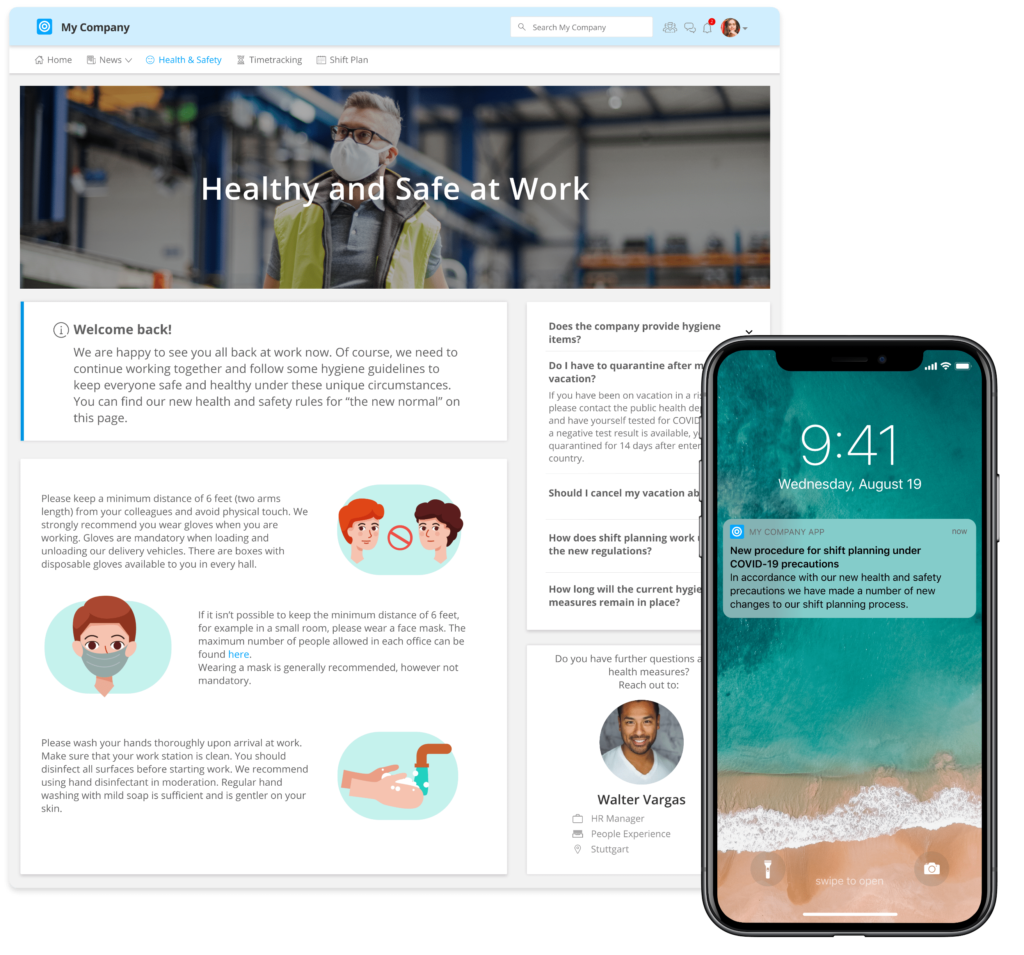 4. Employee FAQ Page
Another classic use case, this intranet idea is becoming particularly relevant as work goes more remote. Instead of dealing with endless emails and repetitive questions, organize and consolidate answers to frequently asked questions on a central page. This can be a great starting point for new hires or for team members who have changed roles internally. For large businesses, look for an intranet that allows content targeting to specific employee audiences. For example, an FAQ page for service technicians.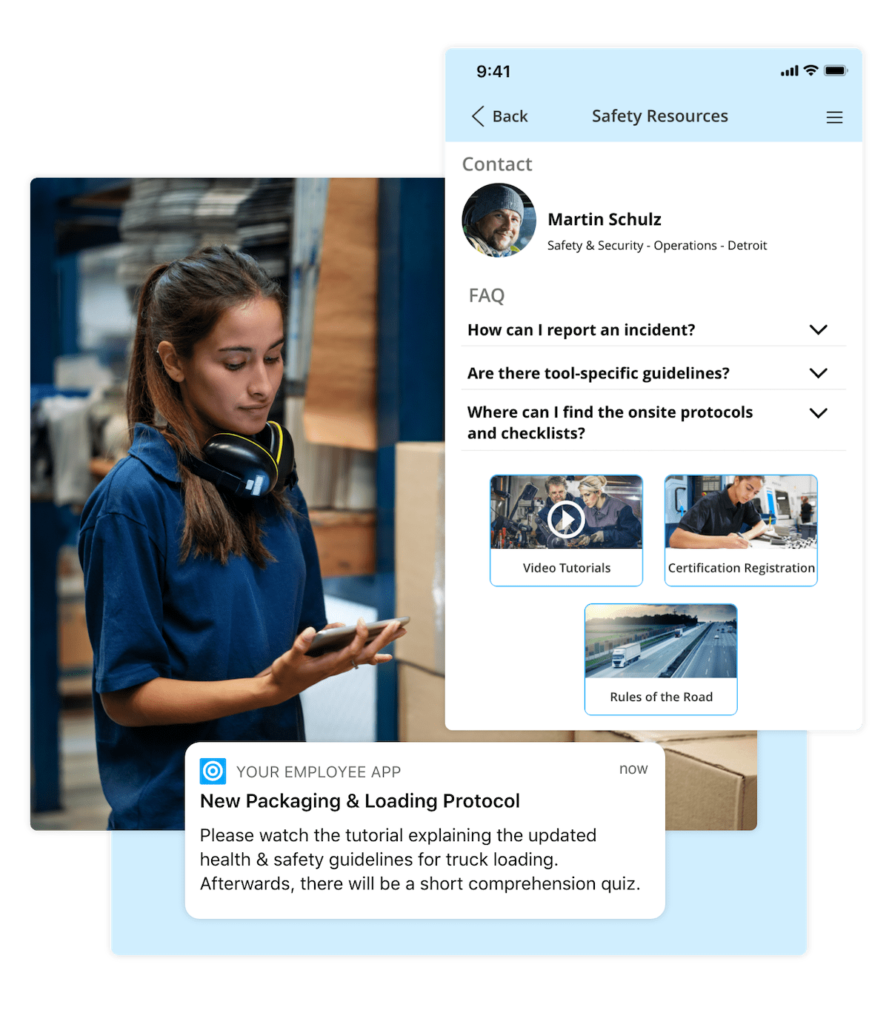 5. Crisis Management Communications
Think of your intranet as an employee alert system. An intranet that was made for mobile use means you can reach everyone immediately with both push notifications and email alerts. Read and acknowledge receipts on select messages is a great use of your intranet and allows you to measure your communications and ensure everyone has gotten critical updates.

As a situation evolves, your intranet can serve as the foremost source with news, forms for submitting questions, a directory of important contacts, and FAQs.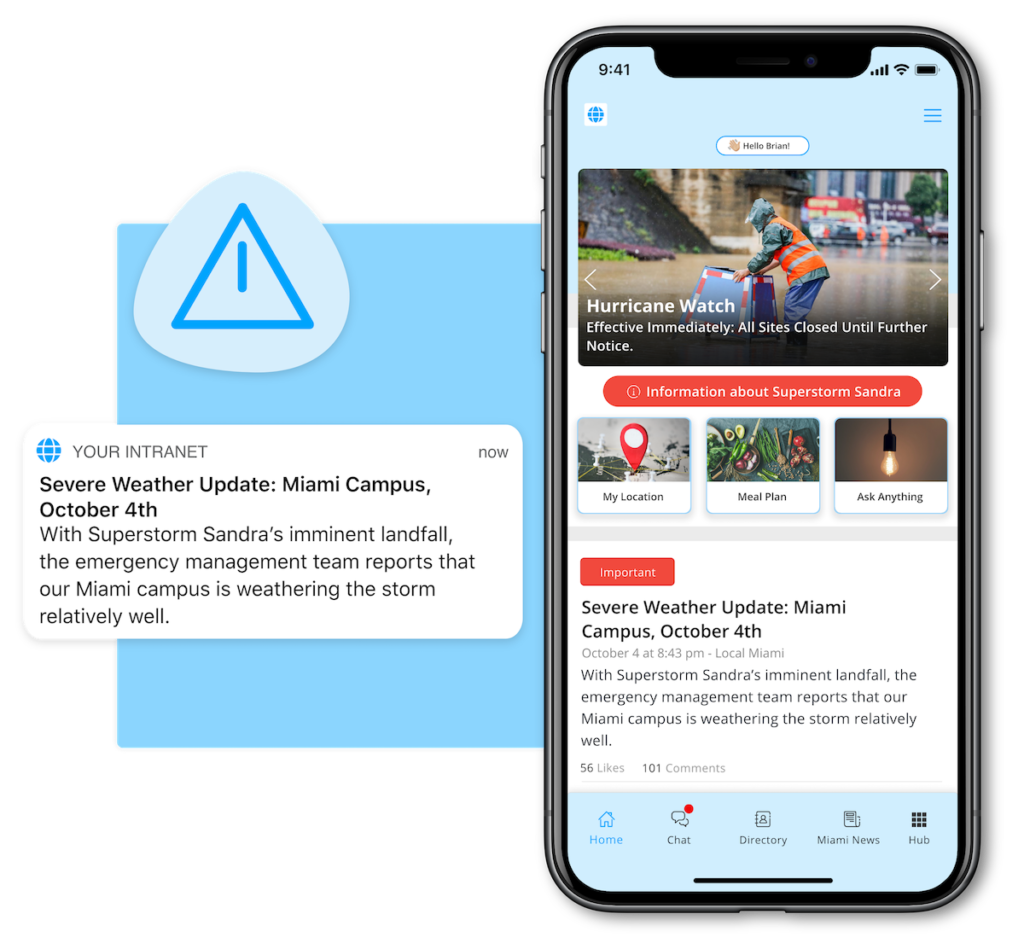 Use Your Intranet to Drive Employee Engagement
Make your intranet the place where all employees start their day with these convenient features that drive engagement and bring daily value to your platform.
6. Start the Conversation with an Intranet Chat for 1:1 and Group Messages
How do your employees communicate one-on-one at your company without email? Where would they turn if they have to quickly get in touch with a group and one member doesn't have email access? Instant messaging is the answer! But instead of relying on third-party tools or informal backchannels, why don't you incorporate instant messaging directly into your intranet?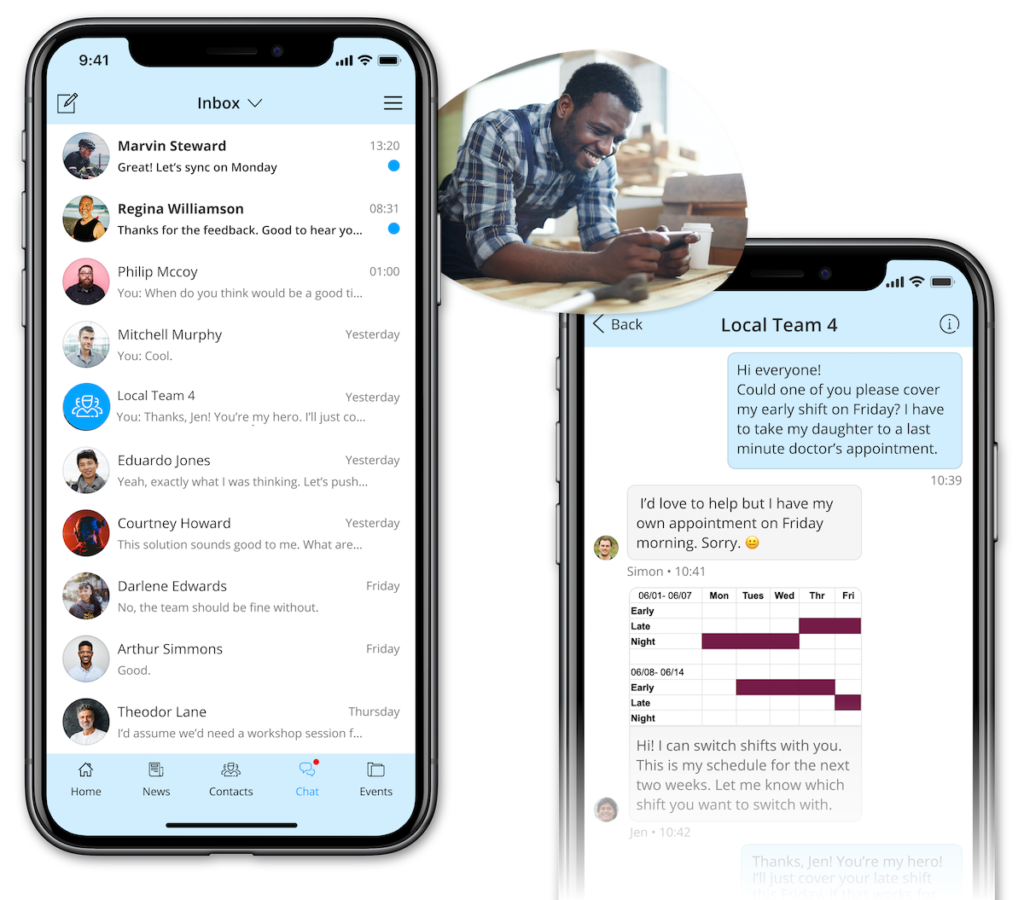 7. Boost Transparency with a Company Calendar for Events
This is a no-brainer for office workers but can also be a big boon for non-desk workers. After all, are forgotten emails and outdated bulletin boards really reaching everyone? With a centralized company calendar, everyone can keep up to date, find event details, and follow up on any last-minute changes, directly from your intranet.
8. Pump up Participation and Easily Register for Internal Events
Do your employees have an easy way to know what events are happening and when? Is planning frustrating, with registration for workshops and trainings turning into an endless email thread? Stop the hassle and make event registration a self-service directly in your intranet, either with native functionality or by integrating services you already rely on. For internal communications professionals, this is also a great option to measure and track employee participation.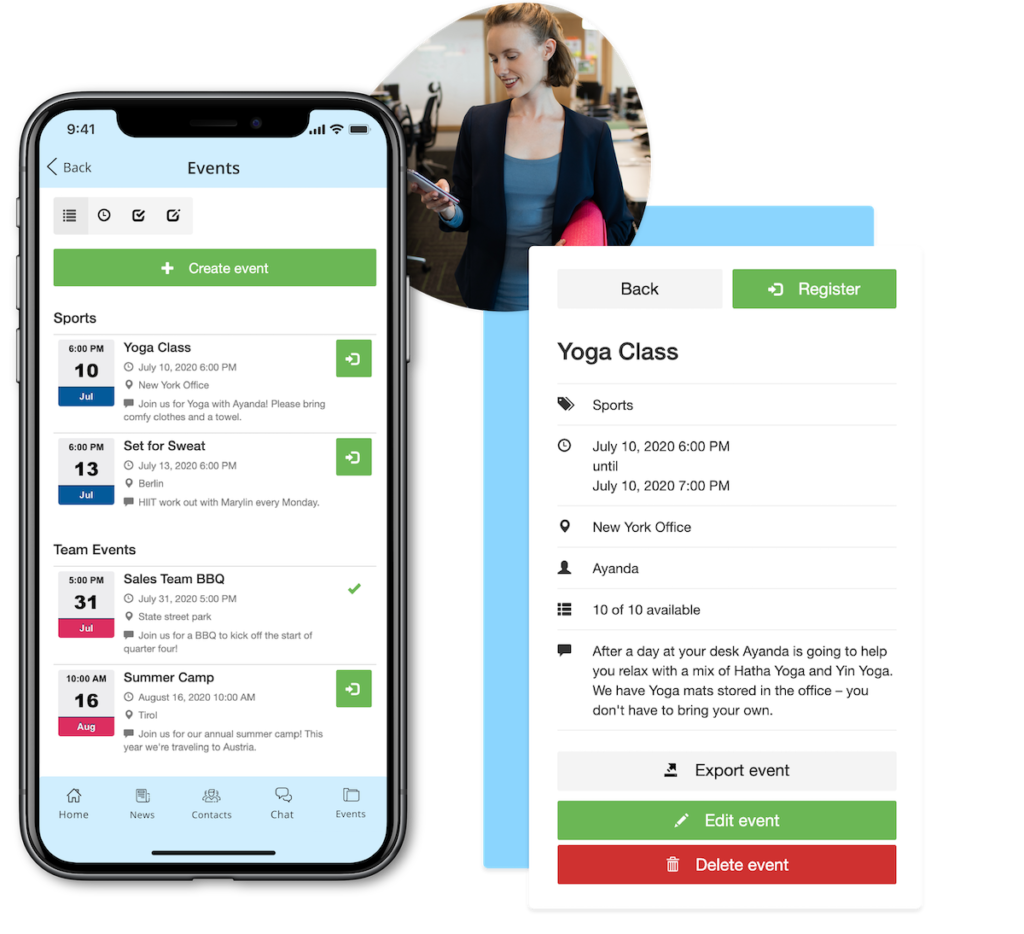 9. Find Your Colleagues with an Employee Directory
It's a given that in large, dispersed organizations, employees won't personally know all of their colleagues. But, in a pinch, are your colleagues left wondering, "Who do I go to?" and, "How do I contact them?" A unified employee directory gives everyone an easy, accessible way to understand your organizational structure, put a face to a name, and search for colleagues by department, job title, or location.
10. Put a Face to a Name and Keep Contact Info Convenient with Employee Profiles
Every intranet user will have a profile—but leaving them as faceless avatars is a waste of a great opportunity to consolidate employee information directly in your intranet. Look for profiles that can be customized. Traditional information like department, role, and contact information is a must, but the possibilities are limitless. Pump-up profiles with fields for employees to list professional certifications, language abilities, or other skills. Or have some fun and keep your company culture light with space for favorite quotes, movies, or pet photos!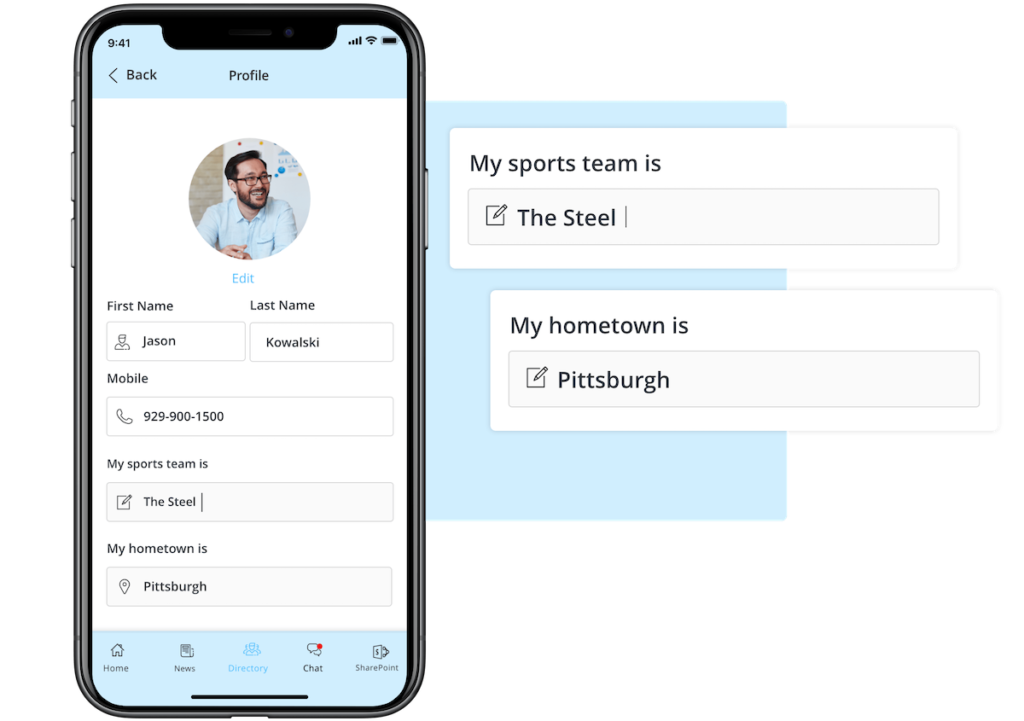 11. Deliver Essential Information with a Company Cafeteria Menu
All your employees have one thing in common: They gotta eat! If you have a company cafeteria, share the daily menu in your intranet by uploading a weekly PDF or embedding an existing website. Don't have a company canteen? What about a list of nearby places to grab lunch? Or the best spot for coffee?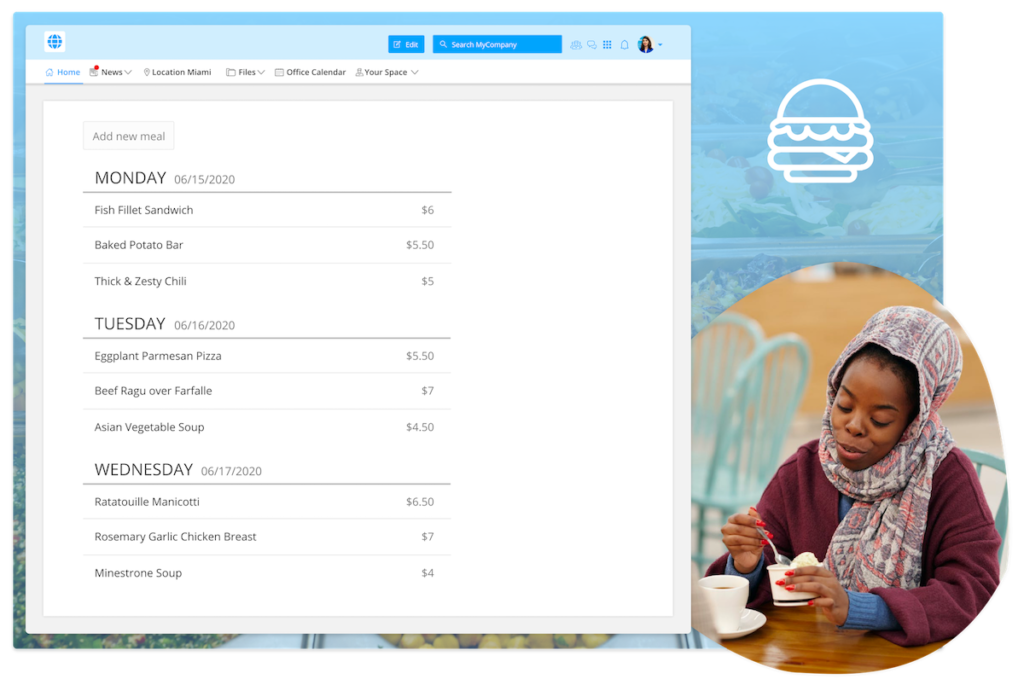 Use Your Intranet for HR Employee Self-Services & Streamlined Feedback
Your intranet doesn't just benefit your communications team, but also your HR department! As processes go digital and employee self-service grows, so does tool overload. Cut down on the chaos and make HR services convenient and consolidated for employees with these intranet ideas.
12. Check In with Employee Pulse Surveys
Checking in with employees has always been important. But, employee engagement and morale has gone far beyond nice-to-have and is now seen as business-critical. Rightly so! Measuring these factors is a challenge for any communications professional, especially in between larger feedback campaigns. That's where so-called "pulse" surveys come into play. But, instead of investing in yet another tool, why not launch a pulse survey directly in your intranet?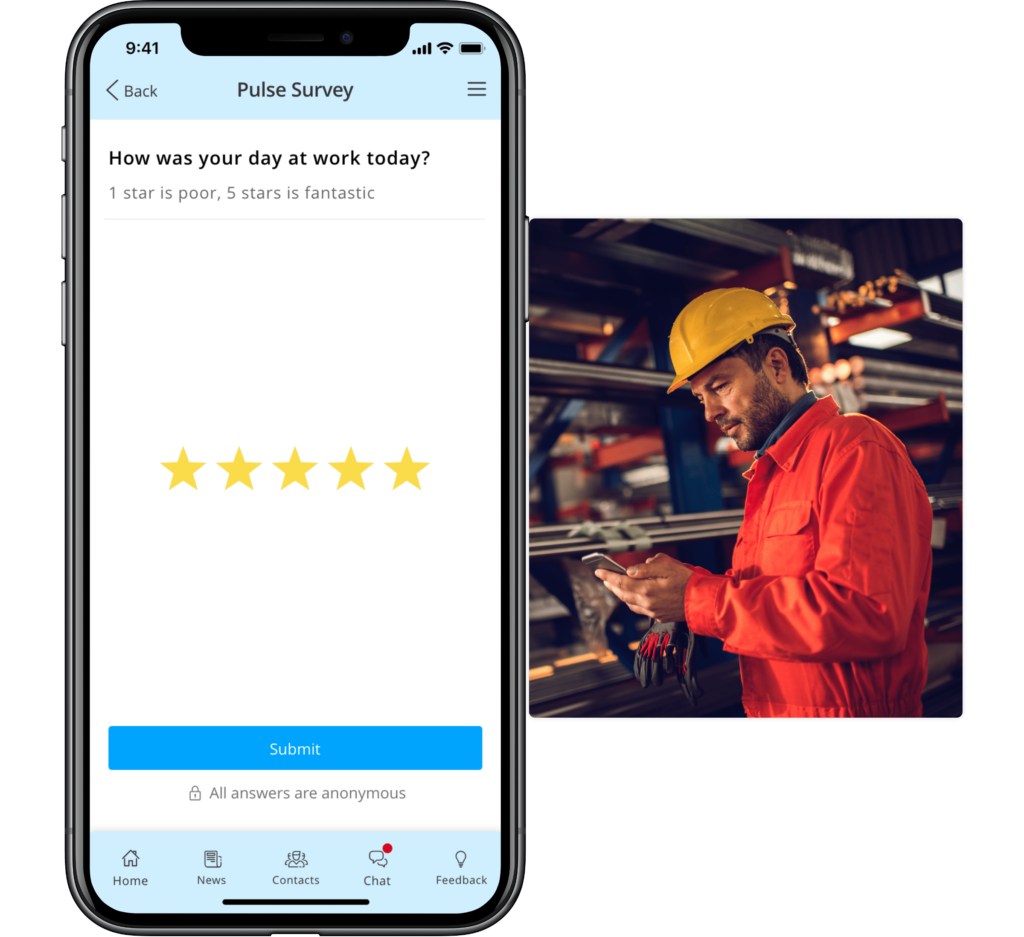 13. Integrate Employee Feedback Surveys
The classic for a reason. The survey still rules when it comes to getting in-depth employee feedback. But, that doesn't mean you can't be making your strategy smarter and more streamlined. This is easy with an out-of-the-box survey feature or through easy integration with survey software, like Survey Monkey or Netigate. A major benefit of incorporating your employee survey directly into your intranet is that it actually reaches all employees! No more missed emails, confusing logins, or mass mailings. Push notifications can even alert employees to feedback campaigns.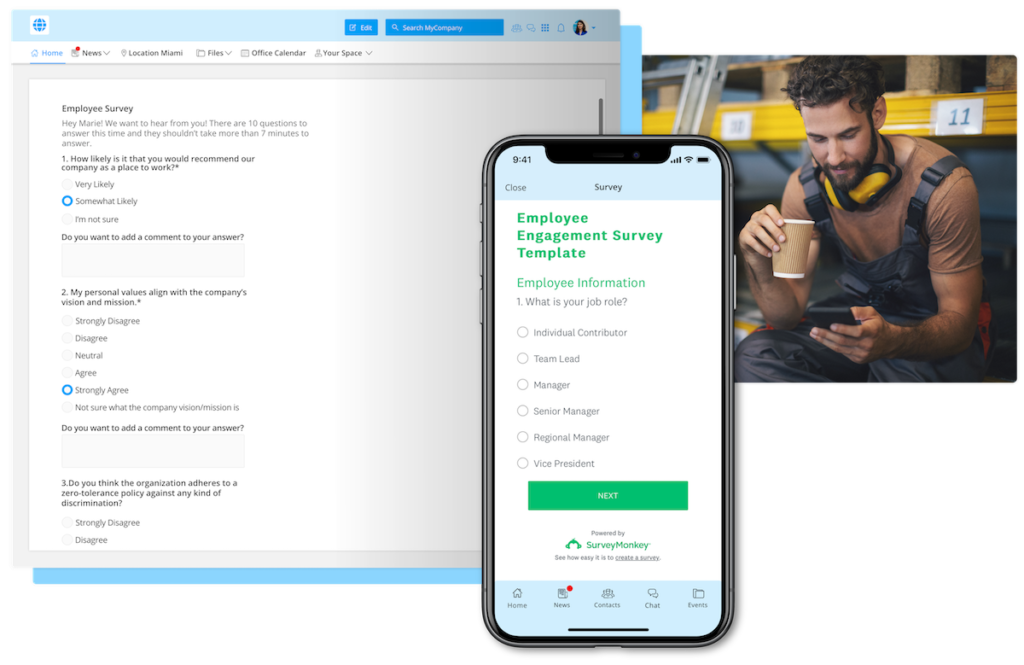 14. Make Leave Requests & Shift Planning Simple
Is coordinating and keeping track of employee schedules a hassle for both HR and team management, especially for remote or non-office workers? Integrate your HR system with your intranet and make it an employee self-service to plan time off. Better yet, cut out the middleman with an intranet that supports native HR functions. This lets all employees access their personal schedules, request time off, and see updates at any time-—no confusing logins or paper processes required!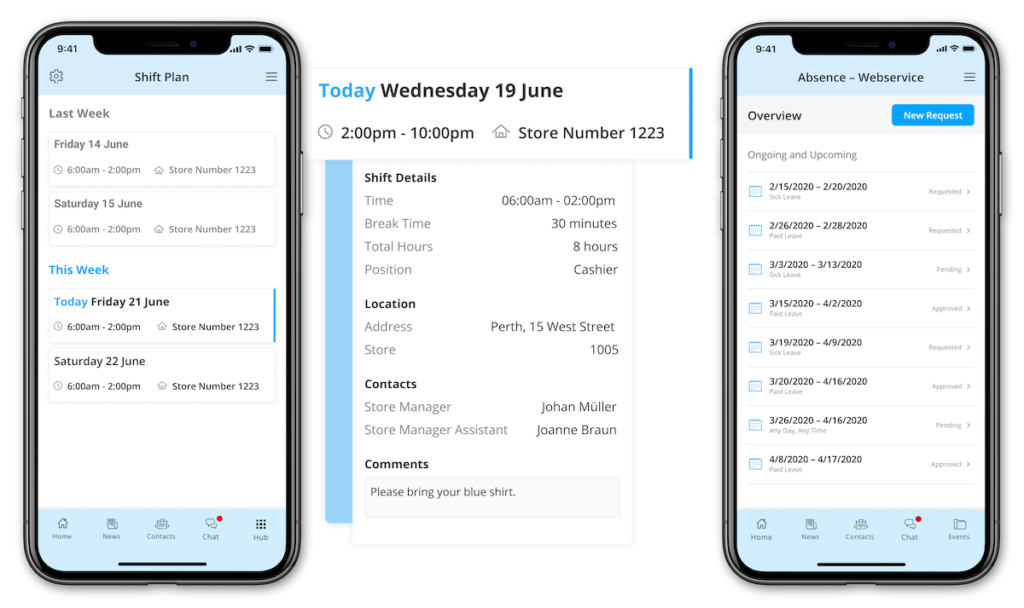 15. Submit & Keep Track of Sick Notes & HR Forms
Collecting employee information and keeping track of paperwork, like sick notes, can be complicated. Make it quicker and more convenient for both HR and employees by submitting forms directly in your intranet. Consider targeted notifications when a form is submitted, to ensure the information gets to the right people, whether that be HR, a manager, or the office assistant.
16. Strengthen Your Employee Onboarding Process
Who do your employees turn to on their first day on the job? The answer should be . . . your intranet! Centralize resources and create company connection from the first click for all employees—even frontline workers. An intranet with targeting lets you introduce new employees to already existing content and delivers the message at the right time in their onboarding journey.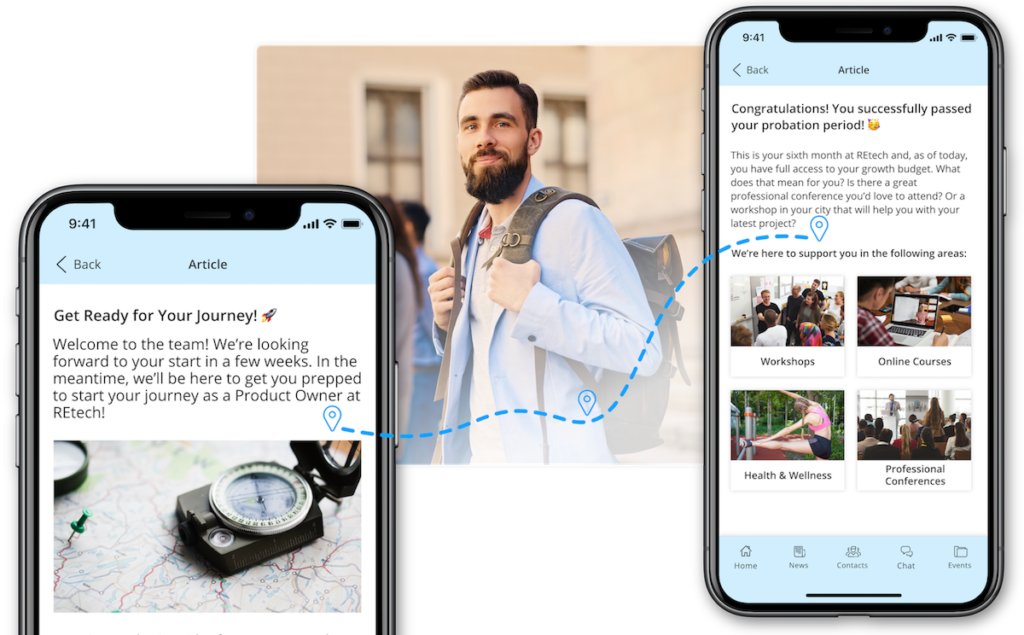 17. Say "Thanks" with Workplace Recognition
Do you have a way to call attention to outstanding employees? How do you celebrate work anniversaries, birthdays, or years of service in your business? Integrate your recognition programs into your intranet with designated channels for awards and nominations, such as Employee of the Month or spotlight stories that focus on everyday heroes. These public shoutouts will reach a wider audience than if they were just shared within an individual team or on a bulletin board. Meaning, they'll help support a positive company culture organization-wide and boost employee engagement with your intranet.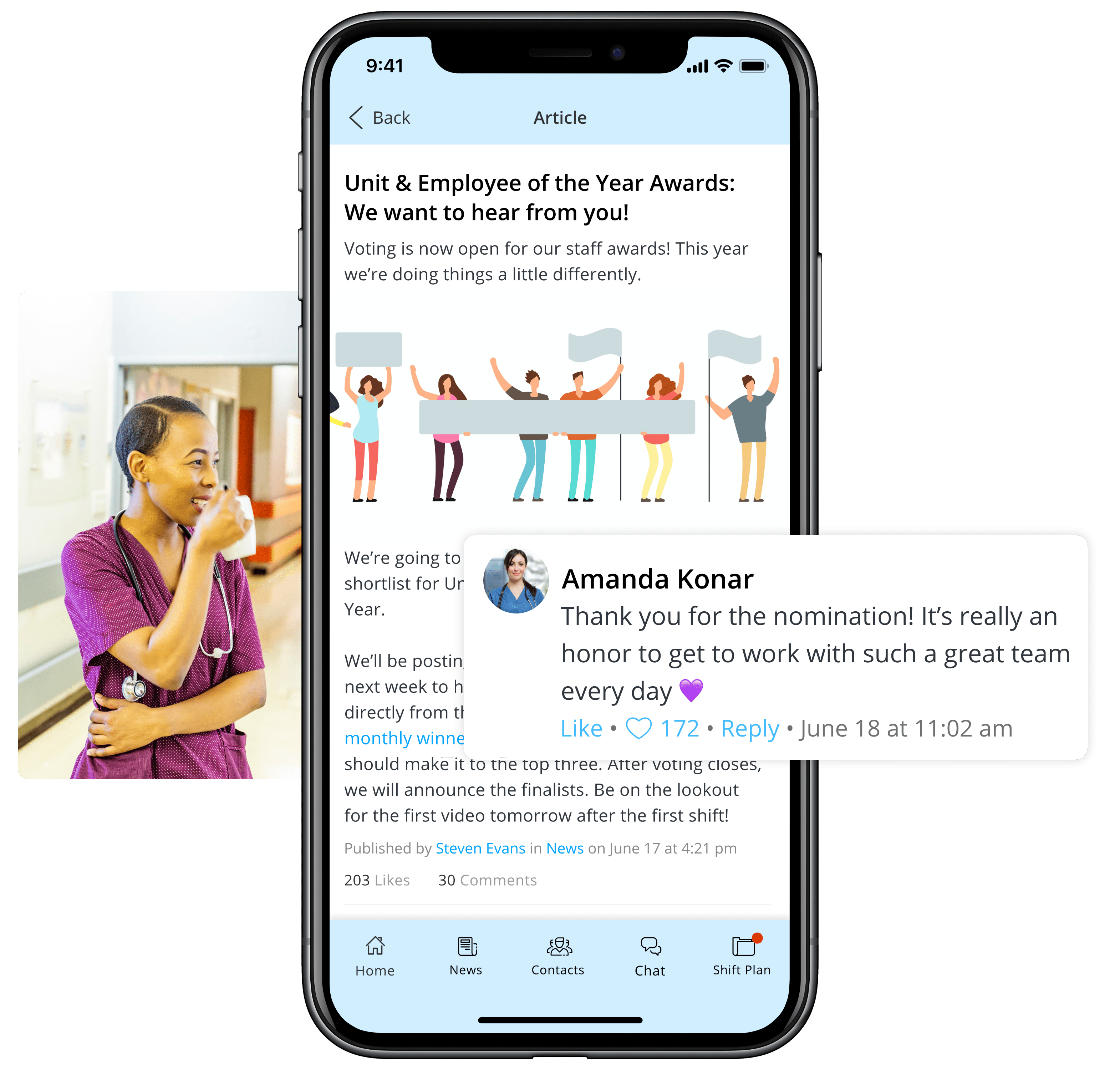 18. Put the Employee Handbook in Everyone's Pocket
Was orientation day the last time employees actually looked at your company handbook? Make company policies convenient and engaging with an employee handbook in your intranet. The game-changer here is ensuring your company information is easy-to-find and used both on desktop and mobile. Think of it as the first stop for all policy questions, a springboard to all HR services, and a great place to showcase your company culture and values.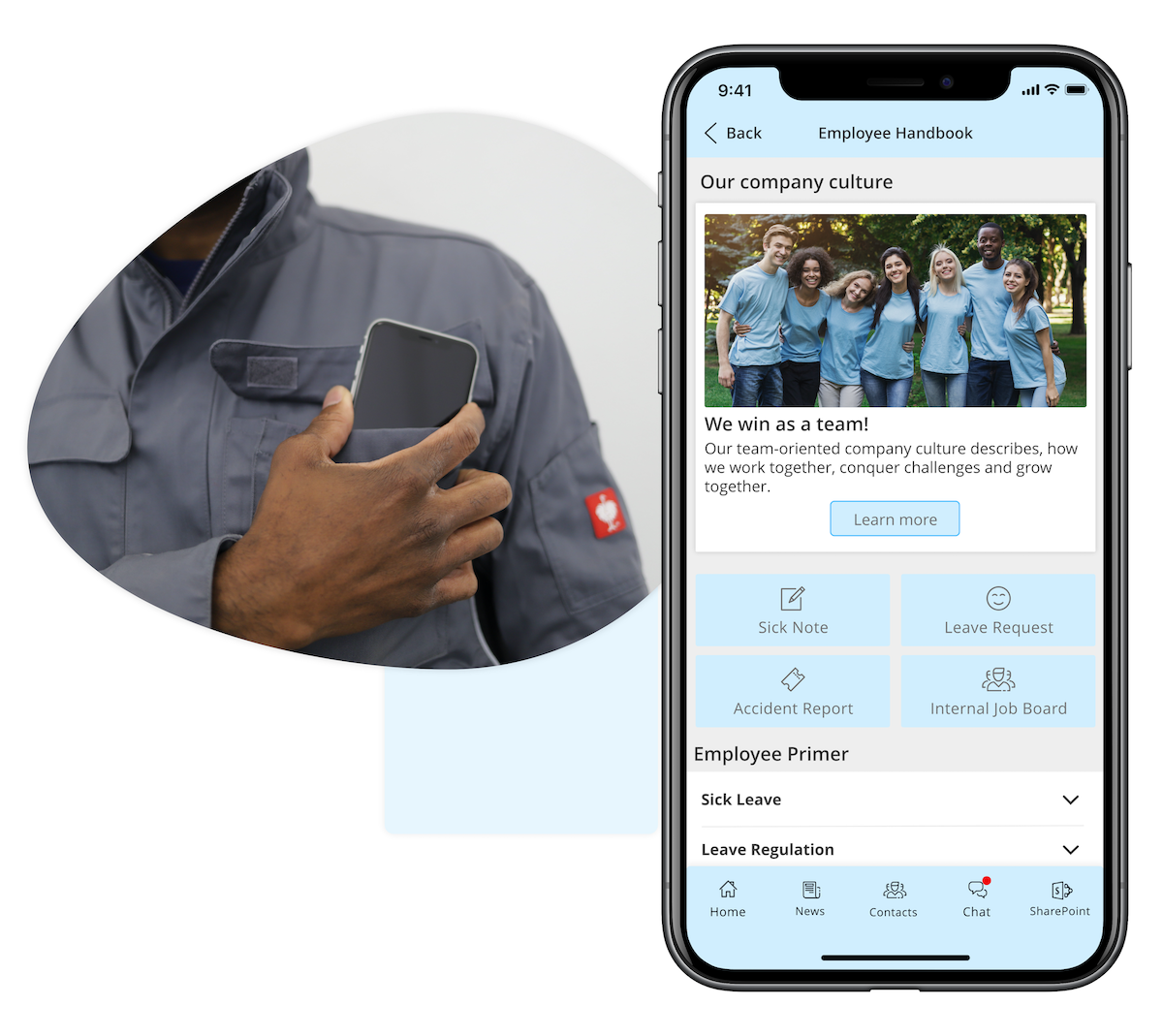 Use Your Intranet to Promote Transparency & Employee Participation
Employees expect more than just cut-and-dry communications. Get them engaged and start building a transparent and authentic company culture with these creative intranet ideas. 
19. Support Internal CEO/CXO Communication with Employees
Is there a gap between the C-Suite and your employees' daily experiences at work? Give employees a direct line to leadership with an "Ask Me Anything"-style news channel for your CEO or management team. This forum lets employees pose questions directly, while management can address remote teams and workers personally and get ahead of the rumor mill. Video messages and commenting can make the experience interactive and personable for everyone.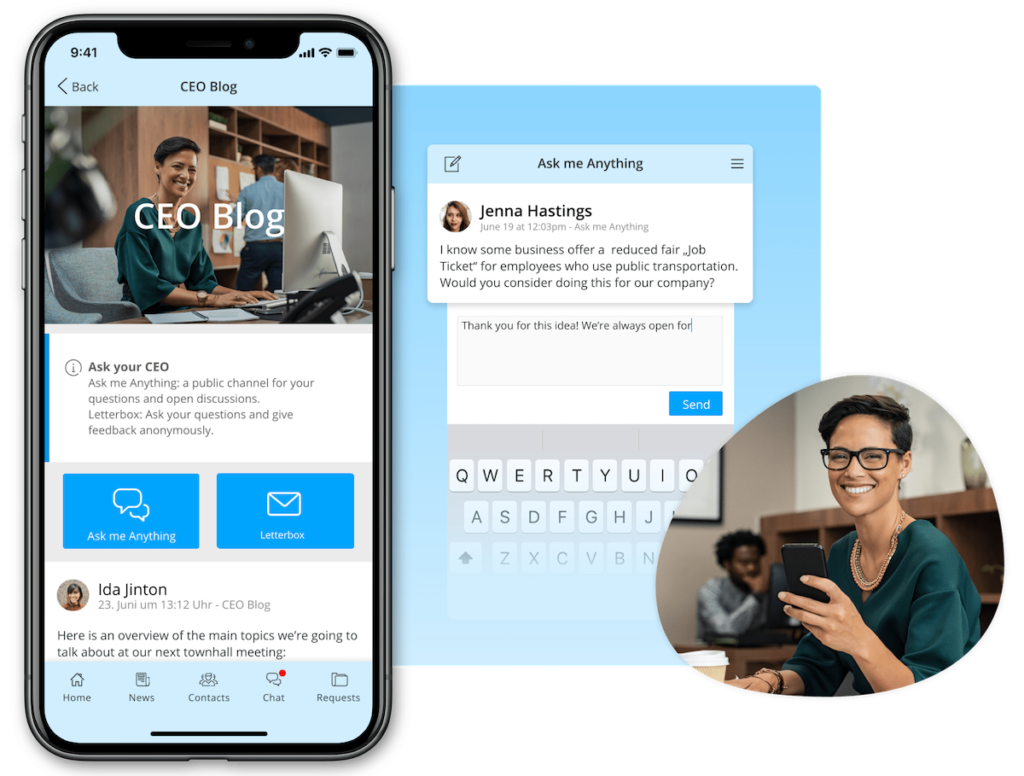 20. Attract and Engage Gen Z Employees
Searching for ways to integrate Gen Z employees? Want a way to showcase young talent and the value they bring to your business? With a designated intranet channel, working students, interns, and part-time or seasonal employees can share their experiences and connect during their time at your organization. Incorporating social features like video, photo galleries, likes and comments, and chat make your intranet intuitive for younger generations. 

 21. Improve Your Ideation Process
Use your intranet to benefit from in-house collaboration and creativity. Capture new ideas and suggestion improvements organization-wide in an intranet ideation channel. Social touches, like liking and commenting, make it easy to see which ideas resonate with employees.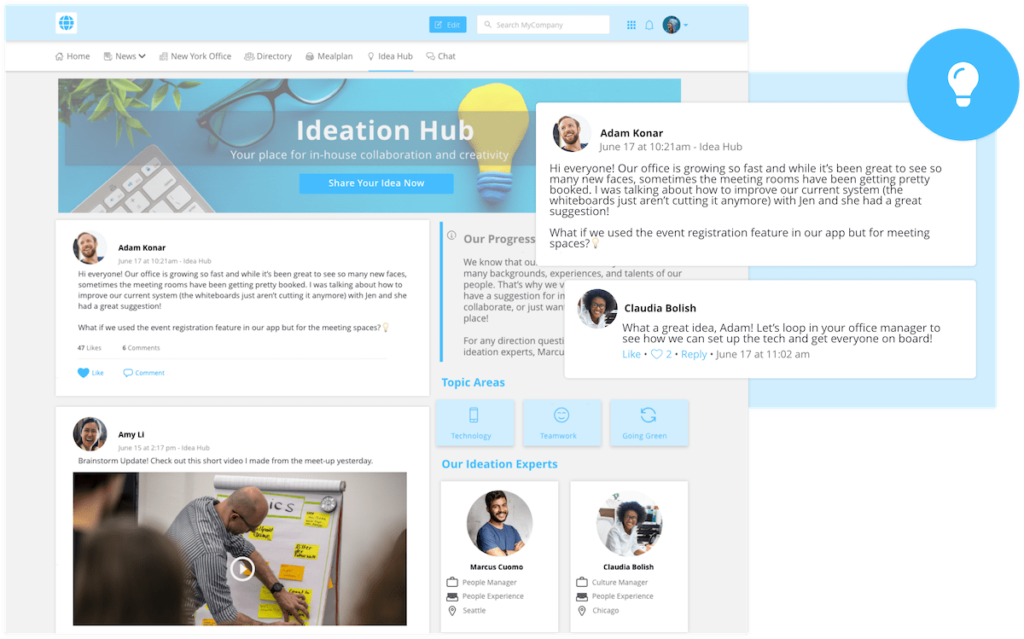 Use Your Intranet for Collaboration & Interaction Between Colleagues 
Don't limit your intranet to top-down communications! Get everyone involved in the conversation and keep things social with these ideas for collaboration and interaction.
22. Ask Your Colleagues for Feedback & Help
How do your employees in similar roles connect if they don't share the same office? With a dedicated "Ask Your Colleagues" channel, employees can get advice and exchange ideas while they're on the go. No matter if it's a quick tip about a new tool, lunch recommendations, or just where to find the updated WiFi password, employees won't have to wonder who to ask or how to get in touch quickly and easily.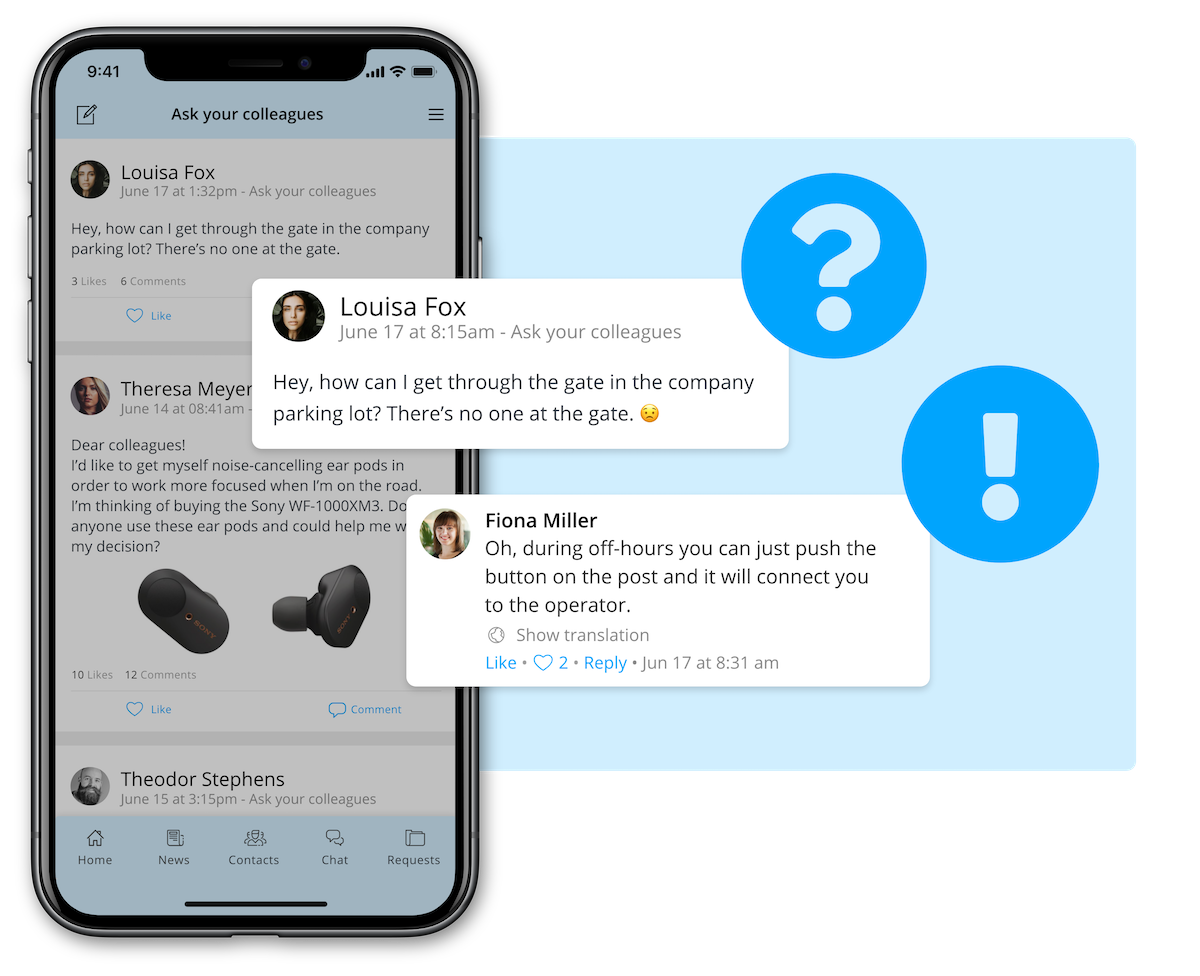 23. Make the Bulletin Board Interactive with an Employee Marketplace
Your employees are talented, diverse people, both at work and in their personal lives. Why don't you create a space to show off their skills, offer their help, or upcycle their belongings in your intranet? An employee marketplace is great for fostering peer-to-peer interaction and keeping things social.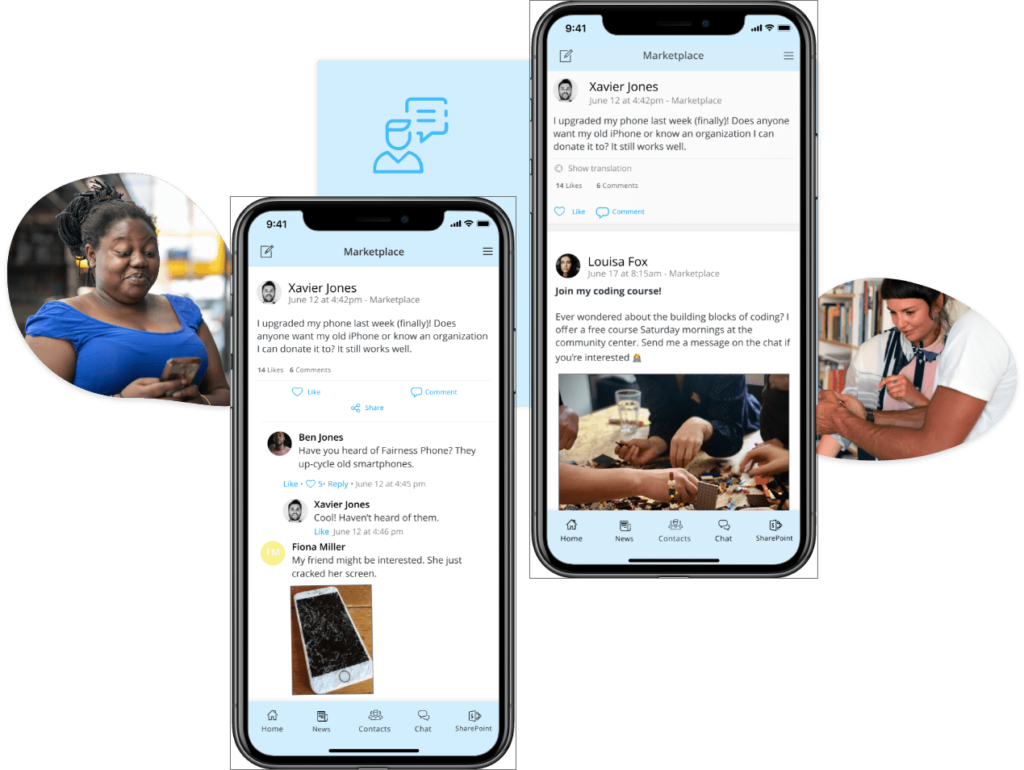 24. Find Experts with an Internal Talent Pool
Speaking of skills, want to know an interactive way to leverage your colleagues' expertise and benefit from knowledge sharing organization-wide? How about using your intranet to highlight and connect employee experts? Whether you need an Excel wiz, someone who speaks Spanish, or a coworker trained in CPR, a searchable talent pool in your intranet can connect colleagues and support in-house talent. 
25. Connect Peer-to-Peer with a Social Wall
Your company is a community and employees want to connect, exchange, and share, just as they do in their private lives. Create a social space within your intranet for employees to post moments that matter and share their stories. This works best when the channel is designed to look like the social media feeds we already use. That means multimedia, liking, commenting, and sharing capabilities are a must.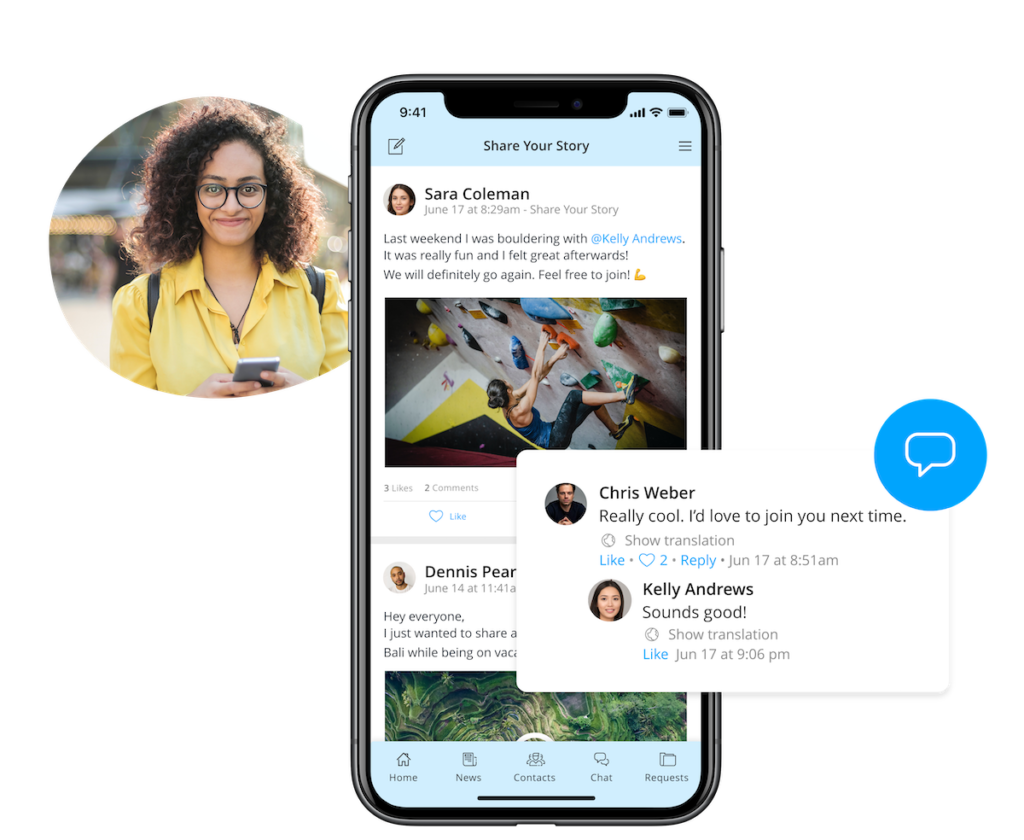 26. Share Best Practices, How-To's, and Learnings
Do you risk losing valuable, institutional expertise when employees retire or leave your organization? Where do employees turn to find your organization's best practices or see exemplary work? Consolidate knowledge and easily share proven approaches in your intranet with a best practices channel. This can be easily combined with other resources, like the FAQ page we mentioned above, to create a learning hub that's accessible for all employees.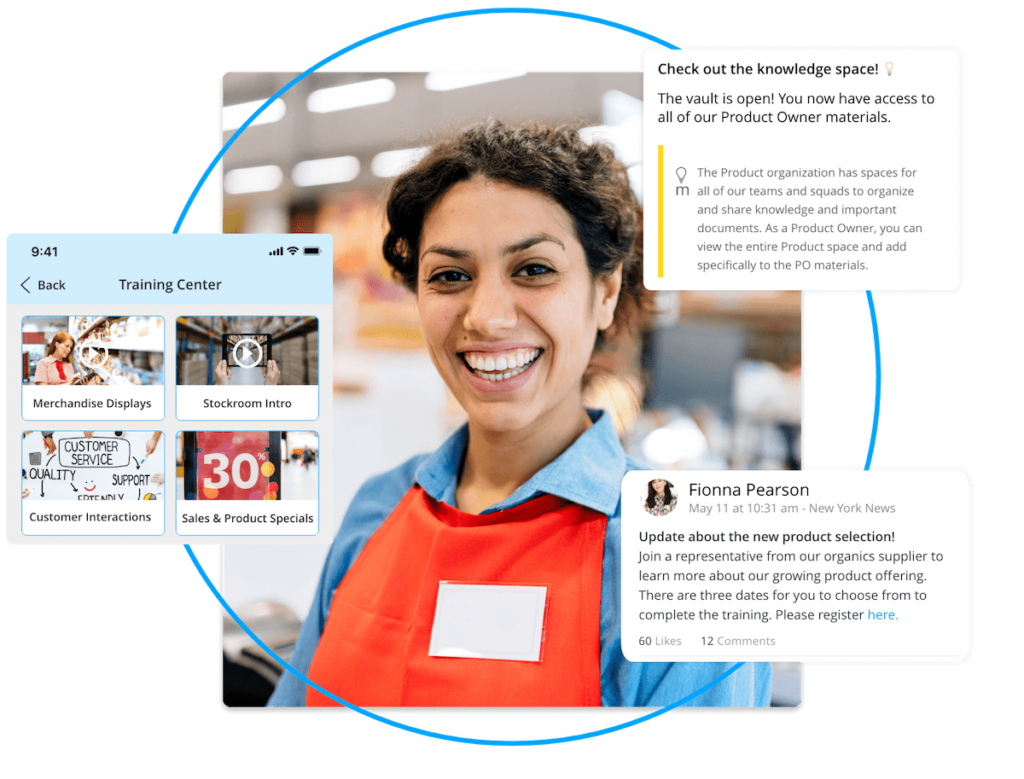 Throw out old and clunky! Book a demo today and get started with a social intranet that will change your internal communication forever:
Read more about modern intranets: