What happened to social intranet software?
More than a decade ago, social intranets arrived on the scene to modify corporate intranets through the enablement of greater teamwork and knowledge sharing. Like the Web 2.0 technology that preceded it, social intranet software emphasized social networking, user-generated content, and cloud computing. And like Facebook and other social media sites, the social intranet featured interactive functionality such as comments, likes, sharing, and team rooms.
High hopes that never quite materialized
It was hoped that the social intranet would connect people with the knowledge they produced, and spur conversations around it. That outcome, unfortunately, never quite materialized. For a variety of reasons, people generally continued to avoid the intranet as a central source of information. What it offered lacked relevance. Or it was still quicker and easier to get truly practical help from "someone who knows about X" rather than trying to look it up on an complicated digital platform.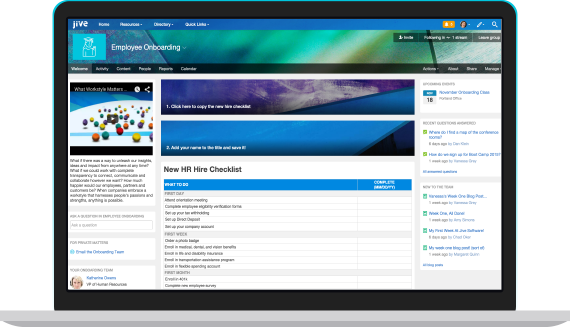 Furthermore, most examples of social intranet software on the market at the time didn't offer solid solutions for document management. Collaboration-centric Enterprise Social Networks (ESNs) such as Jive, IBM Connections, or Sharepoint lacked this key requirement for collaboration.
Given that collaboration and knowledge-sharing were core elements of social intranet software, limitations of security and reach caused additional problems. Likewise, overall adoption of social intranets often failed for the same reasons traditional intranets did. They were desktop-first portals to a bunch of utterly pointless information that lacked day-to-day significance.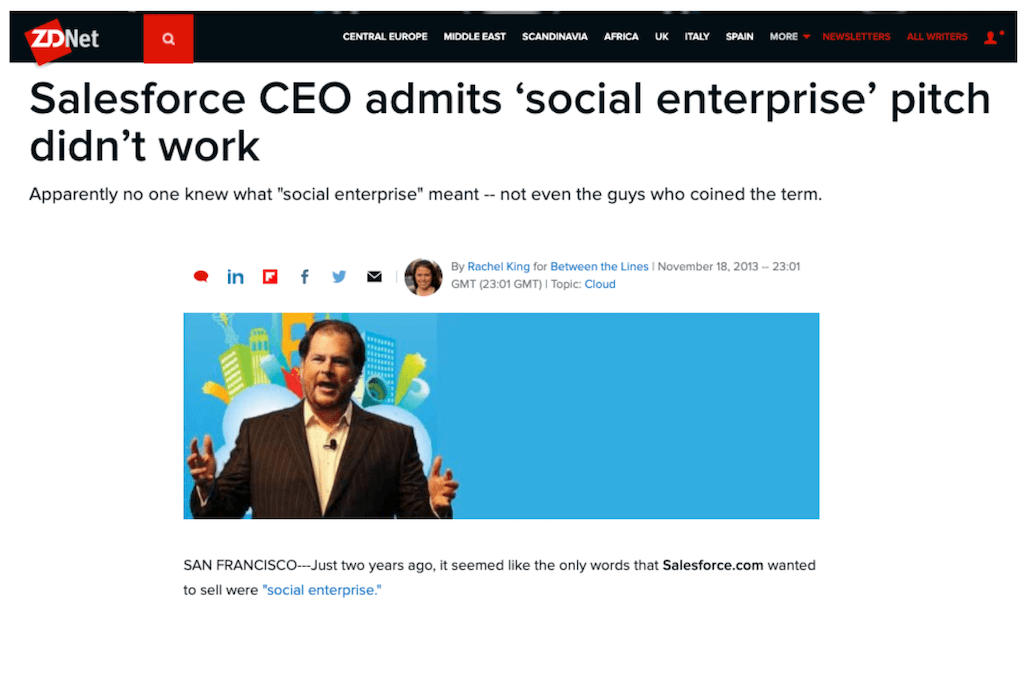 In the meantime, standalone platforms for collaboration gained greater and greater prominence and adoption. The result was that a once central purpose of the social intranet began happening elsewhere, further reducing its overall appeal.
1. Collaboration platforms like Slack and Microsoft Teams made the original concept of the social intranet obsolete.
One idea behind social intranet software was that it could offer virtual chat rooms or channels. These would be organized by topic, private groups, and direct messaging. Within these channels, functions such as videoconferencing, file storage, and app integration could be offered. 
But this is exactly the kind of service that's arguably been perfected by Slack and Microsoft Teams. These hugely popular business communication platforms exemplify how collaboration can work across multiple groups. Not only do they significantly reduce internal emails, but users appreciate their ability to decide whether or not to integrate external tools. Users can also customize how deeply they want to stay up-to-date with certain information.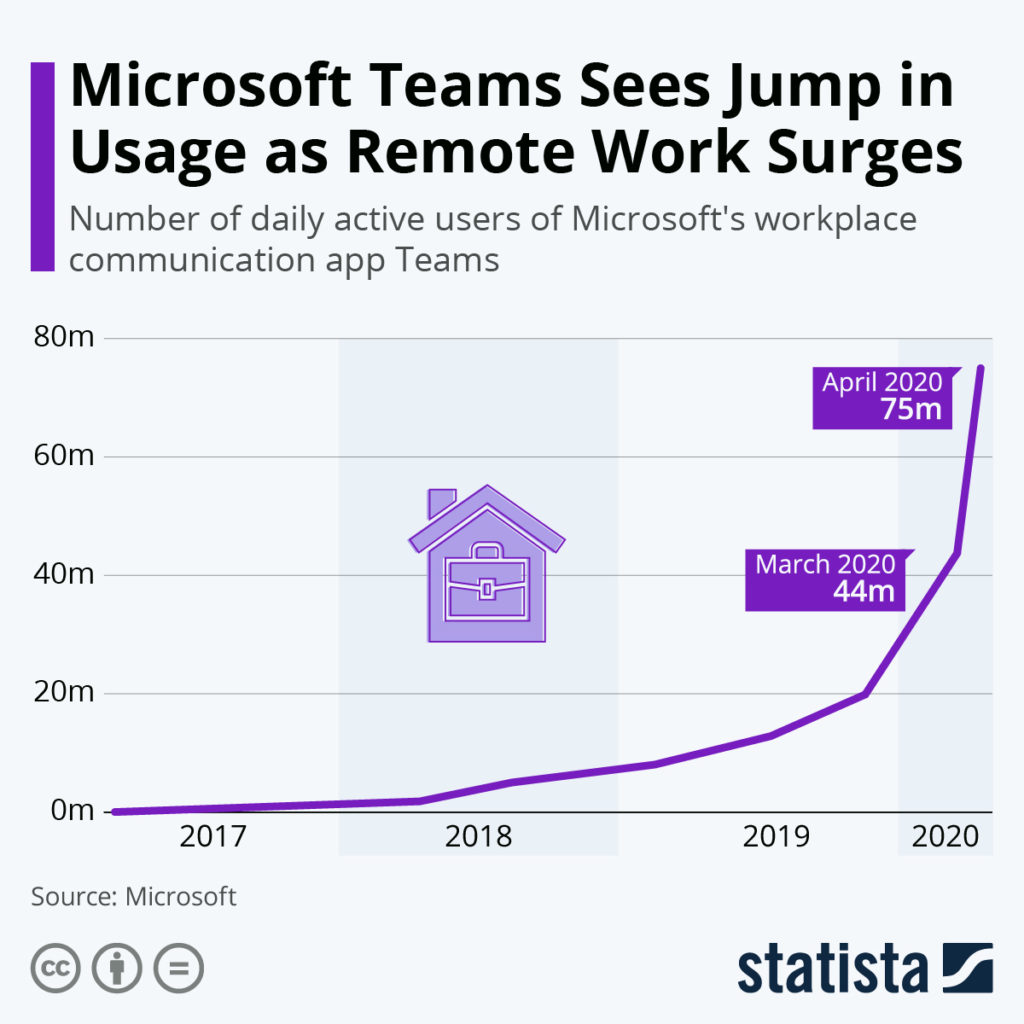 In 2020, the Covid-19 crisis further accelerated the adoption of these tools. As entire companies switched overnight to remote work, usage of MS Teams skyrocketed.
Given this explosion of use, some companies have even begun asking if platforms like Teams can entirely replace social intranet software and tools for internal communication. But there are many reasons why this is a bad idea. (And the same argument holds true for why Yammer will fail as your one and only internal communications tool.)
Nevertheless, these developments have had huge implications for social intranet software. The result is that collaboration and teamwork are no longer a core task and requirement of a modern intranet.
And that's not all.
2. Workday and other HCM platforms are also happening outside of the digital workplace hub or employee experience platform.
Just as collaboration was once thought to be a central feature of social intranet software, so too was the idea of using the social intranet as a place to embed an organizations's employee self-services or Human Capital Management (HCM) system. The idea partially stemmed from the concept of the "front door intranet" or "digital workplace hub." This would offer a single place for employees to go for everything needed to do their jobs. Sounds great, right?
Well, despite how attractive the idea of a digital workplace hub might seem, reality, as it often does, has had different ideas. A hub indeed offers a streamlined way to organize the growing array of digital tools used by today's employees. But what good is it if people don't actually use it?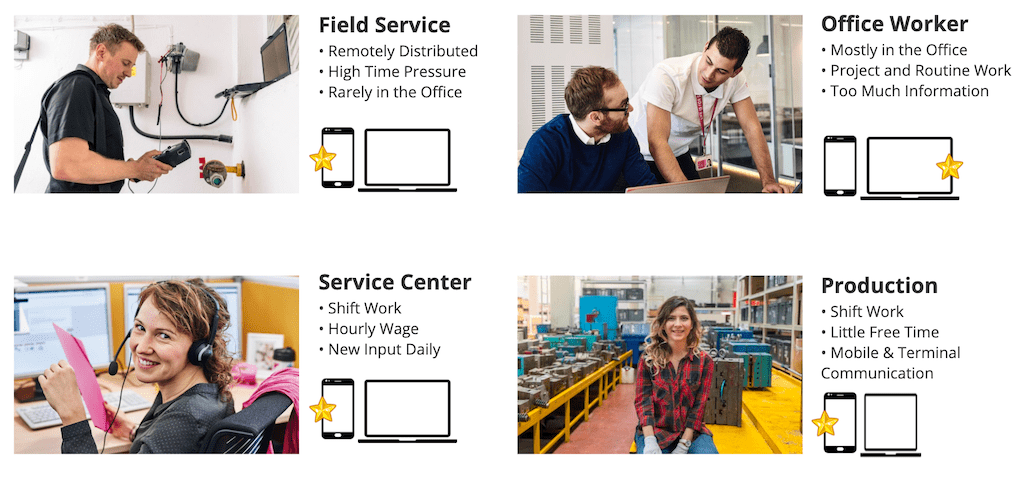 Much like "do-it-all" intranets have generally failed to attract users as a center for knowledge-sharing, employees have their preferred ways to access digital tools depending on their individual working methods or the devices they commonly use.
More often than not, employees will simply go straight to the tools that they need and use most often.
Regarding employee self-services, if an employee wants to request vacation time in Workday, for instance, it's most likely that he or she will access that platform directly.
Putting such tools behind "a single pane of glass" (another metaphor for the digital workplace hub) only adds another step. Unless the employee can easily access the tool from the platform where they're already working, why would they bother stepping backwards into their social intranet just to access an infrequently used personnel tool?
As Sam Marshall, the owner of ClearBox Consulting, writes in The Myth of the Digital Workplace Hub:
An engineer using a CAD system every day isn't going to fire up an intranet first to click on the link in the 'Tools' menu (even if it is seductively called 'Quick Links')." 
Marshall, in fact, envisions a more adaptable way to address the problems hubs try to solve. Flexible entry points can offer connections that are surfaced where they make the most sense to the employee. It all depends on his or her individual work styles or always-open tools.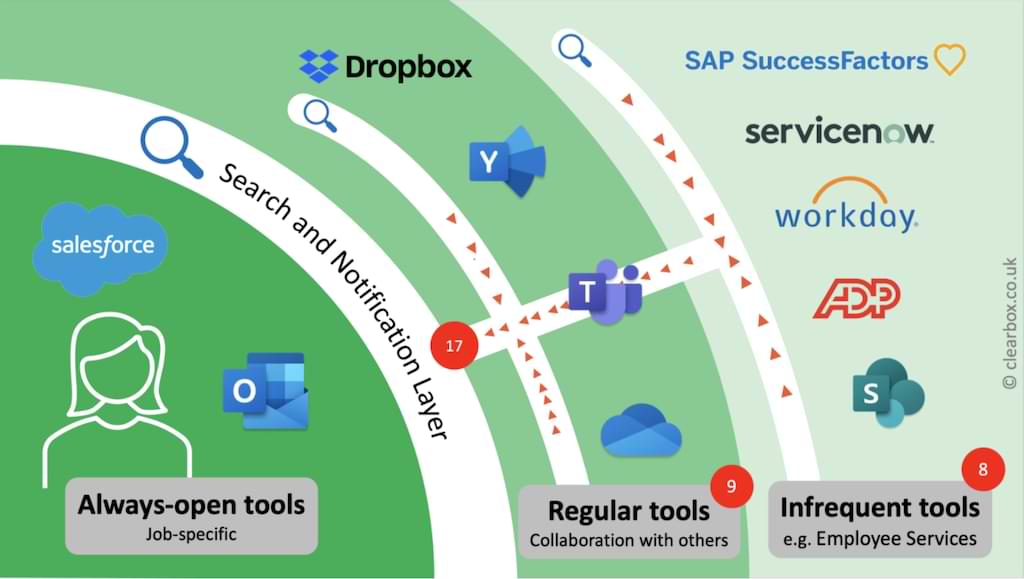 Marshall's idea for this kind of aggregated digital workplace is in line with other fresh thinking about how to organize communication, collaboration, and knowledge management. Namely, the multi-channel intranet.
3. A multi-channel intranet gets comms-focused information to employees directly in the channels where they spend most of their time.
There's an irony in taking collaboration and HCM concerns out of the equation. Social intranets, in so far as they still exist, can focus more precisely on their original goals: creating and sharing content, engaging employees, and enabling communication.
James Robertson, Managing Director of Australia's Step Two, has proposed the concept of the multi-channel intranet. It manages information in a "platform-agnostic way," sharing it in multiple channels and formats, ensuring it reaches all employees.
Robertson's article, Create a Multi-Channel Intranet to Reach all Employees, calls for "multi-channel intranets that coordinate the delivery of content and communication across multiple channels and touch points."
There are several advantages to taking this multi-channel approach to intranet strategy:
News and information can find employees where they are, not the other way around.
Comms can reach all touchpoints in all channels.
The option exists to "push" comms to specific channels.
There's a single place to create and manage all news and messaging.
Conclusion, or yes, social intranet software still makes sense — as part of a multi-channel approach.
The multi-channel concept is positive news for social intranet software. Employee experience platforms hold great promise. But it's unlikely that there will ever be a single place to consolidate every device and channel used by today's employees.
Instead, social intranet software can be used in parallel with other tools and platforms. For example, your social intranet can be a publishing platform from which to push communication to the various channels in use by your company. In this way, it can sit alongside Slack or Microsoft Teams for collaboration, and an employee app for reaching non-desk workers.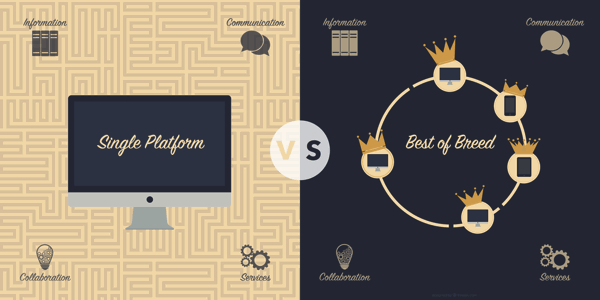 This multi-channel approach, or what one might call a "best of breed" strategy, allows companies to choose the technology that best suits the needs of their employees. It allows each — including your modern intranet focused on communication and culture building—to concentrate on what it does best. The result will be a customized, employee-centric and multi-channel intranet that offers truly practical advantages that fit the way people work today.
Read more about modern intranets: