For many employees, keeping up with the latest company news is often a task that winds up on the bottom of their already-full to-do lists. And that shouldn't come as a surprise. After all, no one wants to waste their time reading information that has nothing to do with his or her actual job. But that's certainly not to say that there aren't things every employee needs to know. Can you guess what they are? Read on and find out!
Communication that misses its target is a waste of time and money. Luckily there are easy ways to make your communication far more on-point simply by using broader communications channels that do a better job of targeting the specific interests of your whole audience. Your messages will be far more effective when they provide real meaning for your people. Finally, your internal communication will be able to truly contribute to a positive corporate culture and sustainably enhance employee engagement.
Increase Employee Engagement with Purposeful Corporate Communications
Communication can be either positive or negative. Messages that constantly serve to badger your employees with corporate rules and regulations will naturally cause less than positive reactions. Frequent complaints, more sick days, increased turnover, and lower employee performance are just some of the unwanted consequences.
On the other hand, communicating with meaningful messages contributes to greater employee confidence. Employee engagement increases, and with it, so does productivity, customer satisfaction, and profitability. In addition to its emotional appeal, the content of a message also plays an important role in creating true interest. There is certain information that every employee wants and needs to know in order to feel a real sense of inclusion and purpose. This includes the values and the vision of the company.
We Need Answers!  
For employees to be truly engaged, they must understand certain fundamental things about their work. Any message to your workforce that can help to answer the following questions will have a positive effect on just how connected he or she feels to their job.
If you're not sure whether your people have answers to these ten questions, then your communication has some work to do. 
What products and services does my company offer and what problem does it solve for the customer? How is the customer's life positively influenced by what my company offers?
How can the vision of my company be summarised in a few words?
What is the stated mission of my organization? What's the plan for implementing this vision?
Who are my company's main competitors and how is my company different from them?
How does my job specifically contribute to the success of the whole company?
Who is the boss of my boss and what exactly are the tasks and responsibilities of both?
Who is my contact in HR and how do I make sure I'm getting all the information that's important to me and my work?
What growth and training opportunities does my company offer?
Which techniques and tools are available to make my work more effective?
In which big company events or initiatives should I know about or be involved?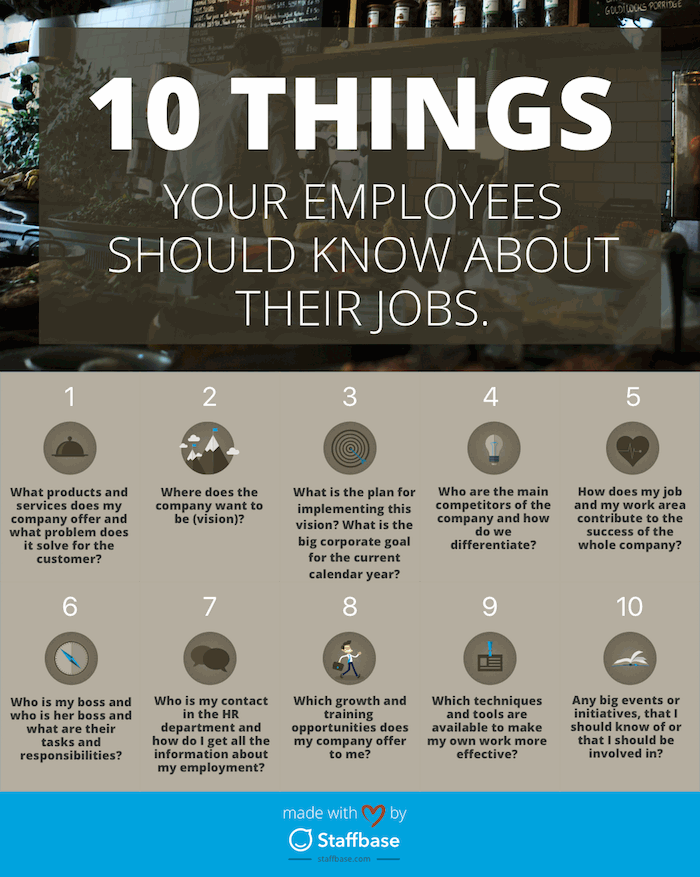 Ensuring that employees can align their efforts behind shared business objectives means that communicators must ensure that the information they share has meaning to the people it addresses. Messages that can help to answer these ten questions are a great way to get your employees started on the road to true fulfillment and satisfaction in their working lives.
For more information about creating employee engagement with digital internal communications tools, feel free to contact us or check out the following articles on our blog: