In times of transformation and crisis, internal communication is the glue that holds companies together. So it's no wonder that internal communications is growing in both its relevance and in the number of people working in the field. In fact, Ragan Communications found that most IC budgets are likely to be increasing. Considering these developments, what internal communication ideas should your organization utilize in order to make sure it's communicating as best it can?
Our Top 11 Internal Communication Ideas
1. The Need for Speed 🚀
The trend in messaging is to keep things short and to the point.
In a recent study, the Pew Research Center showed that people under the age of 35 feel "the need for instant gratification" and have experienced a "loss of patience." As Internet speeds increase, people are less willing to wait for websites to load, videos to buffer, and colleagues to respond to their messages.
While the idea of instant communication isn't new, the reality of its meaning has changed because of the hyperconnected lives we live today, where so much is happening all at once.
Internal communication in the workplace is no exception. In order to connect and reach the new workforce that consists mainly of millennials and Gen Z, messages — especially during a crisis — need to be brief and precise, and ideally they're no longer delivered over email.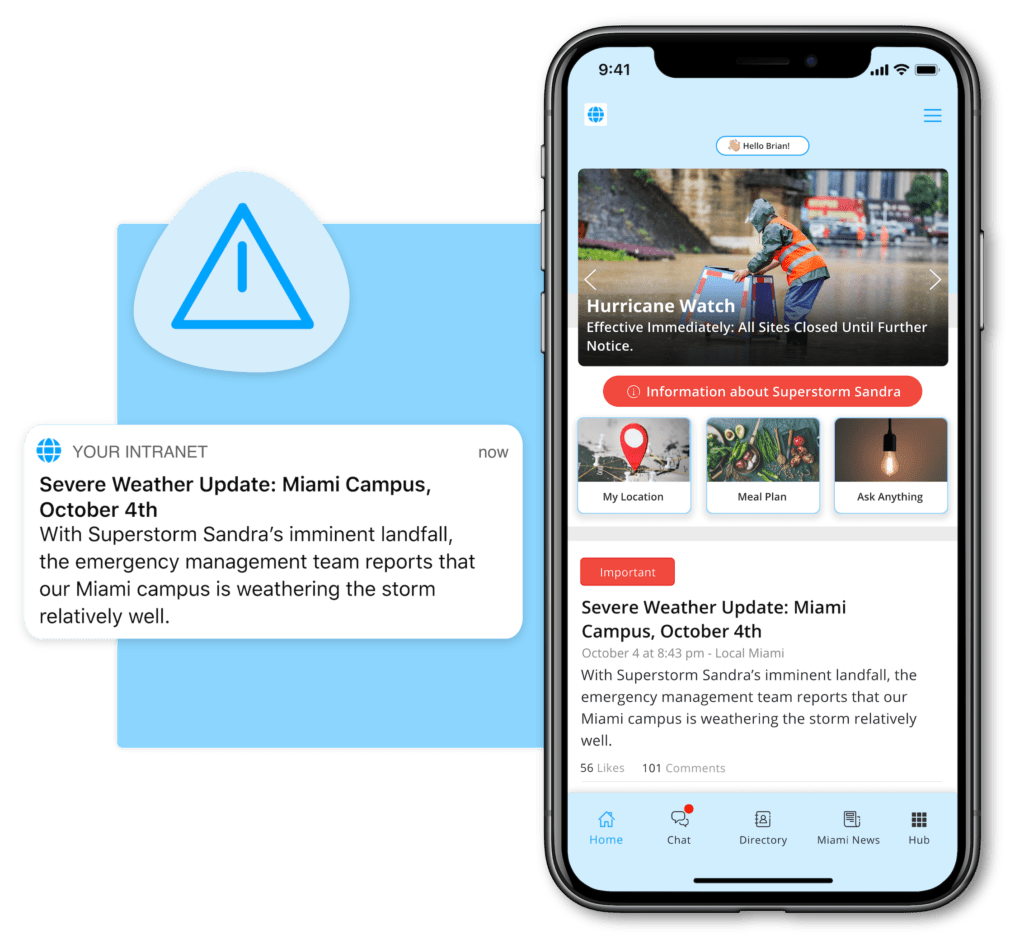 Speed allows for more targeted, relevant operative updates, which means that communication can no longer cascade from one person to many, but instead must be dispersed simultaneously. It's not a bad idea to empower and enable local, part-time editors who can share day-to-day updates and deal with questions and feedback.
2. Create a Company Culture
More and more businesses are placing greater value on company policies and culture. Why? Because their workforce demands it.
Gen Z and millennials are looking for companies that align with their values, commitments, and aims. HR leaders consider culture and engagement their number one challenge according to a study by Deloitte.
Consequently, the bond between IC and these core values has been growing stronger. It's therefore not only important to include core values in your internal communication strategy, but to highlight the ways in which your organization can best execute them.
How? By practicing what you preach, integrating your culture into your own behavior, and leading by example. Your culture should be more than just a few words on the wall, it should lay out actionable guidelines and promote a genuine feeling of shared purpose.
Implementing such a culture starts with a hiring process in which "team fit" should be just as important as practical qualifications. The process also includes clearly communicating the values of your company, and it goes as far as creating a physical office environment that aligns with a company's views and enables the best employee experience.
In addition, team events, trainings, and employee benefits will help to spread your ideas but will also determine how your employees think about and react to the culture.
3. Working from Home is the New Normal 🏝️
Even before the coronavirus crisis made it necessary for employees around the world to work from home in order to curb the spread of the virus, the trend for remote work was gaining momentum.
According to a 2020 Gallup study, 43% of employees said they had worked remotely at one point in their career, compared to 30% in 2006 and just 9% in 1995. In addition, IBM found that independent workers are typically more engaged, autonomous, and collaborative.
This development has lead to what's being called the "gig economy." As much as 34% of the American workforce are presently engaged in non-traditional work arrangements.
The challenge for internal communicators is to find the best tools for communicating with these remote workers, not only keeping them in the information loop, but integrating them into the company culture.
And the challenge for remote workers is learning how to maximize their WFH productivity. Fortunately there is plenty of actionable advice for people who want to get the most out of working from home.
Whatever your internal communication ideas important to acknowledge the needs of a dispersed workforce and engage them through multiple channels that will reach them no matter where they are. Such channels include apps, text messages, push notifications, and social media.
Mobile communication solutions will enable you to connect your people working from home, as well as freelancers and non-desk workers across departments and locations, while still ensuring engagement and inclusion.
4. Video 🎬 Engages Employees 
"A picture is worth a thousand words" is a popular saying, but did you know that one minute of video content is supposedly worth 1.8 million words, or the equivalent of 3,600 pages of text? 
Posting a video not only increases the likelihood of views and shares but it can also raise understanding about your product by as much as 74%. In addition, a consumer behavior survey by Hubspot showed that more than half (55%) of their users report consuming entire videos, compared to 33% for interactive articles and only 29% for blog posts.
When asked what kind of content they would want to see more of in the future, employees stated the following: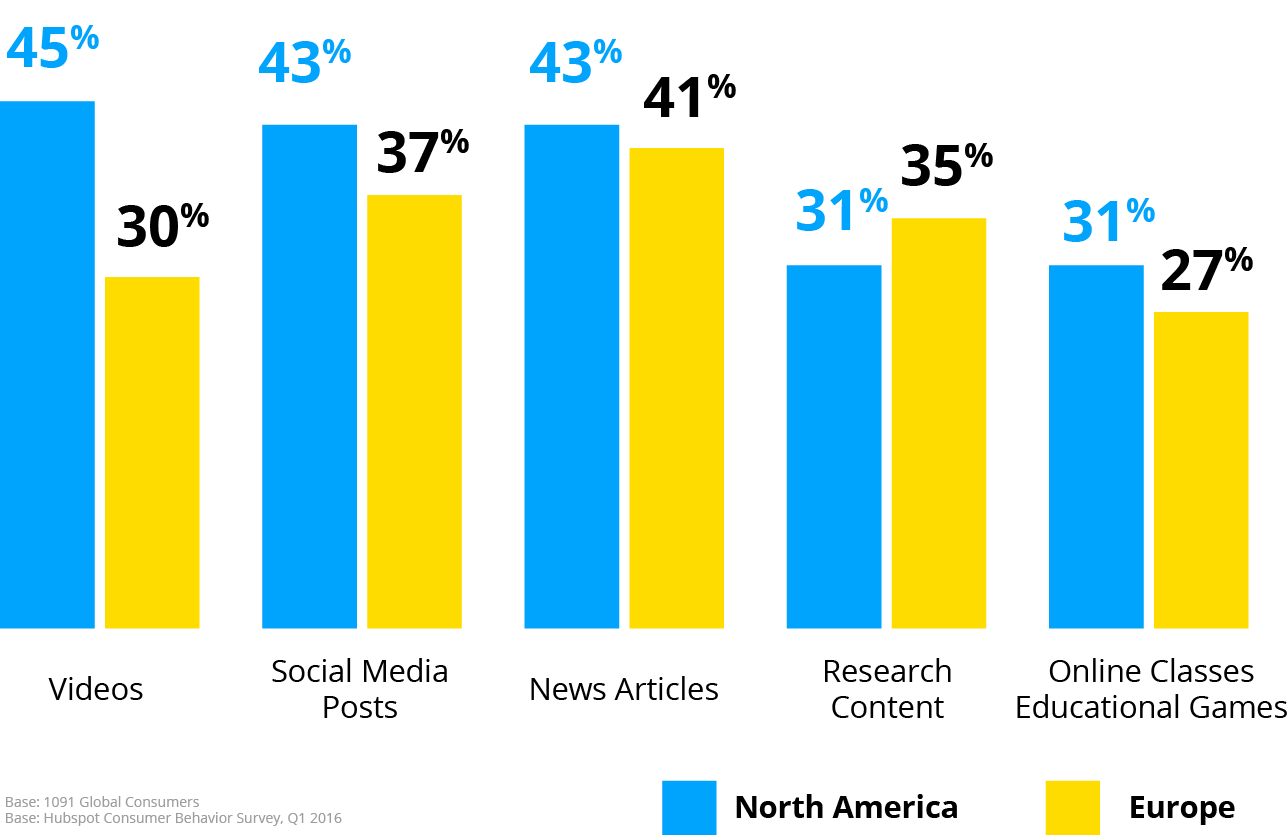 Video should be at the top of your list of internal communication ideas if you're wondering how to get more complicated topics across to your employees. It is very likely that a majority of internal communication, from trainings to important news and announcements, will soon be run over video. 
5. Employees as Brand Ambassadors
In line with the video trend, millennials and Gen Z also have a high demand for authenticity. Like company culture, this quality has come to identify the employer brand. Authenticity can be implemented through employee-created content.
Employees are becoming the most important voice a company has to offer. Social advocacy programs encourage staff to share their thoughts, updates, and ideas, while also providing them with a powerful voice.
This voice is not only more authentic than that of any manager, but it also gives different locations and employees worldwide the opportunity to express themselves. Additionally, content shared by employees receives eight times more engagement than content shared by brand channels; brand messages reached 561% further when shared by employees.
Turning your employees into content creators supports the decentralization taking place in the workplace and it adds a peer-to-peer level to the top-down culture in communications.
Putting your employees first will improve your employer brand.
In order to encourage your employees to share and take part in the conversation, your internal communication channels should focus on spreading content that directly affects and interests them (which is all the more likely when it comes from their own ranks). In addition, make the communication interactive by enabling comments, sharing, and likes.
6. Peer-to-Peer Communication Is More Effective Than Top-Down
While peer pressure might force you to watch Game of Thrones, peer-to-peer communication can actually have a productive and powerful influence on how your employees work.
Peers provide constant feedback and encourage further collaboration, two central drivers of employee communication and teamwork. Horizontal communication spreads knowledge within a company and takes work off a manager's hands. He or she will no longer have to communicate through different departments or send messages more than once.
The effective communication that results supports knowledge management, spreads insights, and helps people exploit their talents.
Internal communication departments should work on supporting such peer-to-peer collaborations by rewarding teamwork, encouraging sharing, and setting team goals. Additionally, team events that promote your company culture will also create feelings of unity and encourage interpersonal relationships.
As a bonus, these kinds of relationships are proven to make work as enjoyable as our free time!
7. Reach Means Relevance
Communicators constantly strive for greater reach because reach means relevance. Your aim should be to include and engage all of your employees no matter how remote.
It's for this reason that you should constantly be looking for technical and creative digital solutions that can best deliver an IC concept and ensure employee engagement. There are lots of different channels to choose from, but apps are the one clear trend. An internal communications app is mobile, digital, and it supports push notifications, a game changer when it comes to transmitting information.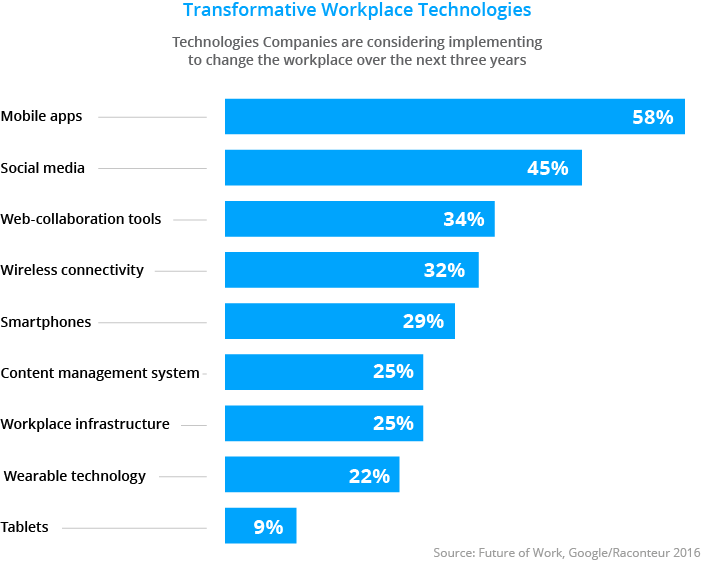 If you'd like to know more about the different channels you can use to reach your employees, we've ranked them from best to worst.
8. Gamification Makes Work Fun 🕹️👾🎮
Gamification can enhance productivity and help align your company's goals with those of your employees.
Game-based learning processes help companies ensure that their employees retain important information from work-related training. But goals and objectives are also made crystal clear, especially when steps for achieving them are plainly laid out. Colleagues have the opportunity to push and challenge one another and they can be rewarded for their achievements.
Gamification can be included in any part of the daily working life. A good example is in the onboarding process. Onboarding can be made easier and more fun by transforming it into an information treasure hunt. The employee will not only meet his or her new coworkers but also get to know the premises and feel rewarded when a piece of information is found. And who doesn't love a treasure hunt?
A Christmas calendar in the app, with daily work-related questions, can be incentivized with gifts and prizes. And fun competitions tied to events like the World Cup can make an employee app an attractive source of enjoyment.
9. Measurement Matters 📏📏📏
According to a Ruder-Finn report, only 16% of companies are satisfied with their ability to measure the effectiveness of their internal communication. Measuring internal communication and engagement is difficult. But with both of these topics increasing in importance, so is the need to accurately gauge their efficacy and quantify your return on investment.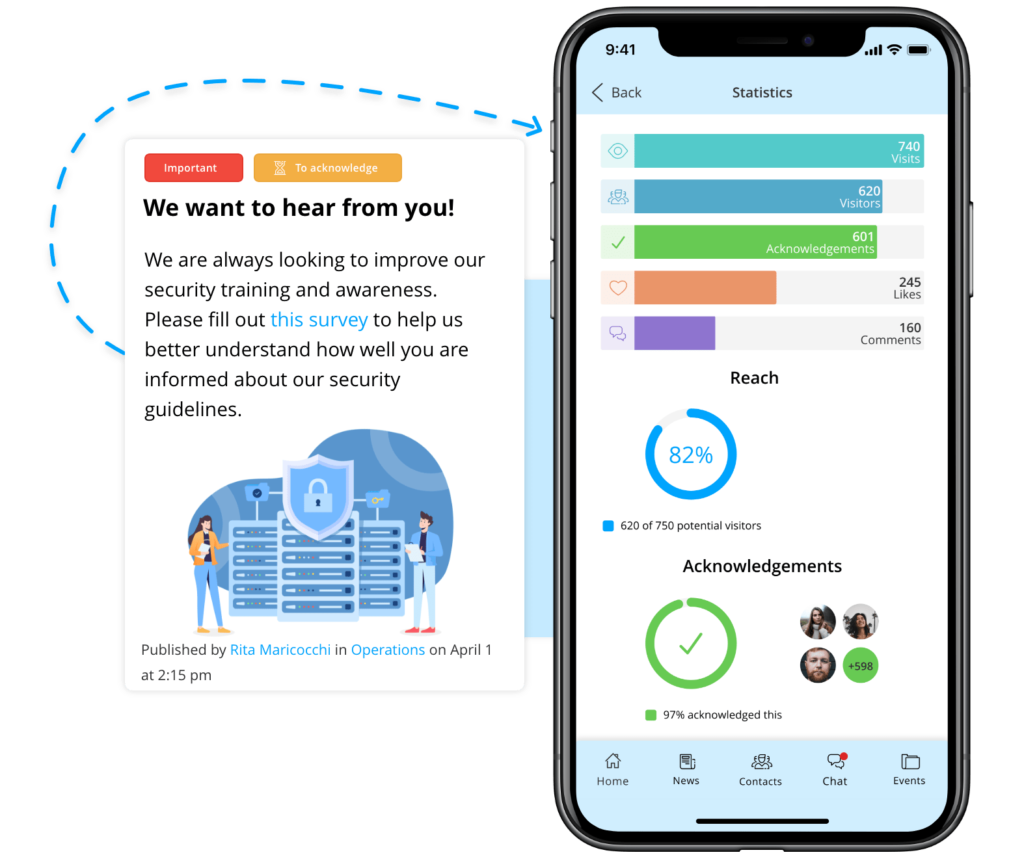 Finding ways to measure your internal communication will help you target and increase efficiency. Live metrics have been gaining in importance. We're now able to measure a whole range of topics more directly and precisely than ever before. Think incoming requests, intranet usage, and reach.
In addition, measured results can be used in two ways. They can convince managers about a topic's importance — making its strengths and weaknesses clear — and they help you to understand the interests of your employees.
And most importantly, having numbers at hand will give you valuable evidence to support your concrete actions.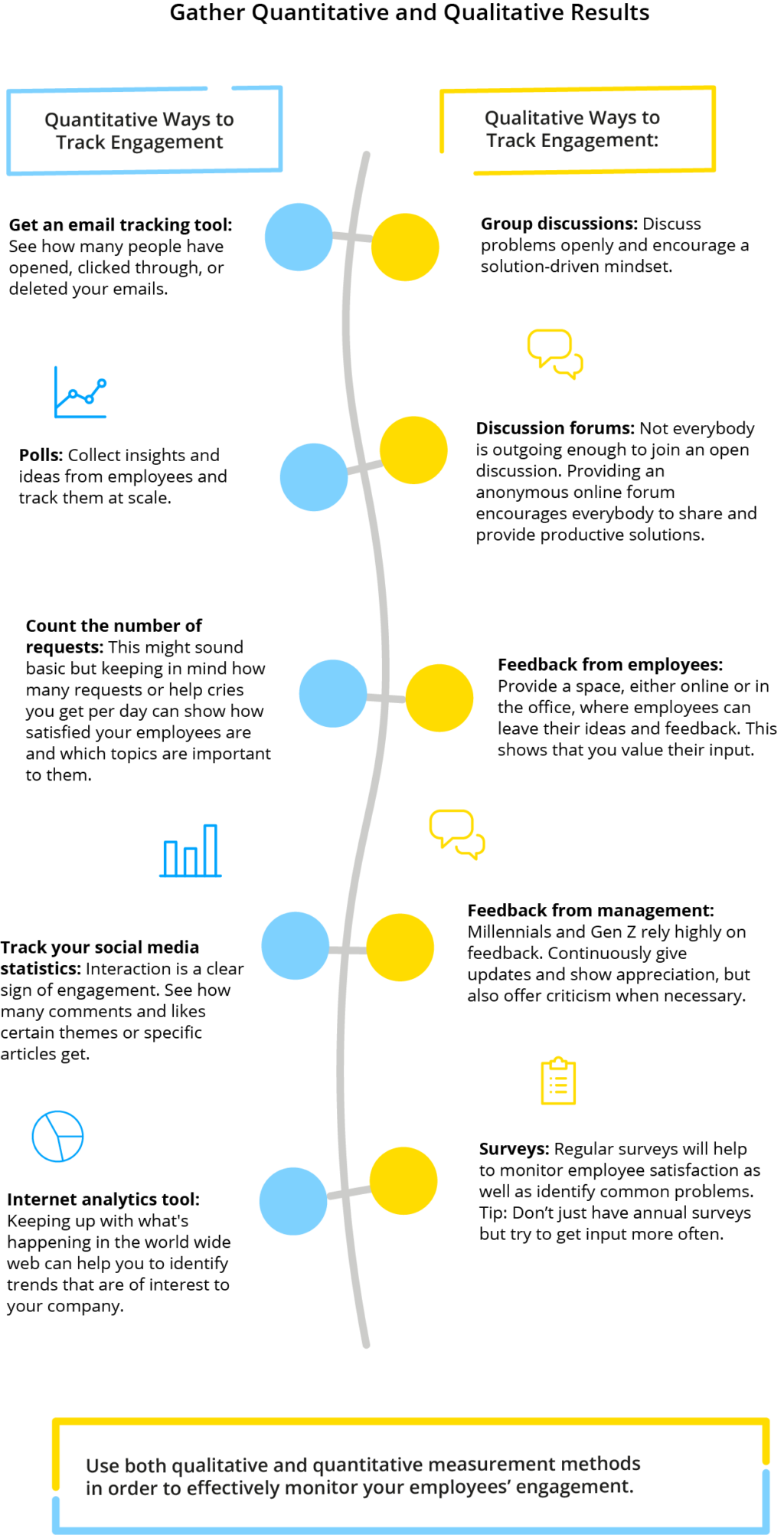 10. Internal and External Communication Are Blending
Internal and external communication are inextricably linked, regardless of where your teams sit or to whom they report. It's essential to keep both audiences in mind when crafting your messages, even if you're forced to alter your tone or focus. You should never say something to one audience that you wouldn't feel happy telling the other.
But don't give up on your internal communication channels because external ones are so overwhelming. You need a working channel that you can control and measure in order to clearly state your company's message.
Organizations need to establish fast, interactive, and reliable channels to reach all employees. The best way to do that is by going mobile. As in many other cases, a combination of new procedures, skills, and technology is necessary for creating trust and transparency. This enables companies to remain in control of the messages they send. That sure beats leaving information open to individual misinterpretation.
11. Emojis 😀😀😀😀😀😀😀😀
Oh Emojis. We all use them, but whether they're appropriate for business communication is a matter of opinion.
To disseminate the value of emojis, one must begin by considering the human perception of emotion. It's clear to tell when someone doesn't like something you're saying because they might frown. Body language can indicate discomfort. An eye roll hints at annoyance. This is exactly why video conferencing is so valuable. It's much harder to miss the intrinsic or subtle meanings that are so common in our regular verbal communications.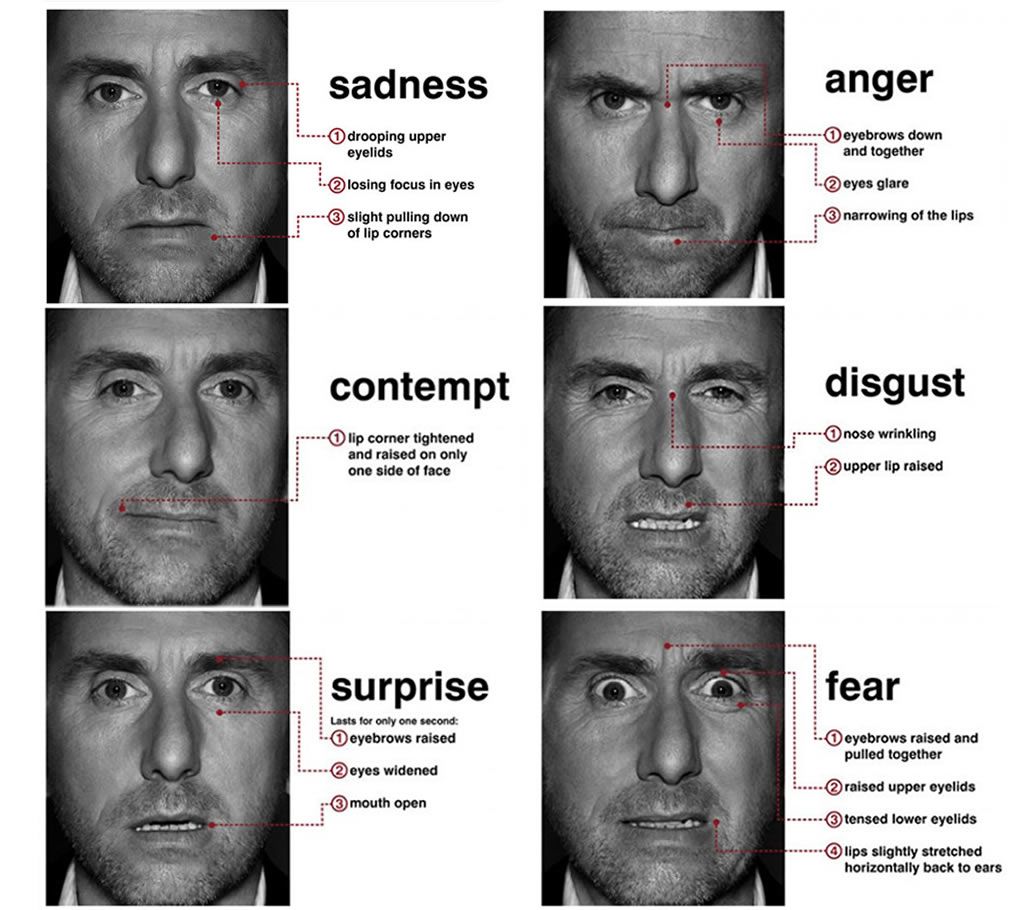 When face-to-face or video chat isn't an option—a particularly relevant issue if you're a remote worker—emojis help express emotion when we write or text. How many professional emails have you received that seemed snarky or subtly hostile? Professional messages are often easily misunderstood, as the tone is usually not conversational—something a few emojis can easily fix.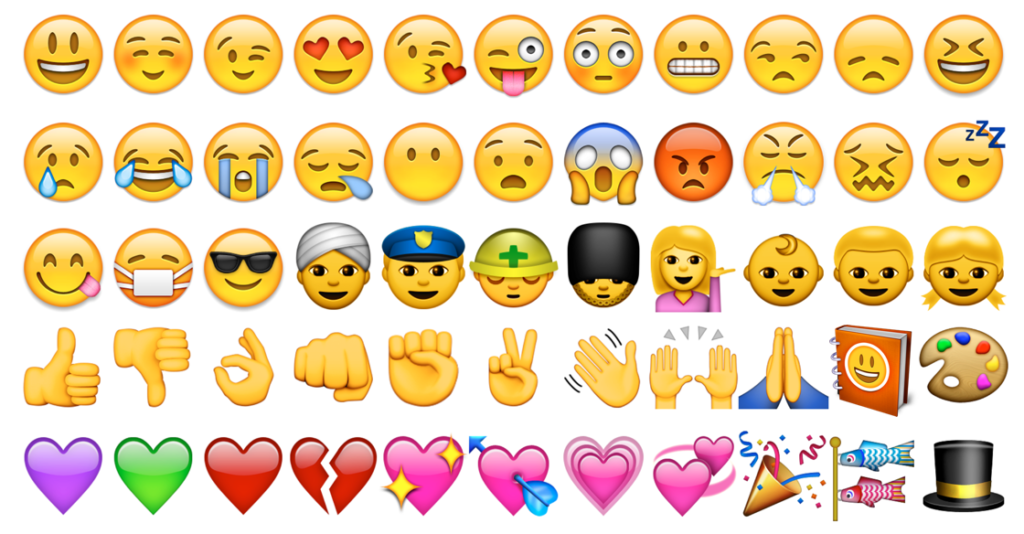 Picture this: your manager messages you on Slack one morning with a message that reads:
"Come see me today. We need to talk about your project."
The immediate reaction is fear and trepidation. Periods carry a stern finality in workplace chat communications, and the message seems to imply some sort of formal assessment. On the other hand, imagine if you received this message:
"Come see me today, we need to talk about your project! 🙌"
The tone is immediately changed. The lack of hard periods and the "hands up" emoji connote praise and a more casual chat. In the right context, emojis thus make it easy to convey emotion. For any naysayers—there's nothing unprofessional about being clear and succinct.
Furthermore, emojis are a great way to engage younger workers. And their use is proof that you're flexible enough to adapt communication to the demands of your audience.
Emojis might not necessarily be the best choice for your next sales deck. But when it comes to internal communication ideas, they do offer yet another creative way to connect with all of your people worldwide. 🌎
Read more about effective internal communication ideas: