Millennials may be the largest generation in today's workforce. But modern workforces are comprised of as many as four generations, each with unique demands and ever-declining levels of engagement. In order for companies to function effectively in this environment of diverse expectations—while simultaneously attracting, retaining, and engaging new employees—they must modernize their internal communications.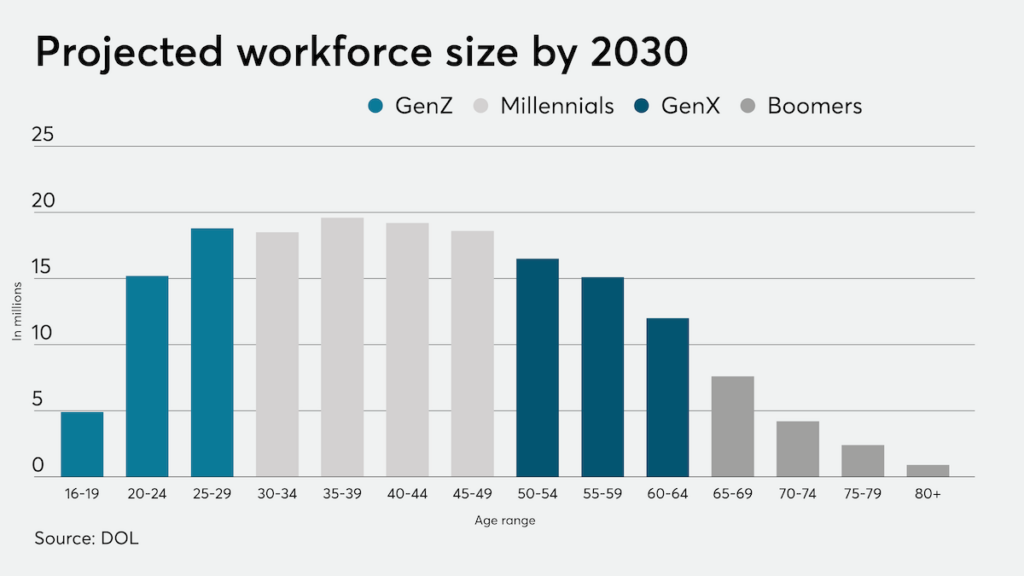 Here are five ways how:
1. Create Value for Employees
More than any other generation before them, the driving force behind Generation Z—the youngest cohort to enter the workplace—are financial rewards and potential career advancements.
This isn't hard to understand—while wages for young workers have been relatively stagnant since 2000, prices for things like health care and college tuition have been consistently rising.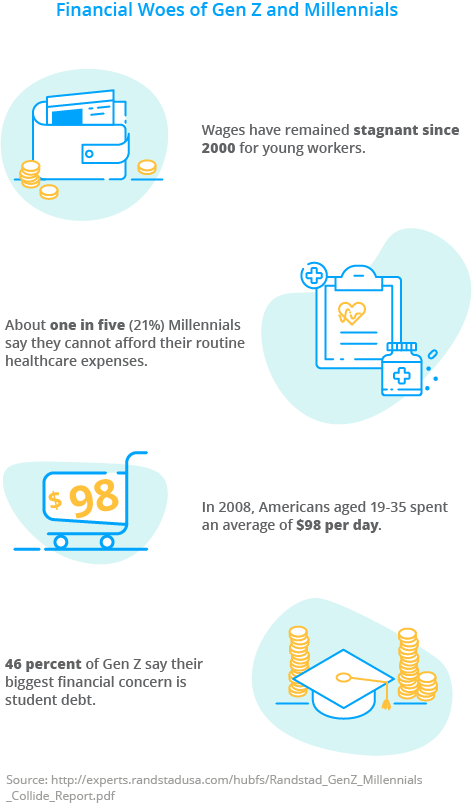 So, while 84 percent of Generation Z-ers in the workplace say that they'd like to do purposeful work for a company in which they believe, financial security has greater relevance. Gen Z is more likely to see their first jobs as stepping stones, and are likely to change jobs as many as ten times between the ages of 18 and 34.
In comparison, millennials aren't as motivated by money, although they're still known to job-hop. According to a Gallup study, 21 percent of millennials have changed jobs within the past year, and another 44 percent plan on leaving their current employers in the next two years. 
Combined, less than half of all millennials and Gen Z in the workplace actually feel connected to their jobs, resulting in more than 40 percent reporting that they would make a change if another opportunity arose.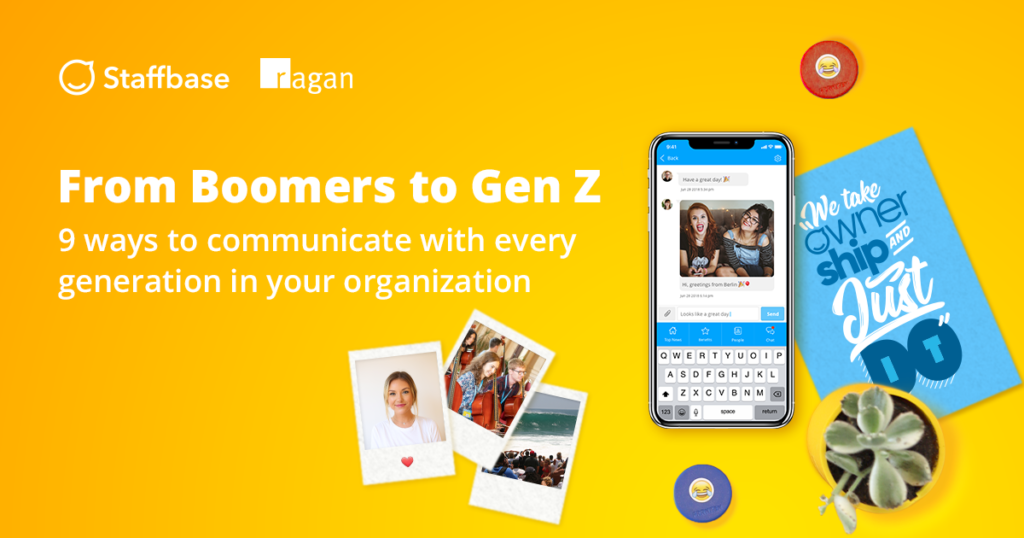 In order to keep these younger workers engaged and satisfied at work, managers need to offer financial rewards and promote career advancement. They should also make efforts to create a culture and team spirit that fosters fellowship with the company.
Creating such an atmosphere will help lessen turnover, ensure employee engagement (and higher revenues), and ultimately result in workers who strive to reach their full potential.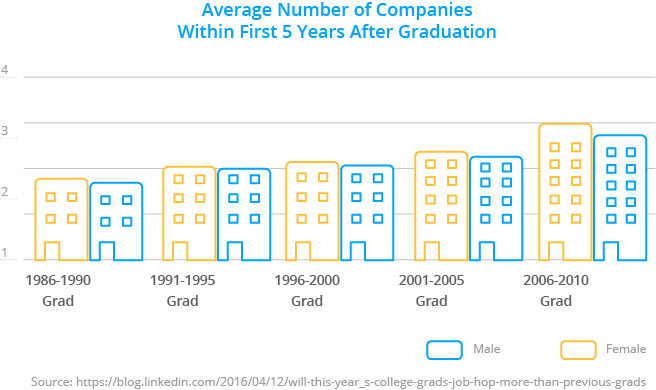 2. Embrace New Technology
Accompanying the demographic change taking place within the workforce comes the need to incorporate new social and digital technologies.
Millennials and members of Gen Z grew up in digital environments that exposed them to constant streams of real-time feedback in the form of likes, comments, and shares. "Members of Gen Z … are true digital natives: from earliest youth they have been exposed to the internet, to social networks, and to mobile systems," Kinsey & Company reports.
As a result, members of these younger generations have come to expect the same quantity of feedback at work, demanding far more frequent opportunities for engagement.
These opportunities go far beyond just messaging platforms or modern intranets—the future of the workplace may very well include wearables, robotics, and VR.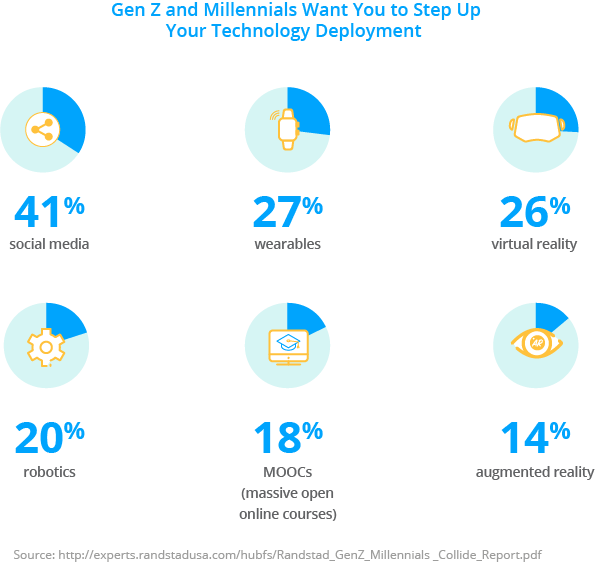 However, while these new devices and media-like internal tools offer serious advantages in terms of productivity, reach, and time, they're also extremely distracting. Research from UC Irvine suggests that it can take up to 25 minutes to regain focus after such an interruption.
Between the Internet, cellphones, and co-workers, there are so many stimulants in today's workplace, it's easy to see how employees get sidetracked.

Rosemary Haefner, Chief Human Resources Officer, CareerBuilder
To reconcile these two extremes, employee communication must rely more on validated and curated channels that are interactive and agile while ensuring the effective company-wide distribution of (validated) information.
According to Raconteur's Future of Work study from 2016, employee apps are becoming a driving force for these types of effective employee communication channels, with 58 percent of tech companies considering implementing one.
Why?
These platforms take advantage of the device that's come to define the younger generations: the smartphone.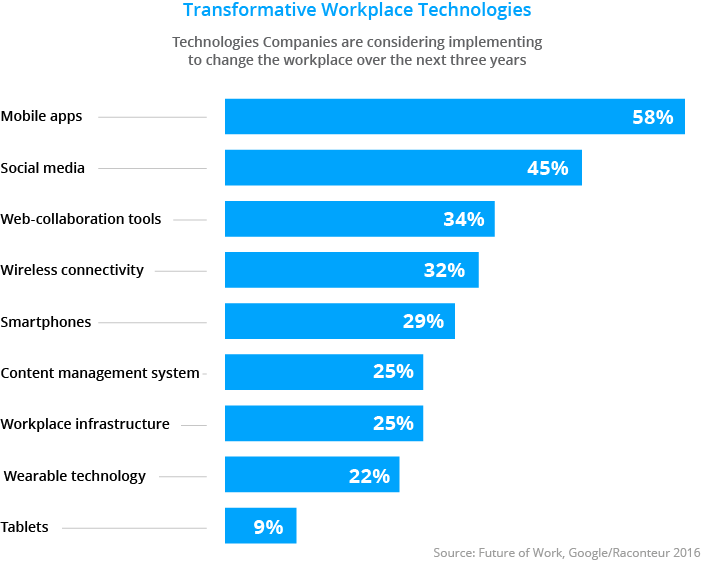 3. Prepare Millennial Managers for New Roles
As millennials settle into management roles and Baby Boomers retire, it's more important than ever to understand what steps should be taken to help these young professionals thrive in their new roles, especially as many report feeling unequipped for this responsibility.
When asked what aspects of their current jobs they felt unprepared for, members of these cohorts reported the following, according to a survey from Randstad:
Despite the fact that millennials have the highest number of college graduates, they feel unprepared to solve conflicts, negotiate, or manage other people.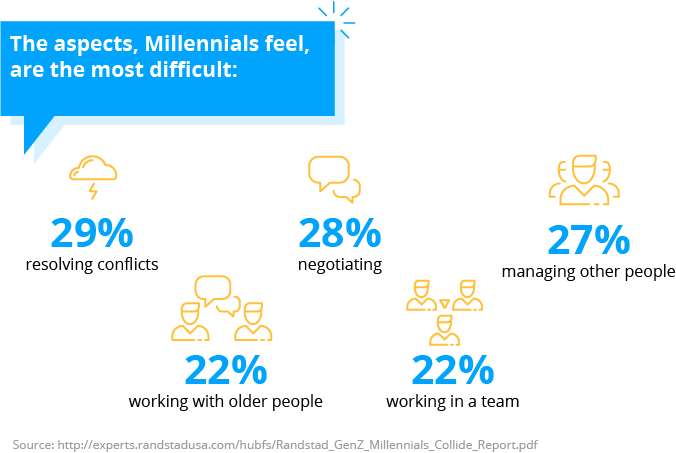 To prepare them for these new responsibilities, consider adapting training to their learning style. Chances are you already have some form of program in place, but odds are it isn't reaching its maximum effectiveness with the younger generations.
As a digital-first generation in the smartphone era, they're accustomed to instant access to information—the ability to learn anytime, anywhere. Bite-sized content that's available at all times meshes nicely with this preference in conjunction with their increasingly fast-paced lifestyles.
4. Keep Up the Conversation
Only 55 percent of employees worldwide currently give their organizations high marks for effective collaboration across departments and functions. 
"Gen Z named 'co-workers who like to collaborate' as being the type of worker who would help them do their best work, second only to co-workers who work as hard as they do," said Jim Link, chief human resources officer at Randstad North America. "Companies seeking to be an employer of choice must leverage the collaborative revolution taking place and provide the technology, tools, and processes that facilitate and encourage it."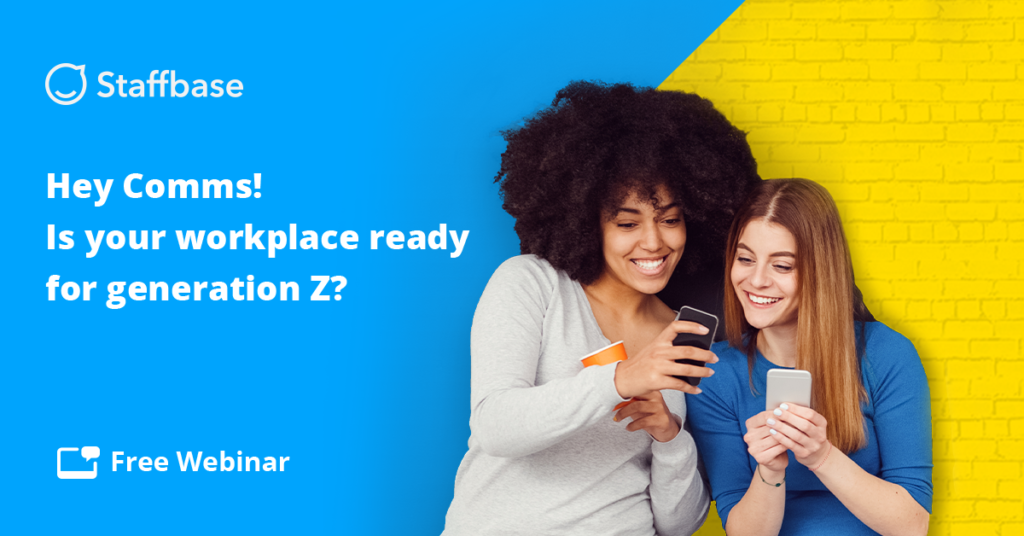 While such conversation and feedback can be digital, younger generations put high value on face-to-face conversation—about four out of ten employees prefer personal conversation and teamwork in meetings over emails and text messages.
The challenge for internal communicators in near future lies in balancing this preference for in-person interaction with the introduction of new technology in the workplace.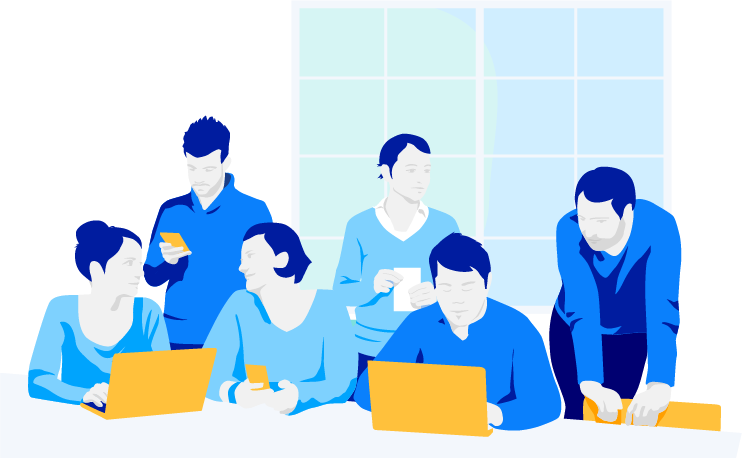 5. Fight High Stress Levels
Stress is one of the biggest obstacles preventing millennials and Gen Z at work from performing to their maximum potential. In fact, 37% of Gen Z and 39% of millennials feel hindered in their development due to stress and looming burn-out.
According to a study from the American Psychological Association, 18–33-year-olds and 34–47-year-olds report an average stress level of 5.4 on a scale of 10, compared to the national average of 4.9, and 3.6 as being a healthy level.
The main sources?
"Work, money, and job stability."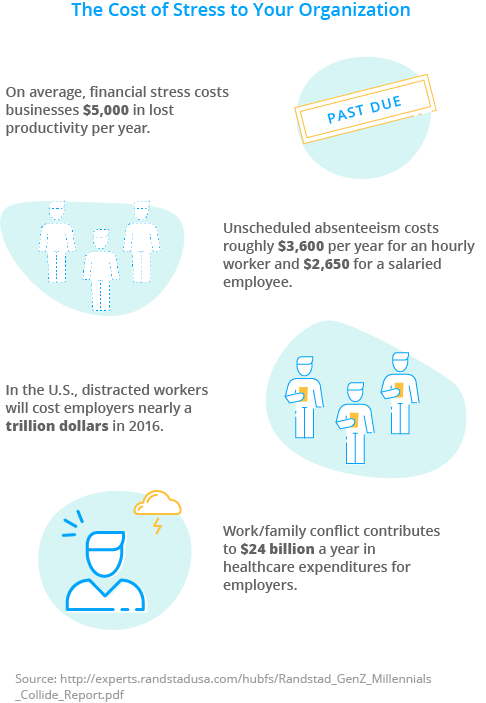 Stress has been called "the health epidemic of the 21st century" and costs the American economy up to $300 billion in hidden medical costs every year—52% of employees have called in sick due to stress, and up to 80% of accidents on the job happen due to stress-related fatigue.
To combat these stress levels, consider implementing more work/life initiatives. Encourage taking vacation, short breaks throughout the day for exercise or team coffee gatherings, and avoid excess communication during weekends. In finding this perfect balance, the results can be significant: fewer health problems, greater engagement, reduced burnout, and increased mindfulness.
Read more about employee communication best practises: