The COVID-19 outbreak is having a massive impact on businesses around the globe. Companies are struggling to broadcast the coronavirus crisis communication necessary for keeping their operations running productively despite troubling uncertainties.
As reported in The New York Times, "Microsoft, Amazon, Ford Motor, CNN, Citigroup and Twitter have put employees through work-from-home drills, dusted off emergency-response plans and ordered increasingly stringent safety measures to protect their workers . . . Even so, the coronavirus has moved faster than their preparations."
In such unprecedented times, it's essential to be able to share and access factual, trusted, and actionable information quickly. Businesses that already communicate internally using digital tools like employee communication apps or modern intranets that connect directly to employee devices now have a marked advantage.
The following article shows how some Staffbase customers are using their employee apps and mobile-first intranets to:
Share accurate information
Update their employees with trusted news
Ensure that employees have the knowledge necessary to remain safe, secure, and up-to-date regarding company information
Coronavirus Crisis Communication: A Key Use Case
At their core, the Staffbase Employee App and Employee Experience Intranet are communication tools. Among their many strengths is the power to help companies manage crises. Many of the standard features are especially useful in times of distress. They include:
Global and Regional News Feeds
Dedicated Pages Where All Information Comes Together
Localized Messaging to Targeted Groups
Structured Feedback Channels
Push Notifications for Crucial Announcements
Article Publishing for Top-Down and Peer-to-Peer Information Sharing
Chat Messenger, So Employees Can Ask Questions and Be Part of the Conversation
Acknowledgement Function, So Companies Can Be Sure Important Information Is Being Read
One major international automaker is finding the employee app particularly useful during the coronavirus crisis. Under normal circumstances, the company sees about 100 employees per week register as new app users. As the coronavirus epidemic continues to intensify, they are getting about 100 new users per hour. At the beginning of March 2020, the company reported more than 1,500 new registered users in just two days. The reason? Employees demand official communications that are clear, reliable, and trustworthy.
China: Creating Trust Amidst Confusion
Coats, the world's leading industrial thread manufacturer, and Viessmann, an international maker of heating, industrial, and refrigeration systems, both have hundreds of employees in China. State-sanctioned news in the country is limited. Both companies have been using their app to share preventative measures and updates via push notifications and news channels. Because the information is filtered through the app, employees can trust that it's valid, reassuring them in the midst of confusing conditions.  
Italy: An Immediate Response
Located on the front lines of the coronavirus outbreak in northern Italy, which as of early March 2020 had the most reported cases outside of China, the fashion business Max Mara has had to respond quickly to a crisis that's literally at their front door. 
The company has needed to immediately and reliably share emergency information with people in their Italian headquarters. And they've needed to update its hundreds of store managers and remote employees around the world. Max Mara also shares information from the OMS (The World Health Organization) and the Italian government. This is done in addition to informing all employees about proper hygienic practices.
Max Mara has remained ahead of the curve with a dedicated channel in the global news feed of their employee app. Here, they share public information from the most relevant and trusted sources. As of early March 2020, they had already published ten articles about coronavirus.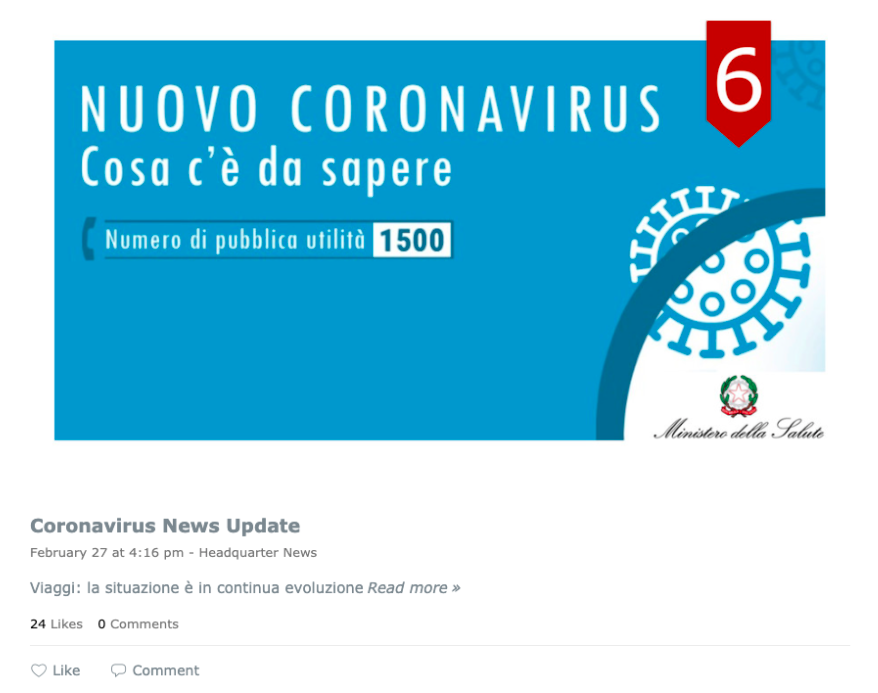 Germany: Be Prepared
Paulaner Brewery Group
The Paulaner Brewery Group has its headquarters in Munich, Germany. COVID-19 first appeared in the Bavarian capital in February 2020. In response, the company published various postings for the employees on the homepage of its employee app.
The focus was predominantly on measures that serve to protect employees and the production sites. These include, for example, guidelines on national and international travel, videos with hygiene tips, and guidelines on the information chain to be followed.
ZapfApp helps us to inform all our employees — whether in sales, production, or administration — quickly, comprehensively, and simultaneously."

Laura Johrend, head of internal corporate communications, Paulaner Brewery Group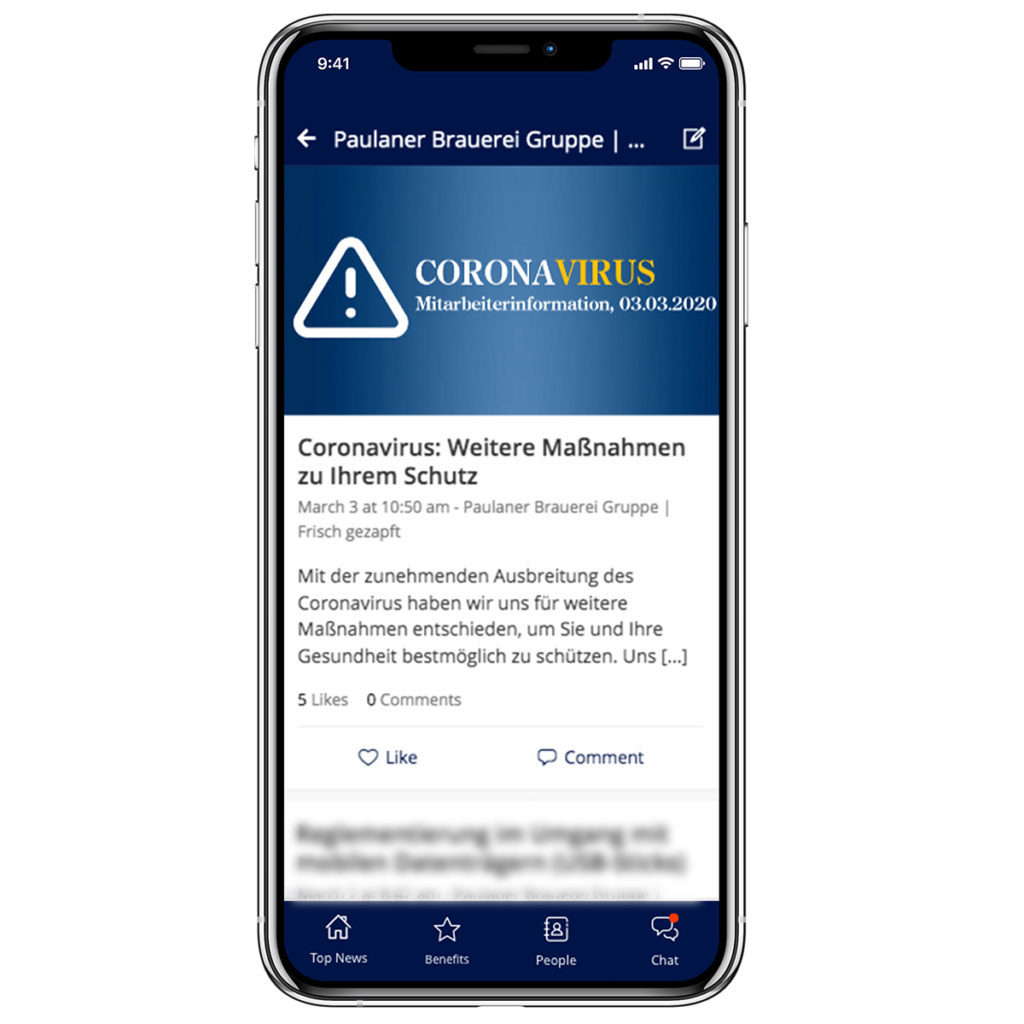 Such proactive measures not only have the potential to slow down the spread of the virus, but they also illustrate how the company cares for its employees. It also gives employees the feeling that the company is in control of the situation, allowing them to feel informed and valued.
BVG
In Berlin, BVG (Berliner Verkehrsbetriebe) is the main public transport company of the capital city of Germany. It manages Berlin's U-Bahn underground railway, tram, bus, and ferry networks. With so many employees interacting with the public as an integral part of their day-to-day jobs, it was imperative that the company make information available to workers who are literally on the road and face to face with customers. 
With their employee app, BVG has been able to post articles on effective hand-washing techniques; avoiding panic despite the threat of coronavirus; and advice on how to deal with the current threat of the virus, with authoritative information from the Robert Koch Institute, a German federal government agency and research center responsible for disease control and prevention.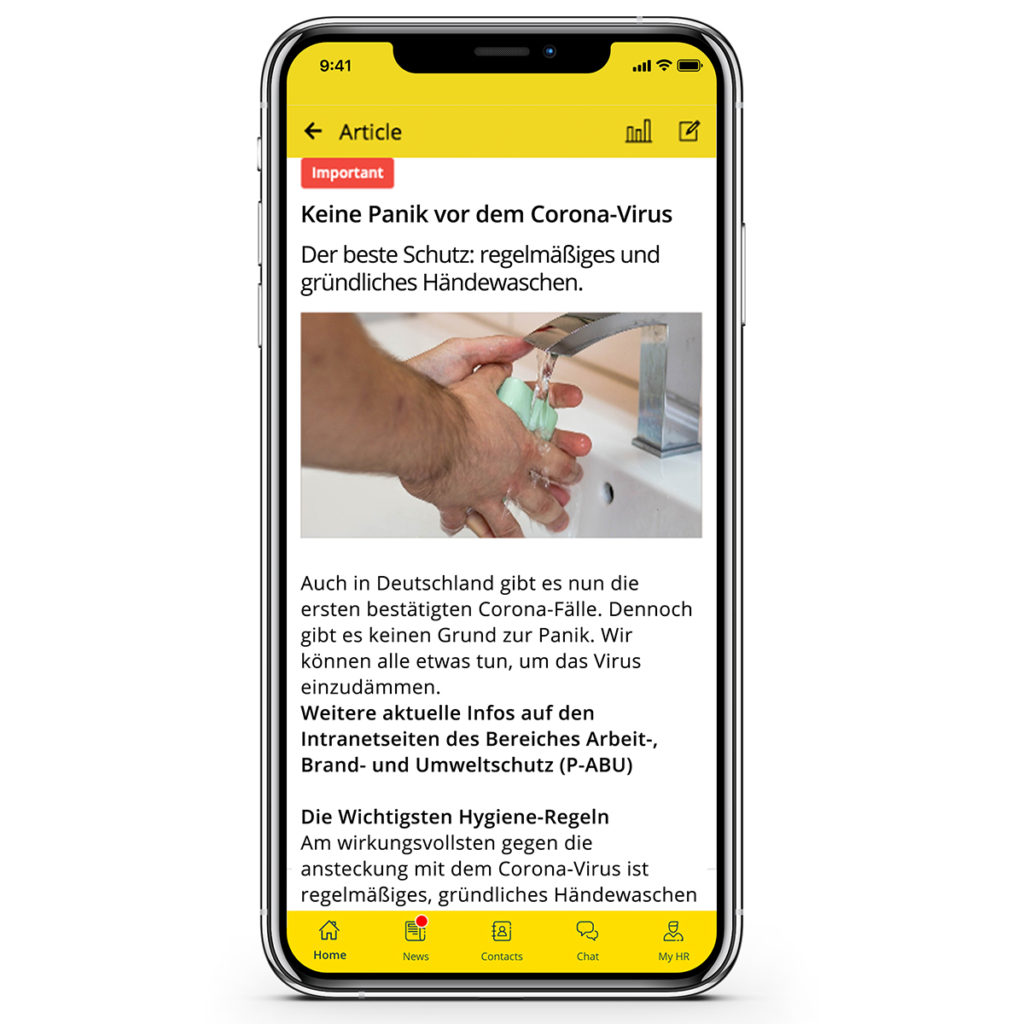 An Insurance Leader Becomes a Leader in Coronavirus Crisis Communication
One of the largest insurance groups in Europe, operating in over 30 countries, especially in Europe and Asia, has been using their Employee Experience Intranet to provide employees with a go-to source for all of its coronavirus information.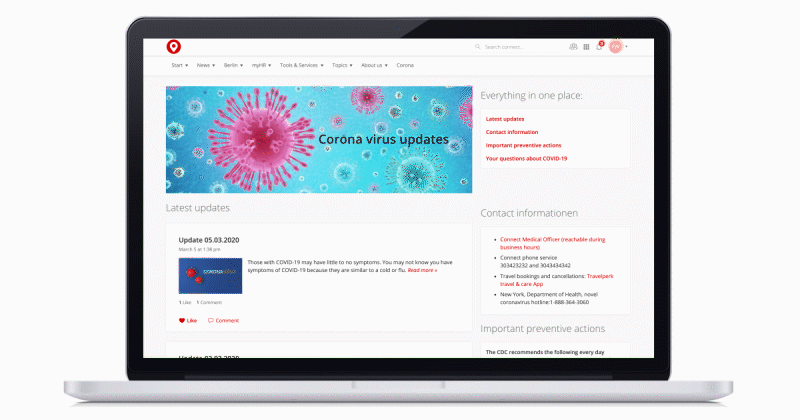 By creating a structured page featuring everything employees need to know about the company's response to the crisis—including a news feed, a form for submitting questions, a directory of important contacts, hygiene tips, and a list of FAQs—the company has been able to reassure its workforce with its preparedness, while also keeping its communications team from being overwhelmed with common questions. This frees communications staff to stay on top of fast-breaking developments.
Worldwide: Sharing Protocols to All
Operation Mobilisation is a faith-based NGO with more than 5,000 workers worldwide, many of whom are young adults. The organization was able to take proactive steps to acknowledge the threat of coronavirus by publishing an article featuring standard health protocols. The article gives practical advice for employees, from personal hygiene to knowing when and how to report to a medical point person in the event they experience symptoms.
Such information may seem like common sense, but with workers located in remote areas around the world who may be facing a lack of information, these measures can make a huge difference.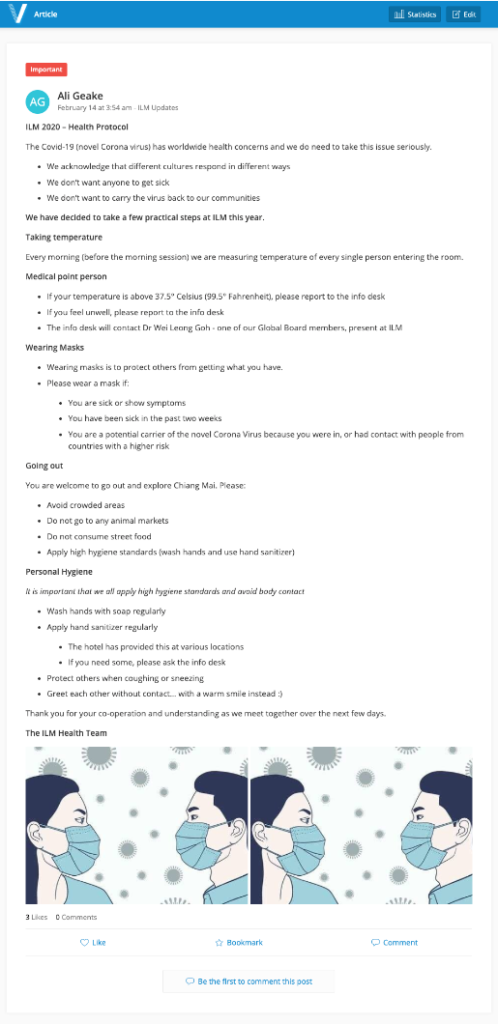 Coronavirus Crisis Communication: Better Safe Than Sorry
These are just a few examples of how companies around the world are using modern employee communication technology to communicate effectively under some very trying circumstances.
Keeping open lines of contact is especially challenging for companies that may be reevaluating their work-from-home policies but have no strategy for reliably reaching remote workers.
It seems safe to conclude that companies using an app to spread trusted information in a time of unprecedented apprehension and fast-breaking developments have a distinct advantage over companies with no effective way to quickly reach their entire workforce. 
Coronavirus is a global crisis, and the ability to respond with immediate, broad-reaching, worldwide messaging and specifically targeted and actionable notifications gives companies a tool for keeping their people healthy—potentially even saving lives.
Plus, companies' proactive crisis management illustrates a true concern for the wellbeing of their employees. And employees can be most productive when they feel informed and reassured that, come what may, they are in good hands.
Read more about employee communication best practices: