In the future, when it comes to employees' contact with their company, offices will play a lesser role. People will work for longer periods at multiple locations with fewer physical points of contact with their employer. This trend was already establishing itself—Covid-19 just dramatically accelerated its evolution by a couple of years.
For organizations, physical locations such as offices no longer seem as significant. That's why it's all the more important to create a digital place where employees feel at home professionally. Many features from the physical office, such as culture and branding or informal places to meet and connect, should be transferred into the digital one. A company app creates a virtual headquarters for employees to carry right in their pocket.
What is a company app? 
A company app can be external or internal facing. In the context presented here, we'll focus on its internal purpose of creating a virtual front door for the organization on mobile devices.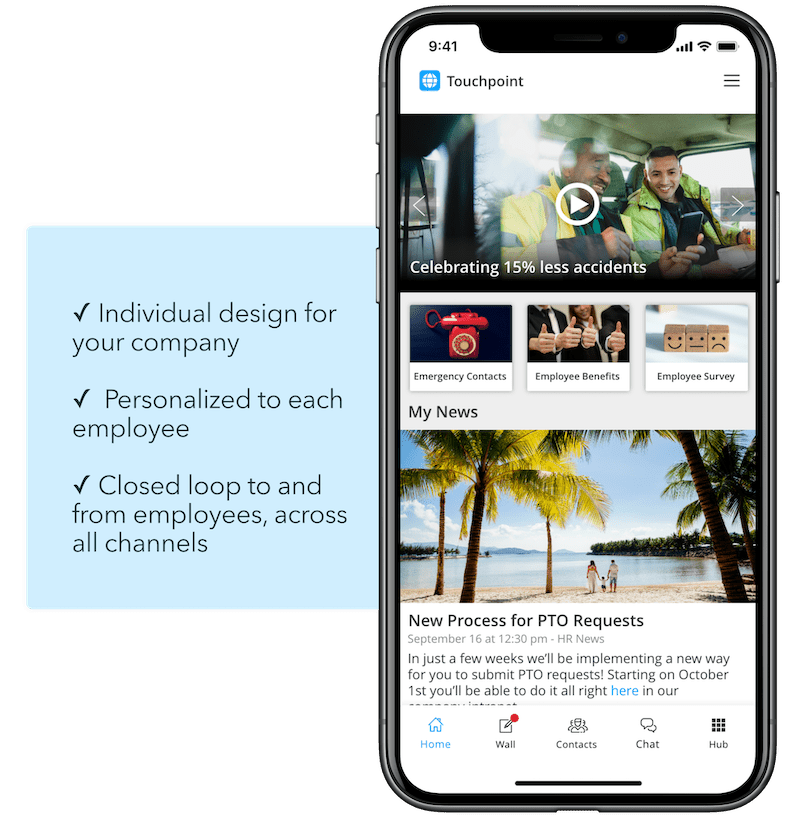 The ideal company app isn't just a platform for conveying information, but also helps employees with their day-to-day needs. At the same time, it fosters identification with their place of employment.
How does the company app connect to Microsoft 365 with Teams, SharePoint, and OneDrive? 
The Staffbase company app integrates with Microsoft 365 applications in multiple ways and in both directions.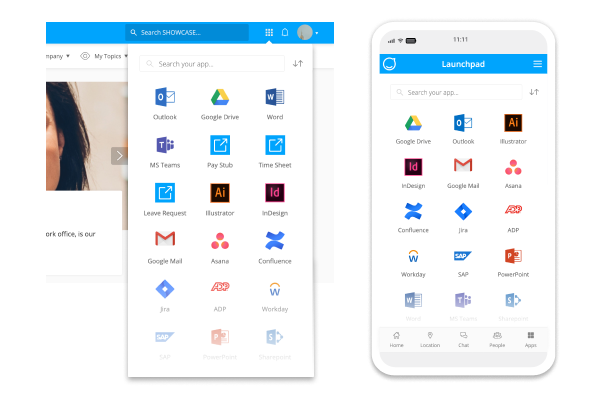 Document libraries, recent files, and trending files can appear in Staffbase from OneDrive and SharePoint, complete with filters and metadata. Individual, shared, and group calendars can also be shown.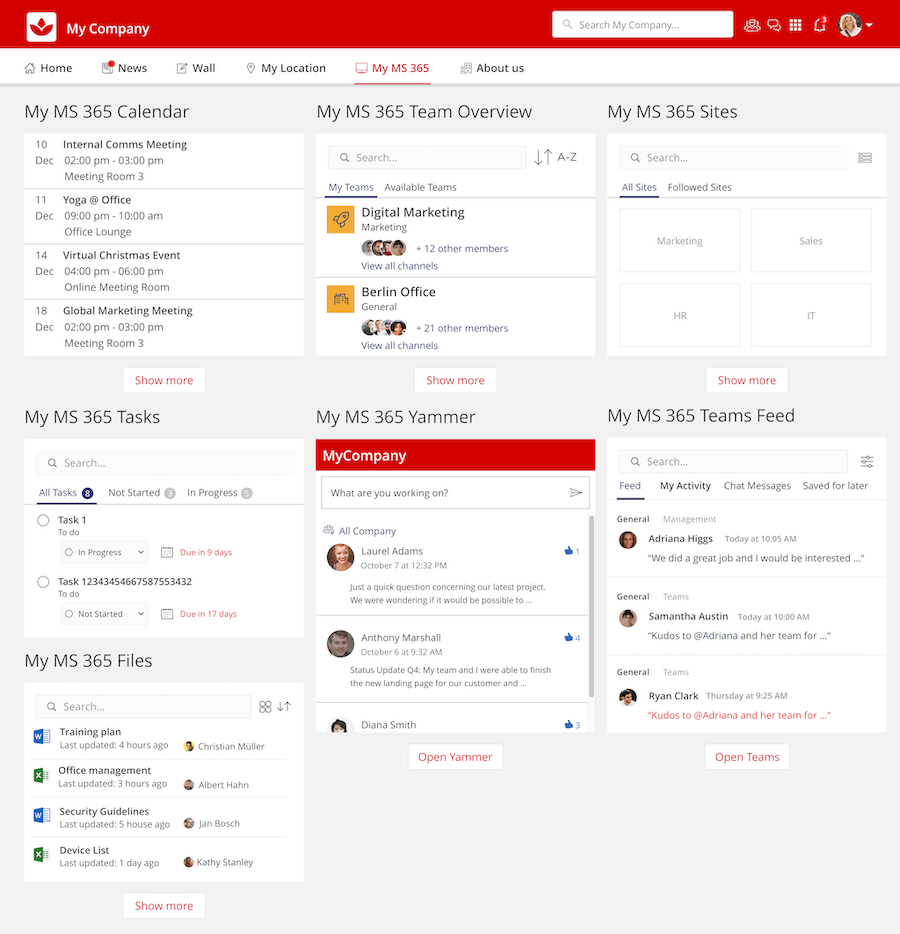 Search within the company app can retrieve results from M365 alongside content from Staffbase. Staffbase content can also appear inside MS Teams. The app can be included with the main navigation in addition to showing notifications from Staffbase within channels. Staffbase also provides a news web part that can attach to SharePoint modern pages. 
Employees on desktop can find their Microsoft content or services directly on your company start page. It can also appear or their particular location's homepage, alongside your app's other content. Plus, once employees log in to Microsoft  365 from their Staffbase menu, they'll stay logged in to all their MS tools across your entire platform—no matter the page or placement.
How can Power Automate integrate with a company app?
Power Automate is a Microsoft tool that makes it easy to automate processes or set up workflows within your digital workplace without needing a ton of IT support or even to know any code. With the new Staffbase Connector for  Power Automate, you can now connect and use this tool in your Staffbase platform and start automating processes right in your app! 
Some Microsoft Power Automate examples to use for a company app:
Notify a worker in their app upon approval of their request or when their service ticket is resolved.
Flag and address a post on your Social Wall that falls outside of company guidelines. 
Alert employees when a safety training task in their app is overdue.
What should be included in a company app?
Employees have a far greater self-interest in content that affects their immediate working environment and everyday work. This includes information such as the cafeteria menu, shift schedules, local site news, bulletin boards, and an employee marketplace.
When planning and implementing your content strategy, satisfying the interests and goals of the both the company and the employees must be your goal.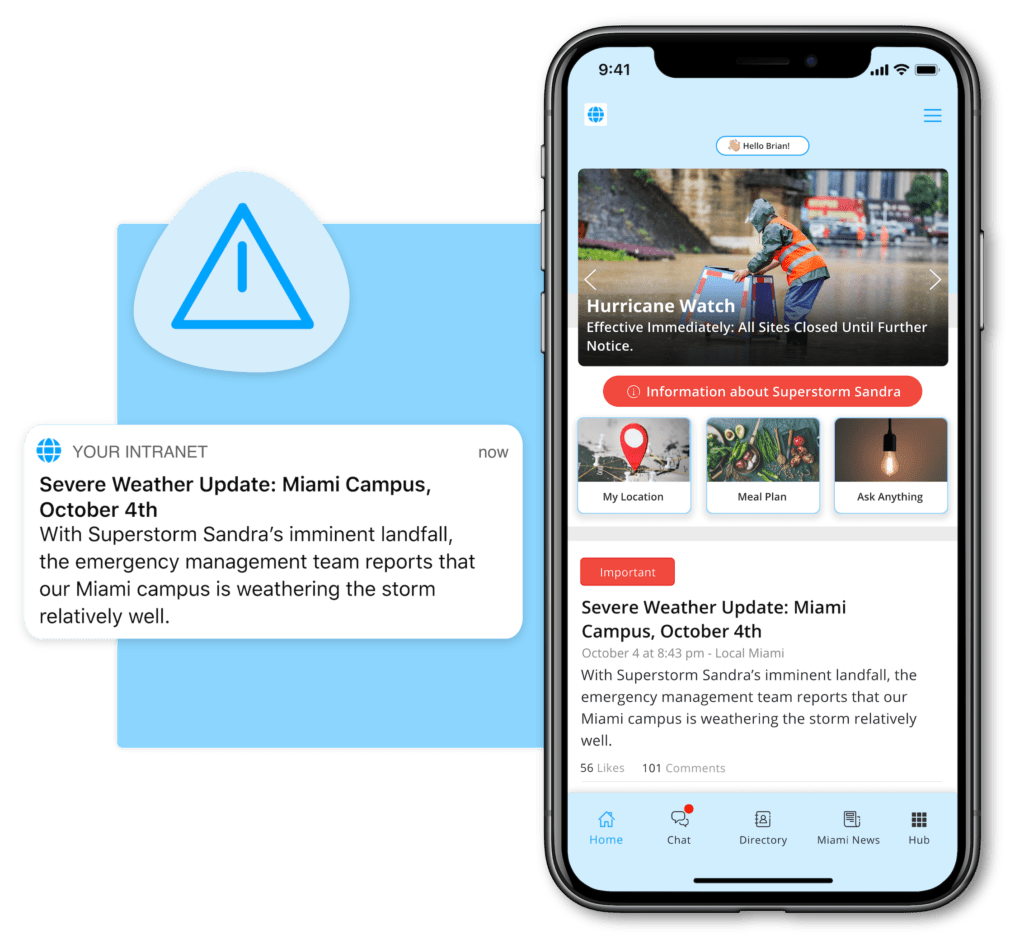 The most important content and use cases of a company app fall into four key areas: Communication, Interaction, Services, and Knowledge.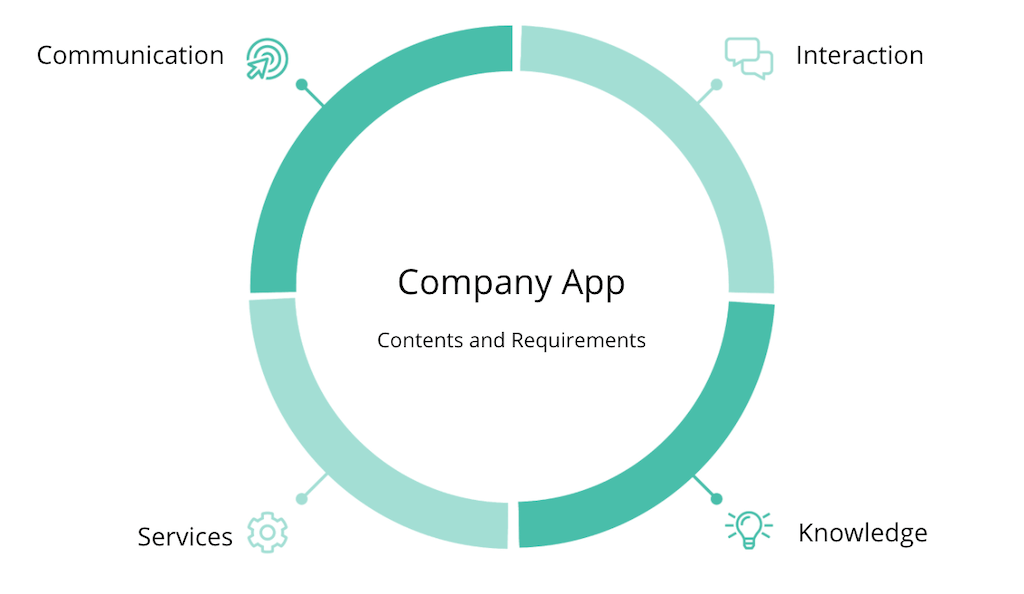 Surveys and shorter formats like regular pulse checks help your employees to easily provide feedback on the topics that are most interesting to your company at a given time.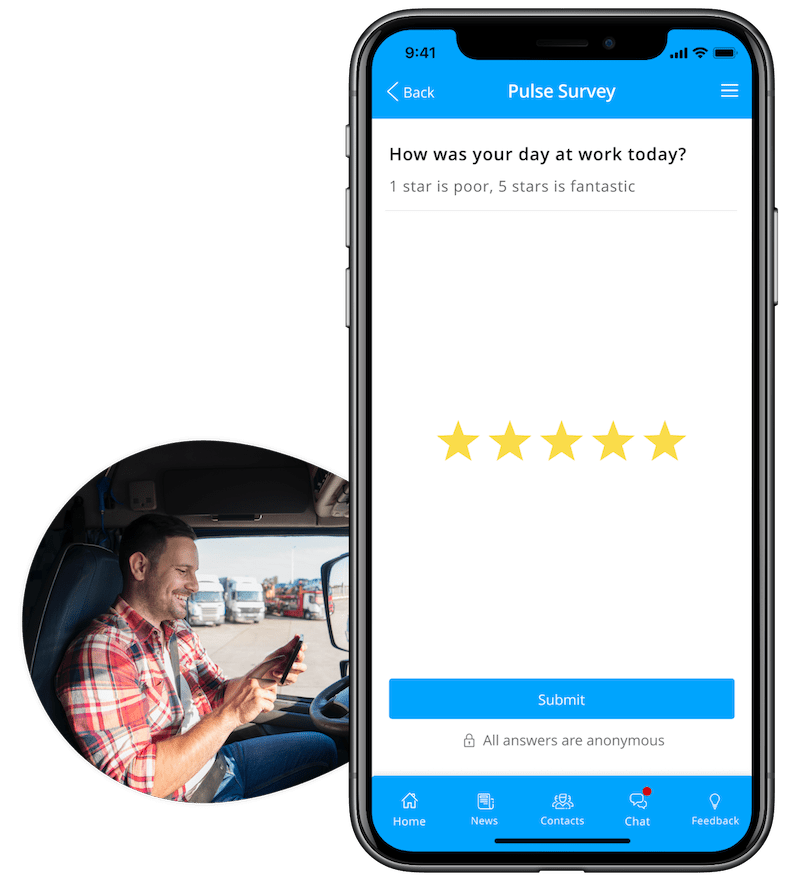 Find out whether your communications really work for your workforce, start understanding what employees honestly think about company culture, and help other stakeholders understand how employees see their work!
How to measure the success of a company app?
In recent years, the ROI of internal communications has received growing recognition partly due to the greater availability of data. Effective internal communications can now be directly linked to higher employee engagement and better business outcomes including: 
Lower workforce turnover 
Greater productivity & profitability
Fewer safety incidents
Better relationships with customers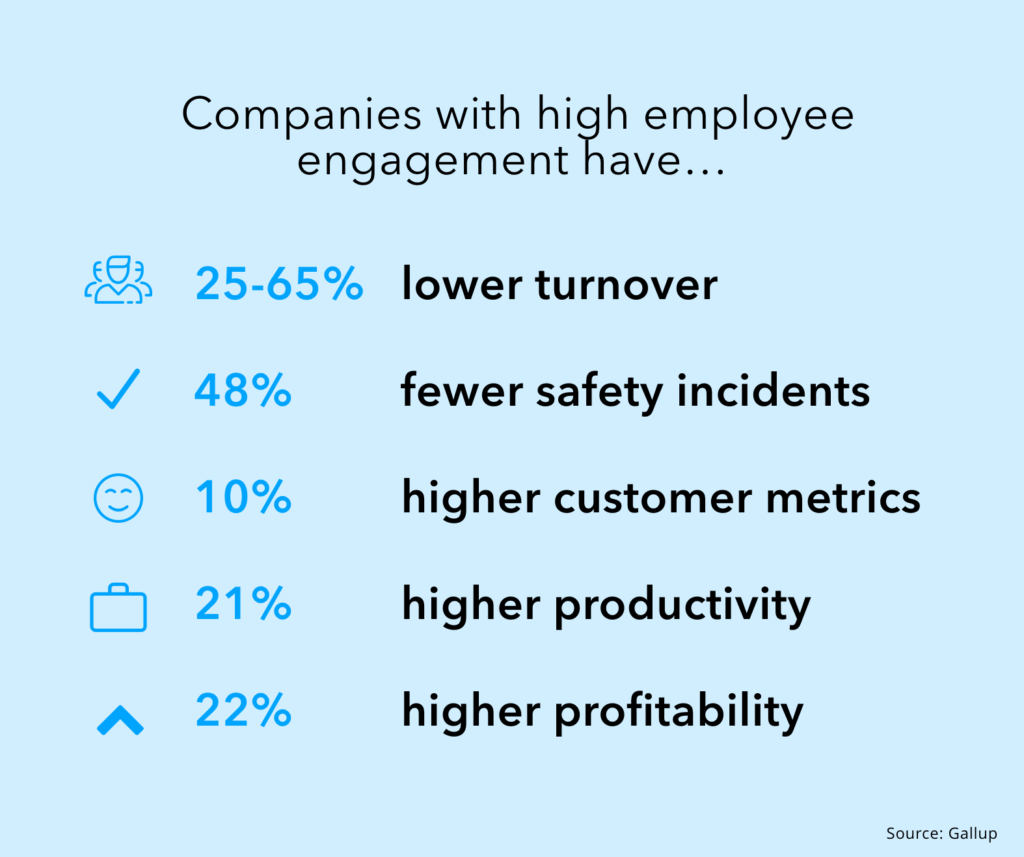 But, to get these outcomes, communications specialists need to prove that their work is actually effective. That's where internal communications metrics come in handy.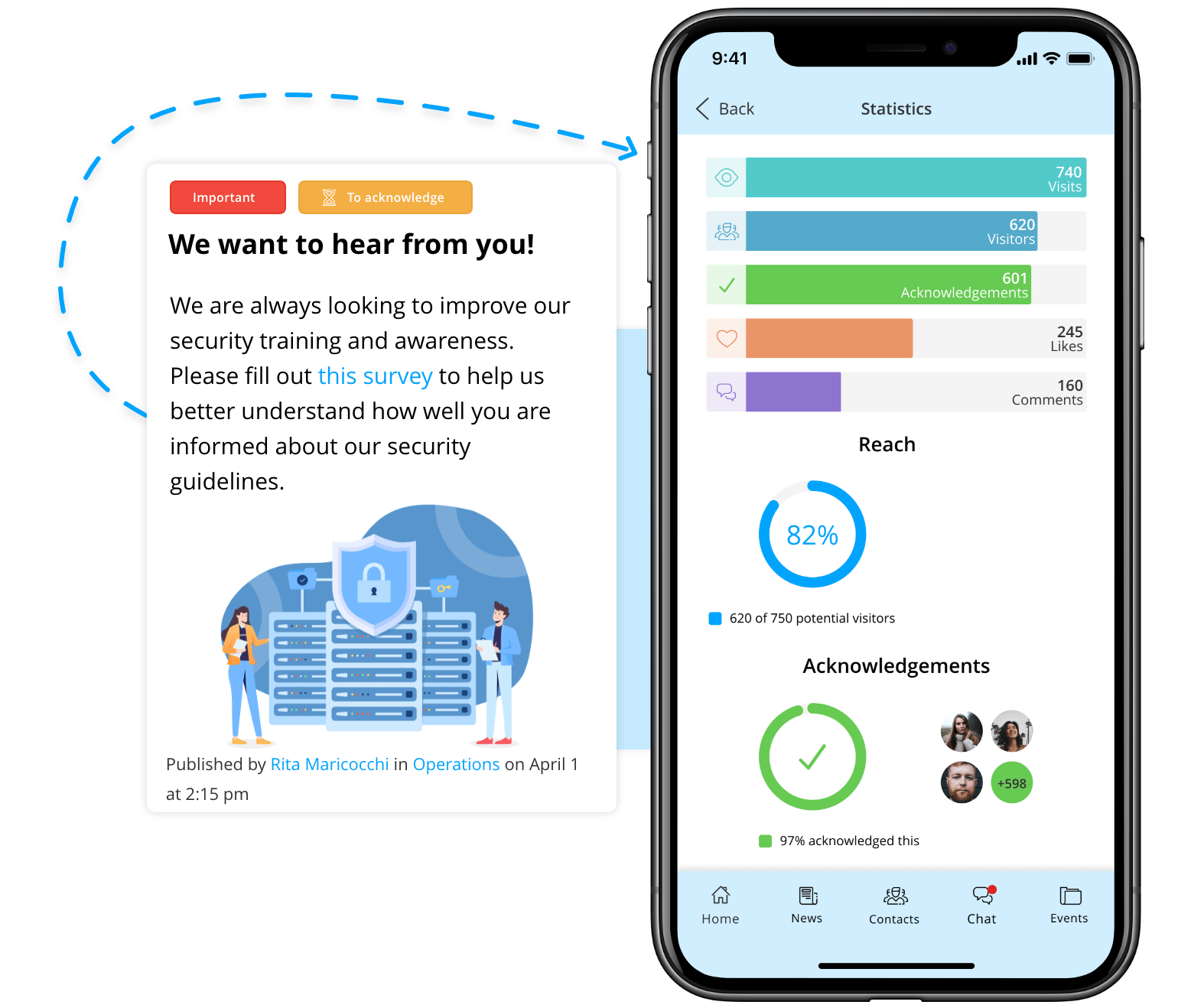 Staffbase offers the full app experience
When we created the Staffbase employee app in 2014, the goal was to address the problem that internal communicators face in sharing information, communicating and engaging with all employees, and providing them with the tools they need to finally reach all of their employees. 
Since then, our platform has pushed the boundaries for how internal communications teams work, enabling them to become champions of company mission and transformation. 
The popularity of Microsoft 365 and the meteoric rise of Microsoft Teams have given organizations better options than ever before to survive and thrive in a world of remote work. Staffbase, a Microsoft Partner since 2016, enables these companies to unite and simplify their employee experience through one company app. 
Learn more about company apps and Microsoft 365: