June is over and that means Pride Month has ended. Come July, many corporations banish their rainbow flags back to the closet — airing them out only once a year when it seems marketable. This performative approach can hinder any attempts to prioritize DE&I in organizations.
Flag waving is also where the support of LGBTQI* issues stop for many organizations and politicians. To make matters worse, there are companies who jump on the Pride bandwagon for the sake of their brand and image — and don't take any meaningful action. Sometimes, this happens while funds are actively being used against LGBTQI* causes.
When it comes to topics surrounding diversity, equity, and inclusion (DE&I), corporate communications efforts are inconsistent. Finding ways to prioritize DE&I issues should be anchored in the corporate strategy all year long — not just during Pride Month, Black History Month, or when any marketable date on the calendar rolls around.
But how can organizations make sure this is the standard? And how can communicators ensure their messaging is also part of a lived company culture?
The Need for Authentic Messaging in Comms
In today's comms landscape, it's become increasingly important for a company to be consistent — and authentic — with their internal culture and their external marketing. 
We interviewed Wema Hoover on the topic of authentic messaging around DE&I issues. She is a DE&I leader, executive coach, and culture creator. She's also the former Global Head of Diversity, Equity & Inclusion at Google. 
At VOICES NYC, our annual internal comms event, Wema delivered an amazing keynote on authenticity: "Why Communication Must be More Than Just Performative." Many of her learnings are included in this article.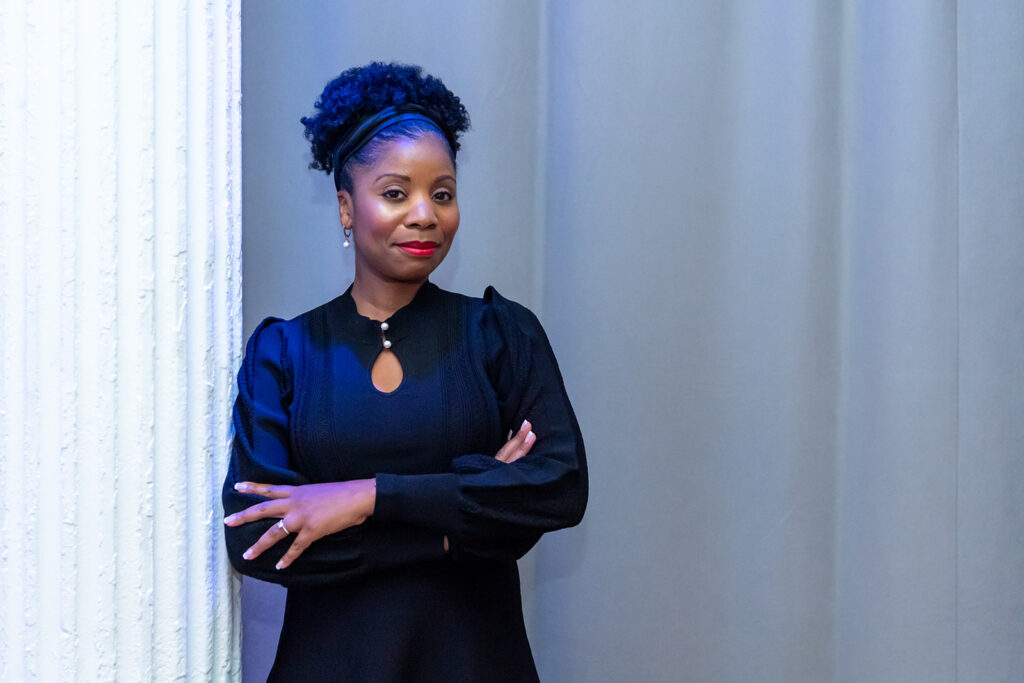 How Can Internal Communicators Prioritize DE&I Topics?
Internal communicators can create messaging that helps reinforce company values. But in order to do this effectively, internal communicators need to be in dialogue with employees. 
When you prioritize a culture of feedback, employees will feel heard and more connected to their work and the organization's mission. They'll also see your messages as authentic and credible. 
Wema gives three simple steps on how internal communicators can create a culture of dialogue and authentic messaging when it comes to DE&I topics:
1. Listen closely and get a pulse of your organization.
When you actively listen to your employees, you will gain a better understanding of what people are feeling and experiencing. And their insights will help strengthen your internal communications. 
This doesn't only concern LGBTQI* issues, but is important for all marginalized groups. Employees with different ethnic or migration backgrounds and those with disabilities often have a hard time making their voices heard. A company-wide strategy must take minorities into account and organizations should push the topic further up the agenda.
One way to establish active listening in your internal comms is with pulse surveys. They're a great tool to encourage all employees to voice their opinions.
Pulse surveys give you an easy way to: 
Check in on your employees and see how engaged they are with timely insights and feedback.
Gather data on sentiment, engagement, and relevant topical issues so you can take action quickly.
Cultivate a culture of open communication.
Show employees you care about what they think and how they're doing.
2. Cultivate messages that will bring employees together.
Acknowledge your employees' experiences and the challenges they might be facing.
Long-term diversity campaigns can help to prioritize DE&I inside the company consciousness. If there is no professional diversity management, maybe create a project group to advance the topics. 
Employees from HR, management, and internal and external communication can come together and discuss a company-wide strategy. As the guardians of the lived company culture, internal communicators are able to recognize the most pressing issues.
3. Use these messages to reinforce the values, principles, and purpose within the organization.
This begins with the smallest details, for example, choosing a visual language or defining the way to address employees. Writing and sharing guidelines on DE&I subjects can help keep the entire workforce continuously engaged. 
Different voices should be heard. This helps communicators avoid stereotypes and broaden their own perspectives.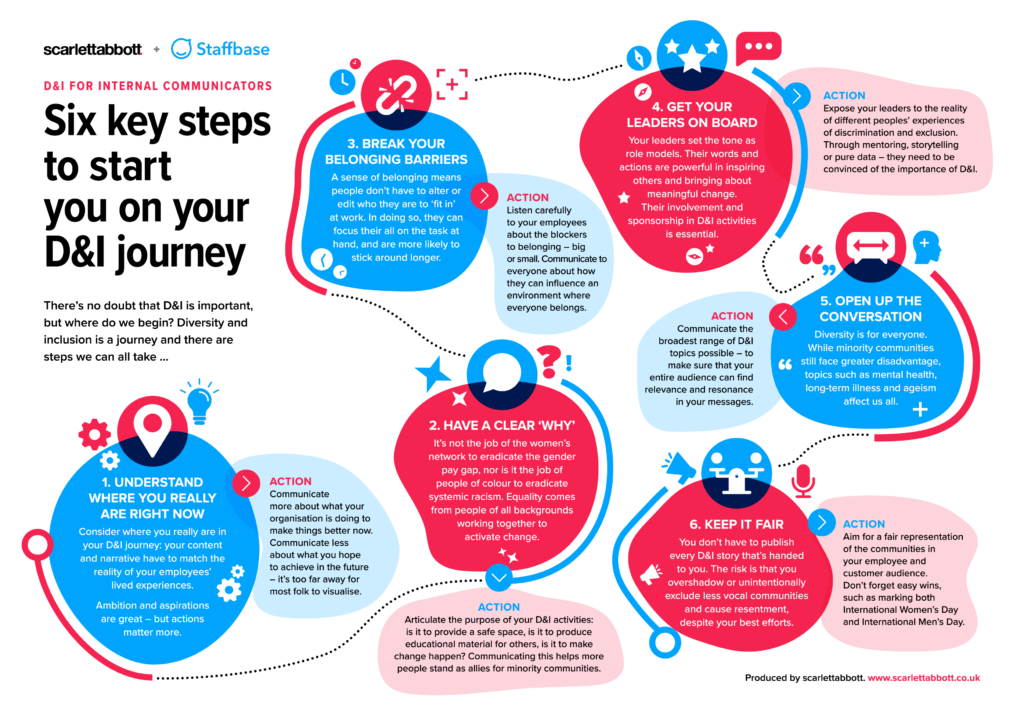 What Internal Communicators Can Do for Their Leadership's Messaging
Wema emphasizes that communicators need to be able to work closely with their leaders. They should be allowed to ask contextual questions. Some managers have become too used to getting their cues from others when it comes to general messaging. This can become a problem when specific situations concerning the company and its employees are in need of sincerity. 
"In the times we're in today, there has to be an expectation that leaders make [their own] meaning of what's going on. It cannot be expected that they just show up and [present] the message that someone in the back office has crafted for them."

Wema Hoover
Messages need to come from a place of authenticity. Leaders should take the time to process and understand their feelings so that when they do have to speak, to show up, to engage, and to lead, they can do so from a place of integrity. Internal communicators can motivate leaders to share more of their personal experiences by asking how leaders themselves are coping with unexpected events.
This is where internal communicators can be quite courageous and really step back and say 'I'm gonna ask you a few questions: How are you dealing with this? What are you feeling? How has this impacted your world?'"

Wema Hoover
When you encourage your leaders to explore their personal viewpoint, they will be better able to process and communicate well in times of uncertainty, change, or crisis. In coaching your leaders through more difficult topics, you'll also help them create authentic messages that will resonate with your employees—because those messages are coming from the heart.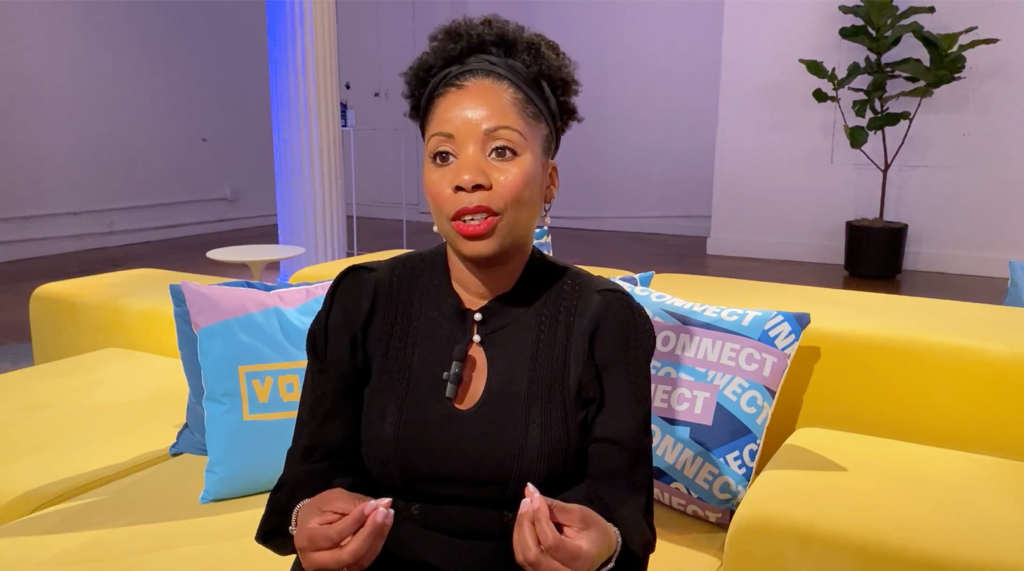 Diversity and Inclusion throughout the Pandemic: Equity Becomes More Important Than Ever
For Wema, the greatest challenge during the pandemic was "being able to engage with employees who were experiencing trauma" — trauma from being isolated due to the pandemic, trauma for Black employees and people of color who experienced violence, trauma from Asian hate crimes and LGBTQ+ exclusion — "and giving [these people] safe places."
Leaders and organizations didn't always understand how to facilitate and navigate these individual instances of trauma. Nor did they recognize the impact these situations would have on employee productivity and on their expectations for managers and organizations. Leaders had to embody the value, the behaviors, and the principles upon which the organization was standing.
This demand for compassion and the recognition of DE&I issues coming to the forefront was happening globally. Wema, who lived in France at the time of George Floyd's murder and the swelling of the Black Lives Matter movement, told us this demand for compassion and recognition of DE&I issues resonated and permeated throughout Europe as well.
"All of this happening during the pandemic made us feel it more, it amplified it. Because we had no distractions, we were able to clearly and wholly see what had happened and what was happening, without any filtering. That is what I feel made a universal, global connection around DE&I topics."

Wema Hoover
Consistency is Key
It's crucial to keep what we learned in these recent years at the forefront of organizational consciousness and truly advance sustainable practices when it comes to strategies of diversity and inclusion. One way to keep doing this is to look at the employee value proposition and to understand the learnings that we gained throughout the pandemic.
Communicators can make changes in the communities and countries where they live, starting by showing up and standing up for things that matter. In any intentional course of action, consistency is key. We can make sure to center employees and their everyday experiences.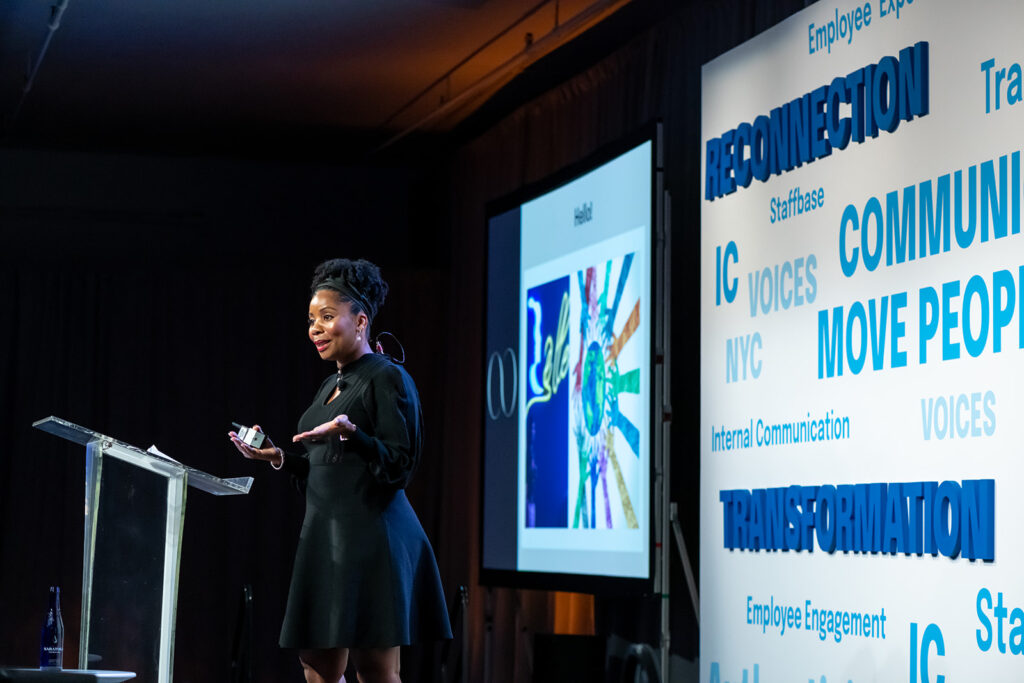 It's Everyone's Job to Prioritize DE&I
Organizations should not only focus on profits and driving work, but on making sure that their employees have positive well-being; have the opportunity to thrive; and have all the resources, tools, and support to help them from a psychological standpoint, a mental health standpoint, and an engagement standpoint."

Wema Hoover
Organizations that prioritize this "conscious capitalism" approach, balancing profit with purpose, will create a more connected work culture. When employees know that their well-being is prioritized at work, they'll feel heard and accepted as an individual. 
In order to get employees to thrive and grow, the focus should be on the conditions, the workplace processes, and the managers' capabilities that are helping or hindering inclusion. This can and likely will look differently for every employee.
Regardless of background and origin, all employees want to be valued as individuals. Over the course of the pandemic, the world of work has changed — and it continues to change. The question of how we want to work and live in this rapidly changing society continues to be at the forefront of corporate culture.
As a result, topics related to DE&I should start with all our individual needs. This builds and strengthens organizations to be more thoughtful and to have strong environmental, social, and governance platforms that prioritize DE&I issues and connect them the overall business strategy. That way, a company's messaging will represent to the outside world what's already lived within its own culture.