Communication is constantly changing in the face of technological innovations, and it's an ongoing challenge for companies to adapt. But there are organizations that are taking steps to stay ahead of the curve.
Service for a service provider? A communication tool for communicators? What's that all about?
As a service provider in the communications sector it's important to represent what you sell. Only those who have a well functioning communication channel in place themselves and, hence, are well connected to their employees, can convey this culture to their customers.
At CommuniGate, a leading provider in the field of customer communications, the employees work at desks and communication functions over email and the intranet. Both of these channels have long been taken displaced by mobile platforms in our private lives, and the corporate world is set to follow.
Although the intranet is often the start page of your companies work desktop only 3% of employees access it daily. A confusing structure, high complexity and a lack of up-to-date news lead to the intranet being neglected by your employees.
Emails still are a central part of communication, but are slowly growing to be obsolete. The format can't keep up with the speed, mobility and brevity of social media and instant messaging. In addition, our society is affected by an information overload which results in stuffed email inboxes and forgotten messages.
It's not only the decrepitude of the old channels but the rejuvenation of the workforce that supports the trend towards mobile communication.
In 2017 the workforce consists of over 50% Millennials or Generation Y, meaning employees between 18 and 36 years of age. This generation is the first that is described as "technological native". Technology is their mother's tongue.
Growing up with constant feedback and online 24 hours a day this generation, as well as Gen Z, expects ongoing mobile communication. They are focused on brevity and increase their productivity in collaboration with their colleagues. Email and Intranet no longer measure up to their standards.
An employee app a giant first step into digitalization
In unison with this development in the workforce as well as the workplace digitalization has emerged as the main trend. Companies have understood this trend and are working more and more towards enabling digitalization in the workplace.
Communication is no longer "just" about connecting the remote workforce but about connecting each and every one of your employees no matter where. The aim is to include younger generations, engage freelancers and surf on the positive wave of employee engagement that is supported by digitalization.
Employee apps enable you to completely change the internal communication strategy in your company to the positive. All your channels are combined to one, mobility and branding are a given and the format supports social sharing, likes and comments.
Fact is, no matter which industry, communication is key for success.
Learn from CommuniGate
Heike Öland, marketing manager at CommuniGate communication services GmbH has answered a few questions about their app for us.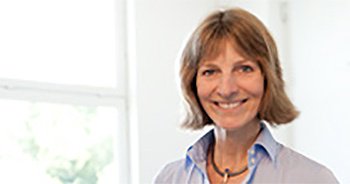 Please explain to our readers who your company is and what you do.
The CommuniGate communication services GmbH is a premium service provider for all use cases in the written and spoken, distribution- and service-oriented customer communication. Our approximately 550 employees process up to 3.2 Million applications every year from companies worldwide and lead up to 2.3 Million telephone calls in-, as well as outbound. CommuniGate was founded in 1998 as subsidiary of the Bayern Card-Services GmbH and the Lufthansa AirPlus Servicekarten GmbH. The first partners were the Deutsche Lufthansa AG and the BayernLB for whom we, since then, take care of the Lufthansa Miles & More Credit Card. Today many more industry leaders trust in our renowned company, some of which are over 300 Sparkassen, the HUK Coburg, the Mercedes-Benz Bank, Porsche, Hilton, the Deutsche Kreditbank, die badenova, the eterna, BGV / Badische Versicherungen as well as Allianz Global Assistance. Because of our quick growth we have opened up a second location in 2011. In addition to our headquarter in Passau we now have another location in Frankfurt (Oder).
Why did you decide to use an app for your internal communication?
We were looking for a tool that would allow us to quickly and interactively communicate with employees at both locations. At the same time the information had to be constantly available. The app is an ideal solution!
How did you roll out the App? Did you have a specific strategy?
We accompanied the implementation of the app with a concept. With changing posters in the offices we were able to intrigue our employees. On the launch day we gave out flyers and invited all of the employees to try the app. The reaction was cautious at the beginning but the app has grown to become the central communication platform across our locations and is now widely used.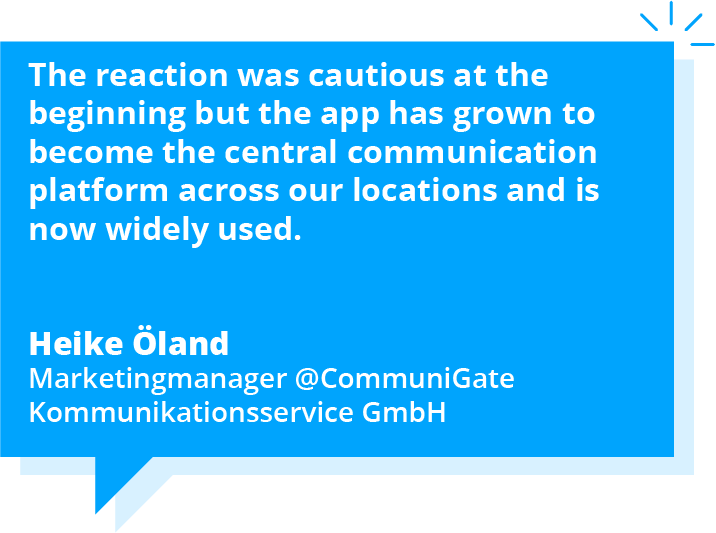 Did you run into any challenges? Would you do anything differently the second time around?
We were all very excited to see how our employees would react to the app and if it would be used as communication tool. Until now we are very happy how everything is going!
In how far do you use the app differently than maybe in the logistics or retail industry?
We not only see our app as communication tool but also as employee engagement platform with a certain entertainment value. We are trying to make the activities in the different departments as well as the people that stand behind the jobs more transparent. In addition, we use the app to increase the team spirit, authenticity, appreciation, health benefits and social responsibilities by communicating the according topics.
What are your plans with Staffbase for the future?
We would like to add new functionalities and features to the app und use these to increase the interaction and engagement of our employees.
Would you recommend Staffbase?
Yes completely – a great, engaging, motivating, uncomplicated and very service orientated team!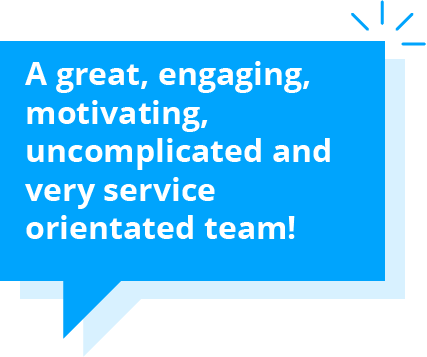 Read more about employee communication apps: