If you're looking for internal communication examples in 2023, you've probably noticed that the events of the past three years continue to fundamentally transform the work of comms. While many companies used to only think of IC as a glorified post office, that all's changed. If anything positive could be said about the effects of a global pandemic on the corporate world, it's that strong internal communication creates more adaptable, resilient, and unified organizations.
In this article we'll go behind the scenes and show you real internal communication examples that are proving to be successful in real companies. 
We've broken down our list of internal communication examples based on these common types of internal communication: 
Leadership-Generated Communication
Employee-Generated Communication
Peer-to-Peer Communication
Change/Campaign Communication
Information Communication
Culture Communication
Crisis Communication
1. Internal Communication Examples of Leadership Comms
Leadership communication is the information exchanged between leadership and the workforce. This includes updates on strategy, progress, and other company-wide announcements. But the real power of leadership communication lies in the way it is realized. Good leadership communication can lead to a meaningful employee experience, high motivation, and confidence in leadership.

So, let's compare two scenarios:

Scenario A: You work in a large organization and have never met the CEO. Every month you receive a company newspaper which always includes an article (allegedly) written by her, discussing updates and progress. 
Scenario B: In your employee app, your CEO personally shares a monthly video, discussing updates, progress, and employee questions. Moreover, her language is casual and unrehearsed and she encourages you to leave comments and questions below the video. 
So, which CEO would you like to work for?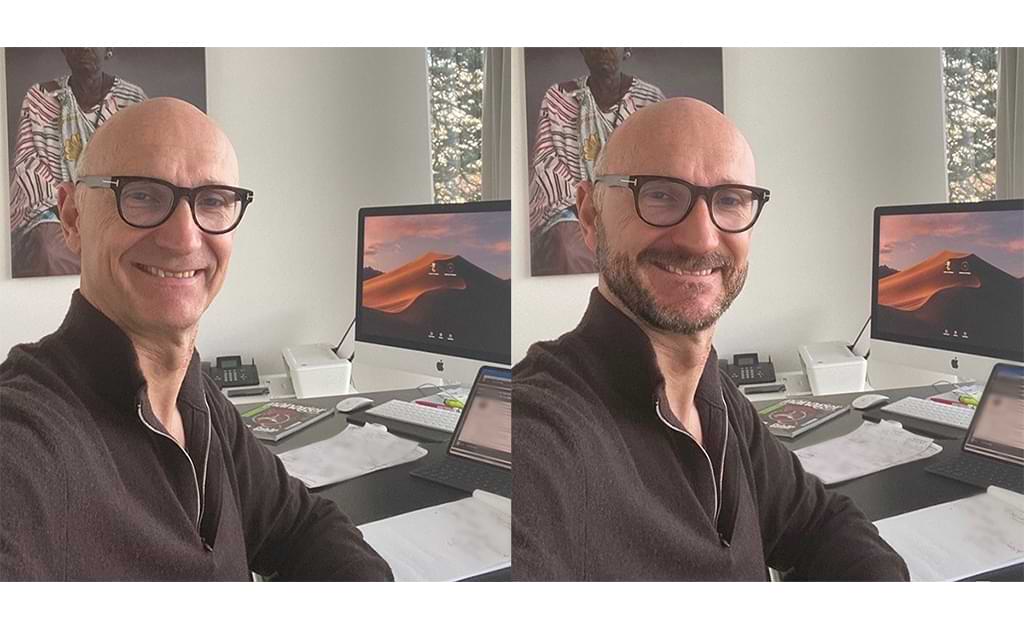 How to Create Meaningful Leadership Communication 
Be Authentic 💃🏾.
Authenticity goes a long way. So, if you want people to trust you, let them get to know you. You can do this by being transparent, consistent, and by using clear language. 
Be Visible 👀.
Make sure your employees know you are a real person, because it is much easier to feel connected to someone they see regularly. 
Talk WITH your employees 🙍🏾‍♀️💬👨🏼‍🦰.
Have a conversation with your employees. Show an interest in your people, empathise, gather feedback, and make them part of the decision-making process. Moreover, make use of formats that support interaction, like AMA sessions.  
Authentic Leadership Communication In Action
Indra Nooyi is one of the most powerful businesswomen, most successful CEOs, and a truly authentic communicator. Her use of language, her sense of humor, and her sincerity make her seem especially relatable. If you would like to see authentic communication in action, watch the video below. Here, she openly addresses the challenges of balancing her family and her career.
2. Internal Communication Examples of Employee-Generated Comms
Remember how we were talking about a unified workforce? Employee-generated communication is one of the most important aspects in achieving this goal. It is, however, also one of the most challenging to plan for. Employee-generated communication encourages employees to network across departments. In addition, it gives employees a voice, and allows them to become ambassadors of the brand and its culture. It can be translated into social walls, employee-focused video content, or networking activities. In addition, it provides information on the health of the company for management.
How to Make Employee-Generated Comms Meaningful
Provide More Than a Platform 🖥
Providing a platform for employee-generated comms, unfortunately, is a job half done. Sometimes employees need a little encouragement. So, think of incentives like competitions to get the conversation going. 
Tell Their Stories 📚
Tap into the rich narratives of your workforce that are waiting to be told. Stories have the power to connect, so make sure you give your employees room to get creative and share theirs. 
Capturing Employee-generated Communication
In 2017, Bosch launched its employee-focussed TED Talk style format called "The Spark." At each event, 8–10 employees give a presentation on a topic of their choice. In preparation, employees receive coaching sessions. The employees love this format-they enjoy developing their skills and sharing their knowledge. The numbers speak for themselves, the videos have an average of 25,000 views internally. And above all, they're a great way to share employee stories!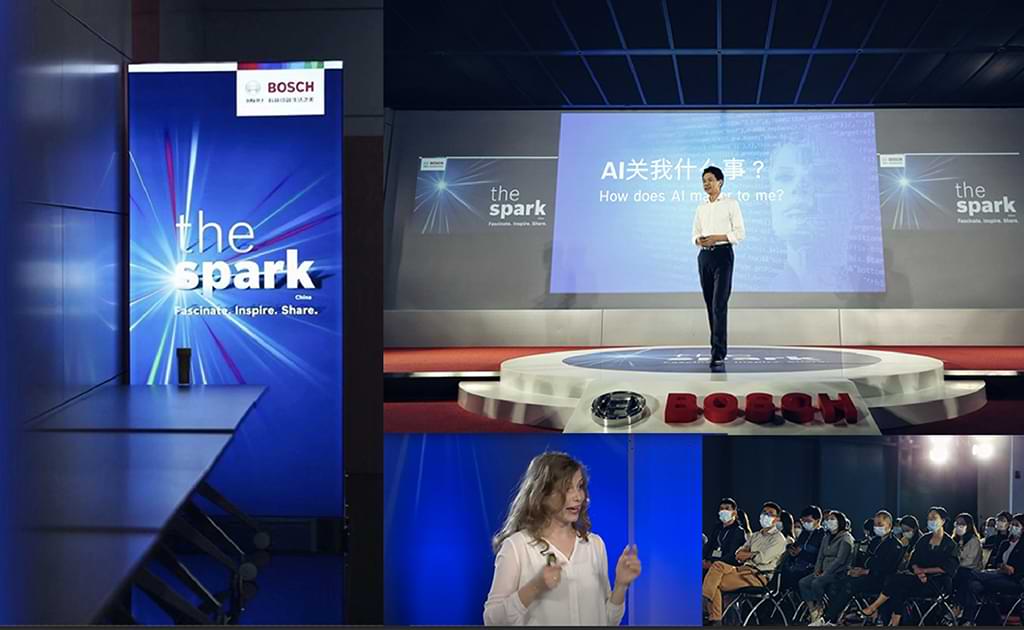 This next example is homegrown. Leading up to our annual Staffbase Camp, Staffbase launched an internal Camp Video Challenge. The theme was "We love our Customers," and employees were asked to create videos about their favorite customer. So many creative videos were submitted, and the response drove enormous activity in our app. The challenge also reminded us of the impact of our work. After all, it was our app that helped 400+ customers and more than 1 million users to communicate during the coronavirus crisis. We put together a short video for you-check it out!
3. Internal Communication Examples of Peer-to-Peer Comms
Peer-to-peer comms are all about providing channels for day-to-day employee communication. They are most often used for information related to daily operations. But non-desk workers without a company email often don't have access to their colleagues' contact information. Here, digital tools can be a real game-changer, offering chats and group chats on the go. 
How to Make Peer-to-Peer Comms Meaningful
Connect Your Workforce 🌀
Make sure your employees can reach each other. And while it will certainly solve many daily struggles, it can also lead to collaboration and innovation you never saw coming.
Choose a Modern Tool 📲
Modern digital tools come equipped with employee directories, chat functionality, and possibilities for creating and contacting groups. These tools can make the lives of your employees much easier.
A Perfect Peer-to-Peer Example
It can be a challenge to connect on-site employees to the rest of the workforce. But Deutsche Telekom solved this problem by using its employee app for daily communication between team leads and service technicians. The team leads record video messages with instructions and updates into the app and employees can watch them at their convenience. Technicians and team leads both say this has improved their workflows. And they appreciate the benefits of seeing each other regularly. Click here to learn more on effective communication with frontline workers.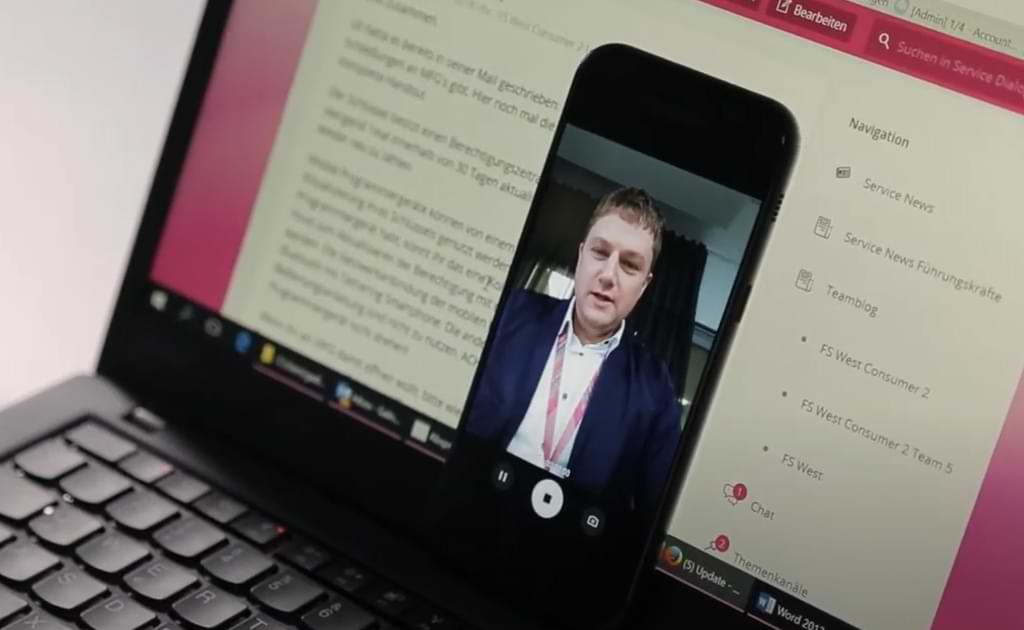 4. Internal Communication Examples of Change and Campaign Comms
What do change and campaign comms have in common? They are usually a series of planned messages around the same topic. Moreover, they are communicated over different channels. This gives them the added benefit of having a wide reach. Organizations are constantly evolving, restructuring, changing tools, merging, or closing offices. So, make sure you give your employees a little extra caretaking to feel at ease in times of change. 
How to Make Change and Campaign Comms Meaningful
Choose the Right Person for the Message 🙋🏾‍♀️
So, how do you set your employees' minds at ease about change? Employee stories are a great tool for this! Imagine hearing a first-hand story by someone who has been impacted by the change. That is certainly a trustworthy source of information about the actual impact of the change. 
Make it Measurable 📊
Also, make sure you can measure the impact of your campaign. What did employees think before and after the change? Did you reach all of them? Was the campaign a success? Here are some ideas for measuring your key metrics.
Unifying Your Workforce Through Change Comms
Mergers are a challenge for organizations. But RHI Magnesita transformed theirs into an opportunity to unite their workforce. With the introduction of their employee app, MyRHIMagnesita, they gave their 14,000 employees a platform that put them into digital reach of each other. The app was launched on the first day of the merger and was well-received by the employees. It also finally made it possible to reach the company's many non-desk workers.
5. Internal Communication Examples for Information Comms
How much time do you spend each week looking for information? If you work at a desk, at least you often have the luxury of searching for files or content. As a non-desk worker, however, half of the time there isn't even a platform you can search. But luckily, information comms tackles this problem by bringing information within reach of employees. This can be translated into FAQs, corporate wikis or knowledge bases, and makes any employee's life easier.
How to Make Information Comms Meaningful
Structure It Well 🏗
Firstly, support your employees in easily finding what they're looking for by creating a convenient structure in your knowledge bases. But if you are unsure about your employees' needs, collect feedback on how they use the information. 
Make It Searchable 🔎
Secondly, remember we are in the age of information overload. Sometimes, even with the best structured HR hub, it's not easy to find something. But search can save the day-make sure employees can easily search their resources.
An Example of Convenient Information Comms
HR hubs are relevant to all employees and are a great use case for information comms. Especially employee apps and modern intranets make it possible to organize information well. They are searchable and can include FAQs as well as contact details for additional questions. For non-desk workers, it is especially convenient to offer mobile knowledge bases, giving them access to information on-the-go.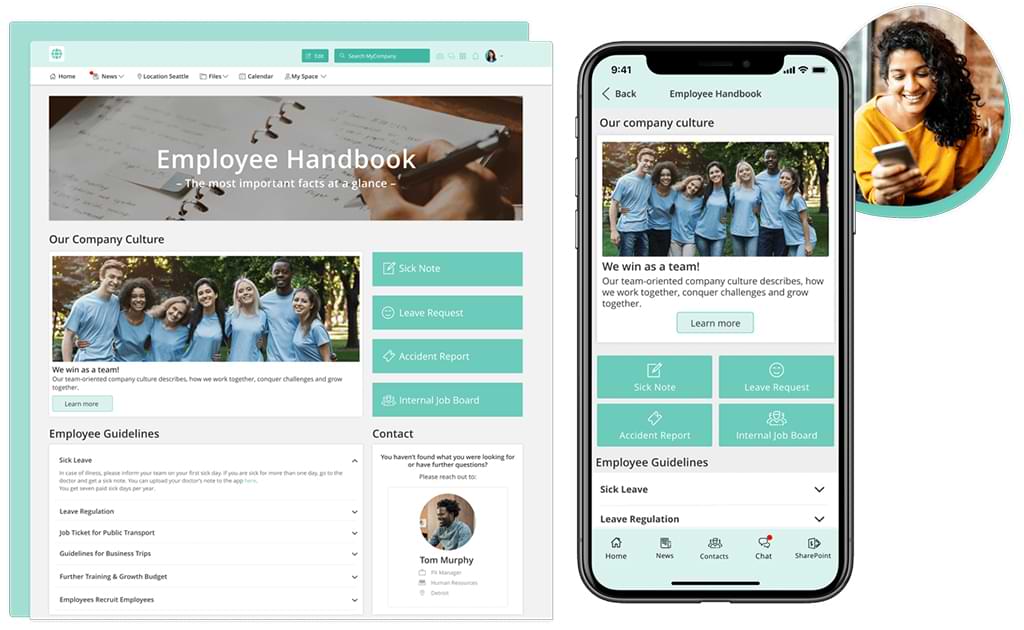 6. Internal Communication Examples of Culture Comms
There's no magic formula for creating great company culture. The key is to just treat your staff how you would like to be treated.

Sir Richard Branson
So, how would you describe your company culture? Do you have a culture of collaboration and networking? And what about inclusion, transparency, and passion for your work-how are they embedded?
Your corporate culture is the unifying force that brings your employees together under a common mission and a common code of conduct. Culture comms' role is to develop, support, and nurture this culture. Culture comms communicate the mission and values of your organization. This can be done through company events or as part of the onboarding experience. It also includes things like volunteer and corporate social responsibility (CSR) schemes.
How to Make Culture Comms Meaningful
Put Your People First 🧍🏿‍♂️🧍🏻‍♀️
Your people make your culture. Their individual attitudes, behaviors, and choices unite the culture of the whole. Therefore, it is important to think about how you would like your culture to impact your employees' lives on a daily basis, and how you would like them to contribute to it.
Practice What You Preach 🏈
It's nice to have powerful values and mission statements, but are they actually reflected in your company culture? For instance, if your organization is promoting a culture of inclusion but only celebrates the holidays of some cultures, it might be wise to look at that again. 
An Example of Culture Comms That Unite Remote Teams
This is another home-grown example from the Staffbase universe. Part of our culture is nurturing the connections we have with each other. Especially in Covid-19 and home office times, this is what we miss the most: being together and sharing energy and passion for our mission. But we are also an innovative bunch! To maintain our culture long-distance, we have been diving into the world of online-themed team events. Might as well enjoy our time at home and try new things (Seriously, when was the last time you dressed up? Or painted a radish?) So even in these trying times, there are ways to connect and to create culture.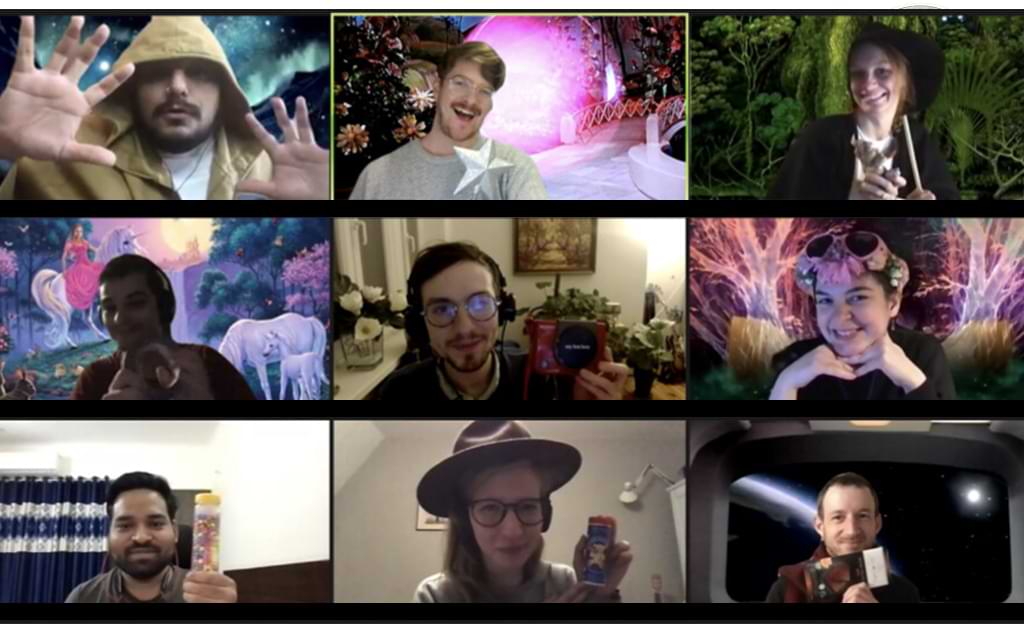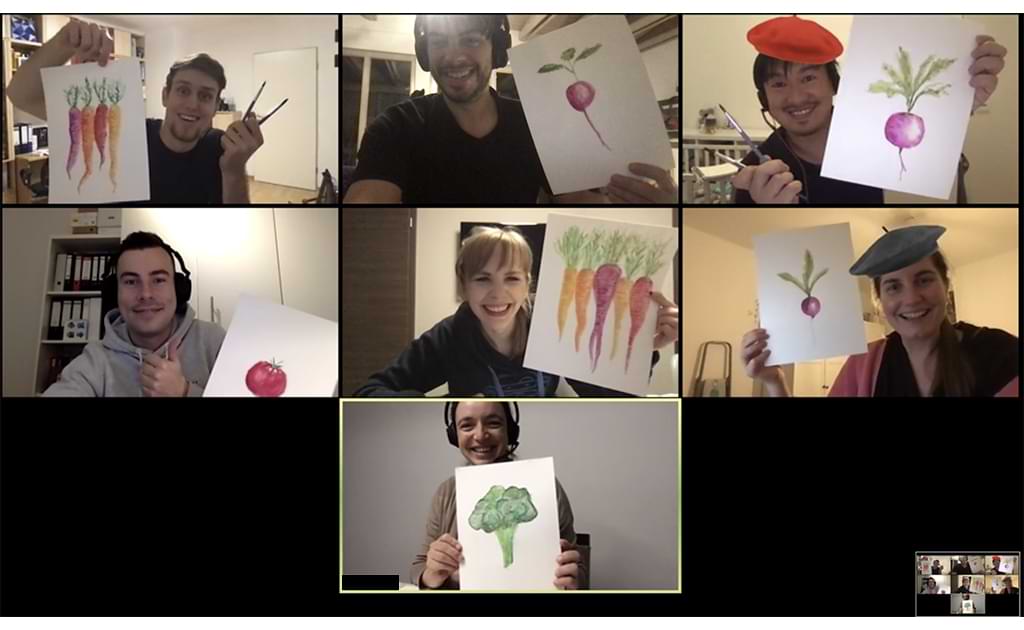 7. Internal Communication Examples of Crisis Comms
After 2020, most of us can add "crisis expert" to the skills on our resume. Crisis communication is concerned with reaching all employees with important information, updates, guidelines, and support in crisis situations. Therefore, as many organizations learned this year, it is a great advantage to already have an infrastructure for crisis comms in place. That way, when crises hit, you can use your resources for the important task of reaching and informing your employees. 
How to Make Crisis Comms Meaningful
Plan Ahead 🔮
Have both an infrastructure and strategy in place ahead of time. Think about how you can reach everyone, establish channels and spaces for employee questions, and decide on the tone of your messages. 
Be Clear, Quick, and Responsive 🏃🏻‍♀️
The biggest challenge in a crisis is to keep calm. So, the quicker and clearer the information you send to your employees, the more peace of mind they will have. Create urgency, not panic. Similarly, be a source of truth, communicate transparently, make sure your employees know where to reach you, and be responsive on those channels. Show them you are there for them, taking action and addressing their concerns.
Real-life Crisis Communication
Our crisis communication example comes from the collective learning of our customers during the pandemic. Most of them created a dedicated crisis comms page in their app. This page included news channels with regular updates, FAQs, emergency hotlines, contact persons, a place to submit questions, and information about what to do in case of illness. Employees were notified when new information became available, and communicators could see if the information reached all employees. Win-win! Click here to learn more on the return of investment of an employee app.
So, we hope these internal communication examples inspire you! Are you now feeling ready to supercharge your comms strategy? Click here to get started.