Your suitcases are packed and so is our latest release. Version 4.8 is full of new possibilities, with a focus on improving the user experience for both employees and editors alike. Start organizing content with hashtags, use ghostwriting to streamline your editorial process, and did someone say new Microsoft integrations? The latest updates are here to make your comms platform easier and more efficient for everyone.
Level Up Your Feedback Loop With Bigger, Better Surveys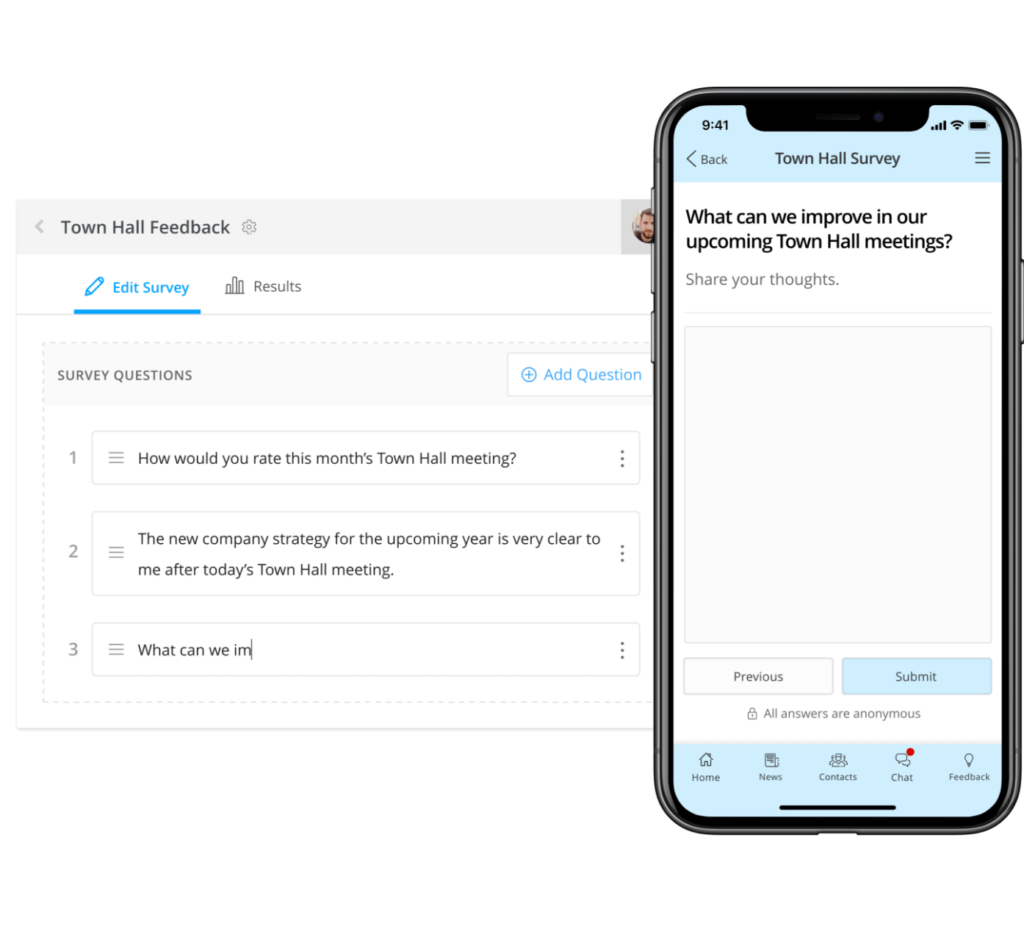 Giving your employees a voice and finding out how they feel about priority topics doesn't just help employees feel more engaged, it can also help you identify the strengths and weaknesses in your company. Detailed and structured employee surveys help your company become more successful.
Starting now you can schedule and send deeper surveys with multiple questions, with our new employee surveys plugin. Whether you're looking for immediate feedback on an event or policy, or want more regular input on employee engagement, employee surveys can be tailored to get you the most meaningful feedback.
Some possible ideas for our extended surveys function include:
(Yearly) employee engagement surveys
Change management surveys
Project surveys
Topics surveys (i.e. leadership, communications satisfaction, company culture)
In addition to the new extended functionality, customers can now easily embed pulse surveys on pages, to get feedback on whether page information is helpful or if they were able to find what they were looking for.
#HashtagsAreHere :)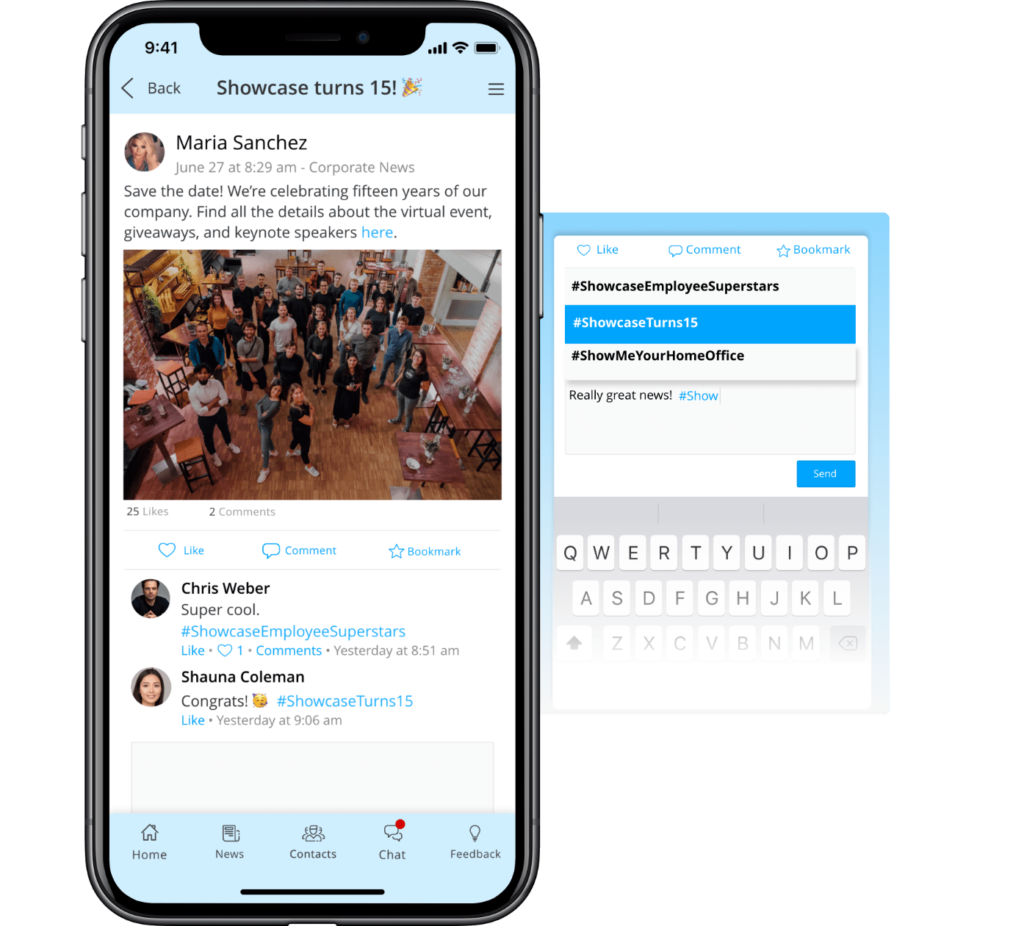 Hashtags are here! One of our most-asked features is now finally a part of your internal communications platform. Starting today, editors and authors can use hashtags in notifications and all different types of posts, pages, legal documents, and more. This gives you the ability to easily group content according to themes and get an overview of trending topics. Employees can also use hashtags in comments on posts and articles, and when they click on a hashtag they'll get an overview of all of the content and pages related to a certain hashtag. Even better structure and findability, for all your content.
If you're ready to #getstarted, talk to your Customer Success Manager about testing the feature in Beta today.
Creating Messages From Your CEO Just Got Easier - Introducing Ghostwriting!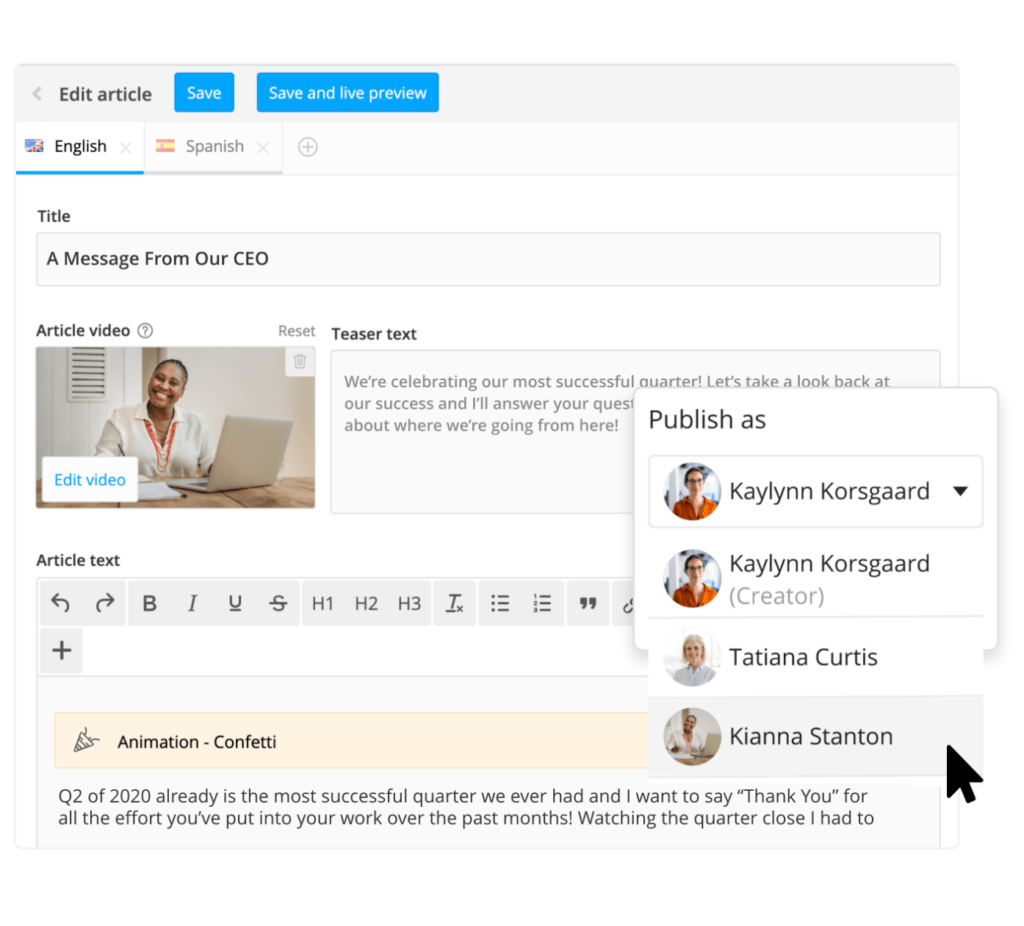 Many CEOs and top-level managers want to create content that reaches employees, especially when it comes to communicating about strategic initiatives, but time constraints often make it a tedious task. One major highlight in our latest update is the highly requested "ghostwriting" feature.
Ghostwriting allows editors to change the author of a post to someone other than themself, in just one click. Choose the author from a list of channel editors to not only display their name as the post author, but also make sure they get all the relevant notifications on interaction with the post. This way, your new author can react to comments personally and stay in the loop about what employees think about it.
The new ghostwriting function is available today for Beta testing. Talk to your Customer Success Manager to get started.
More Options For Gamification, All Year Round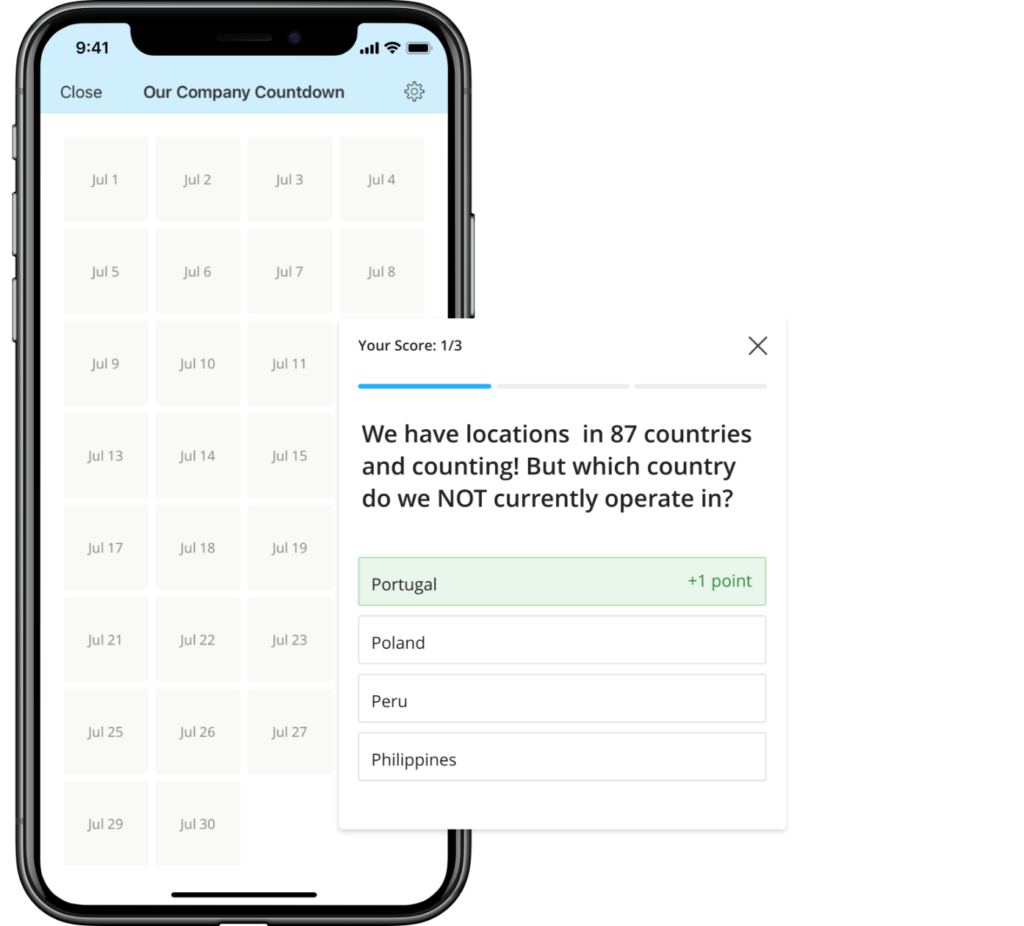 If you've already been using our Christmas Calendar feature around the holidays, here's your opportunity to start gamifying all year round. Our new Quiz Calendar gives you the same calendar-based quizzes, with more flexible options. Now, you can create calendar-based quizzes over a customizable time frame at any time, like in the days leading up to a new product launch or any other major event.
When employees play, they'll see direct feedback on their quiz answers and benefit from an improved scoring system. Start gamifying your comms all year round for occasions like:
Your company birthday
A new office opening 
New employee onboarding
Your app launch 
Theme weeks like pride month or climate protection
Product launches
The new quiz calendar promotes engagement and helps boost your daily active usage. It's already available and can be activated for your comms platform today.
More Efficient Comment Management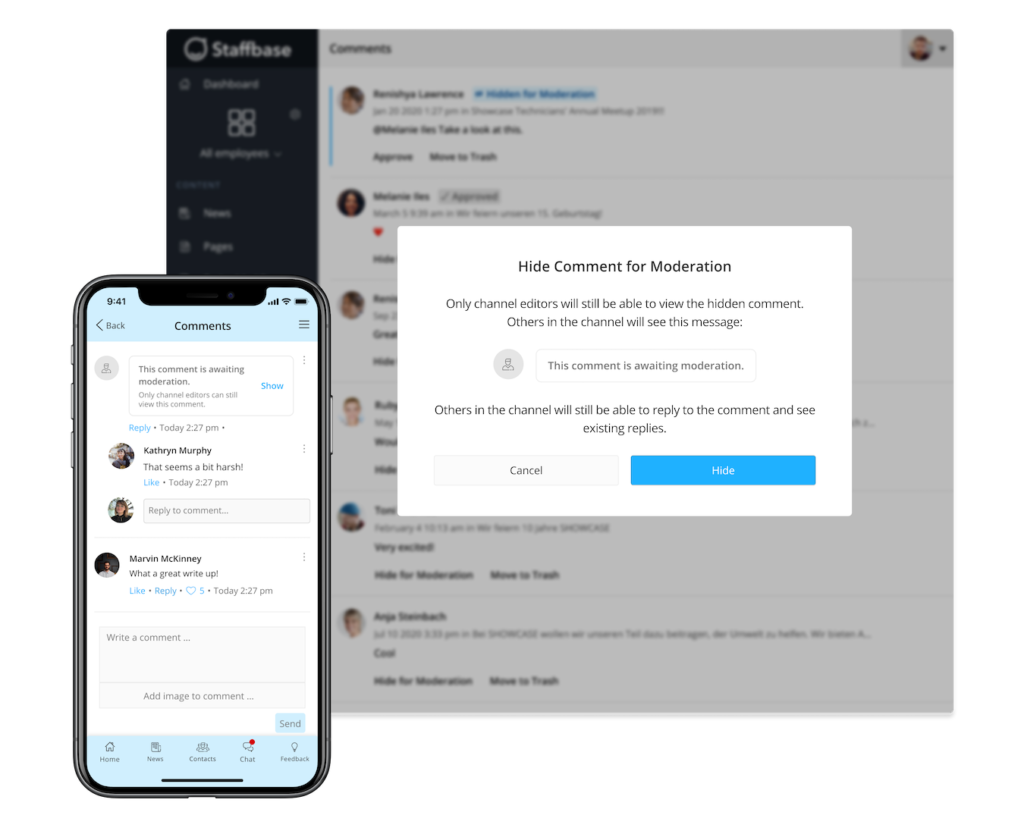 Your employees should feel safe sharing their opinions on your comms platform. Our new comment moderation feature is here to help! Hide potentially inappropriate comments until you can check if they meet your community guidelines. Once they've been reviewed, you can quickly approve or delete them in a click. No need to delete an entire thread based on one comment - always keep valuable discussions transparent. Coming soon, users in your platform will also be able to report comments, so platform users can be held accountable by one another, and comments can quickly be forwarded to the responsible editors.
Think the editorial process couldn't possibly get easier?
Leave some room in your suitcase, because we've also improved the overview of comments in the Experience Studio with a streamlined layout, and infinite scrolling. Avatars, status badges, and an expandable view for longer comments provide more clarity and a better overview of list items. Editors save time being able to access moderation features like hiding, removing, or unhiding comments directly from the common overview page.
Contact your Customer Success Manager to see the new comment moderation feature in action and get it activated for your platform.
More Microsoft 365 Integrations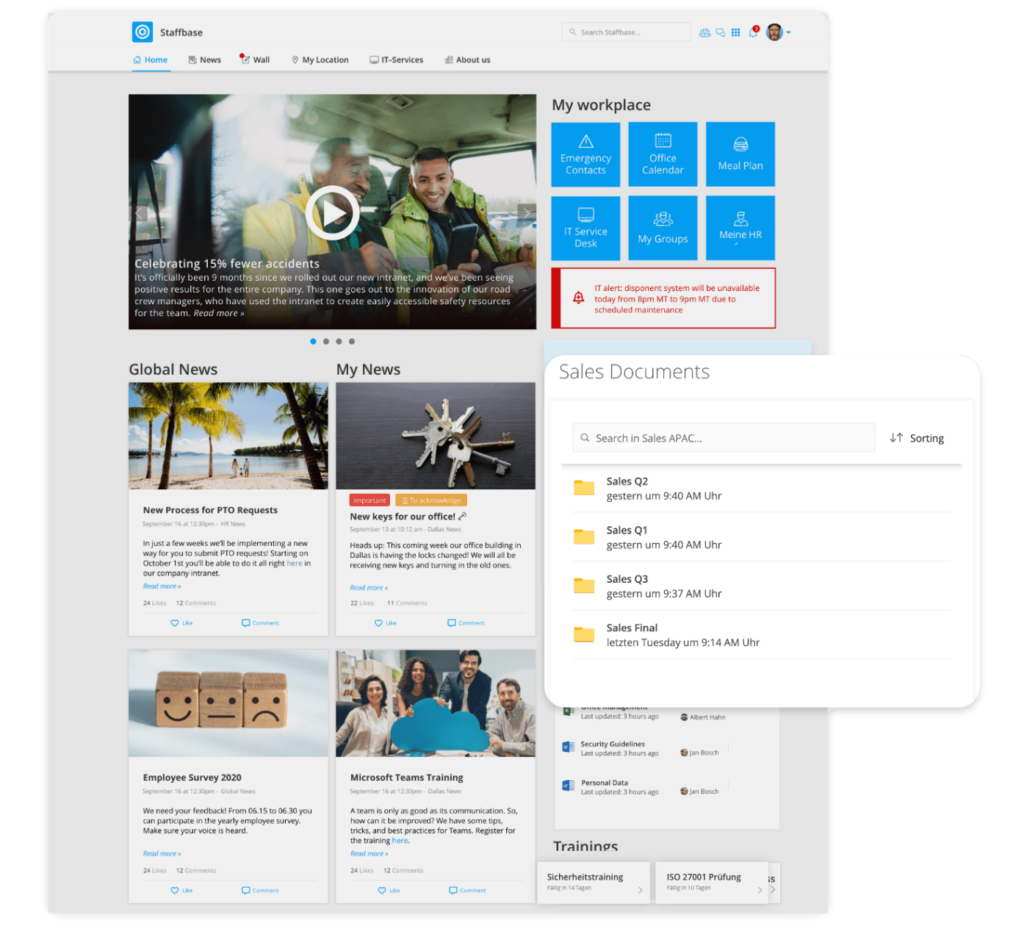 In this release, we're also unlocking more power and potential for customers using Microsoft 365. Seamlessly integrate Microsoft 365 tools in your platform to create an even better user experience that supports employees in their daily tasks.
Microsoft 365 Document Library
Loving incorporating your Microsoft 365 tools directly in your comms platform? The new Document Library widget allows you to provide users with an easy overview of files and folders from SharePoint document libraries The widget is easy to navigate with a strong search and the possibility to organize files alphabetically or based on recent changes. The structure of the overview is an improvement on the existing files widget, with the ability to reflect a library's folder structure and also configure a default folder.
OAuth 2.0 Microsoft Connection
Administrators wanting to use Microsoft integrations will now have a handy new "Microsoft Connections" tab directly in the Experience Studio. Manage your connected Microsoft 365 apps and quickly decide which employees have access to which tools in your platform.
Better Microsoft 365 Search
Your employees' in-platform search experience just got even more connected. Staffbase now connects with OAuth 2.0, so your employees can see search results from Microsoft 365 apps in a tab on desktop or mobile.
If you already have the general Microsoft package, contact your Customer Success Manager to activate this new enhancement for free.
We're looking ahead...
Our goal is to minimize the editorial process for internal communicators to generate maximum success. Release 4.8 is full of updates that simplify the work of internal communicators and make the user experience for employees unique.
Questions, comments, or concerns? Want to see one or more of these new features in action? Get in touch with your Customer Success Manager, and take a look at the full release notes for 4.8. 👇