Corporate intranets have been used in some shape or form since the '90s. And many of them are worse for wear. That's why the answer to the question, "What is an intranet?" has needed to change as dramatically as the ways we work.
Intranet offerings are constantly adapting to trends, adding functionality and purpose. In fact, the latest in modern intranets - sometimes called Employee Experience Intranets - bear little resemblance to the clunky, Byzantine versions of yesteryear.
These intranets are far from obsolete. In fact, they're more important than ever before. 
What is an Intranet?
Depending on the organization, intranets can manifest as a website, an internal communications platform, a collection of collaboration tools, a knowledge sharing platform, or even a social network. There's no definitive format. As a result, there's often confusion about the exact intranet definition.
Let's try to break it down.
At the most basic level, an intranet is defined as a private internal network that supports an organization's employees. It does this by facilitating communication, collaboration, and information sharing. Intranets are just one of the many tools that make up the digital workplace. Others include collaboration tools like Slack and Teams, cloud-based productivity solutions, and traditional enterprise applications. Together, these tools constitute the digital employee experience (DEX).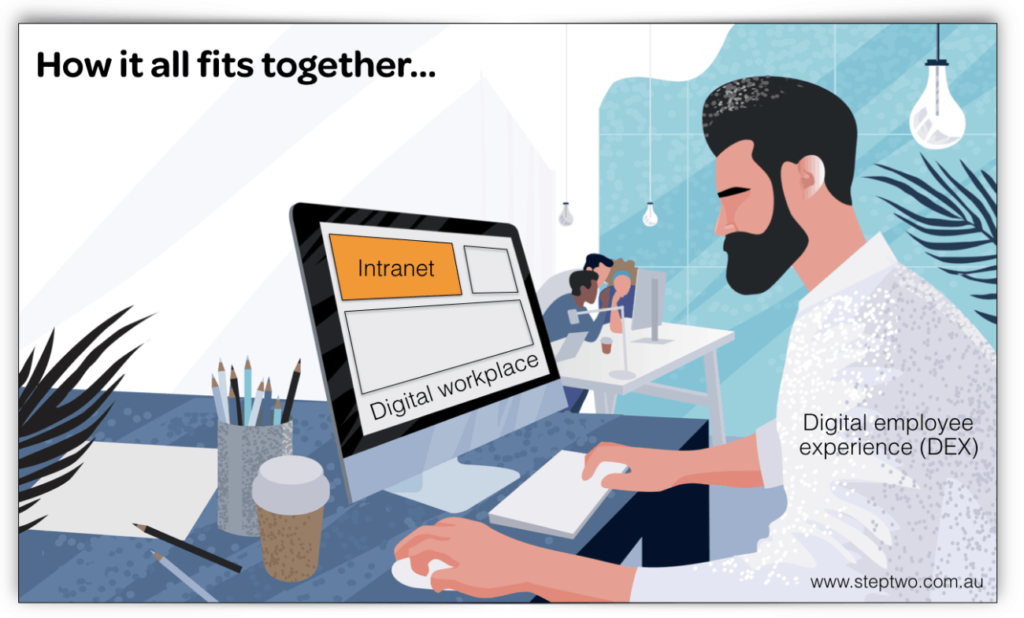 Most intranet solutions provide a desktop web-based interface in which things like calendars, project timelines, task lists, confidential files, and messaging tools are available. Examples of products currently on the market include offerings like Microsoft SharePoint, Huddle, Igloo, Jostle, and Staffbase.
What's the Difference? Intranet vs. Internet vs. Extranet
All three act as information hubs. However, the core difference lies in accessibility.
While the Internet is a public network accessible to all, intranets are privately owned and accessible only to members of a company. An extranet is like an intranet in its content matter, but it is accessible to authorized third parties such as customers, vendors, or partners.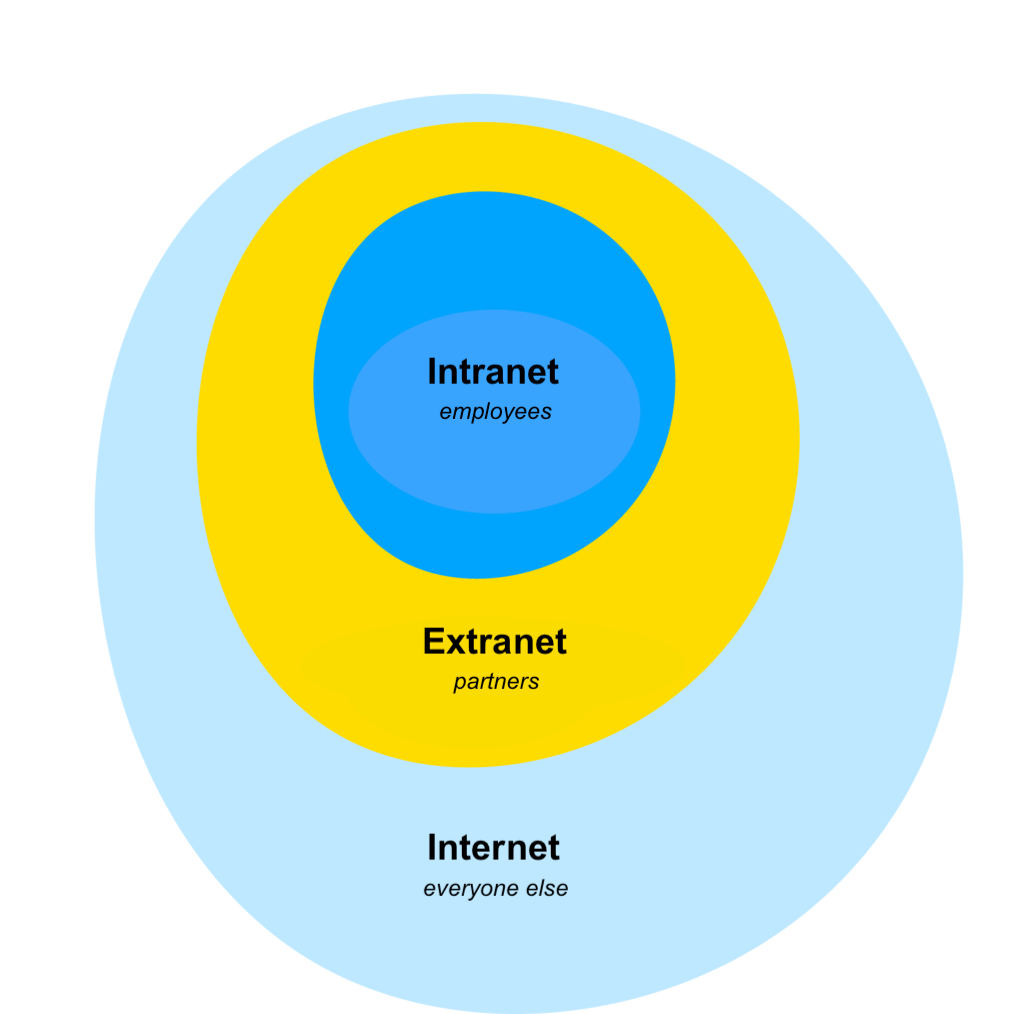 Why are Intranets So Important Right Now?
COVID-19 has changed the way we work, advancing digital transformation for workers across industries. According to research from Gartner, nearly three quarters (74%) of CFOs expect to transition previously on-premise employees to remote work permanently, driven largely by a desire to cut real estate costs.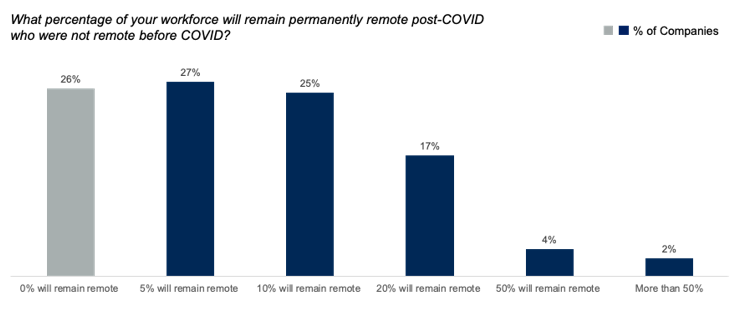 For countless jobs, remote work changes the nature of communication, which now happens primarily through intranets and other collaboration software. Without the right combination of tools, this transition to full-time remote work invites the potential for neglect as more employees leave branded workplaces to enter roles reminiscent of those of frontline workers or gig-workers - a historically unengaged demographic. 
What's more, this neglect has serious monetary consequences.
For Staffbase customers in the automotive industry, for example, the comms and engagement gap for non-desk workers was costing roughly 4,300 USD per employee per year. By accelerating digital transformation with an intranet, employees saved an average of 7.7 hours per month, equating to a 3,500 USD savings per employee per year.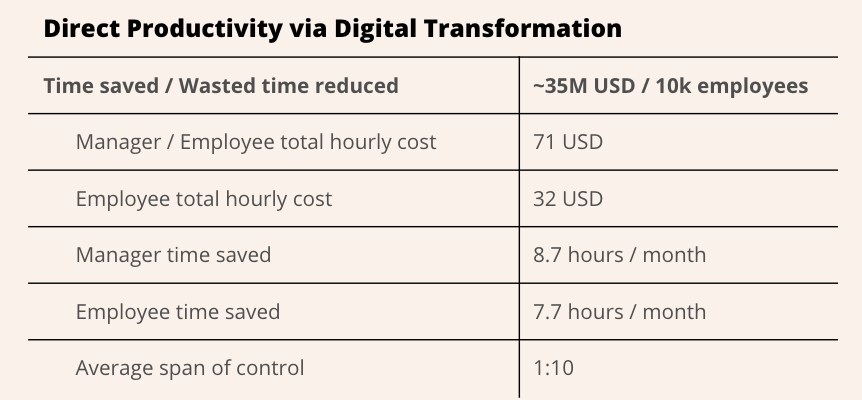 How Has the Intent Behind Intranets Changed Over Time? 
Despite popular opinion, there are no inherently "good" or "bad" intranets - the strategy and idea behind them has simply changed over time. To understand them in their current iteration, let's take a look back at how they've adapted to trends over time.
Stage 1: The Basics
In the mid-90s, intranets entered the mainstream as simple, go-to internal web pages for links and resources with the goal of improving internal organization.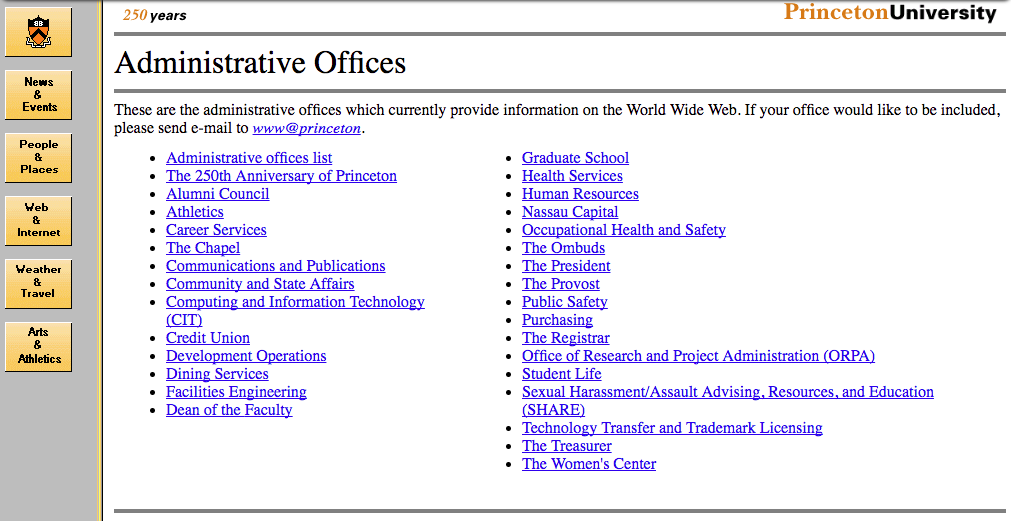 Stage 2: Internal Comms
In 1996, Frontier Technologies made waves after introducing the groundbreaking "Intranet Genie." This was more than just another company homepage - it had applications for document sharing, messaging, and more, to facilitate communication and collaboration among employees.
With the addition of internal comms functionality bringing intranets closer to acting as internal homepages, comms and intranets became permanently intertwined.
Stage 3: Employee Self-Service Portals
In the early 2000s, organizations began adding Employee Self Service functionality (ESS) to their intranets with the goal of taking work away from HR and saving time by empowering employees to complete more processes by themselves.
ESS capability was possible with portals - software that could easily integrate with existing intranets. But their need for extensive customization quickly made previous methods of content management expensive. 
Stage 4: Social Intranets
In 2010, social intranets - also known as interactive intranets - were used to encourage greater teamwork and knowledge sharing, featuring social media-like functionality such as comments, likes, interactions, and team rooms. Software on the market featured mainly collaboration-centric Enterprise Social Networks (ESNs) like Jive, IBM Connections, or Sharepoint.
Social intranets, however, have limits to their collaborative capabilities. Most don't offer document management systems or tools for carrying out other HR and business processes.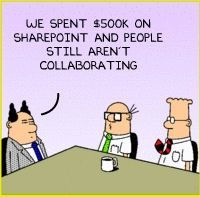 Stage 5: Microsoft 365
In 2017, Microsoft made big additions to Microsoft 365 - the popular office software suite to which Sharepoint belongs - with the addition of Teams, Communication Sites, and Hub Sites. These new tools were part of Microsoft's ongoing mission to dominate the DEX space by combining communication tools (Teams, Yammer, Outlook) and productivity tools (SharePoint, Planner, BI Portal, OneDrive, Word/Excel/PPT) in a single place.
However, the sheer number of tools served only to devalue Sharepoint, and the question of "what actually comprises an intranet?" grew muddied. For Microsoft 365, intranets are simultaneously everywhere and nowhere.  
Stage 6: Modern Intranets
The latest entrants to the intranet space - what we're calling Employee Experience Intranets - occupy the sweet spot of simplicity and collaboration between social intranets and Microsoft 365. They're hyper-personal branded digital hubs that are mobile first and phase out the more immediate collaboration that happens in Slack or Teams.
In other words, collaboration and teamwork are no longer a core task and requirement of modern intranets.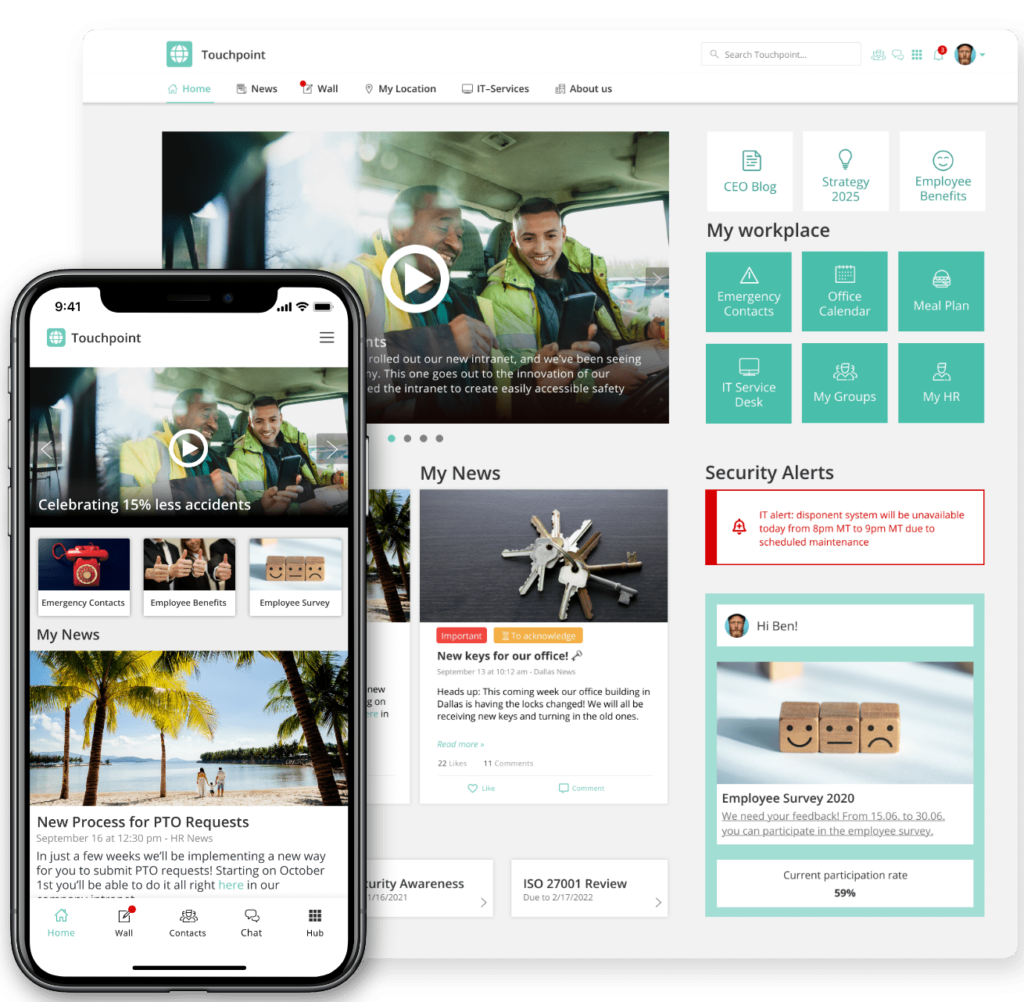 So What's the Definition of a Modern Intranet?
Given this realignment of core tasks, the goal of the modern intranet is to act as a personal guidebook to the employee journey for those entering the virtual workplace of tomorrow.
These intranets do so by improving four key areas of the employee experience: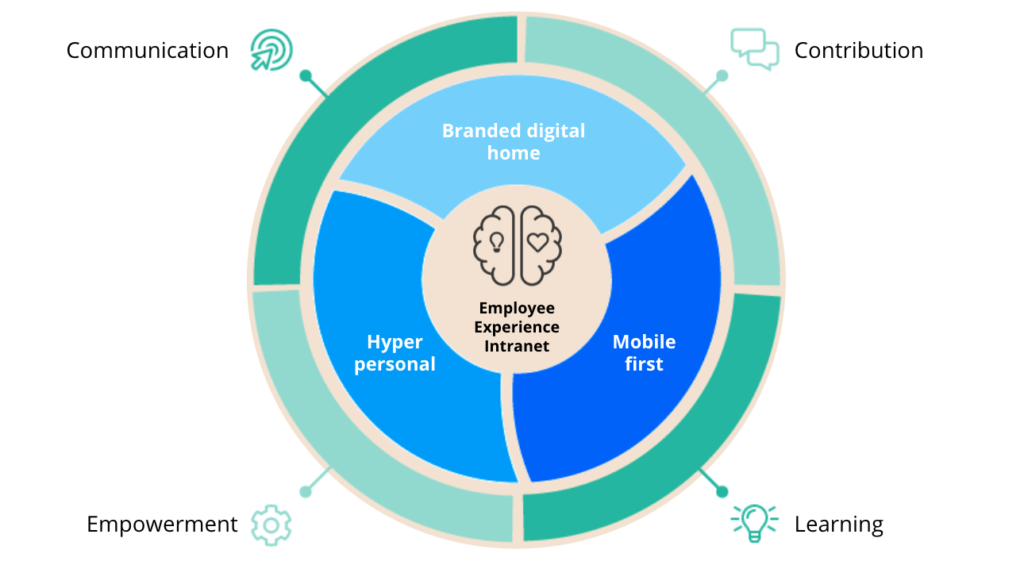 1. Contribution: Employee-generated content is key.
For organizations to continue learning better and faster, there is nothing more indispensable than employee feedback:
As a leader, you need to have a strong voice and you need to know when it's time to listen. A real conversation is a two-way dialogue; it requires both parts."

Amy Jen Su, co-owner of Paravis Partners (Source: HBR)
What's more, employees want to be heard.
According to a recent Salesforce report, employees who feel their voice is heard at work are nearly five times (4.6) more likely to to perform their best work. And employees who say their company provides equal opportunities are nearly four times (3.8x) more likely to say they are proud to work for their company.
A modern intranet meets both of these goals. It can collect feedback both structured (surveys, social walls) and unstructured (comments and likes), creating engagement at all levels. This in turn promotes networking, exchange, and shared experiences.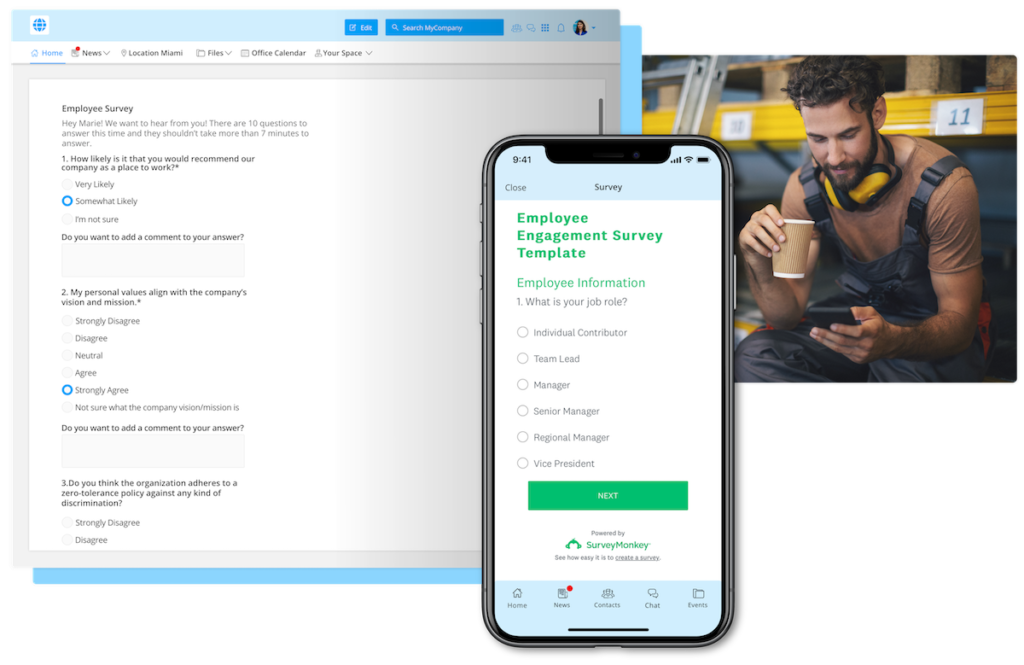 The Benefits:
Reduced risk: Greater transparency regarding challenges and problems; appreciation and firm social integration that significantly increase employee loyalty.
Save money: Successfully implemented employee suggestions lead to cost savings and decreased turnover.
Sell more: More available information enables better decision-making; decentralized communities within the company can distribute best practices.
2. Communication: The #1 priority of a modern intranet.
The distribution of news has always been one of the main tasks of an intranet. However, other features - self service functionality and collaboration, for example - have shared the spotlight. Therefore, these only served to compromise the initial goal of internal communication.
For Employee Experience Intranets, communication is the number one priority of a modern intranet. Functions such as push notifications, group-specific channels, tailored communication for specific moments (e.g. onboarding), and more, make it possible.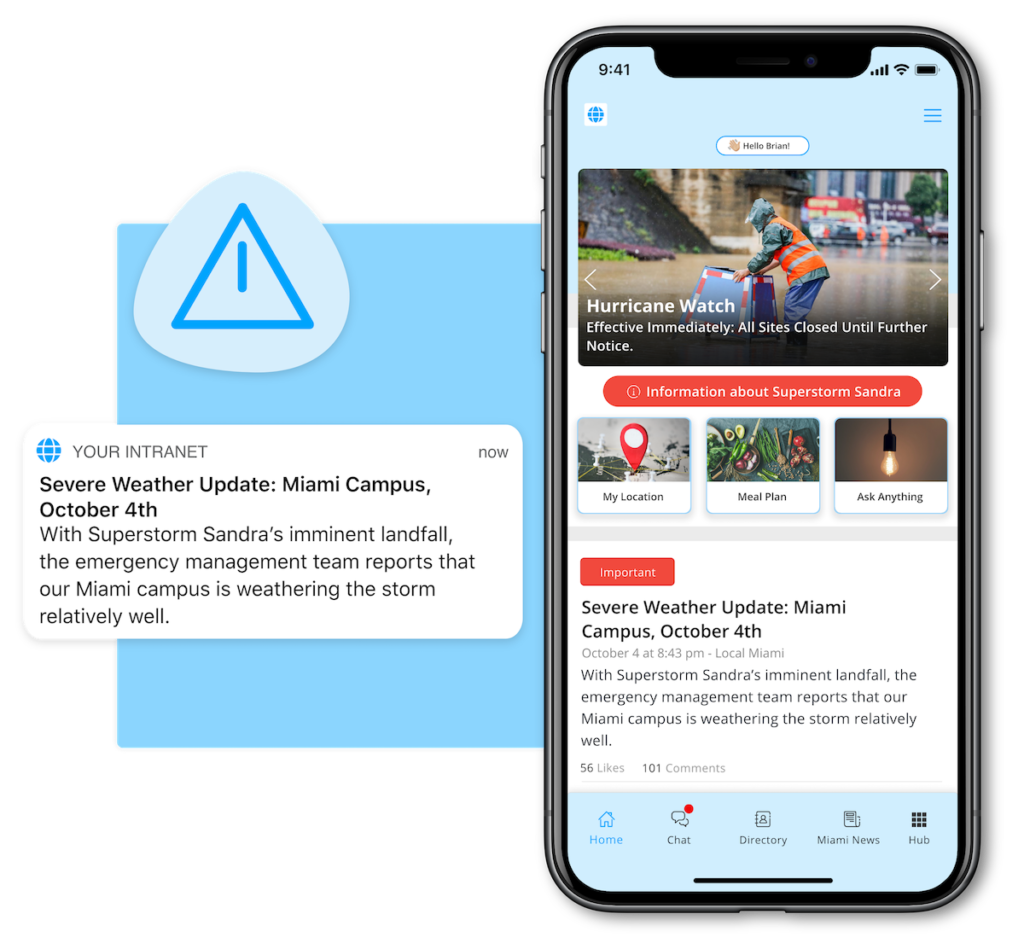 In addition, it's more important than ever to retarget the priority of internal comms.
Companies are more dispersed than ever. According to US census data, the average 500-person company has an average of 12.5 office locations, and COVID-19 has only eased former work from home restrictions across industries. 
The Benefits:
Reduced risk: Employees who better understand how their work contributes to the company's goals are more independent and likely to stay with the company; in the event of a crisis, employees can be alerted in real time; compliance and security policies are more visible.
Save money: Printed newsletters and employee newspapers are replaceable or their circulation can be significantly reduced; improved onboarding makes employees productive sooner.
Reduce turnover: Effective information distribution explains transformations and enables a higher speed of implementation; best practices can be distributed more quickly.
3. Learning: A modern intranet is a resource for instruction.
Organizations need to store vast amounts of knowledge for their employees: emergency procedures, pages on frequently requested topics (e.g. personnel, location information), information on the product and service range, FAQs, and so much more.
For all of it, intranets must serve as a easy-to-navigate single source of truth.
In contrast to distributed information, educational materials that are stored must be structured and easy to find, while simultaneously separated from the clutter of discussions that belong in team rooms or collaboration platforms.
The Benefits:
Reduced risk: Processes and responsibilities in crisis situations are known and easily accessible to all employees; basic knowledge relevant to safety can be communicated more easily and regularly. 
Save money: Less effort for personnel areas answering frequently recurring employee questions. 
Sell more: Information on products, campaigns, and current changes is more readily available. 
4. Empowerment: Practicality and relevance foster engagement.
The line between learning and empowerment is somewhat fluid. An answer to a frequently asked question also offers practical benefits that empower employees.
However, while learning focuses on topics that are important to the company, information that empowers relates to an individual's daily work routine. In addition, the more relevant the information (staff directories, lunch menus, payroll accounting, vacation requests, etc.), and the easier it can be accessed, the greater willingness there will be to use an intranet voluntarily.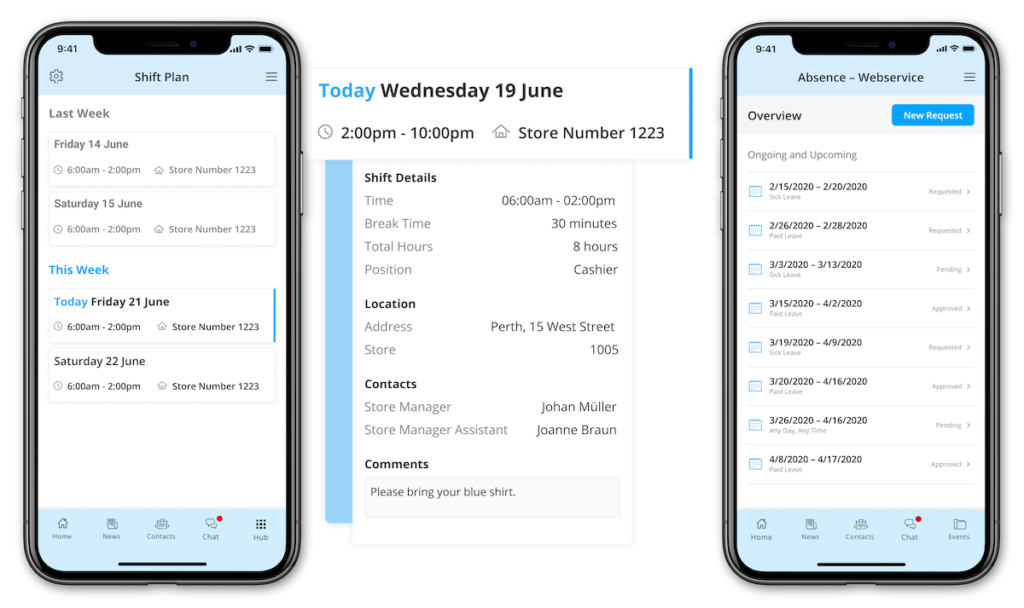 In other words, increasing employee usage of the intranet through self-serving tools only supports the achievement of the other goals.
This empowerment is particularly important for millennials and Gen Z-ers entering the workforce. As those who grew up as digital natives with technology infused in their environment, they expect the same digital conveniences of their workplaces. 

The Benefits:
Facilitates improved communication, learning, and collaboration.
Save money: Less effort for those processing employee services (vacations, time forms, etc.).
Read more about modern intranets: