We gathered over 300 internal communicators to talk about employee newsletter design.
And oh boy, did we have a lot to talk about.
So much in fact that even after an hour, we still had a lot of unanswered questions.
That's why we decided to write this epic follow-up so everyone can get their burning questions answered. 
There are a ton of questions, so use the links below to jump to those that interest you most:
📝 Content

🎨 Visuals and Images

👨🏾‍💻 Internal Audiences

🛠 Technical Questions

📬 Questions about Staffbase Email
•
📝 Employee Newsletter Content
1. Our employee newsletter has a short, 2-paragraph explanation on the front cover. Is this good placement?
First, ask yourself: 
What purpose does this 2-paragraph explanation serve? 
Does your employee newsletter go to anyone who might not know what it's about? 
Does it add value?
Is it necessary? 
If it's not necessary information, consider removing the 2-paragraph explanation altogether. If it isn't adding anything to your newsletter, it could distract readers from the content you really want them to focus on.
If the paragraphs contain necessary information, then see if you can boil down the purpose of the newsletter to one sentence. And, if needed, you can then build this one sentence right into the header of your email or another consistent design element so it's there for each newsletter edition.
•
2. Should your employee newsletter be a summary of weekly posts from your intranet? 
Every employee newsletter is different. 
If you have an intranet where you post most of your content, using the newsletter as a directory of new and important posts and pages could be useful. 
The important question is: How are you going to provide value to your employees with your newsletter? 
If you're trying to drive traffic to your intranet, then using the newsletter as a directory or summary could be valuable. The trick is to write concise copy clearly indicating how employees will benefit from clicking through to read the content on your intranet. If you don't indicate why it matters, how it affects them, or how they benefit, they have no reason to click-through, so give them a reason!
Also, if you have an older, legacy intranet, you might not have good tracking and metrics on your intranet. Distributing the articles via an email newsletter can give you click-through metrics that will help you adjust your intranet content strategy.
But your newsletter doesn't have to be just a summary of your intranet's homepage news. Newsletter content is only limited by your imagination. 
If you're looking for more inspiration for your employee newsletter, check out compelling content ideas here.
•
3. Is there a suggested length for an employee newsletter? 
We've seen longer-form employee newsletters do well and super short ones do well too. It really depends on how valuable your content is to your audience. 
If it's interesting stuff that will help them succeed and is written in a conversational tone, you can probably get away with longer-form content. 
But if your employees are always on the run and rarely have time to sit down and read, your content probably won't get read, no matter how good it is. 
It all comes back to knowing your audience. Find out:
Are they opening on desktop or mobile devices? 
What do they expect from the newsletter? 
What value are you providing?
Are there other communication channels that might be more appropriate and accessible for lots of images or long-form content?
• 
4. Do you have any good examples of employee newsletter subject lines that get people to actually open the newsletter? 
You bet! Check out this post all about newsletter subject lines. 
• 
5. Is it better to put your CTA links in the article? In a button below the article? Or as a linked text line below the article? 
Generally, buttons tend to get higher click rates than links, but it really depends on your design, your content, what the CTA is for, and your CTA copy. 
When you're looking at your CTA, ask yourself:
Is it clear?
Is the benefit or value of clicking through obvious?
Is it obvious that this is a CTA?
Regardless of which format you choose, your copy matters, so make it count. Instead of the basic, "read more" that we're all so used to, try using a different verb, like:
Start
Stop
Build
Join
Learn
Discover
From there test out different styles and copy and see what works best for your audience!
•
6. I want to use employee photos for internal comms, but no one wants to be photographed. What should I do?
This is tricky. Obviously, don't use a photo of anyone who would be upset about it.
And if you're already posting unflattering pictures of people or using them publicly without their consent, they're not going to let you take their photo. 
Often employees won't want to pose for photos because they're not feeling/looking their best. It could help to let people know beforehand that you want to take photos so they can prepare, do their makeup or hair, and wear something flattering. 
You can also try holding a photo contest, with the stipulation that the photos submitted will be used in your internal communications (but not externally). Reward the winner with a gift certificate or book!
You can also allow employees to submit their own photos for the newsletter. This way they'll provide pictures they like and won't have to feel awkward in front of the camera.
•
🎨 Employee Newsletter Images and Visuals 
7. I've heard that employee newsletters with lots of images may be marked as spam. Is that true? 
In terms of spam filtering, the safest bet is to just make sure that all of your employees have "allowlisted" (talk to IT!) the email address you're sending from, and you won't run into this problem.
Generally, this issue happens because the newsletter is from an external sender, such as Mailchimp. You can possibly combat this by allowlisting the external senders, though this may be problematic as email marketers are probably trying to reach your employees from those same services (best to check with IT). With dedicated internal email products like Staffbase Email, the email is sent from within your organization so that this isn't an issue.
•
8. How do you balance the design of your employee newsletter so it's engaging but it doesn't end up looking like junk mail or marketing?
It's a common misconception that in order for your newsletter design to be visually engaging it has to be flush with color and lots of different elements. 
This couldn't be further from the truth. The most engaging designs are the ones that you don't even really notice. Newsletters with engaging designs are clean, open, and tastefully done so that your eye is naturally drawn to certain areas of focus. They're also on-brand so that your employees can immediately tell it's from your company. 
Engaging designs set up your content to succeed by making it readable, clear, and easy to look at.
• 
9. To make a great looking employee newsletter, do you need graphic programs like Illustrator? 
While we love using Illustrator to create serious illustrations, if you're just looking to crop your photos or put text on images, you can accomplish this in Staffbase's employee newsletter designer. 
You can also apply filters, add frames, and use a fun selection of emojis and stickers.
If you want to do something a bit more technical, but don't have access to tools like Photoshop or Illustrator, we recommend an intuitive image editor like Canva.
•
10. Is there an image tool that automatically adds photos as circular, like in one of the examples shown?
You can add an inverse circle sticker right in our email designer to make any picture circular in seconds. 
Alternatively, there are lots of free tools online! Here are two great ones that we recommend:
•
👨🏾‍💻 Employee Newsletter Audiences
11. How do you layout two languages (English and French) in your employee newsletter without it looking messy? 
This can be tricky. 
We often see customers "stack" both versions of their newsletters in the email, and then use a table of contents or anchor link at the top to allow readers to jump to their preferred language. 
Just make sure to include a clear separation (like an image or spacer) in between the two newsletters so that readers know when they've reached the end of the content in their language. 
You also might want to consider segmenting your employees by language preference and sending separate versions. This is a great way to measure how the content is performing across audiences and get a better sense of how to tailor and design it for different audiences.
•
12. Do you have any tips for making a newsletter for IT employees? 
As with any specific group of employees that you might be emailing, it's so important to know your audience. The easiest way to find out how to make them a newsletter that they'll actually read is to ask them what they want!
Like most audiences, IT folk are going to be interested in content that makes their lives easier or makes them feel something.
In our experience, IT folk are more matter-of-fact and technically savvy than your average reader, so trying to impress them with fancy coding or design may miss the mark. And if you've made errors in the design or things aren't formatted correctly, they may not bother reading the newsletter at all.
To avoid this, keep your design dead simple. Always strive to provide clarity and value.
•
🛠 Technical Questions about Employee Newsletters
13. If mobile intranet access is limited, what are your thoughts on accommodating 15 pages of scrolling? 
Anything on mobile is going to mean scrolling, even if you've got a medium length newsletter. 
Luckily, as smartphone users, we're used to it. We're very good at scrolling, so this isn't necessarily a bad thing.
But if your content isn't engaging or it's hard to read, your readers will drop off.
Regardless of how long your employee newsletter is, we always recommend asking yourself these questions before you decide to include a piece of content:
Is it useful?
Is it clear?
Does it provide value?
Why should employees care?
Is it absolutely necessary?
Use this as a litmus test as to what content gets to be in the newsletter. 
If you've got a heap of useful, engaging, clear, valuable content that you want remote employees to be able to access, you might consider testing a few different approaches and seeing what performs best. 
One option is to pivot to a tool like Staffbase intranet or the Staffbase employee app, where your employees can easily access content from their mobile phones. 
We recommend summarizing the articles in your employee newsletter and including a link. That way, employees can get the gist of the content on their mobile, and have the opportunity to read more on your intranet or employee app. 
What works for your organization and your audience is going to be specific to you, so make sure you collect some metrics, test some different approaches, and see what works best.
•
14. What's your take on dealing with dark mode? 
Email has not caught up to the rest of the industry in respecting dark mode consistently. In addition to the issues dark mode may cause with transparent areas in emails, some mail clients (for example Gmail on iOS) may remove any white or off-white colors from your email backgrounds automatically. Typically, the mail client will also recolor the text in a lighter color so it's visible on the dark background.
While this obviously isn't ideal for those who want 100% control over their email design, it is the reality we have to deal with for now.
One tip we can offer is to make sure that your logos and icons have transparent backgrounds to avoid unseemly white boxes around your graphics.
•
📬 The Staffbase Email Designer
15. Do you have any webinars on the actual use of Staffbase Email?
Of course!
When you log in to Staffbase Email, navigate to the Resources button at the top of the page and then click on Webinars. 
There you will find all manner of training and previously recorded webinars on the email designer.
• 
16. How can I add small icons? Is it at all possible with Staffbase Email? 
Adding icons in Staffbase Email is pretty simple. 
Depending on what kind of icons you're interested in adding, you can simply use the image editor to upload your preferred icons. Play with the padding feature to align them properly and ta-da!
If you're looking for inspiration, try Flat Icon.
• 
17. Can multiple team members collaborate within a template in the Email Designer?
Staffbase Email works just like Google Docs—everyone can log in, make changes, and see what others are working on in real time.
• 
18. Is there a way to format blocks in the Staffbase Email Designer without having to make changes to every single block one at a time?
To change multiple elements (like change all paragraphs to 16px, for example) hold Cmd+Click (on Mac) and Ctrl+Click (Windows) to select multiple elements. The multiple element settings will appear on the right and you can modify them there.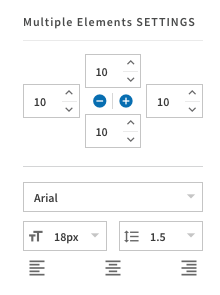 To change the settings for a block that contains multiple elements, simply select the block and modify the settings in the Block Settings Panel on the right.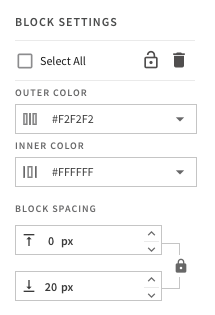 To format all blocks, click the "Select All" checkbox in the Block Settings Panel, and then your changes will apply to all blocks.

• 
19. Is Staffbase 508 compliant?
Staffbase's email designs are easily read by screen readers. We also have many features inside our email designer that can assist you to make sure your content is 100% compliant with accessibility standards.
But, even though you can be 100% compliant using Staffbase, we don't require communicators to use all of our accessibility features. 
Want to learn more? Here's everything you need to know about how Staffbase helps communicators stay 508 compliant and meet all accessibility requirements.
• 
20. Can we build templates like the ones you showed us in Staffbase Email?
Yes! With the Email Designer's flexibility, you can definitely mimic most of the designs we showed during the broadcast (except for maybe the forever-scrolling Exploding Kittens design).
• 
21. How does corporate branding and styling work? 
You can save your brand colors and fonts in Staffbase's Email Designer, saving you time and helping you ensure your team always stays on brand.
Learn all about Staffbase Email's branding settings right here.
• 
22. Do you have image libraries?
Yes! You can save and organize an image library for users across your organization to quickly access the right images directly from our email designer. If you're looking for new images to add, we recommend Unsplash (but there are lots of free, high res libraries online).
• 
23. Can I upload all of my custom fonts?
You can request custom fonts to be added to Staffbase Email from the Branding Settings page.
•
24. Do you support GIFs and videos?
Due to limitations of most email clients (including Outlook), videos cannot actually play in email recipients' inboxes. Even if a video file was directly linked in an email, Outlook would only show a static image of the first frame.
One popular workaround has been to design video thumbnails for email that link to videos hosted elsewhere. In our Email Designer, we've automated this process to let you easily share your video content.
•
25. Are Staffbase's employee newsletter templates mobile-responsive?
All designs made on the Staffbase Email Designer are fully responsive across desktop and mobile devices.
•
26. Can I book a demo?
Of course! Book a demo here with one of our friendly internal communication experts!