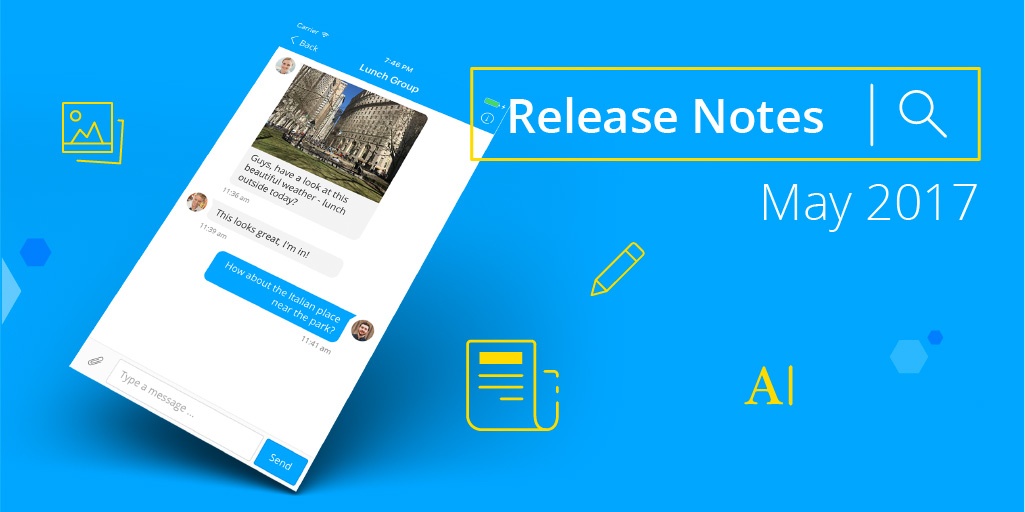 After releasing two major features and a far-reaching design-overhaul in March, this new product iteration for the Staffbase employee app platform focuses on improvements and maintenance of existing functionality. At the core of this update are file uploads for the messenger and a fundamentally reworked in-app editor, as well as the official documentation of the Media API to be used for integration purposes. All of these are directly available in your employee app, free of any additional charge!
File Uploads for Private and Group Messaging
Ever since releasing the private messaging plugin last year, it has been a go-to feature for decentralized employee communication. Based on great feedback from our customers and partners, we have been able to continuously improve this core functionality, most recently by adding group messaging. The logical next step in this endeavor has been to also enable employees to share photos, videos, and documents* with their colleagues through the messenger. This is now as easy as selecting a file through the icon near the message field, dragging something onto it from your desktop, or choosing to directly take a new picture with your phone's camera. It even works with animated GIFs!
This update also includes some gradual improvements for messaging, all of which are found in the additional changes listed below.
* General file upload (e.g. documents) is only available through the web app, while the mobile apps allow photos and videos to be selected.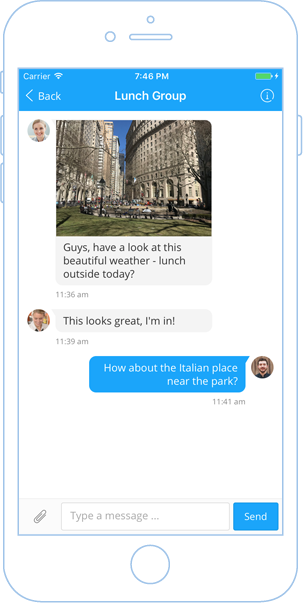 New In-App Content Editor
Creating and editing content on the go has always been a crucial requirement for a mobile-first employee communications app. Staffbase now supports this function better than ever by making the content editor a core part of the app itself. In addition to being more slick and robust, the app also now comes with many new features:
Multi-language content can be added from within the app.
Article images can be shown in original crop, rather than the default 16:9 format.
Saving or publishing is prevented while uploads are in progress.
A warning is displayed when attempting to cancel with unsaved changes.
Taken together, this all provides a much more natural experience for the whole content creation use case through the mobile and web apps. A possible future step may add more admin functionality to the app, e.g. uploading videos to news posts directly on your phone.
Related to this is the new format for attachments to update news. Instead of having a fixed layout for images in the feed, the app will now arrange them dynamically based on their original measures and orientation.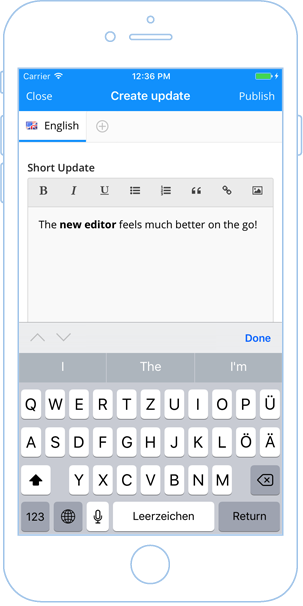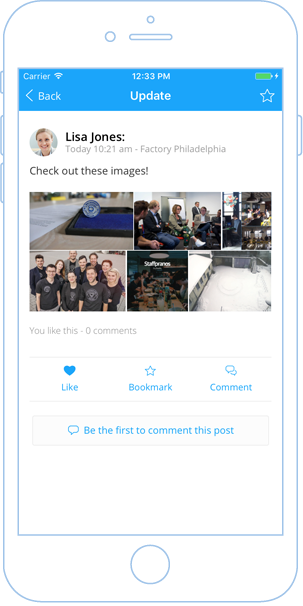 Media API for Developers and Integrations
As companies aim to seamlessly integrate their employee app with existing infrastructure and services, it is important to think about Staffbase as a platform. This is the reason behind our ongoing mission to provide developers with tools and APIs that support their extension and integration efforts. After already publishing APIs for News and Users, as well as the Plugin SSO, the official interface for managing media files is the next in line. Its documentation is now available through the Staffbase Developer Portal and describes the various capabilities in detail: uploading files to Staffbase, listing all existing media as well as deleting individual mediums.
Additional Improvements:
App: Fixed a bug that incorrectly cut off picture news posts on larger screens.
App: Fixed a non-functional link to view more of the attachments on a short update post.
App:

Fixed an issue that would sometimes break the post view after opening a push notification.

App: Fixed some text rendering issues with IE11.
App: Fixed custom menu icons incorrectly displayed in folders.
App: Fixed a bug in the group chooser where only one item is shown when searching for multiple groups with the same name.
App: Very old app versions (v2.4 and prior) will now show a mandatory update message.
Messaging: Links in messages are now correctly parsed and can be opened.
Messaging: Added the name of the user next to group messages of colleagues.
Forms: Various bug fixes and robustness improvements for file uploads in forms.
Forms: Improved hint for required form fields to prevent jumping and unnecessary blocking of the submit button.
Employee Happiness: Fixed the incorrect user name hint shown below the feedback form in non-anonymous surveys.
Meal Plans: Small design update to better match the March app redesign.
Meal Plans: Fixed a bug that displayed incorrect dates on some Asian phones.
Admin panel: New interface localizations for admins: Spanish (full) and French (partly)
Admin panel: Added visibility settings for the messaging plugin. This allows you to restrict the people who can see the messenger and create new conversations.
Admin panel: The app now supports adding Croatian language content.
Admin panel: Fixed a bug that did not allow reactivation of users via CSV import.
Admin panel: Fixed a bug that led to a wrong image orientation after uploading portrait photos.
App Distribution:

Fixed broken installation of preview apps on iOS 10.3.
All of this is now available on your internal communications app for the web and in the Google Play Store. Your iOS app will be updated as soon the Apple review is finished.
If you have any questions, please don't hesitate to contact us or leave a comment below.
Learn more about how and why companies choose Staffbase: