A well-functioning intranet can significantly improve business performance and positively impact how employees operate in countless settings. But there is no set number of intranet benefits or a single ROI figure that can characterize every platform. That's why this article will focus specifically on the latest iteration of intranets.
The "Employee Experience Intranet" (aka the "omnichannel intranet") puts employee needs first and foremost. In other words, it is ready-made for serving current business concerns. These include the recent proliferation of remote work and the organizational issues related to it.
The "New Normal" for Businesses
Covid-19 fundamentally changed the way we work, accelerating digital transformation and remote working practices for workers across industries. According to research from Gartner, nearly three quarters (74%) of CFOs expect to permanently transition previously on-premise employees to remote work. This move is driven largely by a desire to cut real-estate costs.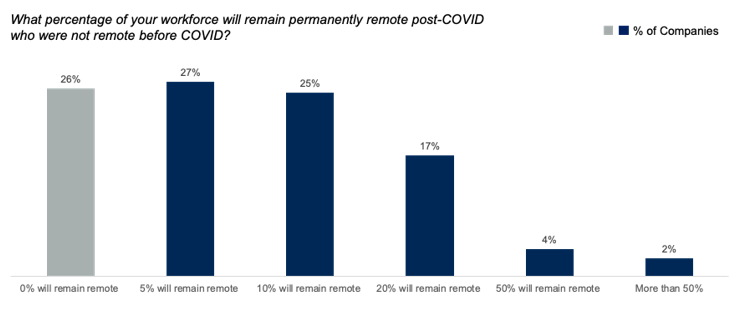 Are there intranet benefits for blue-collar Industries? 
The shift to remote working is easier in white-collar industries, which naturally lend themselves to the practice. Conversely, historically on-site, blue-collar industries are far more likely to struggle.
In the manufacturing and industrial engineering industry, for example, a recent study by Leesman reveals that businesses in this category aren't totally prepared for this workforce shift.
Surveying 52,240 employees from the manufacturing and industrial engineering sector, 53% reported having no home working experience. 
This is concerning. In manufacturing and industries like it, typical routines like manual quality checks and access to information on physical checklists aren't possible remotely unless transcribed and electronically transferred to a quality manager. Theses processes need to modernize quickly in order to adapt for the future of work.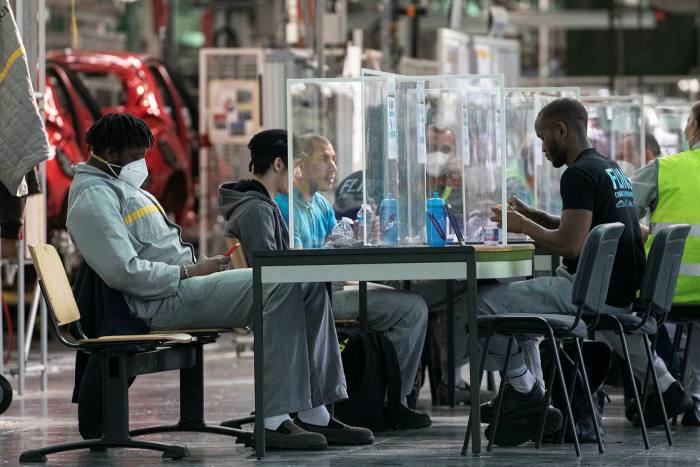 What's more, beyond operational concerns like reevaluating quality workflows, respondents also reported significant fears for the near future regarding the state of company culture and collaboration while working remotely:
A reduction in the transfer of knowledge (-25.8%)
A reduced sense of community (-21.1%)
A reduction in social interactions (-20.4%)
A reduction in shared learning (-11.0%)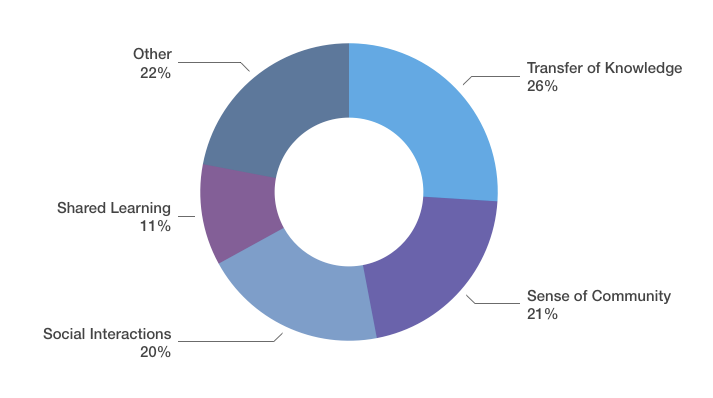 How can a modern intranet benefit ALL industries?
With a modern intranet, these industries can adapt more quickly to the New Normal. The intranet benefits it can provide will alleviate several operational and cultural concerns.
These include:
1. Keeping all (even dispersed) employees engaged
Gallup reports that the percentage of "engaged" workers in the US is somewhere near 35%. This is the highest level since Gallup began monitoring the figure in 2000. On the other hand, the percentage who report being "actively disengaged" tied its previous lowest level (13%). The remaining 52% of workers are in the "disengaged" category-generally satisfied but not emotionally connected to their work.
Without an office to encourage the participation of the "not engaged" demographic, one can only assume that these figures will be subject to steep decline. This seems especially likely as Covid-19 continues to surge and industry leaders extend remote working policies. 
A modern intranet can help remedy this expected decline by serving as a digital water cooler for the dispersed workforce. Employees can connect from their remote workplaces through centralizing internal communications available on their private devices.
Connecting these employees with mobile compatibility, promoting an inclusive culture, and providing them with the tools and information required to excel at their jobs minimizes the number of "disengaged" and "actively disengaged" workers.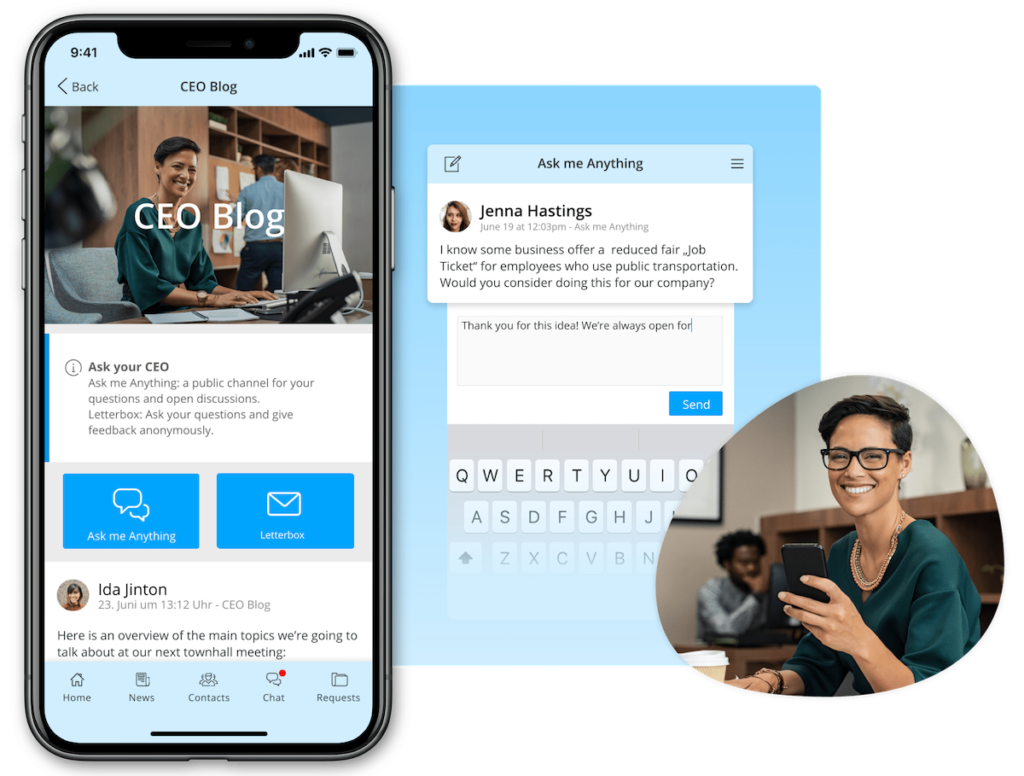 In doing so, companies can also expect to experience significant business results. Companies that report highly engaged employees outperform their peers by 147% in earnings per share.
Centralizing comms around this virtual water cooler also enables two-way flow. Management and employees can engage with each other, share ideas, have open discussions, and provide updates. This presents a valuable opportunity for companies to better understand their workforce and their desires while working remotely. And it will ultimately lead to better-informed managers and more effective management decisions.
2. Creating a trusted employer brand
Promoting the company's brand internally is becoming vital to the remote workplace of the future. With little else able to reinforce the employer brand, an intranet shows employees that they aren't working on an island. Instead, they see themselves as part of a community with a sense of purpose, capable of outperforming others by as much as 400%.
For example, when Miller Brewing Company launched a new internal branding campaign aimed at improving morale, they capitalized on brand visibility by celebrating their heritage of craftsmanship. By doing things like distributing books celebrating the vocation of brewing, handing out "I Make Miller Time" T-shirts, and featuring employees in their commercials, Miller reinforced a sense of community and pride in their workplace. 
This is much harder to do with a remote workforce. The number of "touchpoints"-events, word-of-mouth, or flyers-is significantly reduced. 
A strong internal brand creates a sense of trust across all channels. As the digital workplace continues to grow and become more complex, employees must clearly recognize official content and retain their sense of purpose.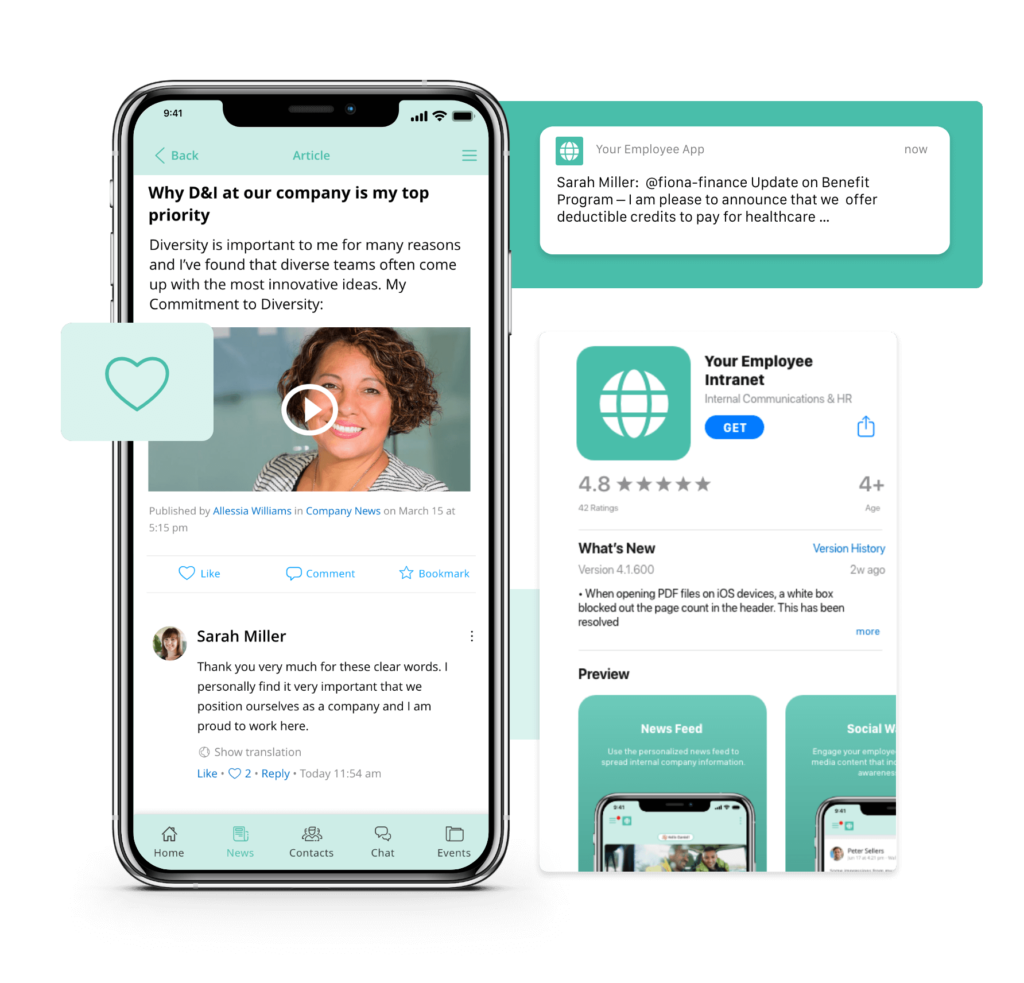 This becomes particularly important given the influx of Gen Z-ers into the workplace. Unlike previous generations, they will leave their employers to find companies that better align with their values and overall goals. The employer brand must therefore be capable of speaking to this generation.
3. Supporting knowledge management & productivity
Research from Carnegie Mellon estimates that employees spend an average of three minutes on a task at work before switching. They're constantly weaving between dispersed tasks such as locating information or sending emails.
McKinsey estimates that the time lost navigating between these fragmented sources occupies about 1.8 hours of time for the average employee every day.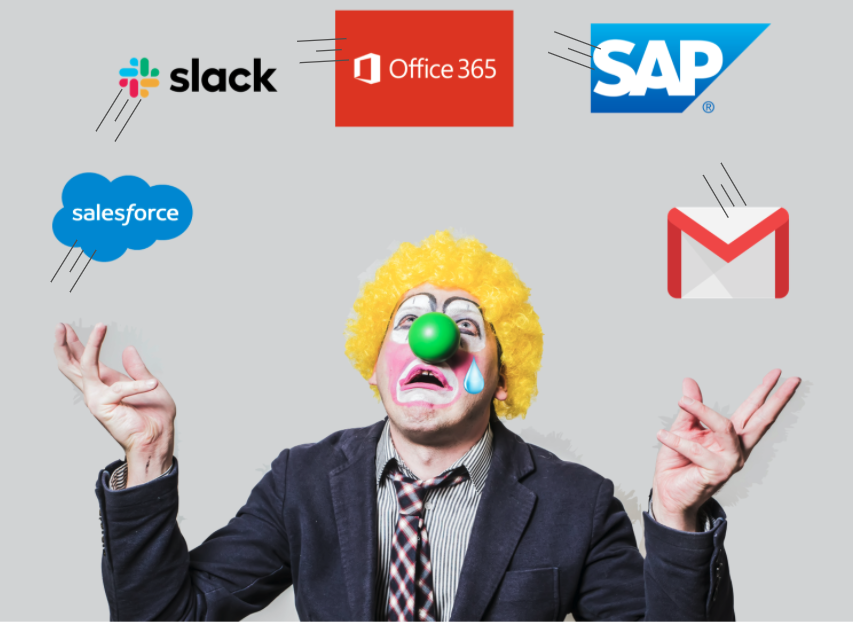 Given the current remote working situation, it's safe to assume that these figures will only increase-especially for physically-tethered workforces-with an increase in complex tasks and cross-team collaboration done remotely.
Intranets have historically provided an easy solution, making it easier for employees to find the tools and knowledge they need. Most often, this constitutes one of two things: finding a specific piece of information or completing a certain task. 
With a modern intranet, however, the task or content employees are searching for is easily accessible. A search function makes it simple to manage, share, and find content. And it minimizes time spent digging aimlessly through siloed and unorganized pages.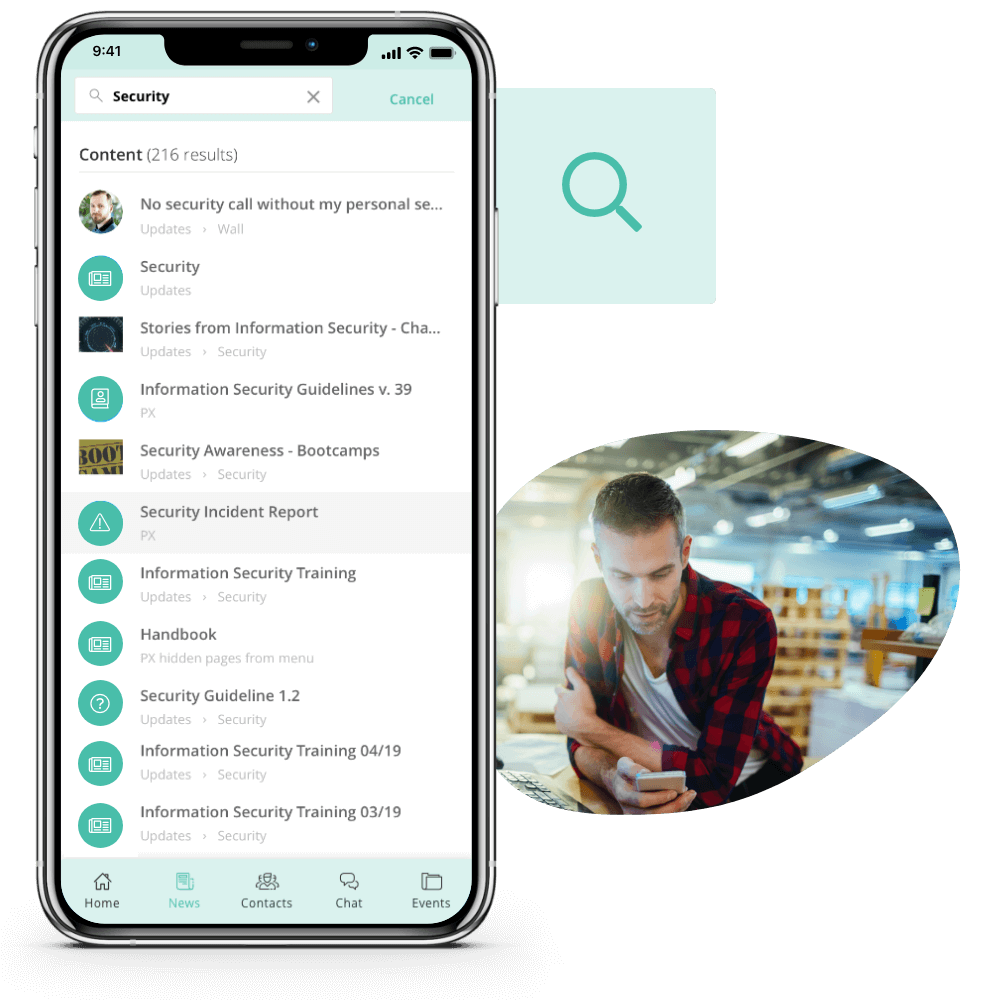 This ease of this search-ability and organization is proven to raise the productivity of knowledge workers by 20 to 25 percent. Additionally, improving the visibility of quality information has a top-down connection to supplementary intranet benefits, as seen in the figure below from DePaul University's "An Exploratory Analysis of Intranet Benefits."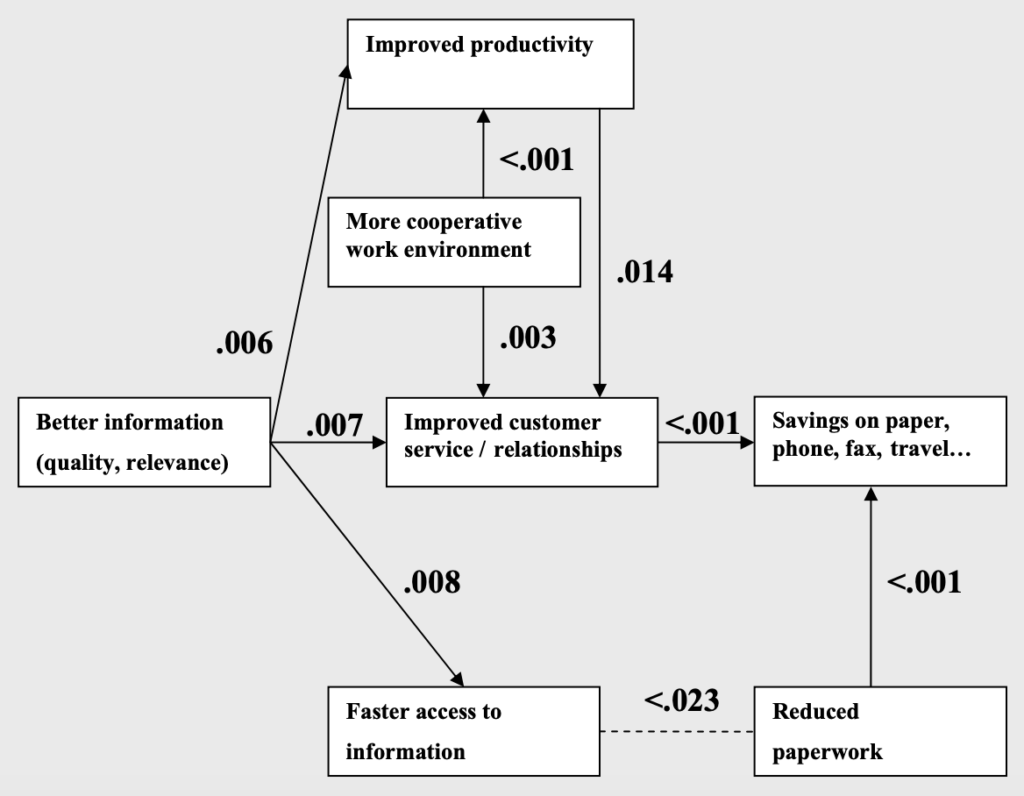 4. Improving the Employee Experience
The customer experience (CX) and the employee experience (EX) are inextricably linked. Research shows that companies with excellent CX have employees who are 1.5 times more engaged and outperform their competitors by 147%. 
Focusing on the experience and journey of an employee during their company tenure is therefore of utmost importance-when employees feel they can't engage in their roles, performance declines, absenteeism rises, and the customer experience suffers.
This idea, famously championed by the Virgin Group's Richard Branson, is an inversion of the traditional shareholder pyramid: employees first, customers second, shareholders third: 
It should go without saying, if the person who works at your company is 100% proud of the brand and you give them the tools to do a good job and they are treated well, they're going to be happy."

Sir Richard Branson, Founder of the Virgin Group
One of the best ways to provide this employee centricity is through journey mapping. This tactic allows customers to visualize and improve their experience with a company.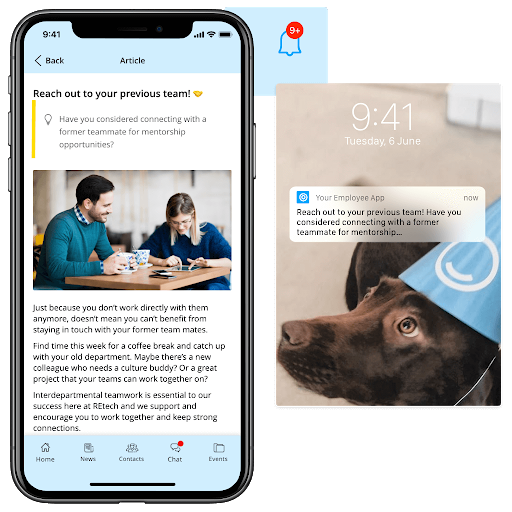 When the concept is applied with an employee focus, however, it can help successfully recruit, retain, and foster advocacy among your top talent. What's more, this idea is particularly relevant to the current work environment and the emergence of the remote workplace. 
Without the ability to celebrate employees in person, an intranet focused on the employee journey can help manage key employee milestones remotely-things like onboarding, promotions, and routine check-ins. 
How do you achieve these intranet benefits?
The new challenges brought about by Covid-19 and the employee-centric response demanded of the modern enterprise have created a new paradigm for the intranet: the so-called Employee Experience Intranet. This latest iteration of intranet is based on the tried and tested use cases of previous intranet generations and, especially in regard to mobile access and corporate personalization, raises the bar significantly further.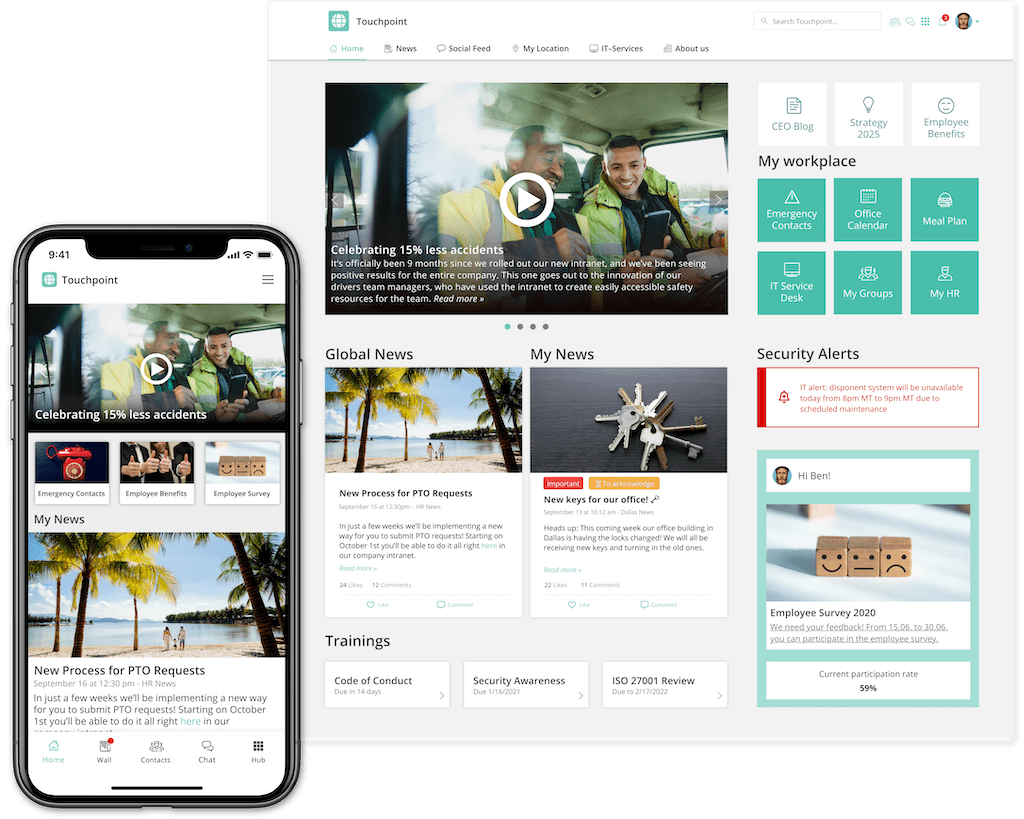 With its very clear focus on mobile, complete branding across all channels, and a transparent structure with highly personalized content, an Employee Experience Intranet is the most effective way to connect and engage today's increasingly distributed workforce.
Read more about modern intranet benefits: