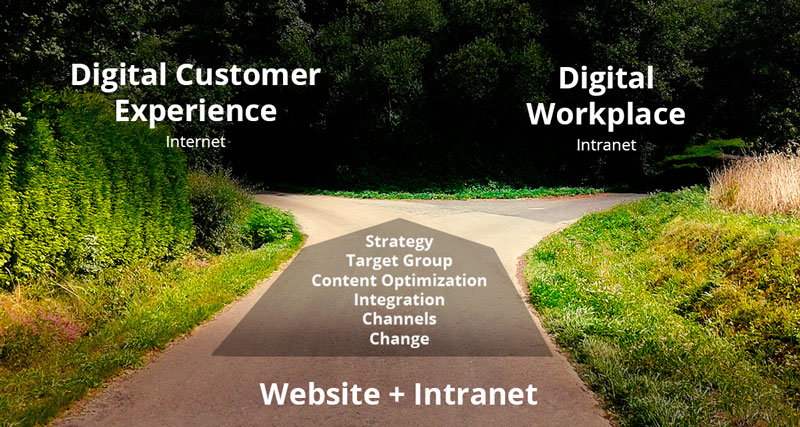 The advent of web content management systems was a key step in the development of the Internet. The technical hurdle of creating web content disappeared, and more people could easily publish content. CMS solutions became attractive for corporate websites, because now employees could maintain their own content. This meant fewer expenses, more up-to-date information, and higher common quality standards. No wonder choosing a CMS for intranet also became a popular move for businesses!
Creating, organizing, and publishing content are all tasks that both the Internet and intranets face, making it seem logical to use the same technical basis for both. There are obvious reasons to utilize the same CMS for intranet and the Internet. However, the demands placed on websites and modern intranets haven't just expanded, they're moving away from each other with increasing speed.
Modern websites and intranets today — two completely different planets
The Internet is clearly the innovation engine, continuously introducing new business models and technologies. You can transfer parts of it to the intranet, but beware! Conditions, motivations, and incentives are always different within companies. Many internal "Facebook," "LinkedIn," and "Wikipedia" projects have had to learn this the hard way.
Requirements for Internet Content Management Systems
Current trends/strategies:
It all starts with the realization that modern web users are supersaturated, spoiled, and impatient. Companies need to continuously improve the customer experience and deliver quality content to help and encourage customers in every stage of the sales funnel.
The buzzword behind all of this is "content marketing," and every company that's serious about it undergoes a transformation from a team of web editors to a digital publishing house where storytelling is king. Once content is available, it needs to be delivered depending on customer demographics and the perceived stage of the customer's buying cycle.
The goal of online marketers is to use (big) data about the customer in order to automatically deliver relevant content and trigger interactions at the right time.
Target audience:
Web users do not easily divulge personal information. The more you know (location, gender, age, interactions in the past, etc.) the more personalization possibilities arise. Other important target groups are search engines.
Content:
Content must be simple and extremely intuitive (keyword: conversion rate) for users — large navigation structures are not advisable. Editorial functionality needs more complexity because of variable content, templates, and layouts.
Microsites are a key element to set up and run campaigns or support content with limited shelf life. Control and real-time analysis of campaigns is important. Also, look for integration options with digital agencies and media libraries in order to quickly produce and publish high quality content.
Optimization:
Continuous optimization of site interactions is necessary (for example, A/B testing) in order to increase conversion rates. There are high demands on analysis and reporting as a basis for optimization and personalization. Companies are desperately in search of a new kind of analytical online marketing manager who understands the business and loves to dig deep into big data.
Integrations:
Social media integration, customer community (which has completely different requirements compared to internal communities), and integration of customer relationship management (CRM) systems link interactions to existing customers and prospects. E-commerce is another integration. The latest trends show the benefits of integrating with (externally provided) customer targeting systems in order to classify even mostly unknown users.
Channels:
The development of customized mobile apps for marketing, customer loyalty, customer service, etc., are all crucial. Personalization is also a big issue here in order to deliver specific content for mobile sites. Google's algorithm pushes well-designed mobile sites higher up in the ranking.
Change management:
A major requirement is to have a few specialized editors who regularly submit content. There will be a high initial training effort for editors. Content creation needs to be fast and extremely efficient. Processes are necessary for internal and external content production. Marketing and sales must work together closely. And communications decisions need to be made fast; for example, reacting to a critical tweet in a timely manner.
This doesn't sound like a standard website anymore, right?
Let's look at the requirements of Intranets.
Requirements for Intranet Content Management Systems
Current trends/strategy:
Today's modern intranets are called "Social Intranets" or the even more modern "Digital Workplace Platform." The aim of modern intranets is not only to support information and communication, but also to foster collaboration in virtual spaces. There are also functions that are grouped under the umbrella term "communications" — chat, status updates, telephone, video conferencing, and more.
The digital workplace is increasingly becoming an accumulation of individual services that are most efficient when flexibly integrated with each other (user management, registration, search, navigation, home). Challenges arise due to the inconsistency of many needs, including the rise of collaboration tools, and thus the sharing of sensitive data, and on the other hand, high demands for easy, mobile access — even from private devices.
Target audience:
Users' details are often available via user directories. Automatic personalization is possible if details like location, organizational assignment, and working groups are accessible. Intranet users have shown little desire to actively personalize their experience. Corresponding offers like individually configurable home pages are rarely used in the long term.
Content:
There's usually a load of content with a complex intranet navigation structure. Editors continue to be very relevant, although part-time editors are becoming the norm. Adding content must be very simple with limited design options. There is a distinction between shop-window content (e.g., HR services for employees) and internal content from each department (now mostly done via virtual team rooms).
Structure and navigation should be as stable as possible over time (therefore topic-based navigation is preferred over org-based). The amount of sensitive content increases because there are more collaboration spaces in social intranets. The choice to allow mobile access to all employees presents a common challenge. The Staffbase employee app solves this challenge.
Optimization:
Good intranet managers regularly work on the structure of their platforms, merging related or competing content and investing in the ongoing maintenance of the search functionality (yes, that's necessary!). Unfortunately, there is usually limited budget for the care and maintenance of intranets. They are built once, often with great effort, and are then expected to run without much further investment. Needless to say, this doesn't work.
Integrations:
These include: Employee directories, employee self-service functions, collaboration tools, search, unified communications, email, Microsoft 365.
Channels:
Mobile intranets are also moving towards native apps for their ability to utilize push notifications as well as their speed and ease of use. Native apps will push standard solutions because expenses are high given their need for individual development and continuous maintenance. Still, intranet branding and naming are important for building trust. Not everything has to be available on mobile phones, especially considering the difficulty of dealing with complex documents on small screens.
Change management:
Training can only be afforded for admins and editors. Part-time editors and information workers will receive minimal to no training. The role of intranet editors regains importance: "Social tools" bring sustainable and positive change to the way project work is digitally supported. In the larger context — the enterprise — the results seen in the market aren't convincing. Large-scale internal social platforms produce disorientation and a flood of often irrelevant information.
Conclusion
Websites are now called customer experience platforms while intranets are turning into employee experience platforms. The trend is clear: both are moving functionality away from one another, which affects their underlying technologies.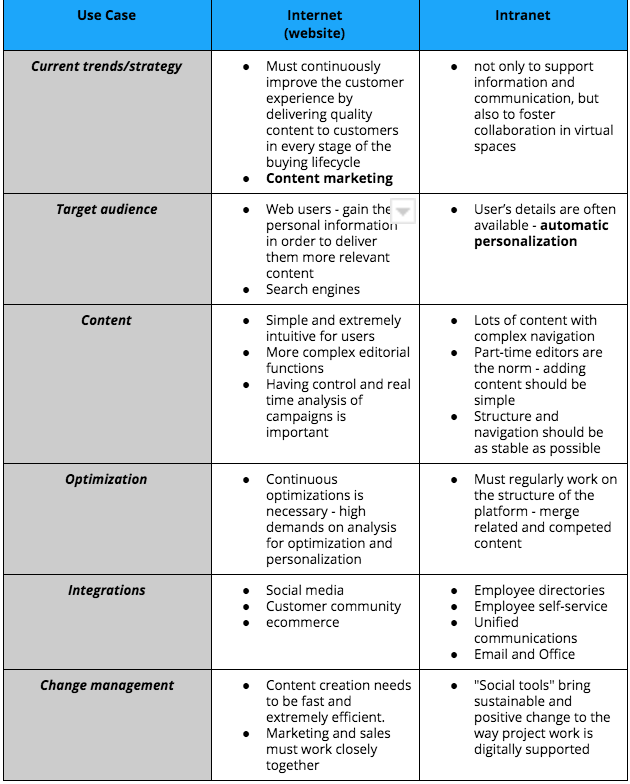 For websites, content management is now only one part of the digital customer experience. The individual customer journey is highly complex and does not end with a conversion. It  often continues with integrations regarding delivery and support processes. The deep integration of all components is crucial. Vendors with customer experience offerings like Adobe or IBM are trying to build or buy all the pieces of the customer experience stack in order to complete their integrated solution.
Intranets also need integration — but with entirely different tools. In addition, Intranets need to provide a better fit to different target groups within the company. We need something like a "communication intranet" that is easy to use, personal, and accessible for all employees. Most importantly, modern intranets will be key to bring an internal communications strategy to life and measure the success.
The second pillar is therefore a "collaboration intranet" supporting teams and protecting sensitive content for collaboration, structured information, and processes. Subsequently, more pieces will be possible, and combined they will form the digital workplace. 
Read more about modern intranets: