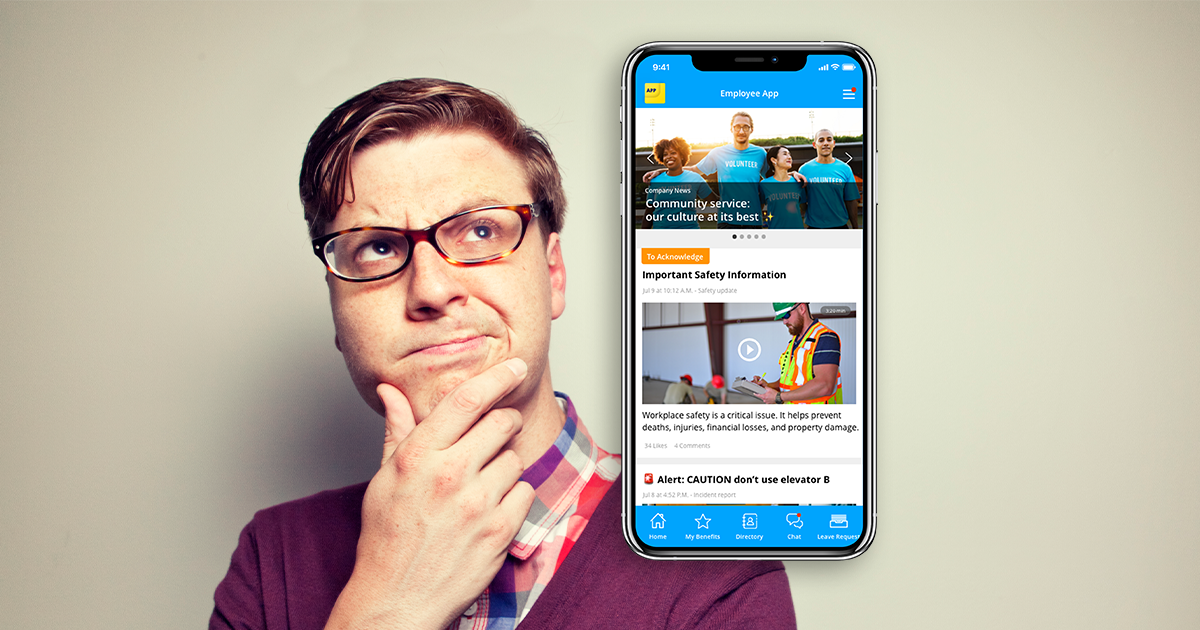 Employee apps are trending in our age of increasingly remote work. Why? Of all the employee app questions you might have, that's probably the easiest one to answer. Good employee apps solve an old and stubborn problem. If employees aren't sitting at desks, their employers have a hard time reaching them with a wide array of information and services that can and should matter to their working lives.
So, you might be asking yourself, "Why is that so hard?"
"Can't we just make our available channels, such as intranets, newsletters, message boards, or screens available on mobile devices and everything will be good?"
To start with, there are a number of crucial issues that require serious consideration, many of which aren't completely obvious from the outset. And bear in mind that some of what you might think are employee app questions for down the road (i.e., How does an app integrate with SharePoint?) are in fact best considered from the outset.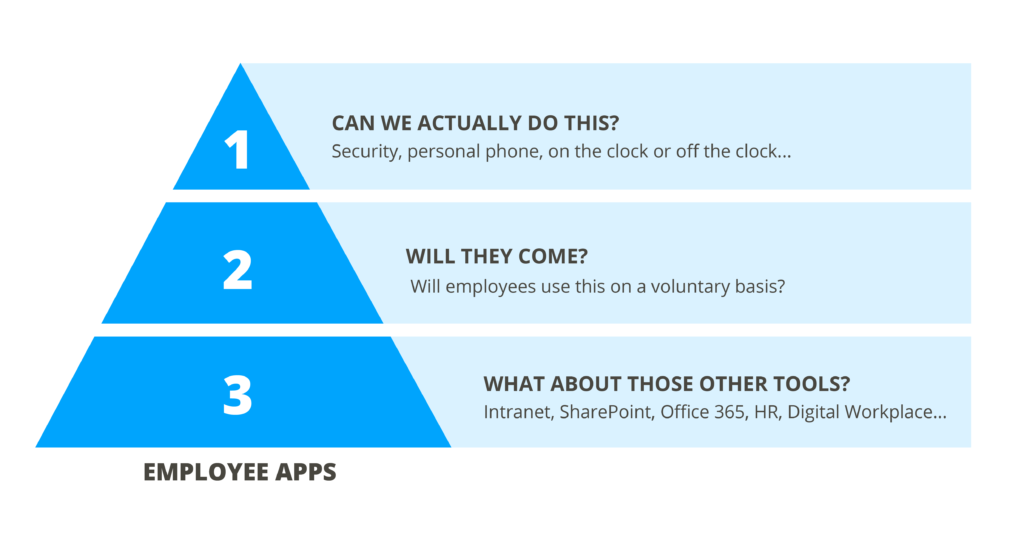 Start by asking the right questions.
The good news is that by asking the right employee app questions from day one, it's more than possible to launch and grow a very successful employee app. We see an average registration rate of 70%-a figure that has reached as high as 95% for our best performing Staffbase employee app customers.
Push notifications are read by 75% of users within one hour of receipt, and we have reported a 300% average increase in reach when compared to existing channels such as intranets and newsletters.
But let's not get too far ahead of ourselves. 
In order to know what to expect and how to best prepare for the ride, here are what we think are the most important employee app questions you should ask yourself before you start your project.
1. Can we actually do this? 🤔
The following employee app questions are typically the most important and commonly asked when considering an employee app, and they are posed from a wide range of organizational, technical, legal, and commercial perspectives.
Is an employee app mandatory or voluntary for employees?
In more than 95% of the cases of which we're aware, an employee app is voluntary. The reason is simple: most employees can and should be allowed to use their own mobile devices to access the platform.
The voluntary nature of the app also helps to answer the next question:
When an employee uses the employee app, does that count as working time? 
In nearly all cases of which we know, it does not. This means that if a worker checks the app at home to see his or her shift plan for the following day, this action is seen by the company as additional and voluntary. And having access to such information is generally appreciated by employees because it makes their lives just a little bit easier.
This scenario also illustrates an aspect that helps put discussions about working time into perspective:
What would be the optimal usage pattern of an employee app?
Think differently here. Social media platforms like Facebook or Instagram do everything they can to keep users engaged and in the platform for as long as possible. In contrast, one big goal of an employee app is to be very conscious about an employee's time, providing everything he or she needs in five minutes or less per day.
The best usage pattern for an employee app is therefore short but regular visits.
Which data protection and security questions accompany an employee app?
Data protection regards the usage of personal employee data as well as general guidelines about the sensitivity of data in the app. It's best to involve a data security specialist to make sure the app complies with your internal guidelines.
Here are some sample security questions and answers from Staffbase projects:
Q: Does the app track location data?
A: No
Q: Can anyone download the app and view internal information? 
A: Anyone can download the app from the public app store. But only authorized users can log in and see internal information.
Q: What happens when an employee leaves the company? 
A: Offboarded users are immediately deactivated and lose all access to the app.
Q: What type of internal data is allowed within the app?
A: External and internal information is typically allowed, but no highly confidential information (e.g. patient data in a hospital).
Q: Does the app platform have security certification? 
A: Yes. Staffbase has earned the global "gold standard" of security certification: ISO27001
How do we manage users, even if they lack a company email address?
A: The short answer is that we have seen it all and pretty much everything is possible. From a full active directory integration with Single Sign-On, to integration with an HR system (because often, non-desk employees aren't listed in a company directory); printed invite codes that can be distributed via pay stubs; and hybrid models that combine the needs of different scenarios into one that's right for your organization.
How does an employee app target information to employees?
This is a very important topic because it's crucial to provide relevant information to users. We distinguish between passive and active personalization.
PASSIVE means that user attributes like location, department, or role are used to automatically determine what an employee will see.
ACTIVE personalization requires the user to subscribe to news channels and content. Usability research has consistently confirmed that very few users actively change their preferences on a regular basis. The best option here is to rely as much as possible on passive personalization. Give employees the option to select more. 
Does an employee app contribute to the overuse of mobile phones in our lives?
Time spent on mobile devices is at a record high and many of us are searching for ways to limit our online time. This makes a lot of sense and (as the dad of two daughters) it's also a topic that we need to teach generations to come.
The key here is putting the issue into perspective. We spend a great deal of our lives at work. If an employee app helps people to better understand their job and it proves to them that they play a valued role in something greater than their individual efforts, then these five minutes or less every day sound like a wise investment.
There are also some practical steps that can limit overuse, such as restricting the sending of push messages to specific times (e.g., not on the weekend or after working hours).
Can I see an example of an employee app? 
As we've seen from our experience, there are many different ways that companies are using an employee app to fulfill their particular organizational needs. There are certain approaches that have proven commonly useful. But how one business uses the app can and often is quite different from another.
Put it another way, your organization has its specific needs and goals, and there's little doubt that it has unique requirements. That's why the very best way to see what an employee app can do for your company is to book a demo.
2. Will they (your employees) come?¯\_(ツ)_/¯
The most important question for employees won't be about the technical platform or legal documents. What they want to know is. . . .
What's in it for me?
It's one thing to reach all of your employees and to be able to talk to everyone. But the real challenge is actually getting people to LISTEN and ENGAGE.
As we've seen above, your employee app will be a voluntary channel for most members of your workforce. The one proven way to successfully get your employees into the app on a regular basis is to. . . .
Focus on the Employee Experience! 
A mobile app isn't just a place where I go to get corporate messages. It's where I can connect with my team. It's where I can change my shift. It's where I can find all of the important safety information for my plant, receive updates for my location, view the status of my PTO request, find my benefits enrollment information, and answer surveys that allow me, for instance, to rate my overall onboarding experience after a week in a new job.
Creating personas for an employee app
Different audiences may have very different perceptions about what they regard as valuable. This is why it's a must to think in terms of audience personas and have a clear understanding of what they want and need.
Think about a hospital, where the clinical staff may have a different set of priorities than administrative employees. For a manufacturing company, there may be warehouse and product workers, field-service employees, a sales team, and back-office staff.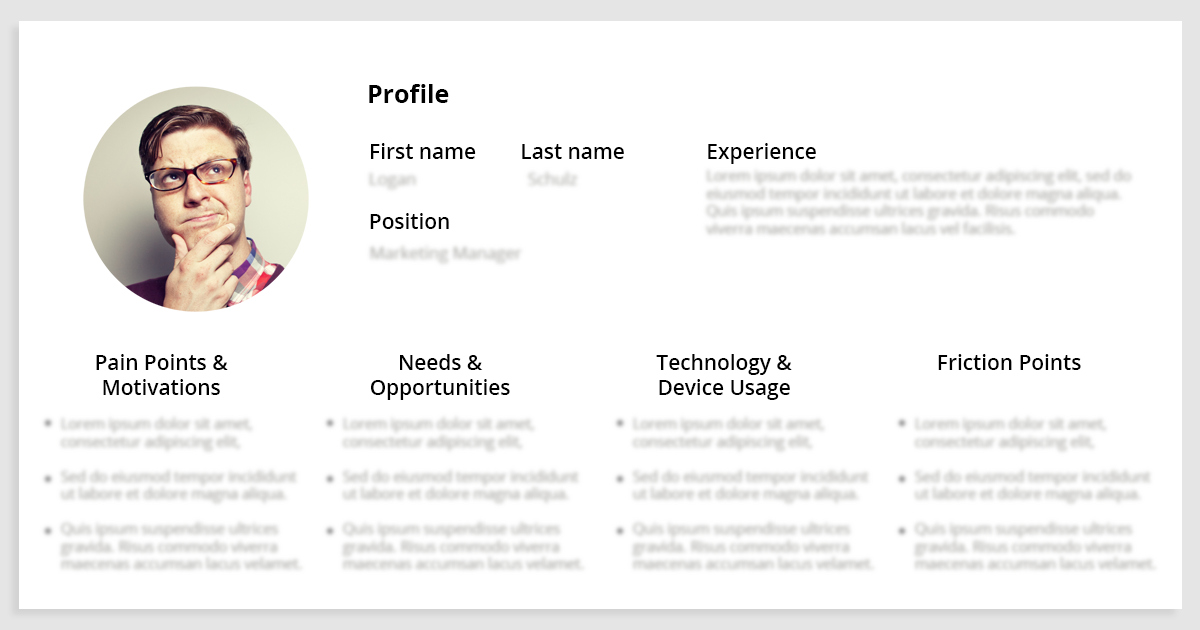 Matching personas with use cases
The next step is matching these personas to the types of content or services they will actually get in the app.
We call these "use cases."
A use case is something that provides value to the employee or the organization.
We're often asked about the best use cases for an employee app. There are some resources that can help you to get started and lead your thinking in some interesting directions. But the best use cases are generally very company specific. Therefore, not only is it worth spending some time on this important step, but also to involve a broad and representative team in the process in order to get as many ideas as possible.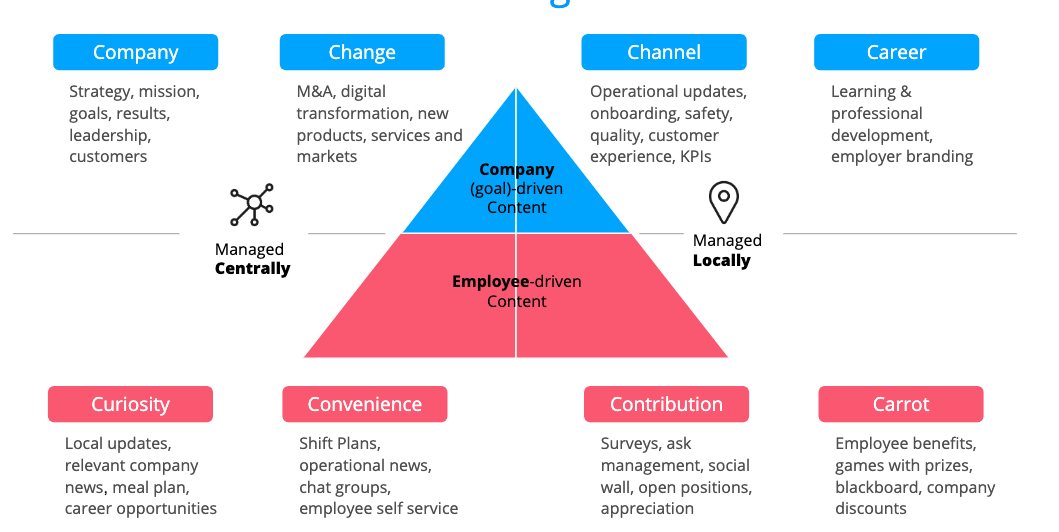 One more bit of advice: think locally when it comes to use cases. Company news does have legitimacy and it will be an important part of most employee apps. But the more local, specific, and relevant your news channels are, the better they will be at creating engagement with the app.
Bring Your Stakeholders Together (IT, HR, Finance, etc.)
Your use cases are likely to come from different areas within your organization. Finding the ones with the greatest benefit requires teams from all parts of your organization, including HR, communications, employee health management, Finance, and IT, to collaborate in the creation of a single, shared touchpoint that all employees will enjoy and find truly beneficial.
A joint venture between communications and other departments comes with many advantages. HR teams that have integrated employee surveys in their employee experience app report participation rates that are 50% higher than before.
In return, communications teams tell us that something as straightforward as the shift-planning feature in an employee app allows them to reach people who would otherwise never have adopted their comms channel.
Here's a very interesting statistic from an internal analysis done at Staffbase. When looking at our entire base of more than 400 enterprise clients, we see that in terms of active usage, those using the reach created by communications to enrich employee journeys with further app services have outperformed companies with narrow use cases by 75%.
Make the value of the app visible and understandable-immediately.
Often, training simply isn't a practical option. With that in mind, employee apps should require zero training for end users. It's not just the cost of taking an hour or more for sometimes thousands of employees. Employee turnover, as well as part-time and seasonal workers, create the kind of scheduling complications that make it nearly impossible to arrange for an hour or more of training time.
This means that the app must be very easy to use and immediately reveal its value to an employee by showcasing its most relevant use cases.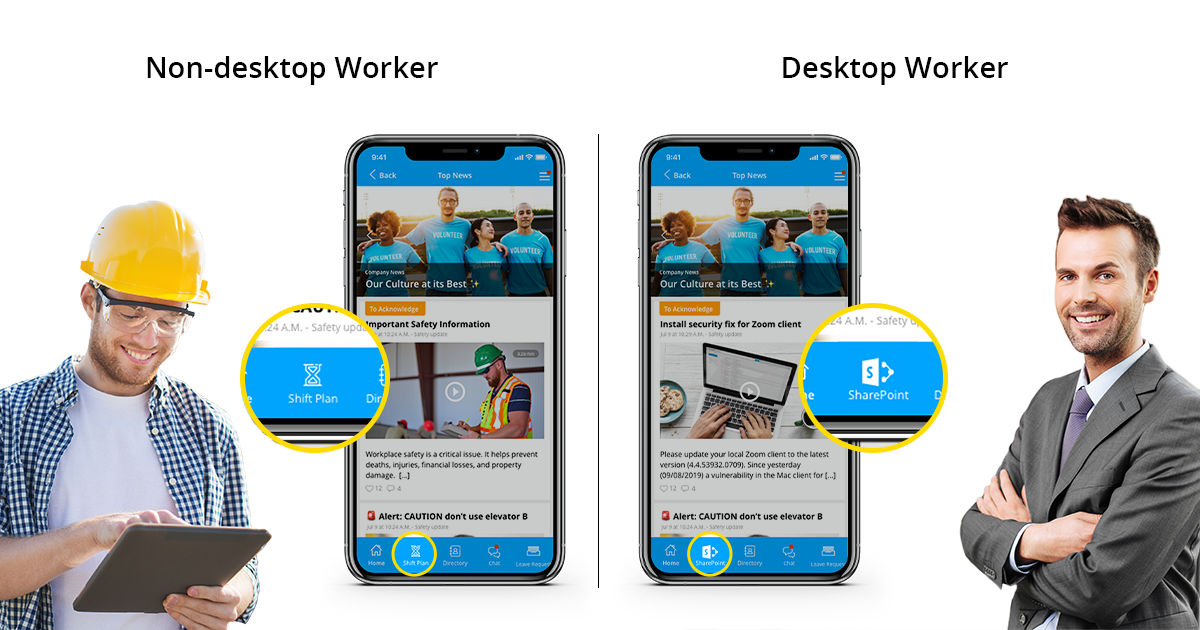 An employee app can generate significant improvements to the bottom line. There are numerous ways in which companies see business results. They include, fewer work-related accidents, faster market feedback cycles, improved operational efficiency, immediate distribution of best practices, and speedier employee onboarding times.
Reinert Logistics, for example, uses Staffbase to share mobile training and safety videos such as pre-drive inspections with their more than 1,000 employees. As a result, they have experienced a 15% decrease in damage to company property.
3. What about all those other tools? 🧰
It helps to start with a more general look at the market for employee-facing applications. The technology analysts at Gartner have created a simple overview of the four main categories of tools. It shows the key areas defining today's digital workplace.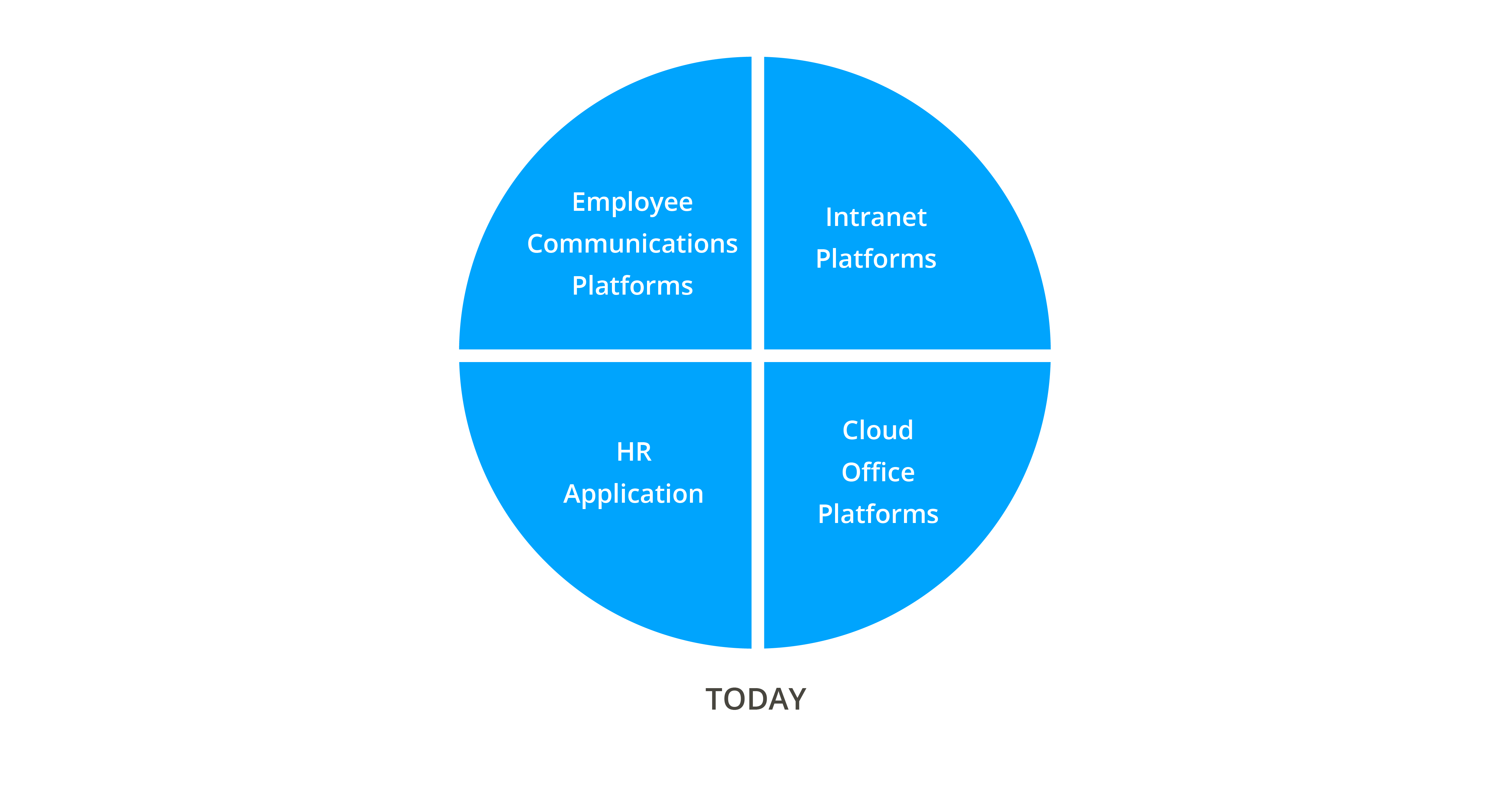 This isn't a static model. The priorities of the tools and the ways they are being used are constantly changing. HR applications have been around for a long time. The big trend is for more cloud-based applications (e.g. Workday), and many smaller vendors are targeting specific use cases (employee surveys, workplace wellbeing, performance management, etc.).
Cloud also drives the collaboration space; many companies are moving from on-premise tools like Microsoft SharePoint 2010 or 2013 to cloud platforms like Office 365.
Employee apps are now the front door to the employee experience. 
The rise of employee communication platforms is a more recent development. Email newsletters or news and updates are nothing new, but they were traditionally an underdeveloped part of intranets. The rising demand for easy mobile access and a shift in focus onto the employee experience has created a complete category in a very short time.
As discussed above, the evolution is ongoing, with more and more use cases reaching well beyond "communication only." This is why the category is now called "Employee Experience Platform."
The most dramatic change (and in this case it's a clear decline) can be seen in the intranet category. Once upon a time, intranets tried to do everything. The latest wave of social intranets such as Jive and IBM Connections even included collaboration workspaces in order to have everything in one place.
The result is that intranets became everything and nothing. Office 365 tools like Microsoft Teams are now far better for collaboration. Mobile-first employee apps are superior when it comes to communication. They create a single place for employees to go. And they act as a kind of doorway to everything that matters regarding the employee experience.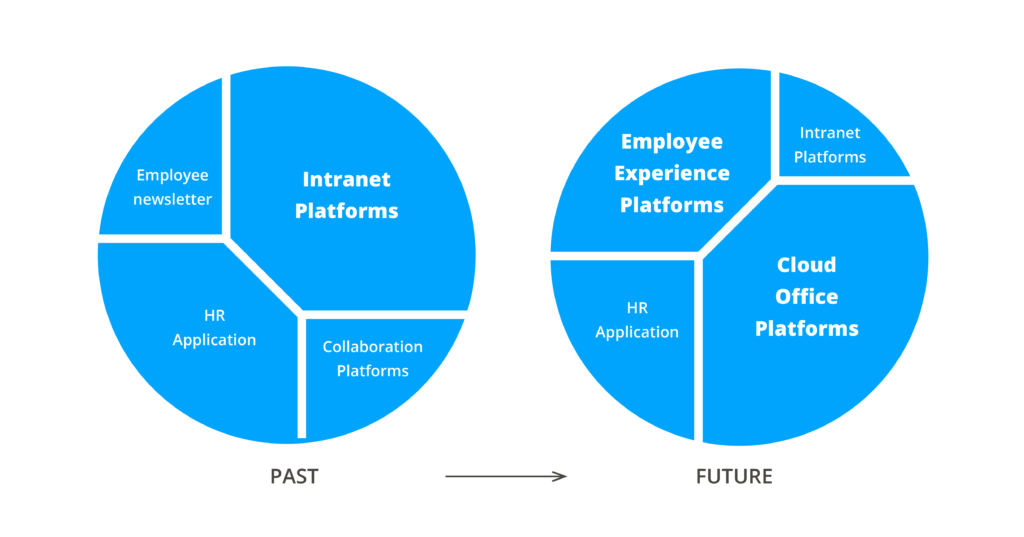 Wait! I just wanted an easy app! What's all this about digital workplace strategy?
Experience shows that an employee app can become the IT platform with the greatest reach in a company. And compared to the lengthy intranet projects of the past, it's relatively easy to introduce an employee app.
That being said, it's extremely useful to have some solid ideas about what might come next. Ask whether your vendor will be able to support the journey you envision.
Defining the role of an employee app in your overall application landscape will also help during discussions with IT.
Put yourself into the shoes of a modern Chief Information Officer. It's become very easy to select and introduce cloud applications. That's one reason why the responsibility of CIOs has gone from running IT-hosting, data centers, install patches, networks-to providing a framework and governance that accords with an overall IT strategy. 
The better IT understands how an employee app fits into the long-term vision of their digital workplace, the more supportive they are likely to be.
How do employee apps work with SharePoint and Office 365?
Office 365 is a suite of collaboration tools such as SharePoint, Yammer, and Microsoft Teams. Microsoft made the wise decision to bundle O365 with their core office productivity tools (Outlook, Excel, Powerpoint, and Word) which has successfully led to a wide and expanding worldwide customer base. 
But as has been pointed out, Office 365 "tends to be feature rich, but application poor."
To match your company's specific needs to the wide variety of Office 365 tools, it's a good idea to look at which audiences will be using them for communication, and which will use them for collaboration.
For employee communication-especially communication with a non-desk workforce-there are two main challenges: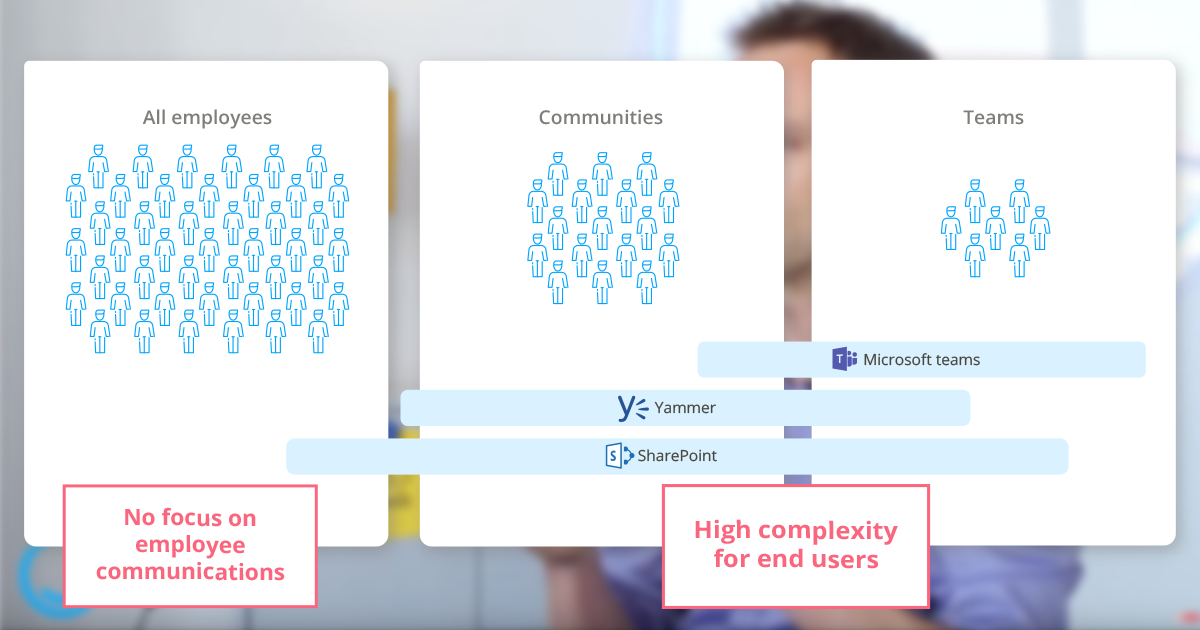 O365 lacks focus on employee comms: To reach all employees, including the ones not sitting at a desk, a successful comms channel must be mobile-first, ideally with a branded app. Employees don't trust tools that they don't know well, especially on their personal devices. For all of its strengths, O365 was not developed with mobile-first in mind.
Overlapping 0365 tools create complexity and confusion: "Where should I do what?" is a very common question among Office 365 users. Trying to offer an explanation to thousands of workers is an impossible challenge. Especially considering that different employees will have different communication needs.
O365 is ultimately a place where teams collaborate; in fact, it's where work happens.
An employee app, on the other hand, is where communication takes place and culture is created.
The best employee apps will act as a digital entry point for all employees. They should need little to no training to walk through the front door. An employee app will offer integrations with O365 tools. For example, communication content can be added to SharePoint online. Or, in the case of Microsoft Teams, it can alert workers who spend a majority of their days in this platform to stay notified about important company news.
From employee communications to employee experience
An employee app should go well beyond a communication platform and bring together all the resources we need to put in front of our employees-from Communications and Employee Health Management to HR and Finance."

Tiffany Elle, Senior Global Communications Manager, Versum
Tiffany Elle, a Senior Global Communications Manager at Versum Materials, introduced an employee app to more than 2,500 employees in dozens of locations worldwide.
She learned that it pays to use the app as more than a communication channel. "When we used email as our main communication tool, an average of only 20% of employees even opened them. Now, 70% of our employees actively engage with the app on a weekly basis."
Employee experience is a broad term that includes culture, technology, and physical space. And while each element is important, the role of technology becomes all the more crucial the more your workers are dispersed. Today, most frontline workforces are disconnected. This is a big reason why the digital employee experience is receiving so much welcome attention.
The foundation of a positive employee experience comes from understanding employee personas and common employee journeys throughout the full employment life cycle.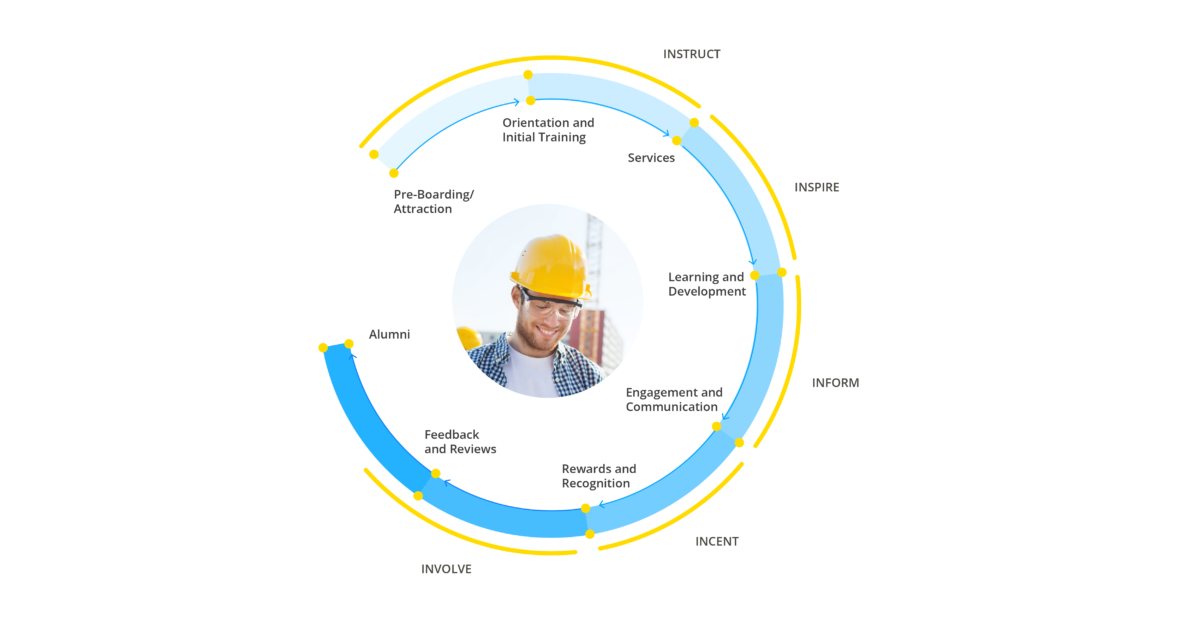 The employee app as the front door to your organization
Asking yourself the kinds of employee app questions we've posed here-as soon as you begin considering an employee experience app-will give you a head start.
Answering simple questions like "What should be included in the app?" and "What are my key target personas?" will help to create real relevance for the app you ultimately choose. Practical and engaging use cases can be targeted to the people likely to gain the greatest benefit from them.
Practical use cases could also include linked or integrated services. Creating a single place where employees can go to find practical content or a launching pad other work-related applications is an excellent way to ensure your app's consistent use.
Here are three possible integration options offered by Staffbase: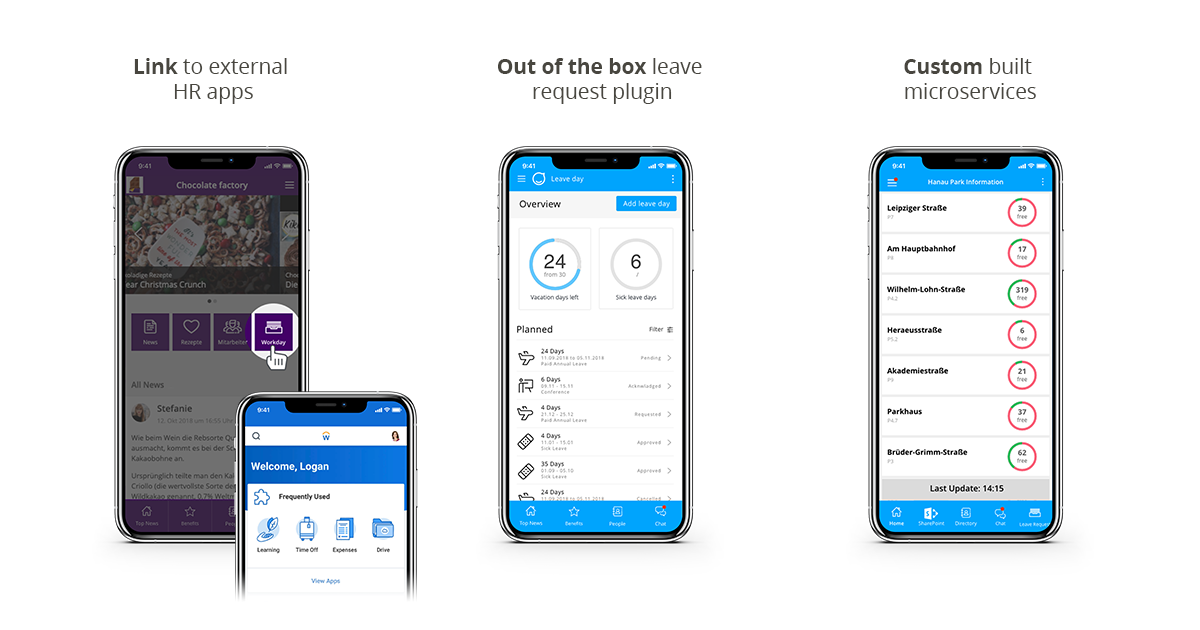 All of these integrations can be targeted to specific audiences. This means that a user in the US office might have access to a service that's specifically relevant to his or her location. It will be otherwise unavailable to users outside of the US.
Read more about employee communication apps: