The following article covers eleven of the most common IT questions we hear during our initial talks with professionals about the Staffbase employee app and employee intranet. We love these conversations, because they usually follow a similar trajectory: skepticism followed by the kind of genuine enthusiasm that comes with the realization that Staffbase is an enterprise-ready platform built with professional IT environments in mind. 
That being said, we know how important it is to clarify important technical issues. If your questions aren't addressed here, we encourage you to get in touch.
So, let's start with what really is the most common of all IT questions:
1. We already have Microsoft 365. Why do we need Staffbase?
Microsoft 365 is great at a lot of things. We know this. Whether or not you need Staffbase depends on your company's employee structure and internal communication strategy. 
Answering the following questions should help you to clarify your requirements, especially regarding employee communication:
Do all of your employees have a Microsoft 365 license (for access to communication services)?
How easy is it for users to get the information they need without spending a lot of time searching?
Can users share important company messages prominently and permanently without them disappearing in a news feed or timeline?
How much training do your comms tools need for effective use by your entire workforce?
How much of the vast Microsoft 365 product suite do most of your workforce actually use?
Microsoft 365 — and especially Microsoft Teams — plays an increasingly important role in the everyday work of many people. But for communication with all employees, we think Staffbase does a better job. During one of our webinars, the IT manager of a medium-sized company made an important point: "The barrier to participating in company communication must be as low as possible." We agree. 
Staffbase in combination with Microsoft 365
From our point of view, Microsoft 365 sets the barrier for communication too high. Either not everyone has a license or the effort to expand SharePoint or Microsoft Teams as a communications platform that's easy to use by non-desk workers or remote employees would be way too burdensome for IT.
With a platform like Staffbase, simplicity is a given. Every employee can make their voices heard without the need for a lot of training. Staffbase also has the advantage of being able to work as a standalone communications platform alongside Microsoft's popular digital collaboration tools.
Have a look at the articles linked here if you want to learn more about why we've concluded that Microsoft Teams, Yammer, and Microsoft Viva aren't the best choices for internal communication, not to mention why we don't think they work for communications teams.
2. Is the integration or connection of existing systems possible (e.g. Microsoft 365)?
So, we just finished saying that we don't think Microsoft 365 is the right tool for internal communication. But that doesn't mean it's wrong for everything. (Our North American servers are hosted on Microsoft Azure, after all.) That's why we've listened closely to customer feedback when developing our interfaces, and we've responded by creating connection and integration options for a wide variety of scenarios, including SharePoint and Microsoft Teams. 
Staffbase covers the following use cases for integration:
Link or embed external content (e.g. an embedded pages plugin)
Embed login-protected external content (e.g. the SAML integrations plugin)
Sync content to or from external sources
Make external applications or processes available within your employee app or intranet (connect to external systems)
Automate user management
You can implement these integrations in various ways:
Links: The simplest form of ready-to-use integrations which can be created quickly by editors or communication teams.
Embedding: A more complex way of integrating content into the platform. This includes content from external platforms or special plugins for features such as surveys or maps.
Connecting: The IT department usually assists with connections to external systems so that specific information or even processes can be integrated with multi-level user interactions and data exchange. 
The following integrations are possible:
HR integrations (mapping shift schedules, Workday, SAP HCM connector, SAP Fiori, etc.)
User management (CSV import, user synchronization using SCIM, SSO via SAML/OpenID)
RSS feeds
Ultimately, we offer a wide range of different integration and automation options. This ability has been a decisive factor for many Staffbase customers.
You'll find further information about our integration options here.
3. Is the platform secure and compliant with data protection?
Staffbase's roots are in Germany. We are subject to the strictest data protection regulations in the world. Staffbase's technical and organizational infrastructure aligns with these and other international regulations. We use very strict data protection and security standards to protect our customers' data.
Data protection
ISO 27001 certification: Staffbase has an ISO 27001 certified Information Security Management System (ISMS). 
Our infrastructure and security team regularly reviews the infrastructure (server and application).
Staffbase engages an external penetration tester to perform independent penetration tests at least once a year. We can provide results upon request.
Our security engineers continuously test new and existing features for vulnerabilities to increase the security level of our platform. 
Our customers have the option to conduct their own PEN tests. We use the results to improve the service for all customers.
For more information about our privacy practices, click here.
Hosting
Staffbase hosting features state-of-the-art security measures and certifications (DIN ISO/IEC 27001).  
You can find complete, up-to-date information about our sub-processors here.
Technical Platform
All connections to the Staffbase platform are secured via SSL. Any attempt to connect via HTTP is redirected to HTTPS. Only a small part of the infrastructure (REST API) is accessible to the public. The remainder of the infrastructure is restricted to other servers within the infrastructure. Only a specific group of employees has access to the live infrastructure (protected by 2-factor authentication, VPN). We track all system activity and have dedicated monitoring for suspicious activity (SIEM).
More information about our platform security can be found here.
4. How can we add our own functions and integrations?
As described above, the Staffbase platform offers countless possibilities for integrations. This is especially important if companies want to start small with their platform and gradually add a wider variety of use cases to create increased value for employees.
In addition to the options for integrating existing systems and services, you can of course also get creative and customize your platform to meet the specific needs of your company with functions developed in-house. To do this, we provide a range of APIs and guidance that you and your IT team can use to make the enterprise-wide platform even more relevant.
For example, our customers have used this approach to build custom plugins that digitize a variety of workflows, such as booking company cars, ordering cafeteria meals, and creating shift schedules, as well as many additional HR services. Some of our customers have integrated up to 50 custom plugins into their platform.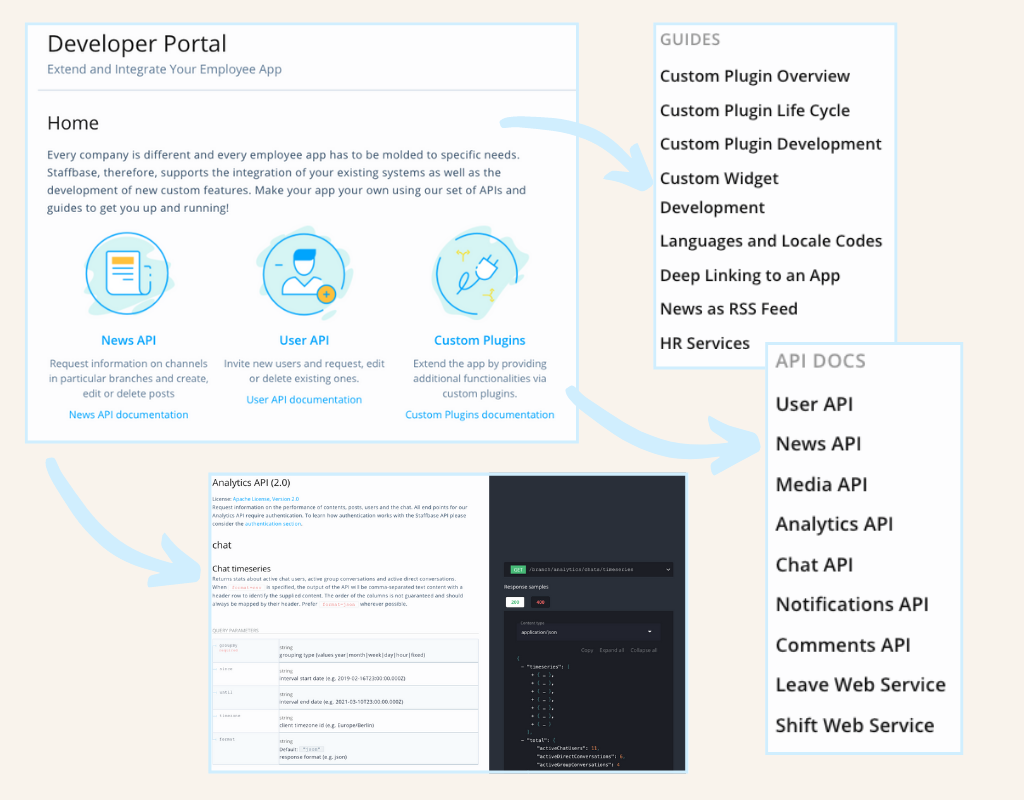 Check out the Staffbase Developer Portal for more information on adding custom functions and integrations.
5. Can we edit the layout and design to match our branding?
Yes! All of our customers have an intranet customized to their branding or a fully branded app. 
There are several ways to make the Staffbase platform yours. Most are easily customizable by the admin team directly in the content management system, others require support from our teams or your IT department. 
Branding of the Staffbase platform includes:
Your own logo and app icon (enhancing employee recognition; also visible in the app stores)
A self-selected name
Individual custom design and color scheme (settings primarily in CMS; CSS use necessary for specific requirements)
Your own font
An individually customizable layout (start page; page layout)
Various custom widgets for a unique user experience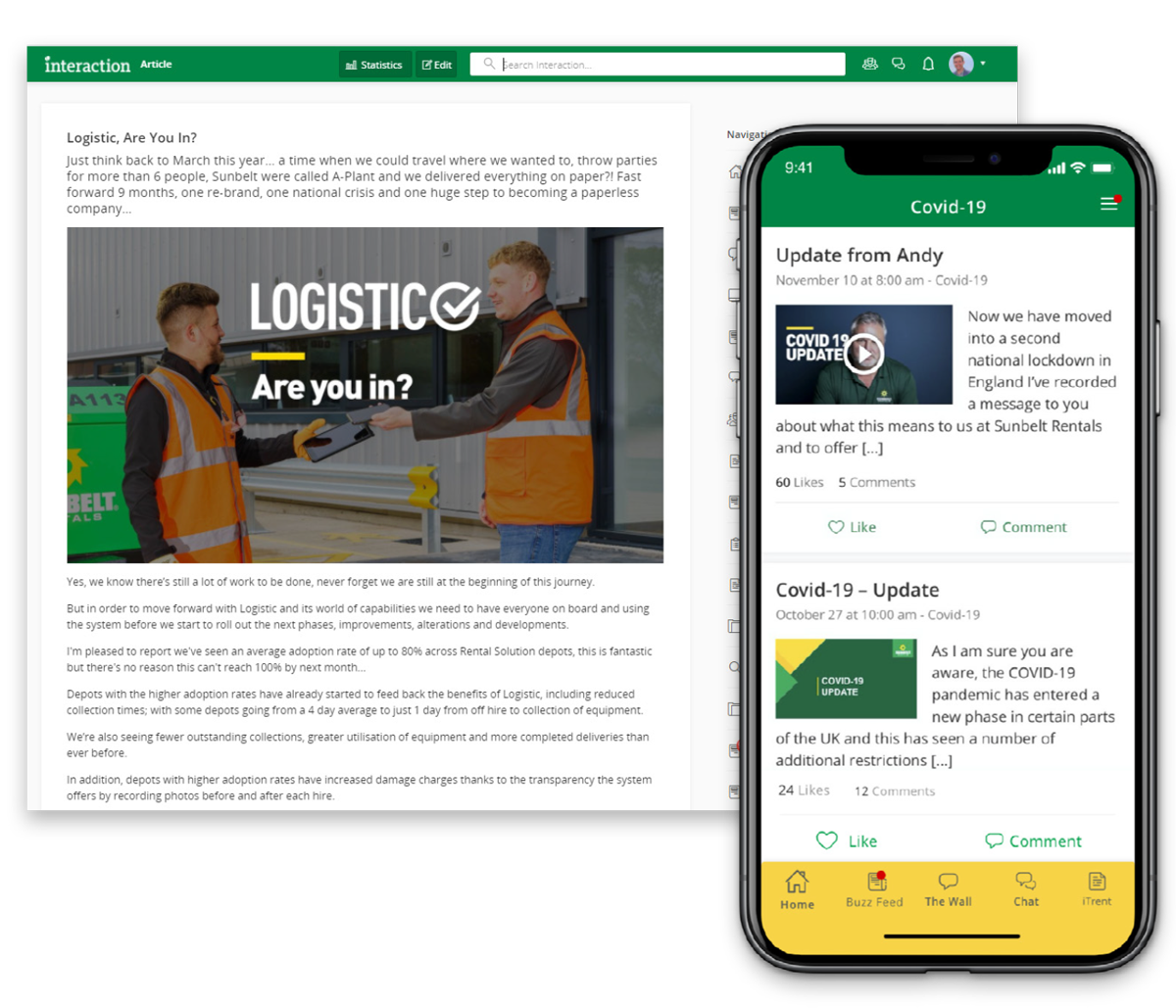 All of these points support the strongest possible internal positioning of the communication platform as a branded, highly recognizable and easy-to-use tool. That's why we see the company branding of employee apps and intranets as an integral part of their successful and sustainable use.
You can find more information and ideas for custom platform branding here.
6. How will the platform be distributed? Can we use our MDM?
There are several ways to deploy the Staffbase platform. Which one suits your company depends on various factors and your specific requirements. For the Staffbase employee app, we recommend distribution via the Apple and Google app stores. The hurdle for employees is low here, as they are generally familiar with downloading apps from these outlets. 
The Staffbase intranet is also easily accessible via the browser. As discussed, the domain can be customized to your company name or the name of the intranet.
Let's take a closer look at the four different ways to distribute the app:
Deployment via public app stores
Many of our customers release their employee app or mobile intranet via the public app stores of Apple and Google. The advantages here are ease of installation, awareness among users, and the ability to easily make external content available to all interested parties.
A so-called public area is mandatory in the Apple App Store because of the strict rules regarding apps for closed user groups (employee apps or intranets). These apps require an area that contains content relevant to the public at large. This can be general information about the company, a list of physical locations, current job postings, press releases, or the integration of social media channels.
We provide support in implementing this distribution method and also offer to manage the apps in the app stores (e.g., publishing new app versions according to releases, updates, etc.).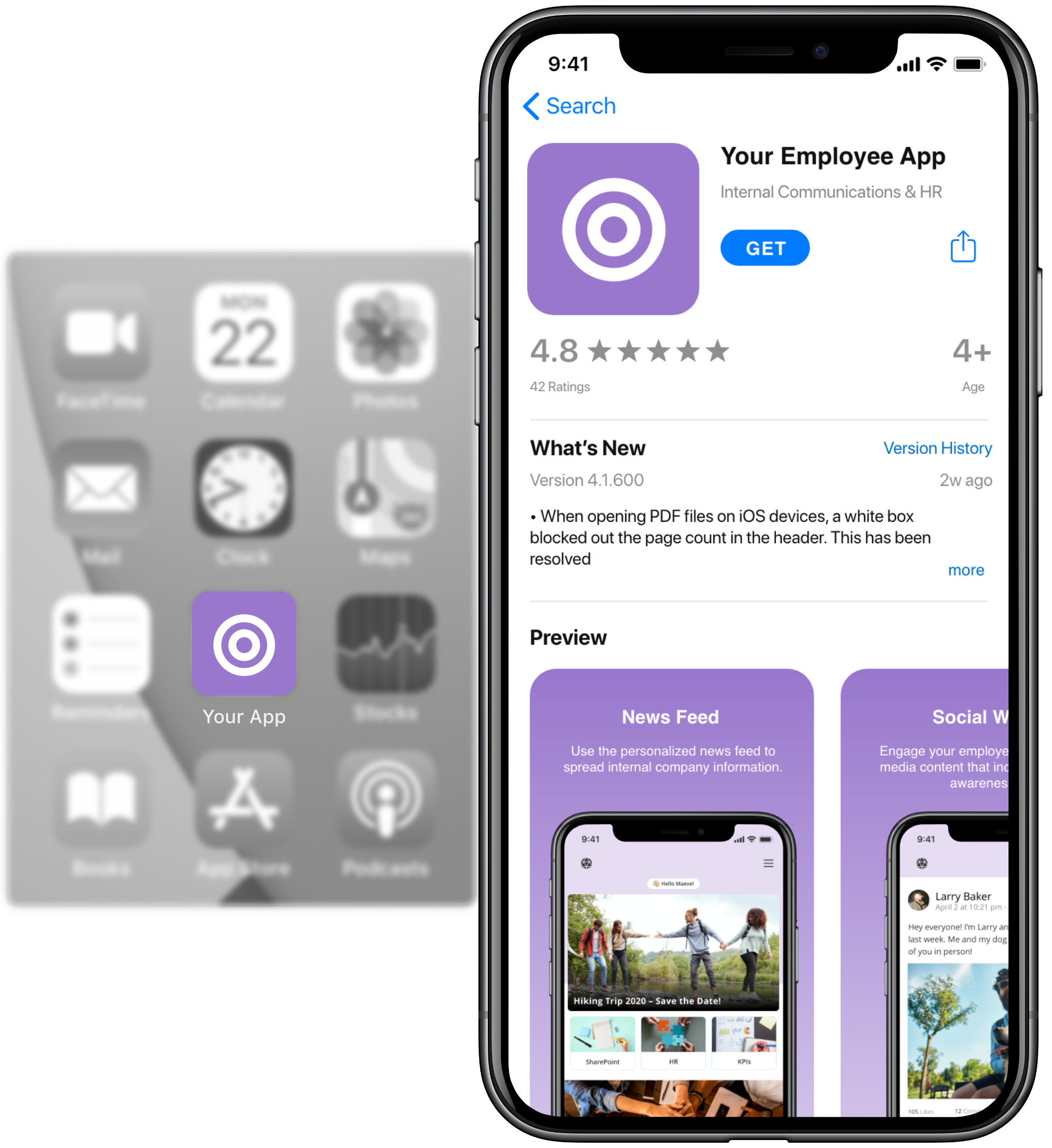 Deploying a private app to the App Store
Deploying a private app to the App Store eliminates the requirement for a public area and also reduces the intensity of the Apple review process. However, this method is only available for the Apple App Store (with the Apple Business Manager) and therefore only for iOS. Android users will need to use alternatives.
Deploying via a download page
With this option, you will avoid any issues with app store providers and get a smooth publishing process. The entry point to the platform is the same, with one download page for everyone no matter their device provider. However, the process is not as easy and intuitive for users as in the App Store; installation requires several steps. This method also requires enrollment in the Apple Developer Enterprise program.
Deployment with Mobile Device Management (MDM)
Yes, it is possible to distribute your native apps from Staffbase via MDM. Again, the publishing process is relatively smooth. Mobile Device Management (MDM) allows for the installation of apps and updates to a large number of corporate-owned devices at once. However, because this method only works for corporate devices, it isn't optimal for a bring-your-own-device strategy.
For more information on the various deployment options, please visit our support portal.
7. How does user onboarding and user management work?
Because most of the companies we work with are diverse in their structure, we have created a number of different ways to bring employees into the platform. This is the only way that everyone can participate in company communication and benefit from the many advantages that a central platform brings. 
Take a look at the following illustration for an understanding of the various onboarding options.
As you can see, there are a wide range of options for giving your users access to the Staffbase platform. It all depends on the extent to which everyone in a given company can use a central login service or has an email address. If you have a mix of everything, you can also easily combine onboarding options to cover different user groups and types. You can find more information about the individual options here.
User management
Staffbase also offers several options for the continuous management of all users:
The creation, updating, and deletion of users in Staffbase
Active Directory integration
User management with the help of SCIM 2.0
SSO (Single Sign-On) via OpenID, SAML 2.0, and OpenID Connect
User import via a CSV file (automatic or manual)
Customized connection with Staffbase user API
Manual user management
User groups
Staffbase also offers various options for creating and managing user groups. Here, a distinction is made between the following types:
Creation and management of the groups is mainly the responsibility of the platform administrators. For operational business, this means the communications team or those responsible for the platform.
8. What is a typical timeline for the introduction of the platform?
Of course, this won't apply across the board, but rather depends on the scope of the functions and the size of your company. The Staffbase platform is a cloud-based SaaS solution. That means the technical foundation is the same for most customers. 
Based on our customer experience, we can make the following assessments:
Introduction of the employee app
In principle, the introduction of an employee app as a communication platform or as an additional channel of your intranet is relatively quick, but always depends on the scope of functions, integrations, and connections. A very basic version of the platform — to be used primarily for top-down messages or quick crisis communication — can be ready within a few days. 
Full-scale versions of the employee app, including getting the app in the app stores as well as various connections and functions, naturally take longer: three to six months, on average.
Introduction of the intranet, including an employee app
Again, it depends a lot on whether you want to introduce a new intranet from scratch or replace your old intranet. On average, our customers' timelines are around six to nine months.
When introducing a modern intranet, it is essential that the three most important phases of intranet introduction (Strategy, Setup, Rollout & Continuous Improvement) are well planned and individual work packages are completed to ensure success. 
The specific design of the phases depends on parameters such as the communication strategy, the size and distribution of your company, and your IT framework conditions.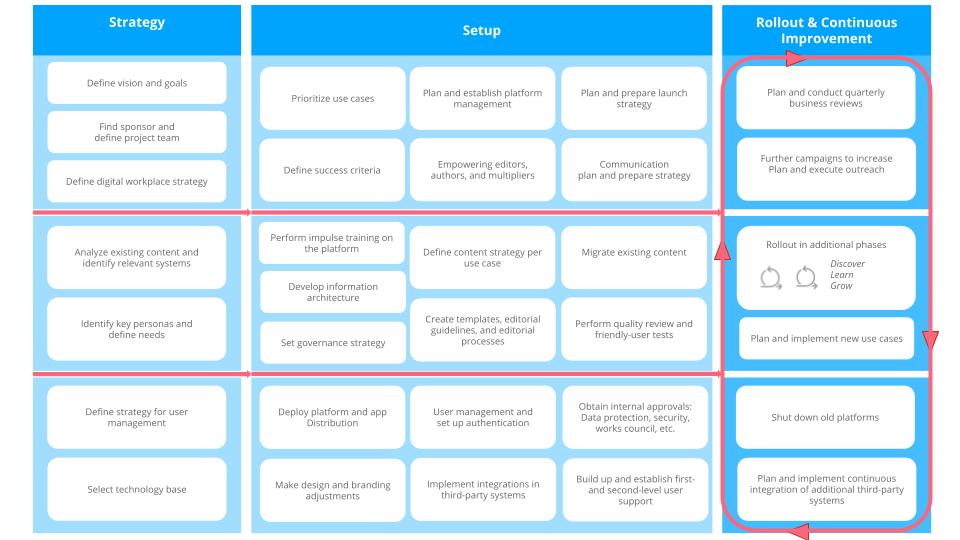 The biggest customer concerns (and ultimately problems) when implementing such a project often stem from a lack of focus on its actual goal, not to mention a lack of cooperation between stakeholders and departments. If there is a well established project plan in addition to solid coordination among all involved, experience shows that the implementation time can be shortened by several weeks. 
You can find more information about the most important phases and the procedure for introducing a platform like Staffbase here.
9. What are the approximate IT costs we can expect?
Again, this depends on what your project involves, the size of your company, and your specific industry. Because the Staffbase platform is a standard solution with many ready-made functions and connections, maintenance only generally runs from a few hours to a few days per year.
Most of the IT department's effort is required during the implementation of the platform. This primarily means tasks and support related to user onboarding, configuration, and connections to your existing systems, which require setting up a wide variety of interfaces, etc. However, experience shows that high levels of effort during implementation pay off later. The automation of as many processes as possible reduces the workload after implementation to practically nil.
During ongoing operations, the IT department of most of our customers is only needed on a project-related basis for adjustments or connections to new applications. Operational tasks fall primarily to the communications department.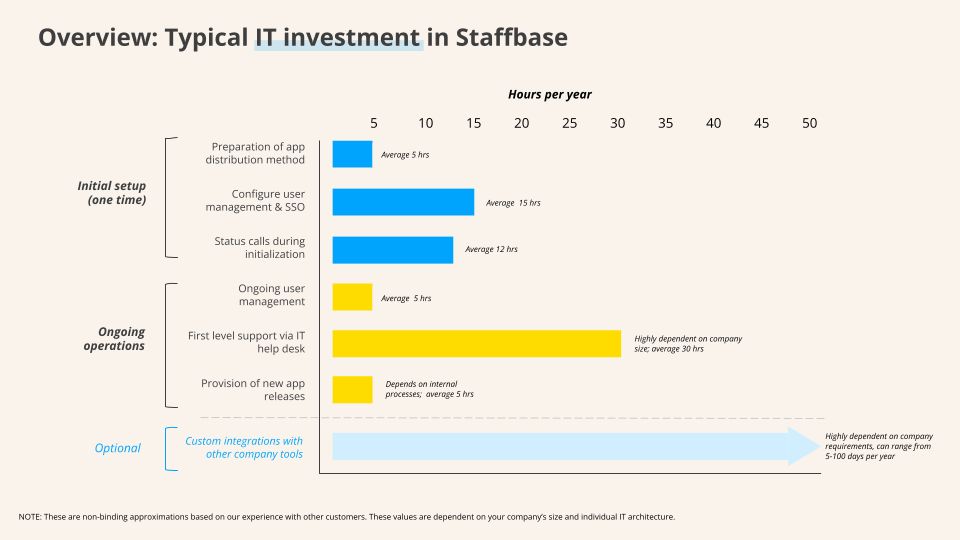 10. Will Staffbase replace our existing intranet?
Of course it can, but it doesn't have to. It mostly depends on the goals you want your company's intranet to meet. Because Staffbase offers both an employee app and an intranet that includes a mobile app, there are several ways to get started with the platform. 
We've summarized the three most important ones with their advantages and disadvantages:
A. Staffbase as an additional app for non-desk workers (in addition to your existing intranet).
In this scenario, your intranet is not replaced, but a mobile communication platform is introduced in the form of an employee app. Employees without intranet access in particular can access all relevant content via the app and are thus integrated into the company's communication flow. Employees with computer access can use the app in addition to the existing intranet. This increases the communications reach within the company: All employees can select the channels with which they wish to be engaged, where they will then receive information in real time.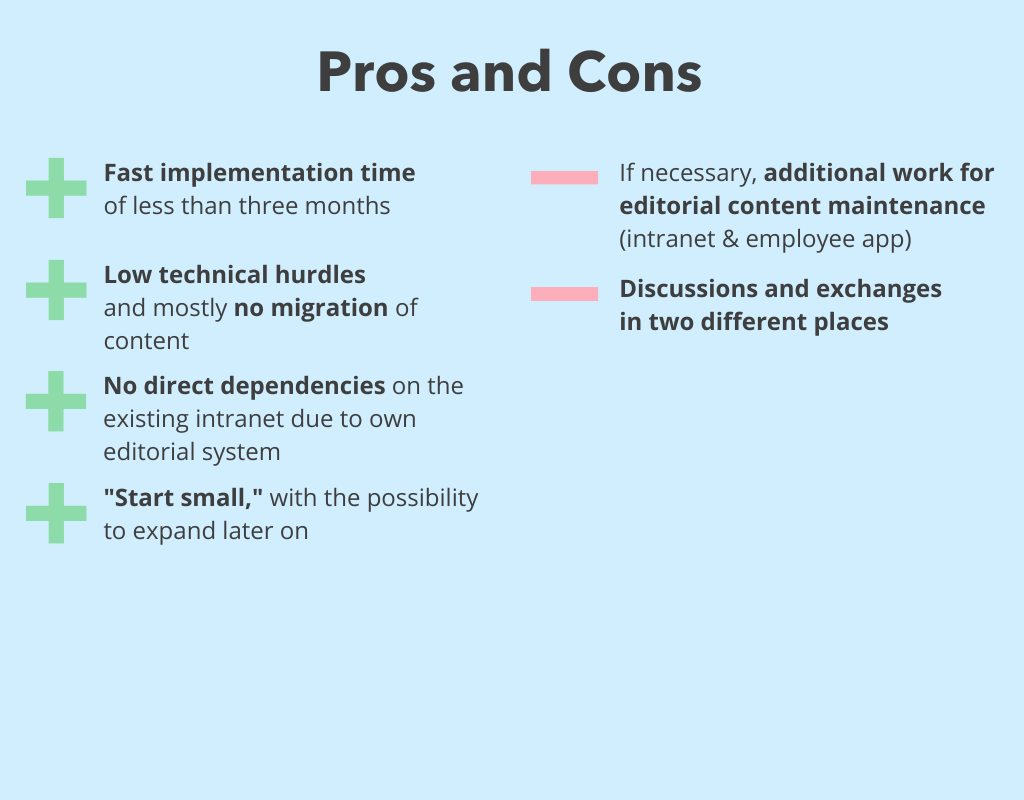 B. Staffbase as a news portal for all employees (only news, in addition to the intranet with static content).
In the second scenario, the existing intranet also remains in place, but usually only for the provision of static information; for example, procedures in the event of accidents. The Staffbase platform then works in parallel as a central content management system for all company news. This platform is accessible to all employees (both in-office and non-desk/remote workers) via various channels such as the app and a browser-based news portal. A strong news focus is characteristic here. The CMS is only used for the transmission of current news, not for the provision of static content (which remains available in the "old" intranet).
Employees decide for themselves which media channels they use to access company news. This means that employees without a fixed office workstation will usually access company news via the employee app on their private smartphones. 
For colleagues at their desks, the new news portal is the gateway to the corporate world and thus also the homepage of the browser on the company desktop computer. The news portal can also be used as a jumping-off point to the existing intranet, or other systems and services.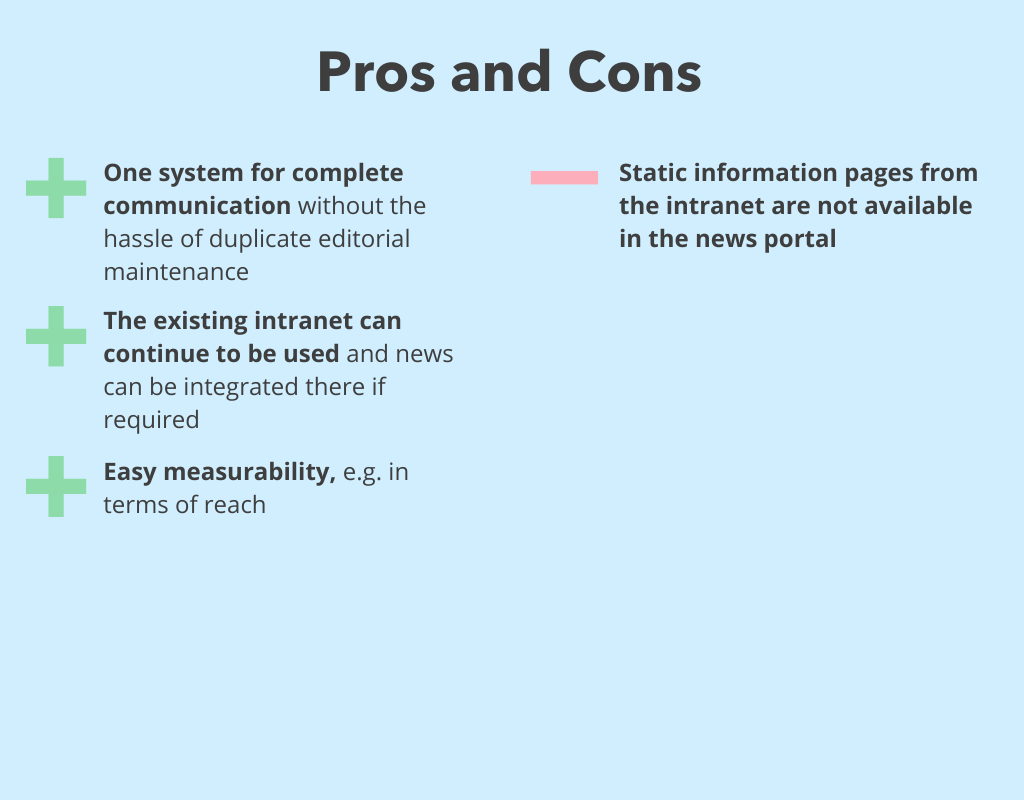 C. Staffbase as a modern intranet for all employees (all-in-one intranet and employee app).
In the third scenario, Staffbase replaces your old intranet. Your new intranet includes use cases for communication, interaction, services, and information provision to all employees. In addition to news, static content and other use cases are also integrated. 
One important success factor is the clear demarcation between communication and collaboration (team and project work). It is increasingly common for Microsoft Teams to be the hub for digital collaboration in projects and departments. The new intranet therefore doesn't need to focus on collaboration, but can instead concentrate on targeted, group-specific messages and information (company-wide, branches and departments, geographic locations). 
In contrast to the second strategy, your new intranet broadcasts not only news but also important editorial information on topics such as strategy, sustainability, internal IT regulations, human resources (HR), etc.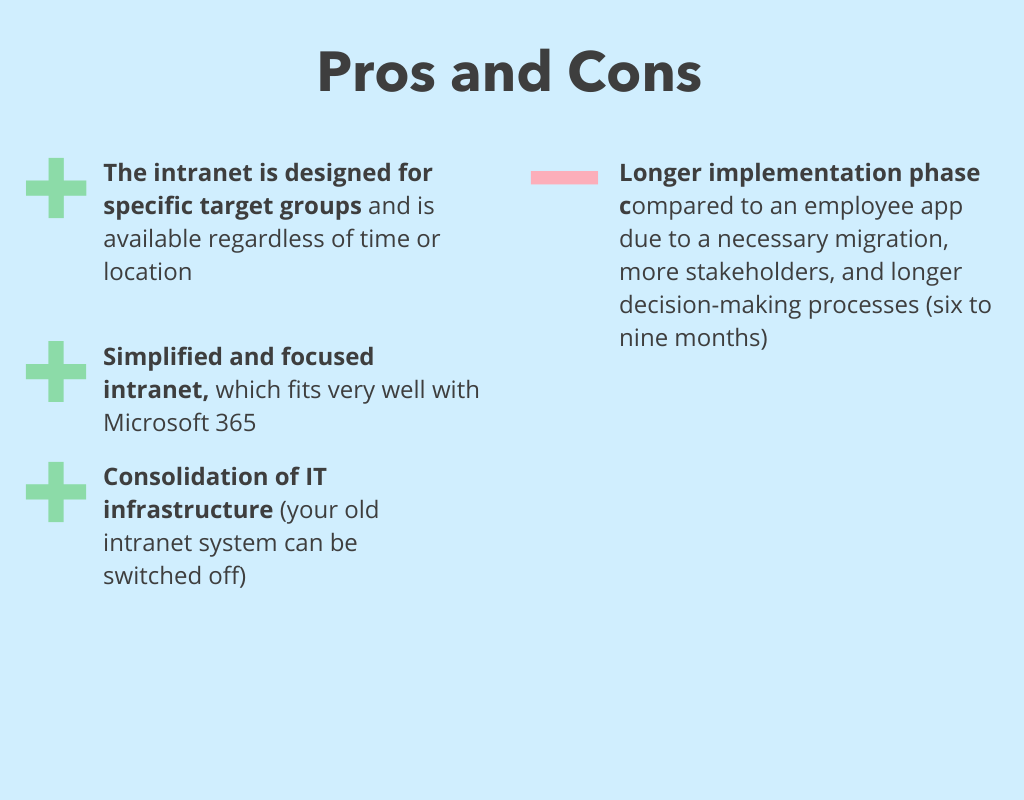 11. What kind of support can we expect during the introduction phase?
To make a long story short: We're here for you!
Once you've chosen Staffbase, you'll have an entire team of experienced experts at your side to support you during the rollout — including excellent technical support. With regular meetings during the implementation phase, followed by individual performance reviews and check-ins, we're by your side every step of the way. If necessary, support can also also provided directly on site at your company.

Standard support is included in all package levels. Should the need arise, customers can also switch to an individual support plan. Your available support will be set out in your service level agreement. In all cases, we provide advice and support for complicated integrations or can recommend experienced partners who can help with various technical requirements or problems. 
You can find more information about our customer service here.
Learn more about how and why companies choose Staffbase: