Deutsche Telekom is one of the world's leading integrated telecommunications companies, with around 168 million mobile customers, 28 million fixed-network lines, and 19 million broadband lines. 218,000 employees (as of 2016) in 50 countries are driving the company's success forward. At the forefront are the more than 7,000 sales representatives with over 67,000 customer contacts every day. Communicating with all of these people, all over the world, is a massive challenge, but it's one that they've met head on with the aid of their employee app.   
"We've managed to involve our sales representatives and show them: 'This is your company.' We have made Deutsche Telekom human and tangible for our non-desk workers," says Sarah Wirt, the employee app project manager.
An App Made from Scratch
In 2014, Deutsche Telekom's entire non-desk sales force was equipped with smartphones, compared to the only 40% who had them previously. And although Telekom's intranet is the largest in Europe, not all employees had access to it, especially while on the move. The goal was to enable mobile working by placing the Staffbase employee app at the heart of everyday work life.
This change was particularly urgent for non-desk workers. A number of apps were quickly introduced to make everyday life easier for employees, such as one that can be used to measure a customer's wifi signal. The company's Internal Communication department and strategy was another area that underwent significant change, resulting in the introduction of their "Service Dialog App."
Service Dialog contains news, videos, training, and information. This media mix allows it to convey emotion, which is especially important for sales representatives who often aren't able to see their team or team leader for weeks on end. With a registration rate greater than 90 percent, the app helps shorten daily communication channels and thus improves the customer experience. The fact that required information is readily available at all times guarantees Telekom's service experience. "The app is our magic link between team leads, dispatchers, and service technicians," summarizes Ms. Wirt.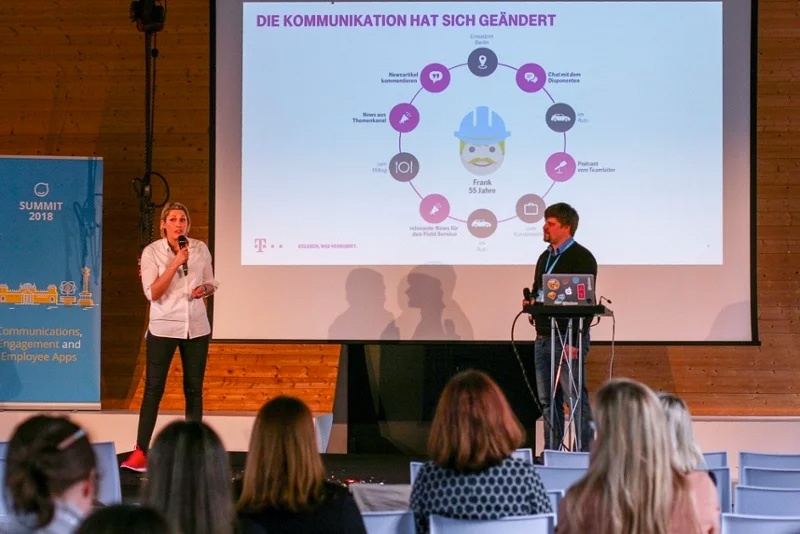 Use Cases from A to Z
Because personal communication within Telekom was becoming increasingly rare, and therefore increasingly invaluable, one goal of the app was to reconnect teams with their team leaders. This goal, along with the transformation process within Telekom, resulted in four central use cases, or ways to use the Service Dialog App.  
Service News: Service News is the central communication channel within the app. News affects all employees and is generally disseminated from the top-down. For example, employees can find strategically important information about transformation within the company, requests to test new systems and technologies, and an "Improvements" section that highlights improvements within the company.
Team Blogs and Topic Channels

: The Team Blogs and Theme Channels of the Service Dialog App are a mammoth project. There are 450 different blogs in the app, one for each team in the field. Sales representatives are assigned automatically. In the blogs, the team finds highly relevant topics that stimulate daily exchange. The fact that they are divided by team guarantees relevance to the workforce. Content comes from the respective team leader without excessive oversight. guidelines and terms of use show the responsible persons the way.In addition to the team blogs, there are topic channels for product information, for example. With a few exceptions, employees can subscribe to these open topic channels voluntarily. The messages are posted by the administrators of the app. Relevance is the silver lining of the project, because even here, through the choice of topic channels, employees only receive information that they explicitly want.

Videos and Podcasts: Not only are these media formats the be-all and end-all of communication today, but they're also perfect for field service. Through Service Dialog, team leaders have the opportunity to talk directly to employees. Simply record a video and post it to the blog. Podcasts work particularly well for a workforce that's as mobile as the sales force because employees can listen to them on-the-go. Topics within the videos can range from instructional to news-related updates and topical information. 




Direct Line to Management

: Apart from the individual team leads, the head of sales can also have his or her say, along with the opportunity to get in touch with thousands of employees in just one go. The point of the management channel is to identify common threads and making it clear to the employees that they are all part of the Magenta family.
Tips for Launching Your Employee App
On the one hand, the success of the Telekom app depends on the fact that the format is already common in our daily personal lives. On the other hand, it's also a result of the hard work done by Deutsche Telekom and the team around Sarah Wirt.
Tips for a Successful Employee App:
Management Support: Backing from above is essential for the success of the employee app. This obviously applies to budget approvals, but it also needs to be part of your communication strategy. Management use of the app gives tacit approval of the new tool and opens a direct line connecting the workforce with leadership.
Marketing: The app must be promoted at every step of the way. Employees need to understand why this new channel is being introduced, what its benefits are, and how registration works. At Telekom, communication took place via newsletters and videos. Creative ideas for the right launch can be found here.
Content Strategy: In order for the app to become a success, it must first be understood. This means its structure and content must be well thought out. The aim should be to create a clear structure and automatically allocate as many communication channels as needed (via teams, departments, or locations). Employees have to understand the system at first sight, or else they won't come back.


A Good Mix of Topics: The contents of your app should be of an an interesting mix. Of course, one part must be all about strategic communication (service news), but the inclusion of technical information and good old-fashioned fun are also part of Telekom's strategy.


Authenticity: The app shouldn't simply be an arm of your newsletter or intranet; on the contrary, it is important to break down those old structures and communicate authentically with employees at their level. The app can break down hierarchies and give the workforce a voice—but only if it communicates in a way that is seen as authentic and relevant.
High Goals: At Telekom, the declared goal was to achieve a one hundred percent registration rate. And while this is a figure that no one has yet reached, today, 96 percent of Telekom's sales representatives are registered in the app.
To ensure that the app is easy to use, Deutsche Telekom has also set up an end-user support system to assist employees with their open questions. This service helps app users to avoid frustration and ensures smooth daily operations.
The Service Dialog App in Numbers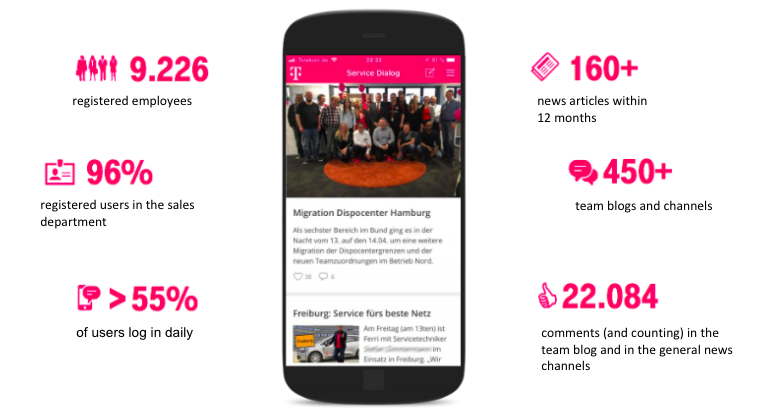 The clear advantage of an app as opposed to an intranet is that an app is mobile. And when it comes to posting content, instead of 20 clicks, you only need two. To prove their point, Telekom shared the same post (a call to test new tablets) on their intranet and in their Service Dialog app. The post on the intranet received 35 comments. And the one in the app? It did 10 times better, with 371 comments and over 8,500 views. This was a strong confirmation that simple, mobile, and authentic communication is the way to go.
Today, more than 9,000 employees are registered in the app, more than half of whom visit the app every day. With more than three new messages per week in the service news channel, employees know that checking in is always worth the visit. In the first 12 months there were more than 22,000 comments in the app, a number that was made possible primarily by the team blogs.
The Future is Magenta
In May 2018, Deutsche Telekom's Service Dialog App won the prize for Best Employee App in the Media category at the INKOMETA Award in Düsseldorf. The future of Magenta looks bright.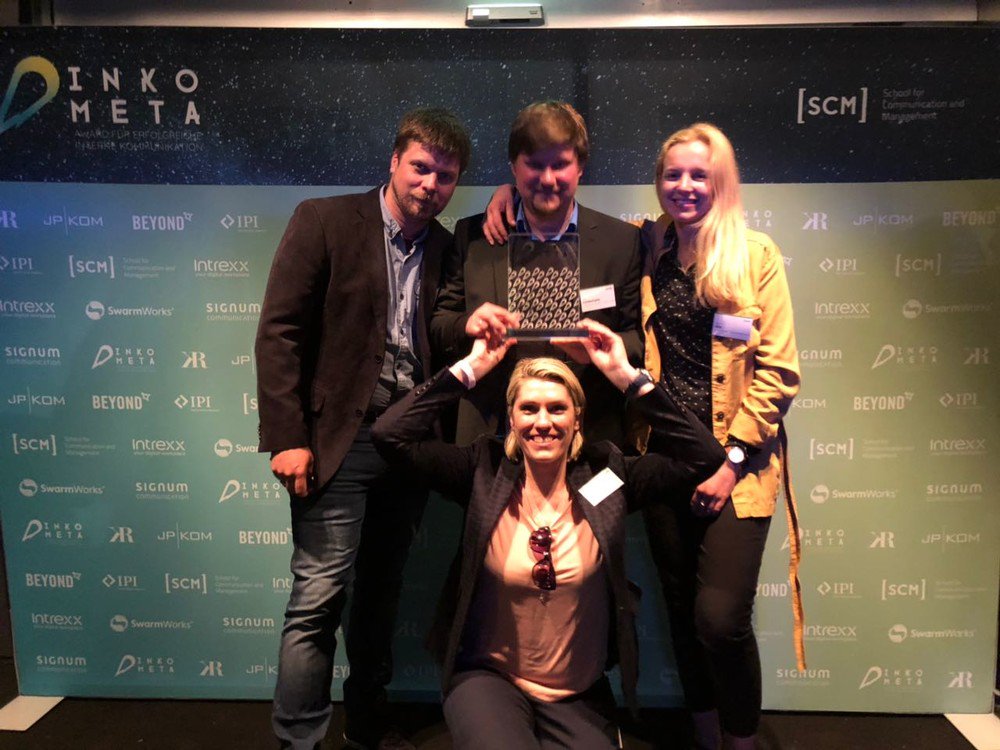 To ensure the long-term success of the project, the app's target groups are being expanded. Both the TSG (the association of German Telekom Shops), whose employees have very similar needs to Telekom's field sales representatives, as well as the company's workers council, are getting their own channels.
In addition, new uses for the app are being realized. They include a quiz that gives employees a fun way to learn about their jobs, as well as integrations with the company's SAP platform that will enable more HR processes to find their way into the app.
"We would definitely recommend Staffbase," concludes Sarah Wirt. "Their flexibility, along with their fast and agile development, would be a great plus for any customer."
Read more about employee communication best practises: