This release is packed with improvements, including the eagerly awaited analytics dashboard for admins, many new languages, as well as multi-language capability in the Forms plugin, plus a variety of compliance and security updates such as our ISO 27001 certification and the app lock feature. All of this with enhanced support for the just released iOS 12 and Android 9 "Pie"!
Analytics Dashboard: Statistics on Your App's Usage
After providing an API for analytics in our last release, you can now finally see this feature as a dashboard directly in the admin interface. Each area of the app has its own statistics, which are presented to you in easy-to-understand charts and tables. Is one of the following use cases for app statistics a good fit for your employee app and your goal to improve internal communications measurement?
Export statistics to prepare them for a management report in Excel.
Track how posts and updates are received by readers.
Find out which news channels are most popular with users.
See how often content is viewed and plugins are used.
Compare the performance of your content on desktop vs. mobile.
Learn how actively your employees use the chat.
Find out when your users are particularly committed to commenting, sharing, or liking content.
Compare the numbers of invited, registered, active, and engaged users of your app.
Filter the results on the analytics dashboard; e.g., to display only a specific time period or user group.
Don't worry: the privacy of your employees' personal data is guaranteed at all times and the data collected is in compliance with the General Data Protection Regulation (GDPR).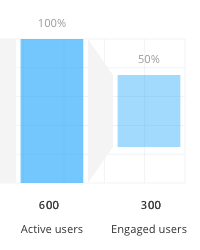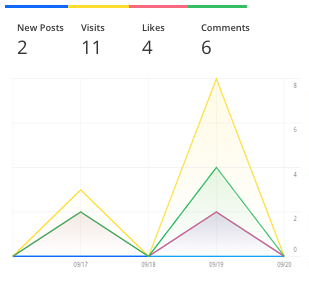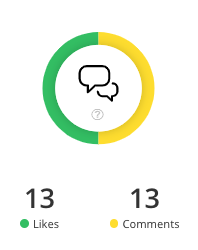 The analytics dashboard is included in the current Enterprise Package or otherwise available as an upgrade. Please contact your Customer Success Manager for more information.
The App Speaks Your Users' Language
There are approximately 7,000 languages worldwide. Even though we can't offer you all of them, we are working towards providing the app interface with the 25 most popular languages. This release adds 🇳🇱 Dutch, 🇵🇹 European Portuguese, 🇭🇺 Hungarian, 🇰🇷 Korean, and 🇸🇪 Swedish to the app interface. You can find the complete list of available languages in our support portal. As part of our extended language package, Staffbase can also be translated into languages other than the most popular ones. Please get in touch with your Customer Success Manager if you are missing anything.
In this release, our own marketplace plugins caught up in terms of languages. Until now, the interface of plugins was generally available in German and English only, which became a big obstacle for their use in international companies. From now on, buttons, texts, and other parts of the interface within our plugins are displayed in the user's device language. Thus, plugins behave like an integral part of the app and the user sees all interfaces in the same language.
Another improvement makes this release important for international companies: The Forms plugin can now be set up in different content languages, as is the case with news articles and pages in the app's editor. This is a huge step toward effectively using forms for multilingual use cases. We are continuing to make improvements for international companies, and more plugins are expected to be enhanced with multilingual content in the next releases. Stay tuned!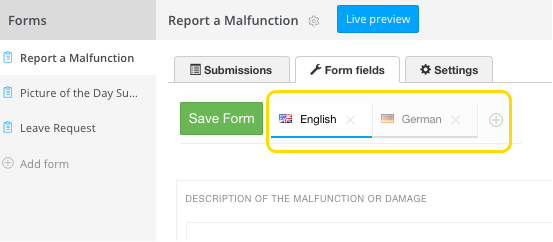 It's also worth noting that the way people communicate differs from company to company. While some industries are very formal, there are others in which even the boss is addressed informally by first name. In German, you can now choose the informal "Du" form of address if this better matches your company's preference. Contact your Customer Success Manager to activate this language option.  
Staying out in Front with iOS 12 and Android 9 "Pie"
We're ready for tomorrow! Over the past weeks, both Apple and Google have released new versions of their respective operating systems: iOS 12 and Android 9 "Pie". Of course, we've done everything we can to ensure that you can also use these great new functions in your employee app.
The iOS app will now load even faster and more smoothly. Thanks to a couple of significant performance improvements, we've been able to adjust the way some plugins open and navigate on iOS, which feels much more natural with other parts of the app now. 
In addition, Staffbase now supports uploading high-efficiency photos in the HEIC format. These photos have been available on iOS for some time and help you save storage space. Now you can use the format directly in your employee app without the need for the compatibility mode.
Due to high maintenance efforts and decreasing usage, we had to drop support for iOS 9.
For Android, we see many new devices on the market with a notch, which is essentially a cut-out section at the top of the screen display. With the latest app update, you can be sure that your employee app always looks great on devices with a notch.
Adaptive app icons are now also available in Staffbase. Starting with Android 8, the adaptive icons ensure that logos look as desired on different Android devices with all kinds of home screen launchers. Staffbase has already optimized the app icons for all existing customers, so you're all set for Android 9 "Pie" with the new release.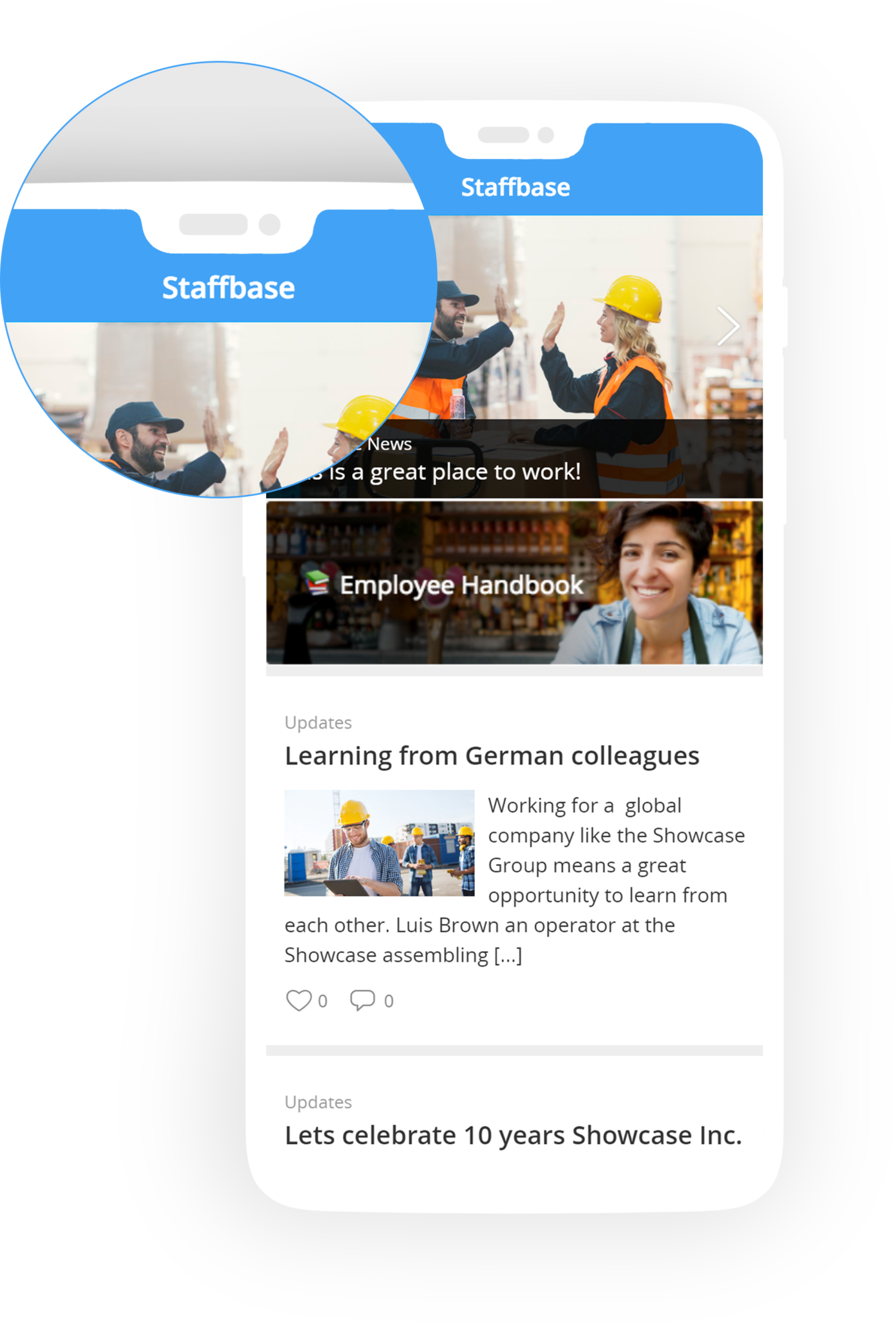 Some older versions of Android have been on the radar of security experts regarding its weak TLS implementation for quite some time now. This together with the rapidly declining usage on these versions has led us to dropping the support for Android 4.1 to 4.3 with this release.
Security and Compliance Updates
Staffbase Information Security Management Systems has been certified as compliant with ISO/IEC 27001:2013. Although information security has always been a key focus of Staffbase, we have now successfully updated our tools and processes in order to meet the leading industry standard for information security. Now, more than ever, our customers can trust Staffbase.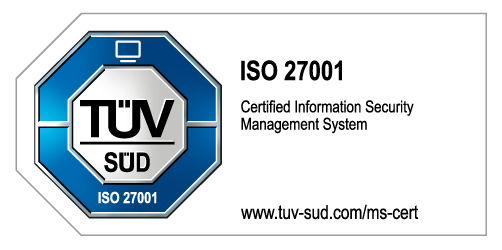 Data security has always been an important topic when using apps. Security is even more crucial for a corporate app that is installed on the private smartphones of employees. With the new app lock feature, you can now further ensure the security of company data and better protect confidential information. After activating this feature for all of your employees, the app can then only be used if the mobile device is secured, e.g., with a passcode, fingerprint, or face recognition.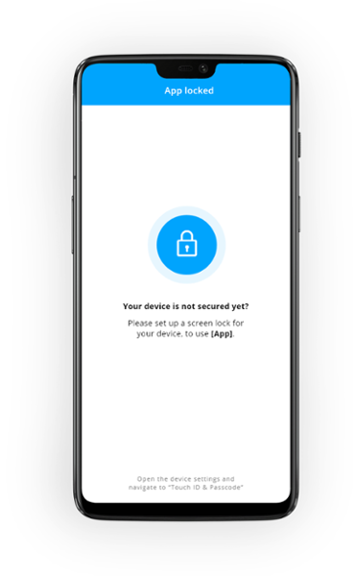 Combined with the now more flexible session timeout settings, you can maintain usability and set different timeouts for mobile devices than for computers.
The security updates are completed with the new encryption of our databases at rest. This means your data stored in our data centers is now protected even better.
Read the details about all new features, improvements, and bug fixes in the full release notes.
The release has just been rolled out to your web app. Employees should see the update becoming available on their mobile devices throughout the day.
If you have any questions, please don't hesitate to contact us or leave a comment below.
Learn more about how and why companies choose Staffbase: