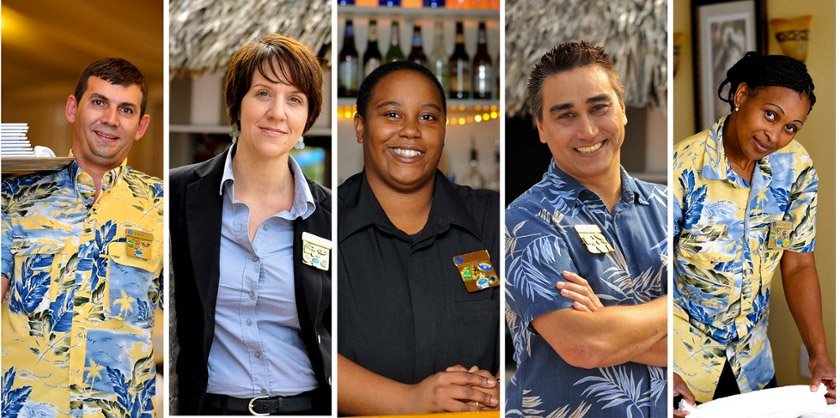 TradeWinds Island Resorts, with more than 1,100 employees, is the largest full-service destination resort on the west coast of Florida. Before they used their own branded employee app from Staffbase, they were only able to reach their approximately 200 employees who worked at corporate computers. In this part of our series "Welcome to the Family" you will learn more about the three main changes that use of an employee app has brought.
An Internal Communications App Changes Your Communications Culture
TradeWinds' growth presented a business challenge. Over a very short period of time, the company had grown from 700 employees to over 1,100 employees. As a resort, they operate 24 hours a day, 7 days a week, 365 days a year. Most of the staff do not go near a computer in their daily activities and do not have access to company email. So the challenge was to encourage all employees to engage and interact with their culture in a way that fit their schedule and their mobility. A mobile communications app that felt like a social media app was critical to the success of this endeavor. The company also knew that they wanted to embrace all forms of media, including text, photos, videos, and more. "Having a portal to reach our employees en masse has changed the culture of the company drastically," says Jessica Leonard, Internal Communications Coordinator at TradeWinds. The TradeWinds employee app also creates a private social media channel so that people don't feel like their privacy is being invaded.
Our Own Branded Employee App Is Incredibly Easy to Use & Ready to Go
Don Wooldridge is Vice President of Culture Development and Training at TradeWinds. He says that there was another critical element needed: "Reliability and service. We have engaged several technology companies over the past several years in many applications in our company. Almost all have overpromised and underdelivered. We have been disappointed at almost every turn. Not so with Staffbase. Staffbase was incredibly easy to get to know both from a company standpoint and from the standpoint of getting to test the app so we could make sure it worked for us."
Getting important information out to our employees is as easy as literally pressing a button with Staffbase."

Jessica Leonard, Internal Communications Coordinator
"Then, after the purchase, Staffbase has been extremely concerned about our happiness as a customer and very responsive where there was a problem, need, or concern. We feel like we've found a partner in Staffbase," said Wooldridge.
The Tradewinds Way Goes Mobile-Employee Engagement Reaches a New Level
When important communications are necessary, like in the case of road closures or special parking arrangements, a mobile intranet is the best way to communicate and, in doing so, immediately improve service quality. The TradeWinds' employee newsletter produced previously only reached the 200 employees at their computers. Now those articles can be accessed by more than 800 employees.
More than 1/3 of all employees actively create content in the app and over 50% of all employees with an account on the app engage with the app every week.
At TradeWinds, company-wide engagement programs generate hundreds of interactions. "For example, we just recently completed a fun culture development program that revolved around a large stuffed fish as its mascot. We then launched a "Selfie with the Fish" contest that generated over 250 pictures posted on the app in one week's time from virtually every department in the company," says Wooldridge.
And there are even more improvements for both the company and its most important resource: its employees.
The president has an open channel in which anyone can ask him a question and he answers it in a post so that everyone can see both the question and the answer.
The TradeWinds app links to other apps and websites that employees use in their work.
They can now share with everyone celebrations and recognitions that were formerly only shared at the departmental level.
Posting videos of all employee meetings-so those who cannot attend can see the meeting later.
"And we are just getting started," says Wooldridge with a smile.
You can follow the TradeWinds success here after two years of the launch of their app for internal communications. 
Read more about employee communication apps: