As repercussions from the coronavirus pandemic continue to be felt by businesses large and small, internal communication is more than ever in focus. For many companies, production has slowed, shops remain closed, and millions are working part time or from their home offices. And that's if they're lucky to be working at all. But now is an important time to look ahead. That's why we've created this free internal communication strategy template to help you plan your organization's way forward.
The first stage of this crisis was intense; the next stages are likely to be spread out over several months or even years. In regard to internal communication, it's been necessary for many new methods to be put into action quickly and for the first time. But they are only a prelude to what's to come. 
How will we know when it's time to return to normal? Will it look anything like the "normal" we knew before? Or will there be a new normal? 
Answering these questions will be a big challenge for us all. But for internal communicators they also present a great opportunity. Why? Because in times of crisis, employees crave information. 63% want to be informed at least daily, and 20% even want notifications several times a day. 
Getting your people the news they need will be a matter of calm and strategic planning, concrete recommendations for action, and big-hearted efforts aimed at uniting your organization emotionally. 
Staffbase wants to support you in this critical phase. We've developed a basic strategy template to help create your internal communication strategy for 2021. Below, you can find a description of the template, as well as a version available for download. 
Priority #1: Keeping the Communication Threads Together
If your organization has previously developed an overarching communications strategy, then adapting it to your current circumstances is likely to be easier than starting from scratch. But, no matter your particular process, you're likely to be covering new ground. As such, don't worry if your communication threads initially run out of order; the important thing is to keep your messaging consistent. 
It will make a big difference to your employees if they see their company speaking with one voice. Failing to do so will allow fake news, rumors, and contradictory statements to gain the upper hand. Don't let this happen.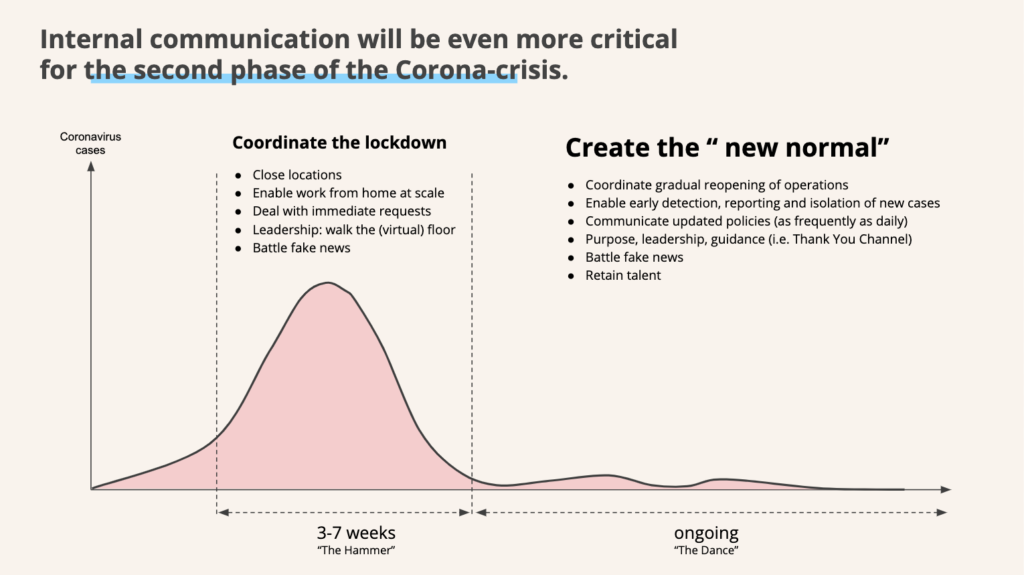 Why not approach this phase like a major transformation project? Most companies have well-rehearsed processes and procedures for such initiatives. The big difference here, and one that you can use to your advantage, is that your employees will already have a pronounced awareness of the gravity of the situation and its challenges. Because it affects everyone, everyone should understand the need for companies to adapt their strategy.
Your Internal Communication Strategy Template
In order to help you in preparing for the "new normal," we've developed a communication strategy template based on our customer experience and the widely used Business Model Canvas. You can easily transfer the template's logic to other applications.
Using the canvas allows one to visualize the customers you serve, which value propositions are offered through which channels, and how your company makes money. In this case, we suggest that you use it to design a communications plan that meets your organization's needs under the exceptional conditions we can all expect to face in the coming months.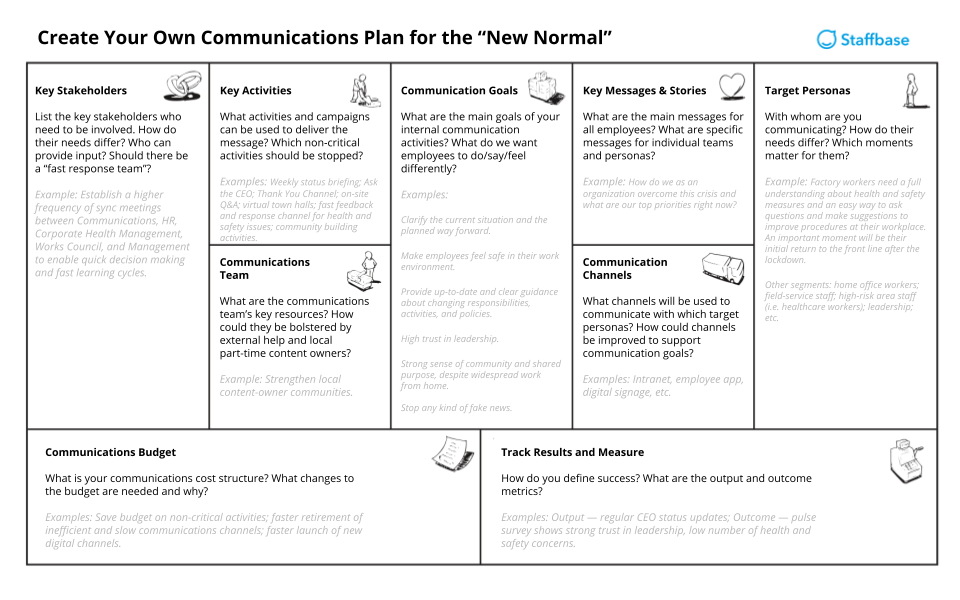 1. Overview
The right side of the Internal Communication Strategy Template refers to the target group: what they need to know and how to reach them. The left side refers to the stakeholders responsible for the design of your communication efforts. Both join together in the middle and represent actual goals for internal communicators. The two bottom rectangles concern number-driven factors: on the left are costs and on the right are measurable results.
Examples in the gray-colored text should provide a rough orientation for how content can be described. Your specific content can and likely will look completely different. 
There are many good suggestions for how to create your original template. They will also help as you develop your specific case. 
An interesting model of different communication approaches, depending on the specific needs of your coronavirus communication, can be found here. It can be particularly helpful in the development of your organization's key messages and activities.
Here is another model from a personnel perspective.
2. Content Development
Teams develop content best. 
As you begin to complete your template, you'll notice that its clear framework and different areas can help you to focus your discussion, but also recognize deficiencies in your planning. For example, the template can work as a checklist so that you don't forget to include organizational issues or important stakeholders. 
Completing this template should be enough to lay the foundation for your basic communication strategy. Keep it simple, bearing in mind that complicated plans are more difficult to understand. 
In the startup world, companies often create evolving versions of this overview, which they try to improve again and again in discussions with investors, potential customers, and experts. Internal communication departments can also carry out this process.
Just remember to stay pragmatic at the beginning and be ready to adapt your ideas as needed during implementation.
 Idea: Print out your template in large print and hang it on the wall for easy viewing
3. Conclusion: Crises Also Present Opportunities 
A common request from internal communications professionals, especially in English-speaking countries, is the desire for "a seat at the table." Communicators want more involvement in important management decisions and not simply thought of as corporate messengers.
The coronavirus crisis is providing many internal communicators with this very opportunity. Because the need for solid communication is greater than ever, communication now ranks high on the agendas of most CEOs. 
In managing the coronavirus crisis, the power of communication has never had a better chance to show itself and play a leading role in companies large and small. But doing so means taking proactive measures toward actively tackling the challenges of the new normal by planning for how it's likely to look and finding the tools that will enable you to take immediate action.
Read more about employee communication best practices: