In May 1859, Perry Brink purchased a horse-drawn wagon and made his first delivery in Chicago. The city was benefitting from a huge economic boom, a direct result of the new railroad sector. Business travel was growing and people needed transportation between the new railway stations and the city center.
Perry Brink saw an opportunity—he recognized a need—and he bought in. His first wagon bore the new company's name: Brink's City Express.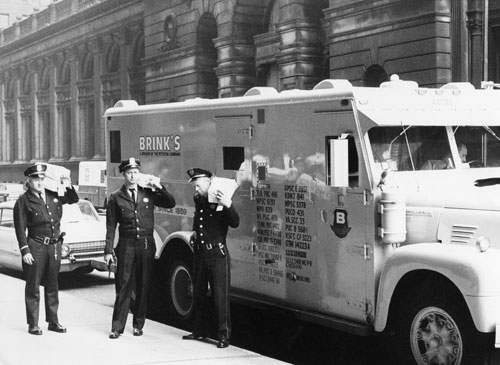 When economic trouble hit the railroad industry in the 1880s and '90s Brink's began transporting money. In 1891, the company's first shipment of cash was made: six bags of silver dollars, each weighing 61 pounds, delivered from the Home National Bank to the Federal Building.
Today Brink's is a leading provider of secure logistics and security solutions. These include cash-in-transit, ATM replenishment and maintenance, transportation of valuables, cash management, and payment services. The global network serves customers in more than 100 countries. The company has approximately 7,000 U.S. employees of which the majority are frontline workers.
True to their roots, the company continues to prosper. Their values of accountability, customer focus, and trust hold to this day.
Brink's supports company values with an app for employee communications
In 2017, Brink's shifted its mindset once again in order to empower their employees with greater connectivity, launching its own internal communications app: BRINKSProud. The app follows the belief that employee experience goes lock and key with customer experience, and helps the company's diverse team to overcome their communication challenges and reach every member of their highly distributed workforce.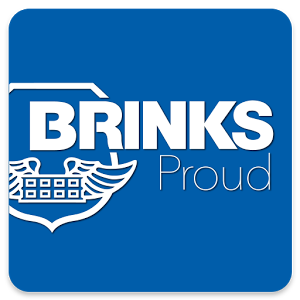 Tamara Erwin, Senior Communications Manager at Brink's, goes into greater detail: "A large percentage of our frontline employees driving routes or working in our cash and coin facilities don't have access to a computer. We needed a fast, easy way to communicate with everyone on our U.S. team."
The launch of the app was supported with flyers and handouts distributed to all employees; branch meetings; and a "Brink's Proud" recognition contest that encouraged people to "vote" via likes for their favorite entry. The effort paid off: 40% of the company's employees were immediately onboarded and began actively using the new tool.
Tamara and her team facilitate the app to share news and information about worker safety, payroll, and benefits. Making these nuggets of information available on their smartphones enables employees—especially the many non-desk workers—to regularly check-in with the company, making daily tasks easier to achieve.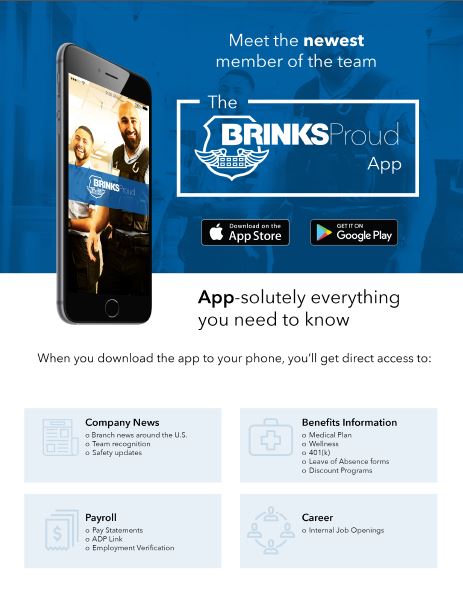 Listening to employees' needs and recognizing their good deeds
To ensure the app's success the company followed an important rule: They considered the employees' needs and the company's needs as two sides of the same coin.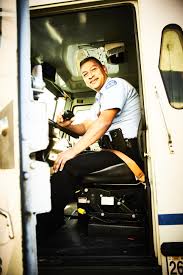 "Prior to the launch of the app, our team members told us it was important to them to see more recognition. We use spotlight stories and our Brink's Proud Recognition channel to highlight things like service anniversaries and stories about team members who are demonstrating Brink's values," Tamara Erwin elaborates. By asking their employees about their needs before launching the app, the team was able to ensure high onboarding rates and create immediate engagement with their workforce.
For Brink's, the new, mobile communication tool not only closes the gap between desk workers and their non-desk counterparts out on the street, but also provides recognition to the employees responsible for driving the company's continued success.
"We've heard some amazing stories over the last few months," Tamara adds. "There was a driver who saved a baby girl whose mother had accidentally locked her in a hot car. We got the news and were immediately able to recognize him over our app. We're very proud to have such heroic employees, and we're happy that we can now easily engage with them."
Brink's U.S. now partners with the company's Canadian branch and could potentially roll the app out to a worldwide audience. "I think whatever future uses the app might hold will be driven by an organic need," Tamara acknowledges. "Right now we're trying to leverage it to promote on-the-job safety and build our culture."
Read more about employee communication apps: