As professional communicators and leaders in diversity, equity, and inclusion (DEI), Kim Clark and Janet M. Stovall are all about authenticity.
So when it came to writing a book, they didn't shy away from the title that they wanted: The Conscious Communicator: The Fine Art of Not Saying Stupid Sh*t.
First of all, I just want to recognize that it's a brilliant title.
And it's also a much-needed book. An honest conversation and call-to-arms for communicators to prioritize inclusive language and DEI.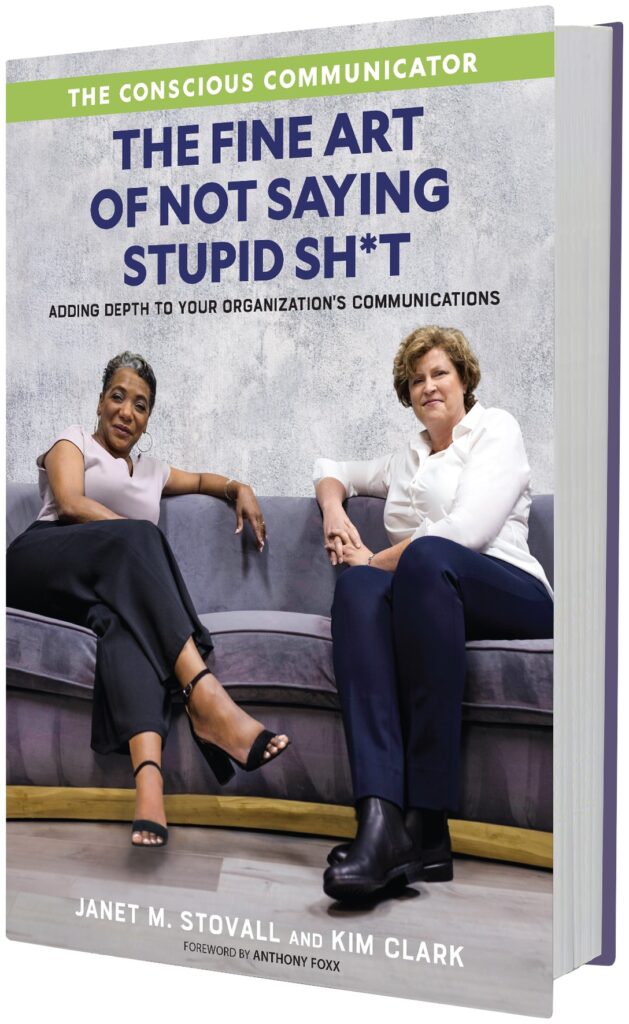 Together, Kim and Janet have developed a framework for communicators to strategize and lead DEI comms in their organizations.

This framework - the DEPTH Model™ - is a blueprint that will help guide you as you navigate conversations with hesitant leadership around DEI.
The DEPTH Model™ will also give you the tools to move your organization from performative DEI comms and allyship (like celebrating Pride Month externally with social media posts but not doing anything internally the rest of the year) to real, meaningful action (such as building an inclusive work culture and supportive policies for employees).
Ahead of the book launch, we chatted with Kim and Janet about conscious communications, the connection between DEI comms and mental health, and how IC pros can drive transformative change in the workplace.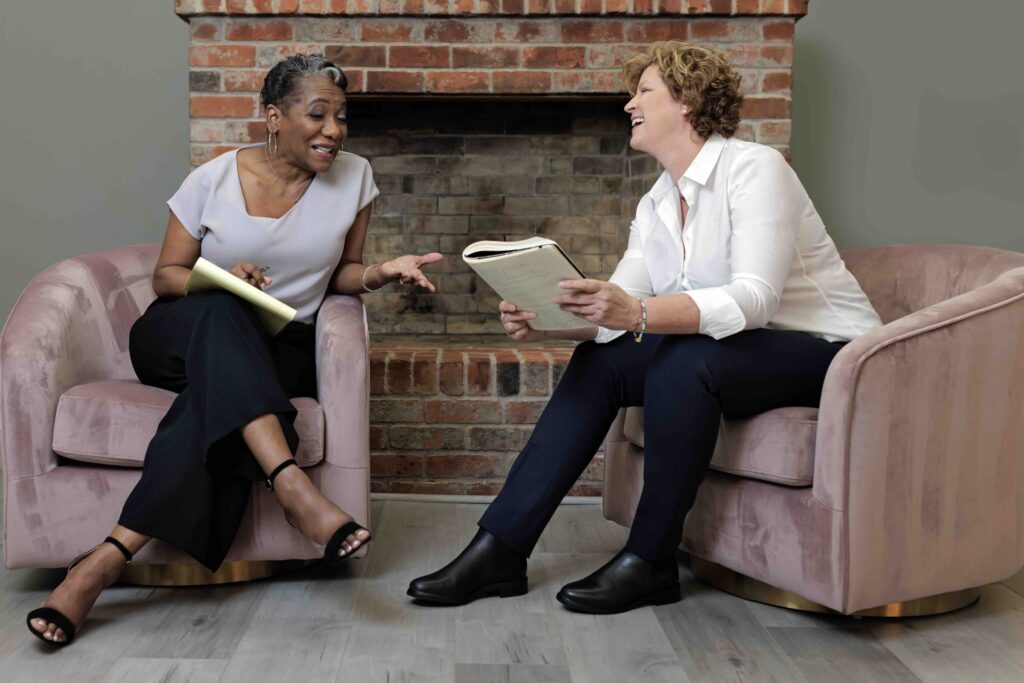 1. How is DEI connected to mental health and well-being in the workplace?
Janet M. Stovall:
"It's connected in several ways.
The need for psychological safety in order to speak up as an ally (or for oneself) and to have difficult conversations. When it comes to DEI, silence is not golden. When we're silent on DEI  issues - in DEI moments - the effects can be felt at all levels of an organization. People must feel psychologically safe to express ideas, share concerns, and make mistakes without fear of embarrassment or retribution. 
The rise of 'courage culture': In that same vein, many popular self-help books tell people who feel unacknowledged, unrewarded, and unappreciated to be brave, to step and speak up. What they don't acknowledge is that 'bravery' is different depending on who is being asked to demonstrate it. Same with speaking up - greater risk means higher threat. And that takes its toll mentally.  
DEI fatigue: Typically a complaint of those in the position of privilege, DEI fatigue is real for those who are not. The burden to execute DEI initiatives often falls on Black and Brown people. They're asked to guide conversations, start and run ERGs/BRGs, and develop and deliver DEI training and programming. It's asking the most harmed to fix the issues harming them, seldom giving them the power or resources to do so. Needless to say, this is stressful and it takes an emotional and psychological toll on people already traumatized by systemic injustice. 
Continuing lack of representation despite ongoing promises of reform. From 2019–2020, anxiety and depression more than tripled for Black, Latino, and Asian Americans; Black people most of all. Small wonder considering the disproportionate effect of the pandemic, George Floyd's murder (among many others), and anti-Asian hate.
Whatever people deal with outside the office, they bring it into the office. If unsuccessful - or nonexistent - DEI efforts mean diverse representation is low and microaggressions are high, it's just one more inequity to deal with. Perhaps that's why only 3% of Black knowledge workers want to go back to the office full-time."
When we're silent on DEI  issues - in DEI moments - the effects can be felt at all levels of an organization."

Janet M. Stovall
2. What role does inclusive language play in building psychological safety at work?
Kim Clark:
"I am a proponent of inclusive language. I am a big believer that language leads to behavior, and that we have got to clean up our corporate language.
One of the things that I do for clients is that I create custom inclusive language guides. It's this social agreement within the workplace of, this is how we're going to talk to each other, and this is how we're going to speak to our external constituents, customers, members, whoever, investors. This is how we're going to be recognizing the humanity in each of us.
We don't have a lot of good experiences or role models of how to handle microaggressions, and the first thing we'll do is get super defensive about them. 'Well, I didn't mean to say that. That wasn't my intent,' or, 'Can't you just take a joke?' But we have to be more consciously aware of what we're talking about.
I'm not talking about being politically correct. Politically correct feels like this external factor, this compliance . . . like you have to do this, like somebody's policing your language. That's not what I'm talking about.
What I'm talking about is inclusive language.
I want to respect you as a human being.
I want to make room and space for how you identify, and the experiences that you have had that are valid and influence how you are showing up and making decisions in the workplace.
It's a collegial social agreement and it's a way to honor our colleagues, and again, provide that space for them."
3. How can communicators apply DEI in their organizations? And how can they ensure that it's more than performative?
Kim:
"Inclusive language is very key. Understanding what inclusive language is, every organization must have an inclusive language guide. This is non-negotiable. 
An inclusive language guide is this beautiful thing that sits between your employee handbook or your code of conduct and your brand guidelines. The inclusive language guide is actually a practical application that you would use on a day-to-day basis, featuring inclusive language and visuals, being representative without tokenizing.
Then, apply a DEI lens to your work.
How can I make my communications more inclusive? How can I be more representative by honoring the people in the images without tokenizing them? How do I give them a voice? How do I hand the mic off to somebody who's part of this blog that we want to do around women's history month, and have the community speak for themselves?
There's a saying in the disability movement: 'Nothing about us without us.'

And so, that is something that is a beautiful model for all communities, right? Nothing about us without us. Communicators will typically and traditionally just go and write about somebody, and it's this deference of handing the mic over. I can't emphasize this enough: Let them speak for themselves.
Companies will post something around trans visibility, but they're talking about trans people, but not from the lens of somebody who's trans. And what is the point of visibility? What are we solving for with visibility? 
So, we need to understand that, as communicators, we have to look at our work from a DEI lens:
How inclusive are we in our language?
How do we incorporate the actual communities from which we are talking about through them, being authentic around that?
And then what goals do we have to keep ourselves accountable?
How do we embed DEI into our comms process and our editorial scheduling? For example, when we get together with Marketing to talk about Giving Tuesday plans and campaigns, whatever the campaign may be, DEI is built into the beginning.
If we aren't consciously communicating, then we are likely causing harm. We need to be more consciously aware of our power.
Some of us are hitting 'send' on an email that goes out to 350,000 people. We have not only the opportunity, but a responsibility to be a part of the social change, and that is by role modeling language that is approachable, accessible, conversational, and human . . . because we're the ones that are doing it."
4. In times of anxiety and uncertainty, how can communicators make sure their DEI initiatives are relevant and effective in protecting the well-being of employees?
Kim:
"You've got to do a lot of listening, and so really keeping a pulse on employees, yes. But we also have to really stay close with people managers. They're the least equipped to know what to do in those situations, so we've got to resource them, support them, train them, and make them accountable.
Our leaders didn't get to where they are because they're awesome at DEI. Nobody's asked them to be equitable. Nobody has required them to be inclusive and have an inclusive mindset. They don't know what that means. 
So you also have to have a very solid relationship, open feedback, and communication with your ERGs -your employee resource groups - and the people who are running those groups. They're the ones that you need to have an ongoing relationship with and an infrastructure in place around moments like Black History Month or Pride Month.
They're the ones that drive the content - not communicators."
5. What do you hope internal communicators will take away from your book and model?
Kim:
"Our book is to help communicators have a framework. The book provides frameworks that make us do an introspective dialogue that we can incorporate into our strategic planning, and we can gut-check it throughout the year to help us have the answers ahead of time so we are not on our heels when something else is going to happen.
Through this book, that's what we're trying to hand over - this kind of confidence in communicators so they can say: 'I am capable of being the strategic advisor, and this is our role as communicators in our overall DEI strategy within the organization.'"
6. How can IC pros protect their own mental health as they navigate difficult topics?
Janet:
"Communicators have a unique and singular role to play in conscious communications - but that doesn't mean it's easy.
They are asked, often, to communicate performatively. They typically have little to no power to refuse, even to suggest a different course of action. And many times, in the aftermath of a misspeak from a leader, they're the ones doing the clean-up. 
The DEPTH Model™ gives communicators an objective, repeatable, defensible tool to push back. It minimizes the need to fight against subjective issues - and the mental stress that comes from doing so."

7. What advice do you have for communicators as they move DEI from theory into action in their organizations?
Kim:
"DEI communications is simply not just the next evolution of the communications discipline. It's the now. You're actually late to the party, but glad you're here, you know?
We've had two years minimum. We've had longer, but certainly from a global level, we've had the last two years to learn and budget accordingly. A lot of us are entering into strategic planning and budget resourcing right now, and if you want to make a freaking difference in 2023, 2024, moving forward, then you have to be making those budget decisions now.
A budget is a moral document, so we need to prioritize investing in skill sets, and accountability, around DEI communication.
Having a DEI lens on our communications is required moving forward.
We cannot settle for less, but we have to give ourselves that grace of a learning environment in order for us to learn those skills and make mistakes.
It's not that we're not going to make mistakes. It's more about… how do we have better role models and learn better skills on how to repair situations when we do make mistakes? Because there are pretty significant consequences related to not doing anything.
People will leave jobs if we're not incorporating DEI into our communications.

Kim Clark
If you want to weigh the risks of doing nothing and thinking that DEI, in general, is just a trend, or you're just going to hold onto your britches until this wave washes... It's not going away, my friends. It's really not.
And so, just like companies who were forced to go through a digital transformation, which was hard, we have to learn new tools. What is this weird intranet thing, and how do I use my phone? There was a time when we were all there, and so we're just there with DEI now and how we apply it to our communications moving forward.
People need to see themselves in the future of your company, so be representative in honoring the variety of people that are at your company and give them a voice. 
People will leave jobs if we are not incorporating DEI into our communications. And it leads directly to people's health and wellbeing, and ultimately, actually leaving an employer."
---
Want to dive deeper into DEI comms and mental health? You can watch our LinkedIn Live with Kim Clark right here.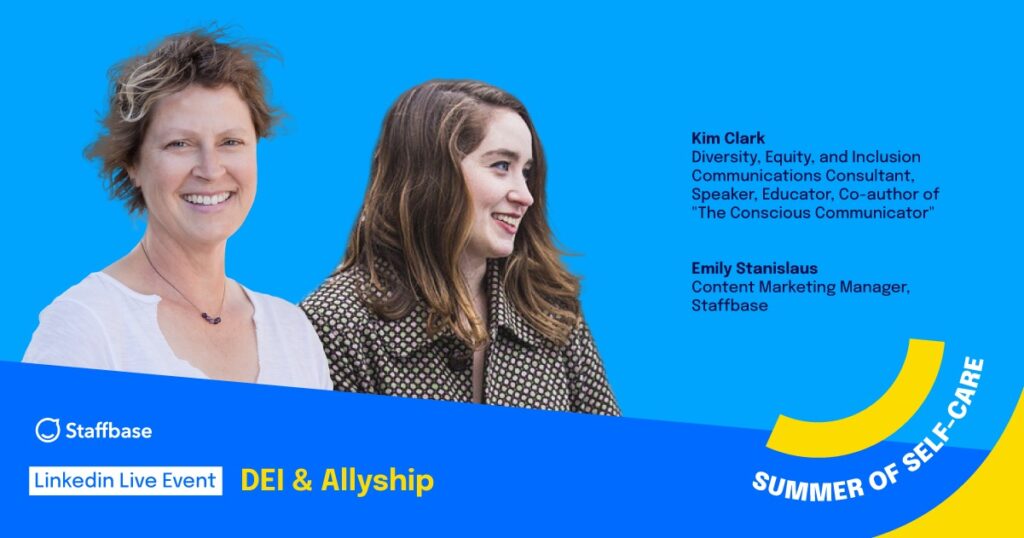 And when you pick up The Conscious Communicator, we're curious: How do you plan to apply Kim and Janet's approach to your work? 🤔
Continue the conversation with us in Comms-unity, our Slack group for internal comms pros from around the world. Join the #mental-health channel to share your thoughts.