Earlier this year we announced that Staffbase was teaming up with Bananatag to bring you their award-winning, easy, and powerful employee email designer. Since then, we've been busy bringing our teams and platforms together with the goal of making work easier, faster, and more meaningful for thousands of communication professionals worldwide.
Today we've reached an exciting milestone on that journey. Our first combined employee email product offering is here! Starting now, you can get your content out there on any channel — employee app, email, and intranet — all using Staffbase.
Sound like a big deal? We think so too!
Keep scrolling to learn how this new first version integration can help you break down communication silos, get more from your existing Staffbase platform, and reach even more employees through their most-used channels.
3 Reasons Email Is Increasingly Important for Internal Comms (Again)
Before we dive into the details, let's take a step back and see why email has so much value for internal communication. In the last few years we've seen modern communications teams come into their own, expand their toolkit, and finally start to get some of the recognition they deserve. 
While the work IC pros do has advanced far past popping a banner on an intranet start page or a poster on the wall, many of the core channels they rely on have stood the test of time — with a few modern upgrades of course. That's true for email too!
1. Email remains by far the most used internal communications channel.
According to the State of the Sector 2021 report by Gallagher, 97% of companies still use email for internal communications. While it may not be a perfect fit for every audience — especially frontline workers — there's no denying that email is still a powerful and popular tool in any communicator's arsenal. After all, as many time-strapped IC pros realize, if employees are already checking their inbox daily, what better place to reach them?
2. Battling information overload is more important than ever.
Unfortunately, that being said, when many communicators and employees think of "email" they also think of overflowing inboxes they can't keep track of. When asked this year, communicators said the #1 challenge standing in the way of their IC success is that "the volume of communication is too high." 
But what many savvy comms pros have also realized is that using email for internal communications doesn't mean shooting out dozens of messages daily that ultimately get overlooked by employees. In fact, many comms teams have started to use email, in particular employee newsletters, to stand out and simplify company communication. And it's working! Curated newsletters cut through the noise of daily work with memorable, on-brand email designs that highlight the most important news, right to employees' inboxes.
3. Other channels meant to reduce email traffic are now becoming cluttered themselves.
While employee newsletters are trending, many teams have also turned to other tools — like Microsoft Teams or Slack — to try to cut down on the constant flow of info. This has worked in part and given many teams a place to collaborate and discuss daily operations, which has become especially important with the rise of remote work. But at many organizations these secondary channels have also ended up becoming just as, if not more, busy than email ever was. Irony alert!

That means that while they might work better than email for 1-1 messaging or short-term conversations, they're an ineffective and unscalable format for company communication and information. That leaves many communicators looking for other options, including re-thinking email. 
How to Start Sending Email Comms To Your Employees with Staffbase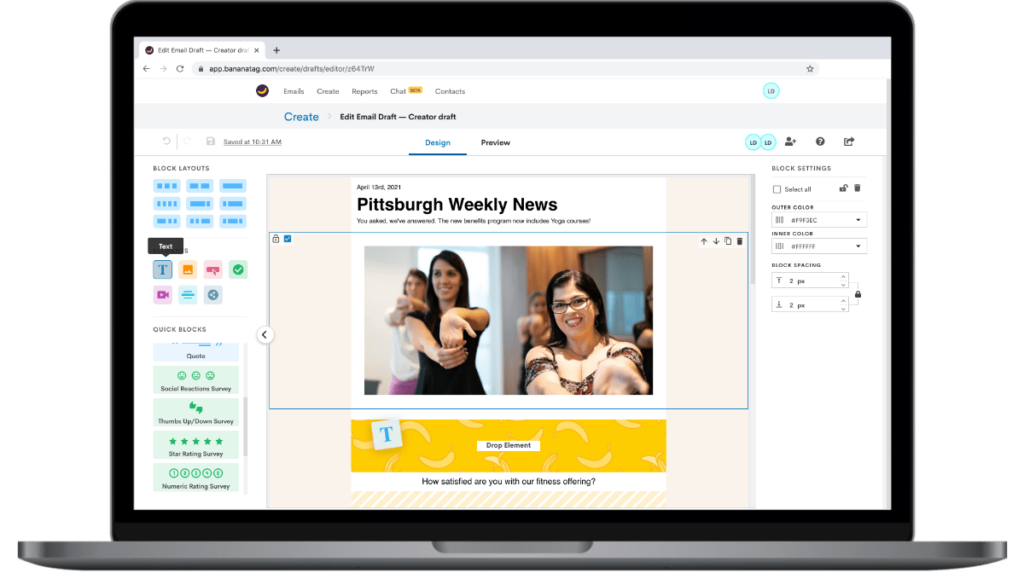 Now that we're on the same page about why email (still) matters, let's talk about how our new integration is going to help you make email an even more effective channel while also simplifying your daily work.

At Staffbase, one of our main focuses has always been giving you the tools you need to reach employees while also making sure those tools were as simple as possible for you to use. Now, instead of having to copy, paste, and reformat your content into a different system, you can get your content out there from one place.
The best part: it's super simple!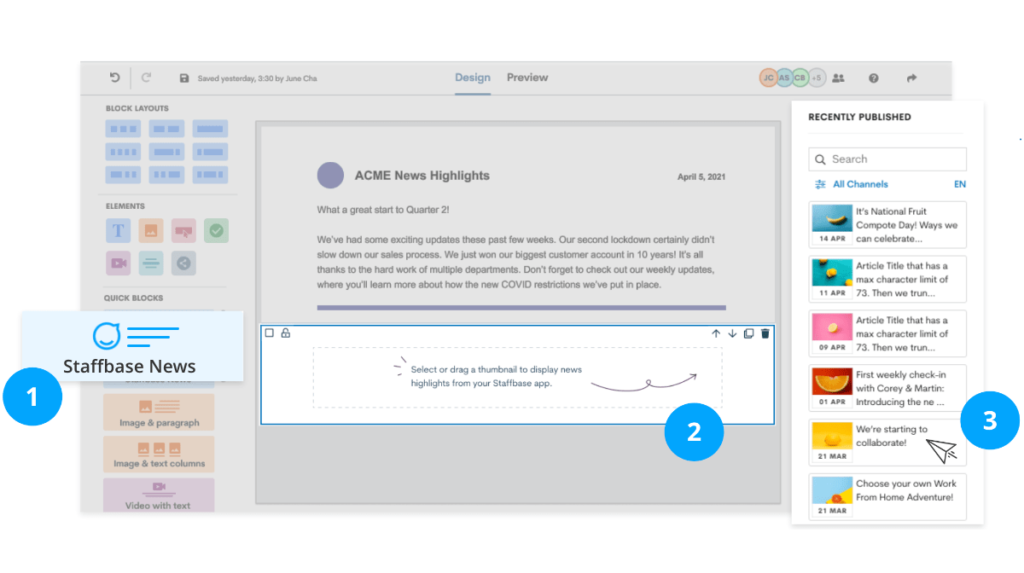 How to send email newsletters to your employees with Staffbase
Open the drag-and-drop email designer from the Experience Studio and start drafting a new email. 
Choose which content you want to include, and easily add existing Staffbase articles to your newsletter with just three clicks. 
Target your newsletter to employees who already use your app or intranet, or to new email-only users.
Sit back, click send, and relax.
Cutting Through the Noise
Not only is designing a newsletter with Staffbase a huge time saver, but using newsletters also opens up a whole new way to reach and engage employees via a relevant existing channel. The possibilities to boost your content visibility and increase reach and relevance are endless.

With the new integration you can. . .
Create regular recurring digests with the most important top-down news. 
Summarize articles from specific campaigns or topics in an easy-to-navigate format. 
Target digests with tailored information to specific user groups. 
Add full articles, or teaser content to lead users back to your app or intranet to drive adoption and reengage inactive users 
Collect timely employee feedback with embedded pulse surveys, and make your employee emails a two-way communication channel.
Measure Email Success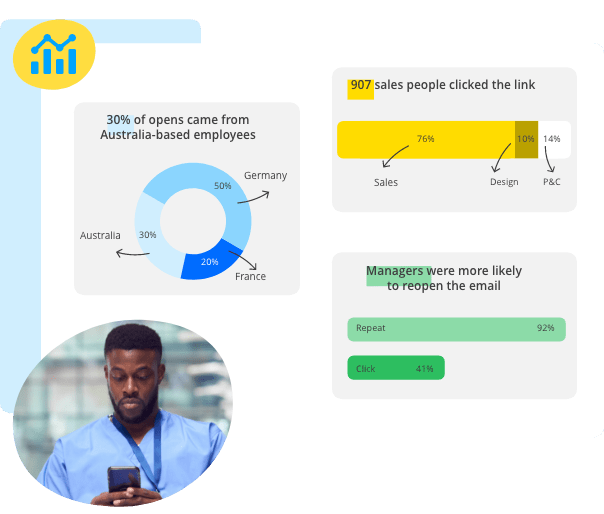 We know that creating and publishing is just one side of the coin for internal communicators. That's why the email editor makes it simple to get the numbers you need to prove your employee email success.
Using the built-in reports dashboard in the email editor, you can:
Measure effectiveness with detailed metrics on open and click rates, read time, and even device usage and heatmaps
Understand what's working and what's not for various employee groups with segmented reporting  
Create custom reports for in-depth reviews and see how email reach compares to your other comms channels 
As we continue to further incorporate email as an essential element of the Staffbase platform, we look forward to adding email numbers to the analytics dashboard in the Experience Studio. Stay tuned for updates.
Looking Ahead
Whether you're already using Staffbase or still considering our platform, we want to help you build your best internal communication!
This integration is a big step towards supporting that mission and helping IC teams get even more value out of our platform. But we're not stopping here! In the coming months we'll be back with more exciting updates on how we're combining all your channels into a one-stop-shop for bigger, better, bolder IC.
Ready to get started today? Reach out to your Customer Success Manager or let us show you how simple it is to send beautiful employee emails today with a free demo!