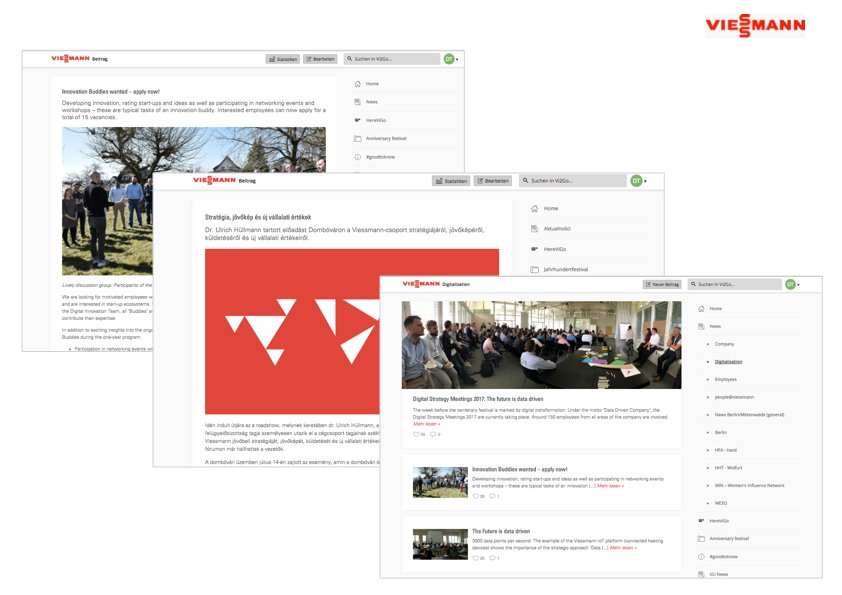 We can no longer do without the app. It's become the main hub for all internal communications, far surpassing our intranet use."

Carsten Lucaßen, Head of Digital Communications Projects, Viessmann
Viessmann is one of the leading international manufacturers of heating, industrial, and refrigeration systems. With 22 production sites in 11 countries, not only is the company's linguistic diversity enormous, but so is its number of non-desk workers. Because only a fraction of this massive, multi-lingual workforce was being reached via outdated print and intranet platforms, the company launched their Vi2Go employee app in February 2016. It was one of 16 initiatives that addressed digitization company-wide—not only in internal communications, but also in its product and sales departments.
Less than two years later, Vi2Go has approximately 7,200 users in eight languages throughout Europe; achieved a 90% user rate in Germany while generating a worlwide weekly user rate increase of 1%; and sees the creation of 3,000+ posts per year (that's 12–15 posts per day!) versus only 90 articles in the company's old printed newspaper.
Carsten Lucaßen, head of Viessmann's digital communication projects, has been driving this transformative process. In the following webinar with Staffbase co-founder Frank Wolf, he shares his experiences thus far with the Vi2Go app, and gives his insights regarding its successful implementation and adoption, not to mention his ambitious vision for the app's future.
Webinar highlights include:
How starting small led to big results

How timesheet integration was key for engaging their blue-collar workforce

Which use cases attracted older colleagues

How push notifications have accelerated internal communications (and why they should be limited nonetheless)

How senior leadership has been essential for the app's success

How Vi2Go is being positioned as a complete employee experience platform
To learn more about how an employee experience platform can help your company, we invite you to read the following articles or to check out our blog: