Three months into a new job, my director asked if I could give a talk at an industry event.
"Okay, sure," I said.
I was not sure. I was very unsure.
"How many people will be there?" I asked.
"About 250."
Gulp.
That's 250 people who could judge me and question my expertise. Did I really deserve to be there? Weren't there other people who had more experience in my organization who should be speaking instead?
These thoughts of self-doubt weren't new. They had crept up many times before, even before I started my communications career, so I recognized the source right away:
Impostor syndrome.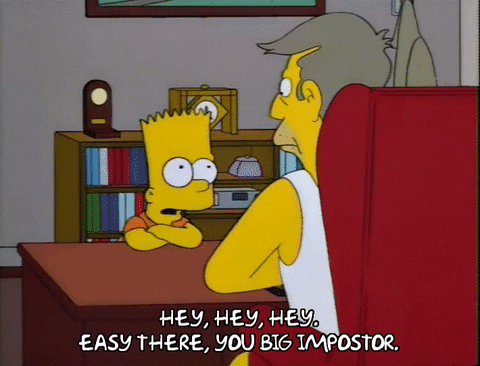 Impostor syndrome is a psychological pattern in which someone questions their skills, talents, or qualifications and becomes afraid of being exposed as a "fraud." Often, people who experience impostor syndrome doubt their achievements and convince themselves that they're getting by on luck — and not the actual hard work they've put in.
If you've experienced these thoughts before, you're not alone.
Almost every communications professional will experience impostor syndrome at some point in their career.
That's because communicators are often tossed into new situations as the expert wordsmith, spokesperson, coach, or jack-of-all-trades.
And it doesn't matter how confident you appear on the outside, impostor syndrome can still pop up and tear apart your confidence. If it's not addressed, impostor syndrome can have long-term negative effects on your mental health and well-being.
But you can also overcome impostor syndrome.
We heard from internal communicators who know what it's like to feel like an impostor.
Here's their advice on how to tame — and overcome — impostor syndrome:
3 steps to overcome impostor syndrome:
1. Acknowledge your inner critic.
It's not always clear when impostor syndrome will strike.
Like me, you could recognize that fraudulent feeling before a big event or speech. But it could also pop up when you're given a seat at the leadership table, or are asked to communicate to your whole organization in a crisis.
It can be hard to recognize, too. Sometimes you won't notice it until you end up feeling anxious, defeated, or burned out.
Advita Patel, Director of Comms Rebel, told us about her own experience with impostor syndrome:
Impostor syndrome is when you have the skill and you have the talent, but you just don't believe in your own worth. You normally know how to do [your role] and you normally have the skills to do it, but your own internal impostor is telling you that you don't; that you can't do it."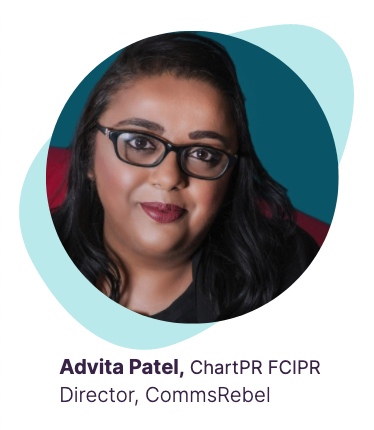 Advita also pointed out that impostor syndrome affects many internal communicators because they set high expectations for themselves.
And as senior leaders realize the importance of internal communications and include communication professionals in leadership discussions, those internal communicators can feel added pressure to succeed. That means they are also more susceptible to experiencing impostor syndrome.
To overcome impostor syndrome before it becomes overwhelming, Advita encouraged internal communicators to acknowledge their inner critic:
Internal communicators know the organization. They're quite competent. But all of a sudden, because of the attention [from leadership], the spotlight is on those individuals. They're just going, 'Oh my god, I don't know how to do this. Do I know the answers?' And they're questioning their self-worth a lot of the time.

So definitely give yourself permission to understand what impostor syndrome is and don't be too hard on yourself."
I can't emphasize Advita's point enough: don't be too hard on yourself.
By recognizing impostor syndrome, you'll find it easier to talk through these feelings of self-doubt with friends and colleagues.
And guess what?
It's likely they've also struggled with impostor syndrome and will have some tips and tricks to share.
2. Find a support system. 
When I was prepping for the big presentation, I knew it was impostor syndrome that was causing all of my self-doubt and negative thinking, but I still couldn't shake it.
I needed backup.
So I reached out to a close group of comms colleagues to get their perspective on impostor syndrome.
I spoke honestly and told them my biggest fear: that a negative thought would creep into my head during the presentation and derail the whole thing.
My colleagues were really receptive and shared their own personal experiences with impostor syndrome.
Those conversations helped me realize that it's really common for communicators — at any stage of their career — to question their self-worth and expertise.
I also realized that this comms support group had my back.
For Jenni Field, Director of Redefining Communications, finding a support system has made all the difference in taming her own impostor syndrome:
We will all get [that impostor feeling]. For me, it's about finding people that I can test my thinking with.

Because [that feeling] is always going to come, and I don't think it ever stops coming up. It's just [about] learning ways to deal with it and recognize it, and enabling yourself to move forward."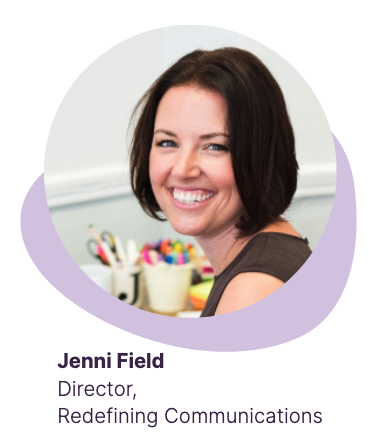 Whether it's a coworker or a mentor, establish a support system where you can share your experiences and get feedback from the people you trust and who have "been there."
In turn, you'll also be able to help support your colleagues through their own challenges.
Kim Clark, employee communications coach and D&I expert, encourages communicators to create peer support groups:
I started a weekly internal communication support group. It's a safe space to talk. And we tackle a topic [each week], like burnout.

So talk to your peers, who understand what you're going through. And come together to support each other."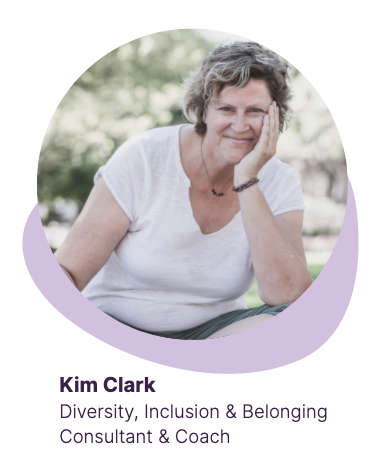 It's a relief when you can talk to someone who just gets it.
And as more of our lives shift online, there are more opportunities to connect with supportive communicators from around the world.
Comms-unity is one online community where comms pros connect and build relationships, share industry lessons and insight, and give or seek advice.
Just search for the hashtag #internalcomms and you'll find a healthy community of communicators on LinkedIn and Twitter who love talking shop and supporting each other.
If you're more introverted and interested in more passive community support, you may want to try attending a few webinars like this one on overcoming impostor syndrome, subscribing to newsletters like Advita Patel's Comms Rebel, or listening to an internal comms podcast like Internal MisCommunications — all about how to overcome failure.
Whoever you surround yourself with, a support group will serve as a vital sounding board as you learn to overcome impostor syndrome.
3. Compartmentalize your doubt and lead with courage.
Two hours before stepping on stage, my impostor syndrome crept back in. (Fun!)
But I knew that giving into negative thoughts was not an option. I was committed to representing my organization, my leadership team believed in me, and I was deeply motivated to share our latest work with an engaged audience.
I recalled the advice of my comms support group: almost everyone is terrified of public speaking — even the most confident speakers.
Jason Anthoine, managing founder of Audacity, recommends that communicators compartmentalize their feelings of self-doubt to give way to courage:
We're just as scared as everybody else. We're just as confused as everybody else. And yet we have to spend all of our day making sure that our employees don't feel that way. So that takes a ton of courage to overcome those emotions.

You can take that [self-doubt] and put it in a box. You can recognize that that's how you feel and, at the same time, do your job."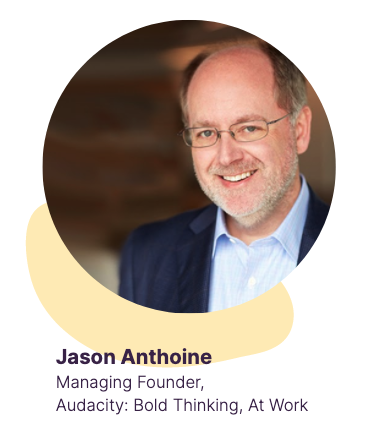 Don't dismiss your doubt. Instead, separate it from the work you need to do.
It's an important mental exercise that will help you lead your comms with courage, especially in times of crisis.
As an internal communicator, you have to provide a sense of stability and trust in your messaging. And, on top of all that, you also need to help boost your employees' confidence to do their jobs.
Kristin Hancock, employee engagement specialist, echoes Jason's advice. She acknowledges that the pandemic years, in particular, has been difficult for many communicators.
You've been thrust into new, uncomfortable situations and that means impostor syndrome feeling can come creeping back in really fast.
Kristin emphasizes that, in times of self-doubt, we all need to remember to be compassionate:
Be kind to yourself, be kind to others. Give yourself compassion and some credit. We're all doing the best we can."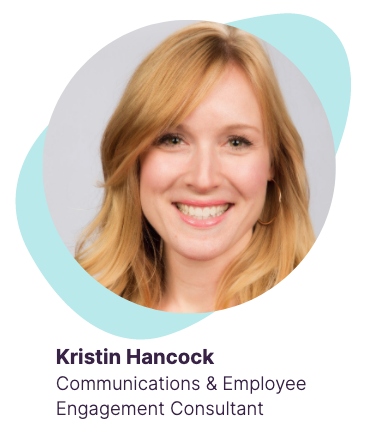 You can conquer impostor syndrome.
I did end up giving that presentation to 250 people.
Four years have passed since then, and I can say that it changed my career for the better. More opportunities opened up and I got to put "public speaking" on my resume (who would have thought?).
Of course, there are still days when I don't feel as confident. But I've developed my own tactic to keep the motivational words of my comms support group alive.
When that nagging voice of impostor syndrome comes creeping back, I take a moment to write down: "You can do this."
I place this sticky note or piece of notebook paper somewhere I can see it to keep my thoughts on track.
Find something that works for you.
Sure, impostor syndrome is pretty terrifying. But it's also an opportunity to find your support system, grow beyond your comfort zone, and lead courageously.
Here's my little sticky note to you, fellow communicator:
You can do this.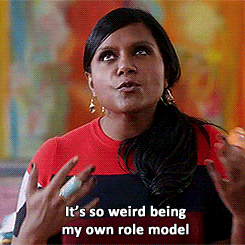 And remember: you're not alone.
When it comes to feelings of self-doubt and anxiety, you're not alone.
That's why we are shining a spotlight on mental health in internal coms with our Summer of Self-Care series, featuring blog articles, LinkedIn Live events, discussions, and support groups in the mental health channel of Comms-unity. 
One way to maintain your well-being that we're exploring is the concept of resilience.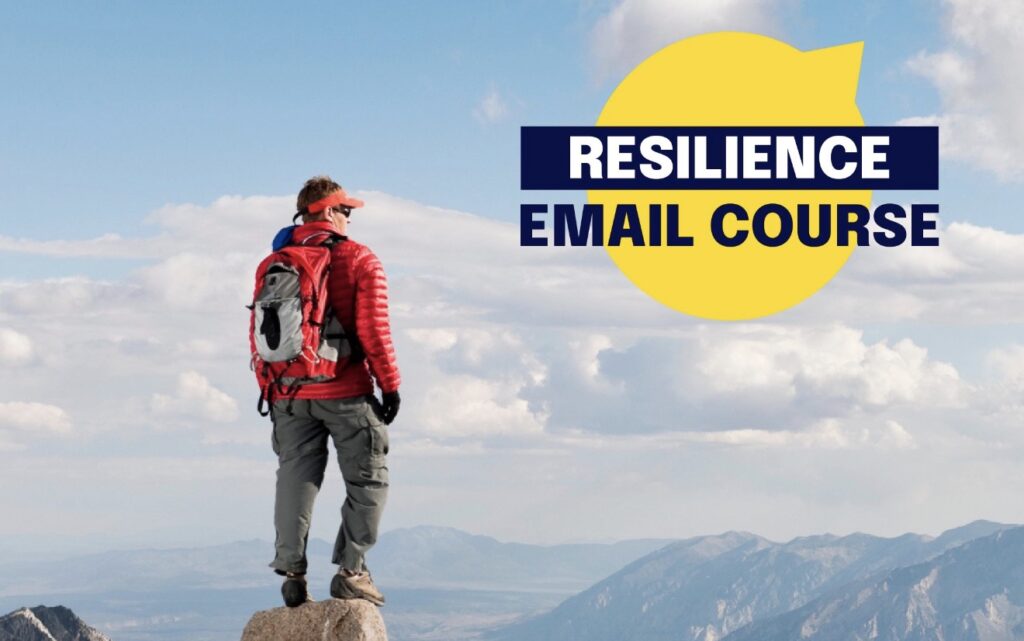 If you want to learn more about how to cultivate resilience, sign up for our email course, Let's Get Real About Resilience.

Four emails. Four weeks. Practical tips you can apply to your life.

Every lesson is written by Ralf Junge-Pearl, Head of Content at Staffbase and certified resilience trainer.

Each week, you'll learn how to:
better understand your emotions and reactions to stress 
recognize the sources of stress in your life
protect your mental health at work  
practice resilience
Already in the course? Eager to learn more? Wherever you're at in your mental health journey, connect with us and continue the conversation in Comms-unity.

We'd love to hear your thoughts on the course! 💡