Have you ever been part of a club? It's fun, right? That immediate connection among people who share similar interests. Well, connection was the feeling in the air on a warm October afternoon in Boston, Massachusetts, as Jeff Corbin, senior strategic advisor at Staffbase, opened the first ever meeting of Comms Club. 
Formed to celebrate and engage the internal comms community, Comms Club is a series of informative half-day sessions designed for IC professionals. It's an opportunity to network with peers, hear Staffbase customers share their strategies for communications success, and workshop solutions for overcoming common IC obstacles.
Transformation was the big theme of the day 
After a light lunch and a chance to mingle, Jeff began his remarks by asking: "Where will the IC industry be in five years?" With internal communications playing a greater roll since the start of the global pandemic, it's a question many in the room had likely already been asking themselves. 
Given the momentous changes taking place in the world at large and in businesses in particular, aligning employees behind a common mission is a crucial challenge. This is doubly hard when 80% of today's workforce consists of remote, hard-to-reach employees.
To illustrate how one company successfully managed a radical but necessary transformation, Jeff told the story of Viessmann. 
The manufacturer is a world leader in heating and refrigeration systems, and has a long tradition of success. So when their leadership acknowledged that the company needed to drastically change its mission to adapt to a more energy-sustainable future, many of their employees resisted the idea. Why change a winning formula?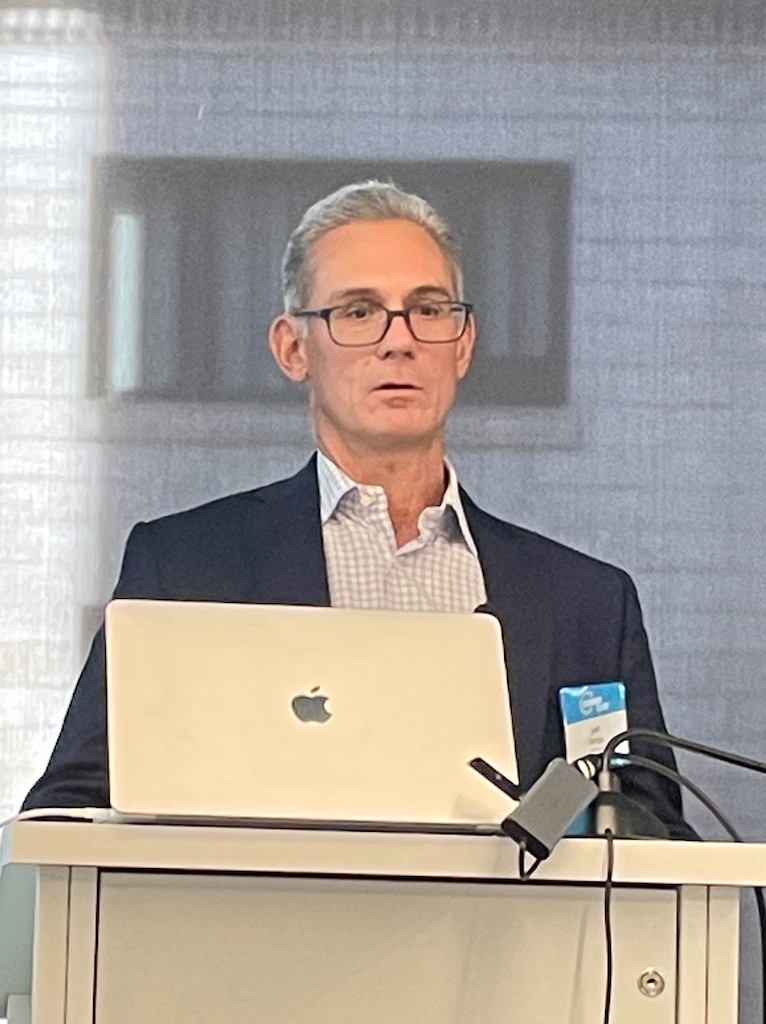 According to Jeff, "For the first time, the leaders at Viessmann had to actively manage how their employees saw their company. They had to gain back control over the narrative regarding who their company wanted to become. They needed to own their story. Suddenly, effective employee communications was no longer optional . . . It was a question of survival or failure." 
This is the work of internal comms today: creating and sharing a company's narrative at a time of fundamental change. Communications technology provides the means for doing this important work. Whether it's supporting greener alternatives, promoting DEI and mental health initiatives in the workplace, or the wide array of issues related to the changing ways we work, effective communication sits at the core. 
Making IC the source for understanding ALL of a company's people
And this communication isn't only traveling in one direction. Comms is now also responsible for educating the C-level about employee concerns. But building efficient communication channels often means rethinking company structure. 
Jeff shared an important insight he learned when building comms-centric organizations. One early step is determining how to segment an employee database in order to target content to specific groups of workers. The problem is that many companies are at a loss to articulate their structure and a complete landscape of their workforce. 
Most org charts provide a picture of a company from a management perspective. But what about what's often a majority of non-management employees? What about the truck drivers, warehouse workers, and people on the factory floor? Where do they sit?
Answering this question is key to establishing effective communication with every worker. It's also key to understanding the overall structure and the full landscape of a company.
It's an exercise that's likely to turn a company's organizational chart upside down. A comms-centric structure will focus first on the hardest to reach employees, with those easiest to reach (senior management) last. 
But as Jeff stressed, this is where a great opportunity exists for internal communications. Being the go-to source for understanding ALL of a company's employees — where they sit, how they prefer to get important information, and what matters most to them.   
Internal comms helping to manage a historic change at GE
Turning a company's org chart upside down is one thing. But what about splitting a multinational conglomerate of 168,000 employees into three separate companies? What's the best way to communicate with everyone in these proposed new companies? Answering that question is the incredibly challenging job of Greg Petsche, Director of Business Transformation Communication at GE. 
As announced in November 2021, GE is planning to form three new global public and industry leading companies. The proposed new companies will be focused on healthcare, aviation, and energy: GE HealthCare, GE Aerospace, and GE Vernova. Given such a massive transformation, leadership has turned to internal comms to help drive it. 
In the midst of the excitement, there's also change and uncertainty. The company knew it needed a more agile and targeted way to get communications out and to engage with employees throughout. 
Building a coalition of support
The company needed what Greg called "a coalition of support" between HR, IT, and Communications. Together, they asked themselves, "Is there a better way?" They've been preparing a new comms strategy centered on a contemporary and more seamless user experience for both employees and the communications team members. To enable their improved comms and to give employees a better UX, they've decided on a do-it-all, multichannel single platform solution with a powerful metrics dashboard. 
When GE spins off its first new company GE HealthCare in early January 2023, it will be off to a great start with a truly modern and agile communications management platform.
You're not alone and your challenges aren't unique. Take advantage of your IC networks, both within your organizations and from the community at large"

Greg Petsche, Director of Business Transformation Communication, General Electric
Of course, once any company has the ability to target content, the question then becomes how exactly to do that. Greg and the business communications teams are working on the change management needed to ensure the way they work is structured to complement this powerful new communications platform. And they've been thinking about agile ways to empower people to push information. This comes with relinquishing a certain measure of control.
But the driving belief is that with technology finally catching up to longstanding comms needs, communication will become far more strategic. This conviction seems fitting. It mirrors the strategic thinking behind the company's historic plans to spinoff into three separate, public, and industry leading companies.
Wrap everything in purpose
The day's final session was a workshop led by Andrea Greenhous of vision2voice. In keeping with the day's overall theme, the topic was change management communications and how to accelerate transformation and build resilience.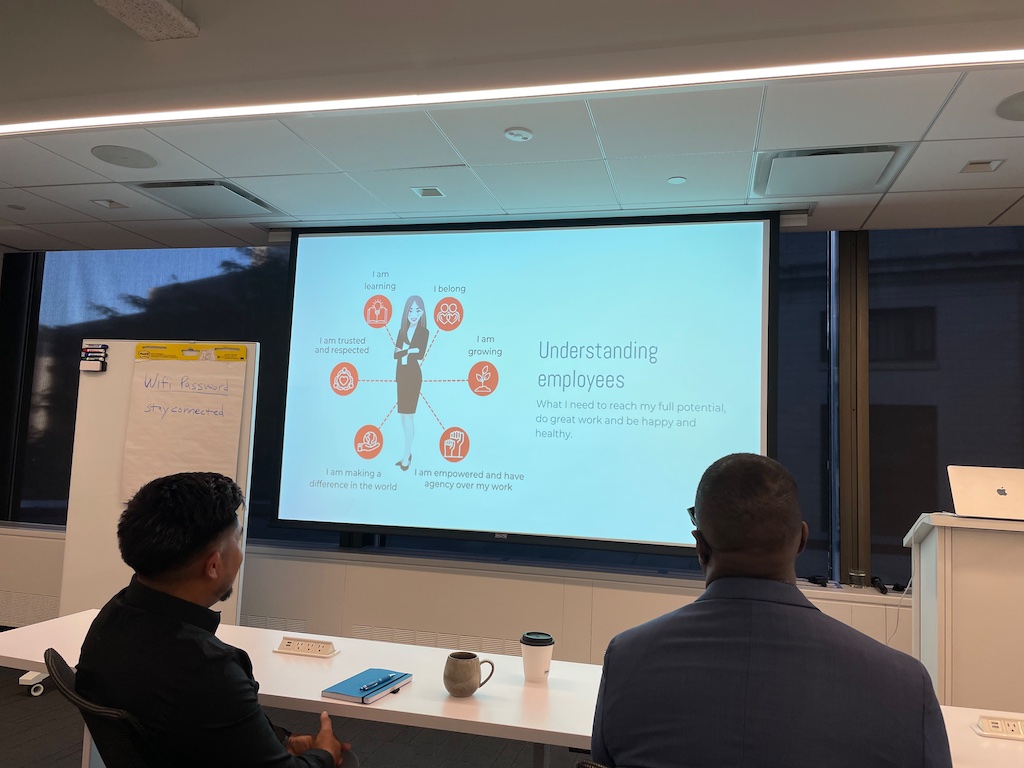 Andrea began her presentation by asking everyone about the internal communication models in their own organizations. Is it ad hoc, managed, or strategic? Not surprisingly, it was somewhere between the first two models for most of the participants.
But no matter the model, employees, Andrea said, are always looking for clues as to how to best do their work. Communicating well therefore means understanding people, knowing their different needs, and equipping them with the appropriate tools and information. 
Everything internal communicators share should be wrapped with purpose." 

Andrea Greenhous, CEO, Vision2Voice Internal Communications
Enabling a growth mindset means asking how your communications make people think, feel, and act. But to truly drive strategy, one needs to first understand the goals of an organization. 
Creating compelling content depends upon knowing how organizational decisions are made, what differentiates you as a company, and what your people want. 
3 Comms Club Tips for Effective Internal Comms
Equip your people with information to succeed
Harness the ideas and insights of ALL your employees
Energize your people with purpose
Andrea ended her talk with an important message of caution. Internal comms can enable organizational success, but success is not entirely up to them. It takes everyone in a company being on the same page in order to achieve real success.
What's a club without some fun?
Once the presentations had ended, the final highlight of the day came with a chance to network with our new friends. This is when the club-like atmosphere of Comms Club really made itself felt. While internal communicators know that their work is important, it's no secret that they sometimes feel isolated in their organizations. Not so at Comms Club.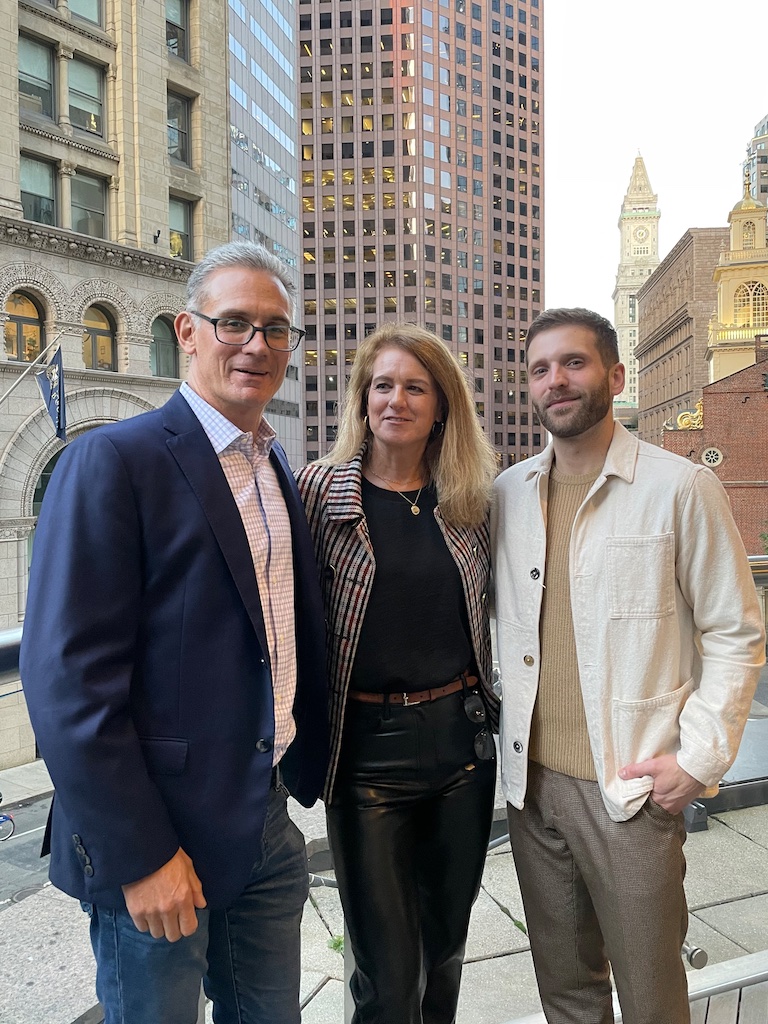 Stepping outside of the confines of their day-to-day routines and having a chance to share stories, ask questions, and get welcome confirmation for their efforts, Comms Club gives its members an opportunity to see their work through fresh eyes while making friends and valuable connections that they can turn to for future advice.