The last few weeks have certainly been rough. But, there's light at the end of the tunnel. While things may not go back to normal, we're returning to work. For many employees, getting back on board means a lot of catching up. Whether it's getting used to a new shift plan or store layout, understanding updated guidelines, or adapting to more fundamental changes in company culture and internal communications strategy, the learning curve is steep.
So, as an internal communications professional, what can you do to make the difference for your team and ensure a smooth employee reboarding?
Think digital! If the last few weeks have shown us anything, it's that the further away we are from one another in our daily routines, the more we rely on digital connection and communication to hold us all together.
That trend is here to stay. Here are six ways you can use a digital solution to make the difference for your reboarding strategy:
1. Reopen Your Doors, Digitally
Returning to work doesn't necessarily mean returning to your old schedule. Many organizations are planning for staggered starts, rotating teams in-and-out of the office depending on days of the week, or enacting "one week on one week off" policies. 
Even the most organized schedule can be overwhelming for employees. That's where digital event registration can help. Organizations can quickly create a schedule for "in-office" hours and set a limit for the number of employees allowed at a location per day, per local health guidelines.
Employees have an overview of available slots and simply sign up for office time directly from their smartphones.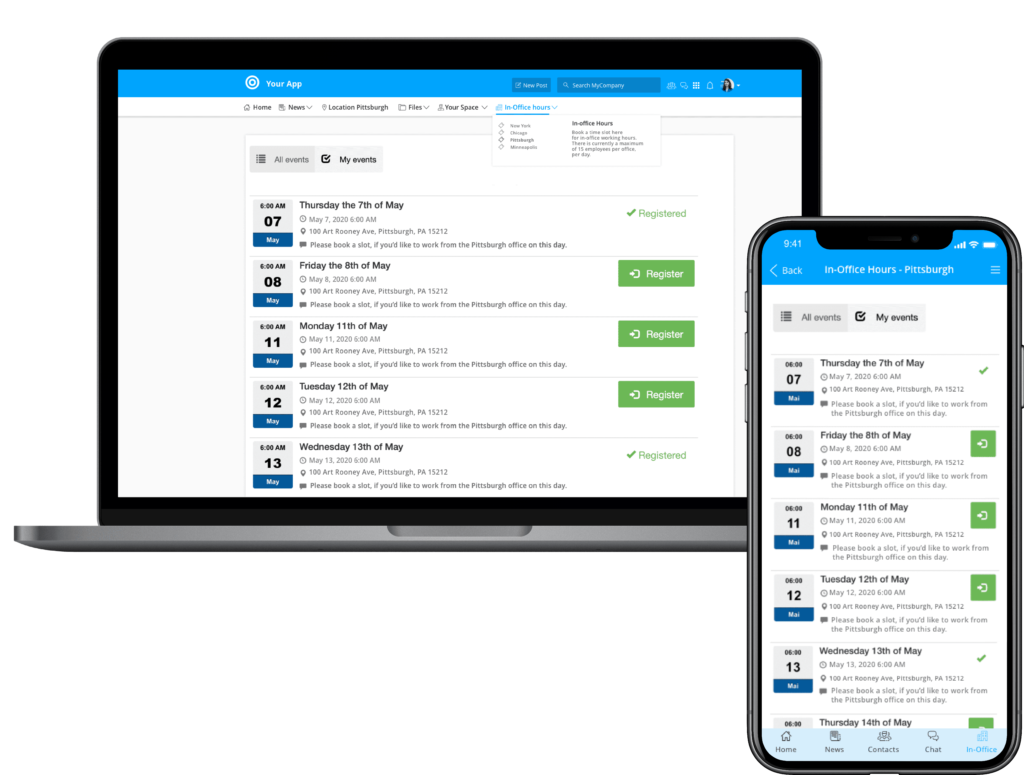 Simple, digital scheduling cuts down on confusion and empowers employees to organize their return to the office in a way that's measured, safe, and easy to keep track of.
Meanwhile, management can simply export the registration information and have a streamlined report of how many and which employees were at a location on any given day. This makes the return to the physical space trackable, scalable, and simple to adjust for changing health and safety restrictions. 
2. Make FAQs Easy to Find and Answer 
For communications professionals, employees returning to work can also bring with it a tidal wave of questions. From their first moment back on the job, employees need to know where they can find the answers and information that's relevant to them. Be the credible source for all your employees and help them get answers quickly, with a designated reboarding hub.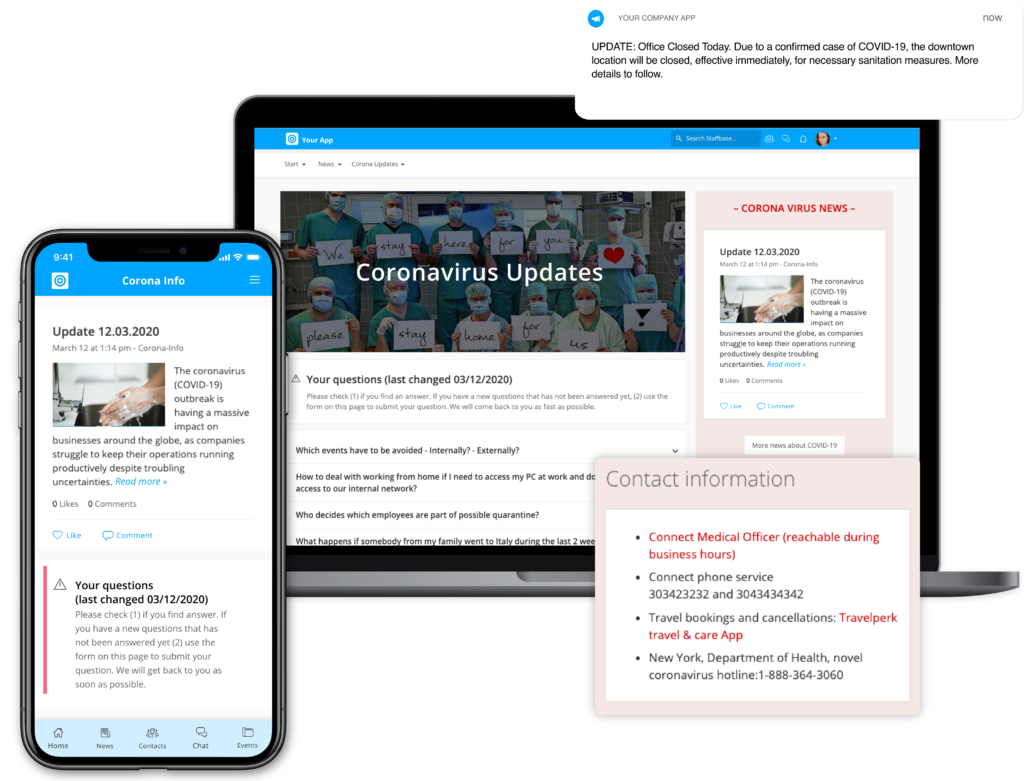 Whether it's about a company-wide policy or a department-specific protocol, a unified, accessible starting point for all employees will be a crucial resource in the first days back to work. And, as we all slowly acclimate to our new normal, having a place to return to to find updates and review FAQs can put an end to  endless emails and repetitive questions.
So, what should a reboarding hub include?
Alert employees to critical changes with targeted notifications that push the right message, to the right people, instantly.
Put a face to initiatives with easy-to-find contact information.
Highlight essential documents and create a path to additional info.
Keep a structured list of FAQs and create a unified way for employees to ask further questions.
3. Make Collaboration Safe and Convenient with Chat
Once employees are back to work, they're also going to be back in teams and groups. While they may have missed the regular standups or watercooler chat, physical distancing, new floor plans, and restrictions on meeting space may make it impossible to jump right back into old ways of collaboration. That's where instant messaging comes in.
An instant messenger for businesses keeps professional conversations convenient and secure for all employees, whether they're working from home, the warehouse, or the corner desk.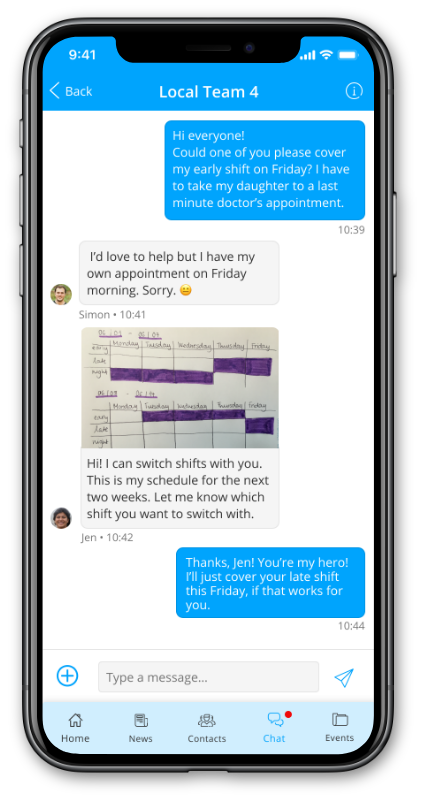 Group chats can easily be created by location and department, ensuring urgent updates don't go unnoticed by those who need them most. Sending direct messages is also a convenient way to share to new guidelines or crucial documents to employees who don't have access to company email.
4. Keep Feedback Loops Fast and Personalized
As your organization reboards, it will be crucial to get feedback from employees. Involving employees in the process will not only ensure a smooth and safe transition but also boost team spirit and encourage engagement. These will be critical factors as everyone ramps back up to full productivity. However, traditional employee surveys are simply too slow and siloed feedback channels complicate processes during a time in which it's vital to have everyone on the same page.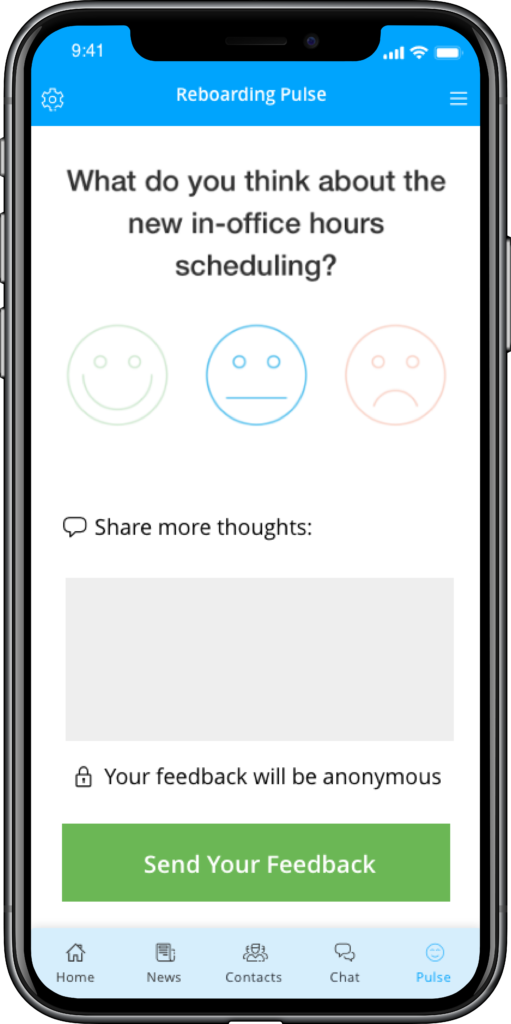 A pulse survey can make all the difference. WIth just a click, workers can immediately tell you how their day is going or let you know what they think about a new reboarding measure.
For administrators, this check-in is a unified, scalable way to track employees' experiences day-to-day and get feedback instantly. Prompts can be targeted to specific departments or employee groups to get feedback on specific policies or gauge the mood of one particular team. This daily dialogue makes individual employees feel like they have a say in the reboarding process, while also making it quick and simple to keep your finger on the organization-wide pulse. 
5. Offer Flexibility & Support with Digital HR Services
With even the best planning, there will be some factors that simply fall outside of your company's control during the reboarding process. Though workplaces are reopening, many schools and childcare facilities remain closed. Parents can't "return to normal" if their kids remain at home.
Other employees may face struggles with public transportation, caring for sick or elderly relatives, or falling ill themselves. For the coming weeks, this makes having a coordinated strategy near impossible without flexibility on a case-by-case, employee-by-employee basis.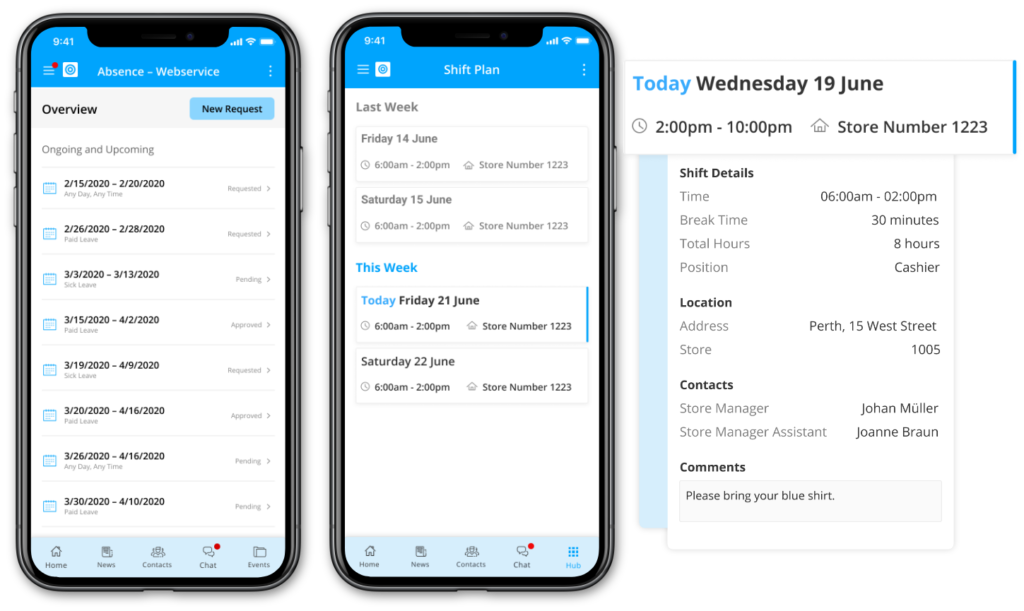 A great way to incorporate that flexibility is by taking HR services—like planning vacation or sick days and shift scheduling—digital. Immediate, mobile access to HR services keeps lines of communication between employees and their managers direct, and ensures employees don't have to make unnecessary trips to the office to submit paperwork, or panic about receiving approval for last-minute requests.

This also simplifies administration for HR departments, with all requests stored in one unified platform, and cuts down on outdated paper processes.
6. Lead with Transparency
During this crisis, where have employees gotten information about their organizations from first: company leadership or media headlines? In the post-coronavirus future, transparency is going to be more appreciated than ever. Employees want to hear from your organization directly. With a digital solution, communications teams can be proactive, put a face to their company leadership, and create a direct line to leadership.
A "CEO Blog" allows management to give direct updates, get ahead of the rumor mill, and address remote teams and workers personally. Videos and commenting in real time make the experience interactive and personable for every employee.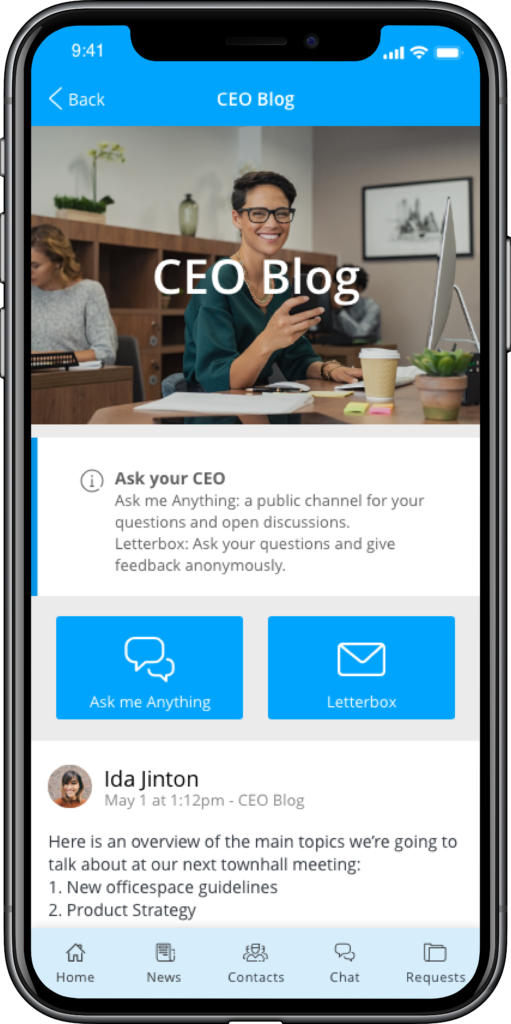 Including an "Ask Me Anything" or "Letterbox" feature means employees can even reach out to leadership directly. Posts can be published publicly or anonymously to ensure everyone can comfortably give feedback or ask questions. 
Back on Board
The reboarding process is a great opportunity to use creative, digital solutions and authentic communications to make a difference for your organization and employees. Looking for even more intranet ideas? We've got a blog on that!
Read more about modern intranets: