Mobility has become a central part of our personal lives, so it shouldn't come as a surprise that your people are now demanding its many benefits at work. Millennials and Gen Z are particularly used to getting constant feedback and communication through their smartphones, and they expect the same experience on the job. And with the war for talent reaching fever pitch, even applicants are making mobility demands of their potential employers.
Gone are the days when there was a clear distinction between a person's professional and private lives. And because the separation between work and home (and everywhere in between) has largely disappeared, divisions in how we use our time are eroding, too. Work is now something that we can do whenever and wherever, and perhaps because it touches the entirety our lives, people today largely believe that work should be more than just what they do—it should reflect who they are. In order for companies to be successful in this new environment, the sensible first step is to change the way they communicate internally. 
Employee apps are the answer to the question of how this can be done. They enable companies to connect even the most widely distributed or remote workforces as well as offering use cases for every step of the employee lifecycle. A mobile employee app increases engagement, brings the advantages of social sharing to the workplace, and facilitates push notifications for immediate reach.
1. Understand what motivates your management
Have a clear understanding of what your organization is trying to achieve—and why. A sense of purpose is a motivating factor for employees around the world. Chances are this applies to your management, too.
Understanding the goals of your company will help you to align the benefits of an employee app with the goals of your team and organization.
Here are three arguments you can use to your advantage:
2. Involve senior executives early in the process
Do your best to get management on board right from the beginning instead of trying to sell an idea to them later in the process. If they feel involved from day one they are far more likely to support you down the road. And research shows that management's involvement will ultimately motivate adoption of the app throughout your workforce.
Clearly illustrate how an employee app can solve a specific challenge faced by your company (e.g., poor internal communication) instead of presenting a solution without a context. It's far more likely that your C-Level will support a tool that solves a proven challenge.
During the process, update your executives frequently so that they can better understand the steps being taken. Having this kind of ongoing discussion will provide you with valuable insights and let your managers take ownership for their (always excellent) ideas.
3. Ask questions with answers beyond yes or no
Avoid ultimatums and start small. For example, ask to begin your app project with a research phase or a pilot. Another possible option might be to roll out the app to a limited number of people, locations, or departments.
And don't forget that the Staffbase employee app gives your company the opportunity to design customized plugins based on our APIs. So refrain from saying "no" to any request before first asking us just what's possible. 
4. Be prepared for a second or third round
Chances are, your leaders won't immediately love all of your suggestions. But don't give up, collect every open question and doubt, negotiate a time frame for coming up with some good answers, and set a follow-up meeting as soon as you can.
Take management's problems into consideration and don't dismiss their worries. Rome wasn't built in a day, and often you'll find that the people you talk with simply haven't given a great deal of in-depth thought to the topics you're raising.
Let your ideas sink in, and if you've managed to provide some useful information you'll likely find that subsequent rounds go much smoother.
5. Tell a persuasive story
Of course it's easier said than done, but try to present your ideas in a convincing way. You need need a strong pitch and a story that is as captivating as it is persuasive.
Here are a few tips to tell a story and bring your points across:
Know your message: Kids openly resist doing what they're told, and even adults are less open to decisions that seem forced upon them. Instead of trying to push a solution, start by outlining the problem you're trying to solve. Consider the reasons why you've reached your conclusions and try to bring them across to your audience. The "why" is the heart of your message.
Find the right example: We tend to be abstract when we're trying to make a point. Find real-life examples that are relatable and likely to create feelings of empathy and understanding.
Weave your narrative: A strong structure is the basis of every story. Start by illustrating your "why," follow up with your solution, and explain with conviction the benefits you believe it will bring. Try to paint a picture that will compel your audience and draw them in.
Support your argument with facts: While emotion and good storytelling might work to convince some people, most C-level executives are all about the numbers. Our tip: Close your presentation with some killer facts.
Need more inspiration? Download our SlideShare with its (proven) arguments for convincing leadership that it's high time to get an employee app: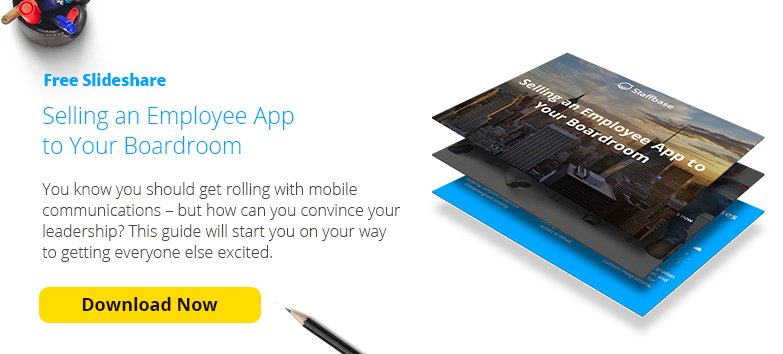 6. Don't forget the "how"
While it's important to start with the why, don't forget to be precise about the how. Present the likely first steps of the app deployment to your audience, be prepared to answer different questions from different departments, and learn how the processes work in order to explain them as clearly as possible.
Here are some resources that should come in handy:
7. Show me and I'll remember—Involve me and I'll understand
An employee app is a hands-on product. The first step on the road to getting people excited is to show them what it looks like. And involving them is even better than showing them.
Set up a test app with Staffbase and invite your C-level to try it out. Using the app and seeing its many functionalities in action will make a far better point than words ever could.
Read more about employee communication apps: