The Staffbase Internal Communications App is a branded crisis communications communications platform from Staffbase — makers of the leading employee app and employee experience intranet — specifically designed for quick and easy set-up, immediately allowing you to reach your entire workforce in real time and steer your crisis communications with confidence.
Now more than ever, it's clear that when crises inevitably arise, internal comms need to jump into action right away. Not next week. Not next month. Now.
That's why our crisis communications app offers same-day delivery of our tested, ready-to-go template. Your team can immediately start preparing and publishing critical news and resources, all of which can go live to every one of your employees in just three days.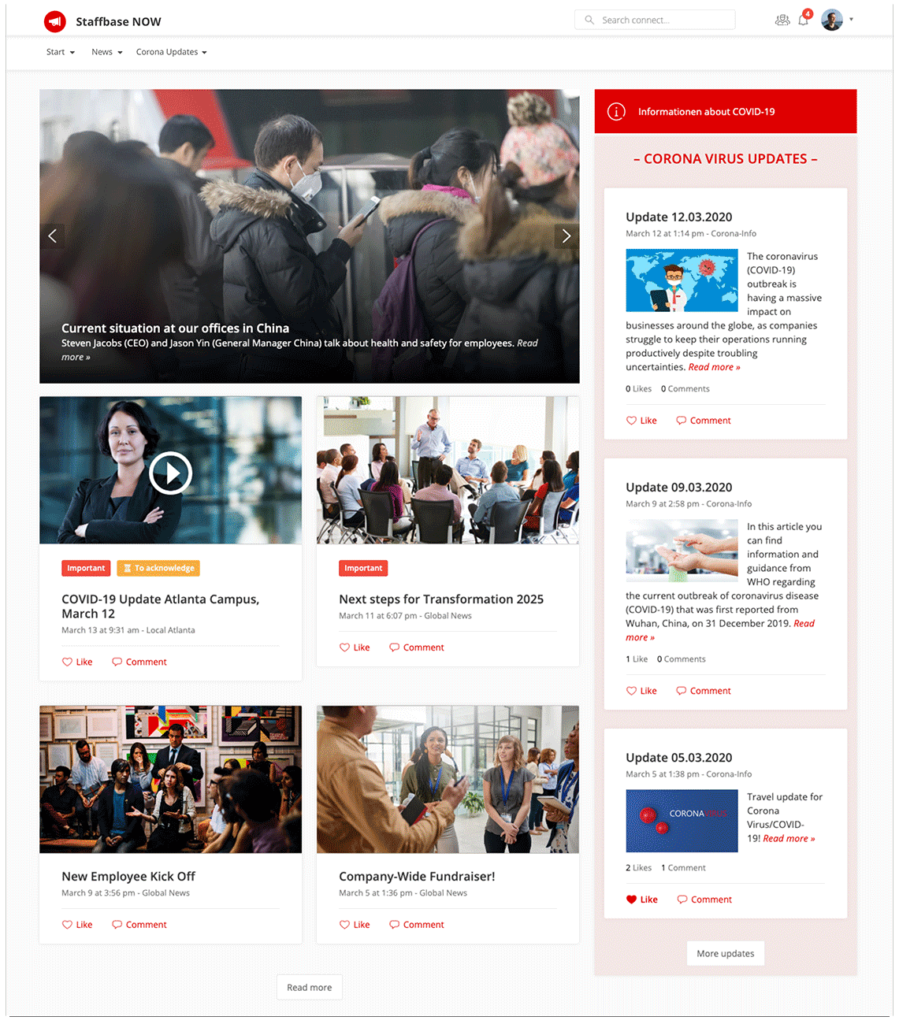 The Staffbase Internal Communications App works on all of your professional and personal devices, including desktop computers.
Keep your people in-the-know, no matter the circumstances.
An internal communications app is a real-time communications platform for today's always-connected employees. Because let's face it, the only way to reach your entire workforce at a moment's notice is via their private smartphones. A branded company app that's available for download from all major app stores lets you get there fast.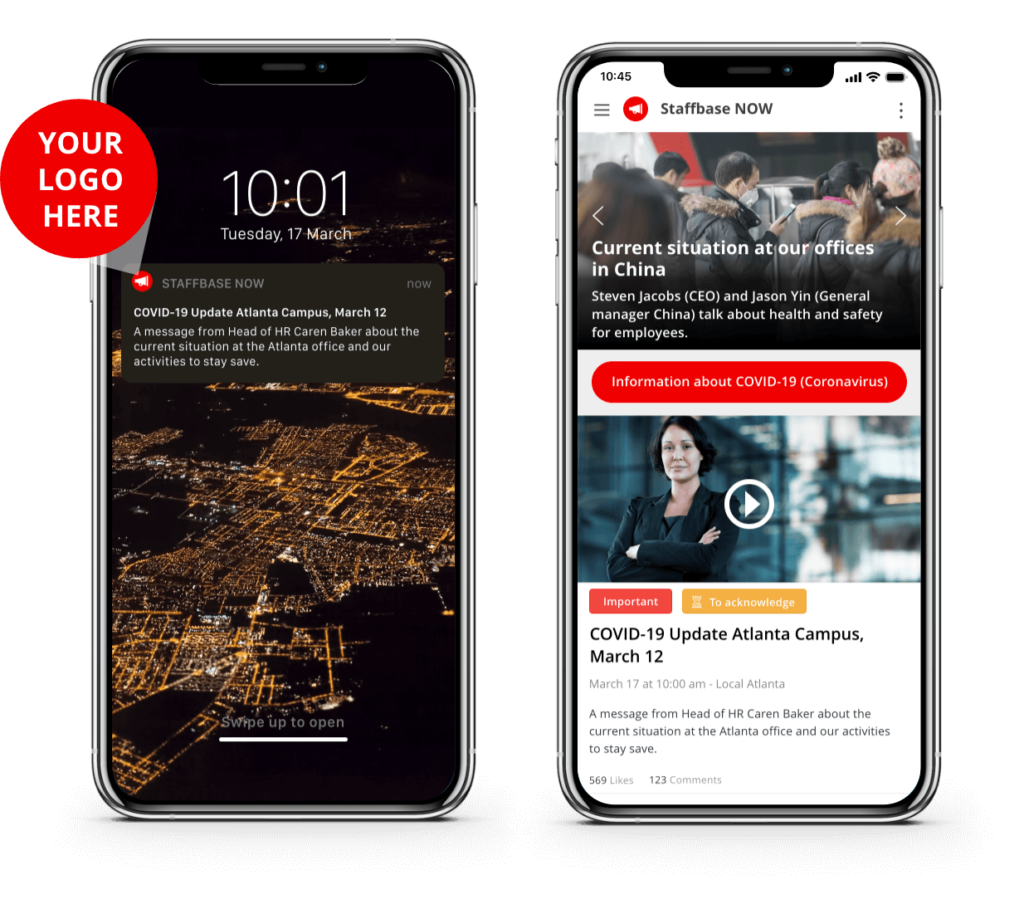 You can push news to your entire company — ensuring your messages will be opened within one hour by 75% of recipients — or target information to employees in a specific role or at a specific location, with updates that are totally relevant to them.
An omnidirectional workforce communications platform — top-down, bottom-up, peer-to-peer — the Internal Communications App allows for social interactions in the form of likes and comments, and it provides automatic translation to ensure that every employee voice is heard and understood. Contributors can use rich media to create engaging news stories featuring videos or photo galleries.
The app features a "focus topic" module that is especially useful for enabling companies to share critical updates such as crisis communications, mergers and acquisitions news, severe weather alerts, or open-enrollment campaign information.
Being unprepared is scary. But don't panic.
Crises happen, and when they do, preparedness makes all the difference. For large companies with dispersed employees, having a channel in place to communicate at a moment's notice with your entire workforce provides a huge advantage when the unexpected rears its ugly head.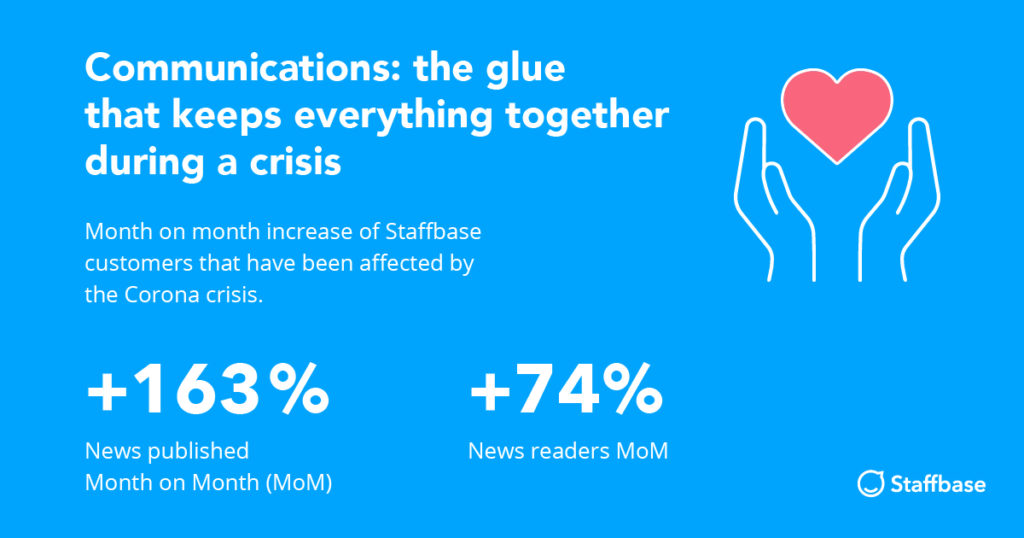 And the numbers don't lie. Staffbase saw that at the start of the Covid-19 crisis, our customers worldwide showed a 165% month-on-month increase in the publishing of news stories and a 74% increase in news readership.
Why? Because employees demand official communications that are clear, reliable, and trustworthy, especially in times of uncertainty. It seems that communication really is the glue that holds everything together in a crisis.
But what if you don't already have such a tool in place? Don't panic — it's never too late.
Unexpected problems require immediate solutions.
The crisis communications app offers fast set-up and quick, easy onboarding. Instantly start building your app, have it ready to roll in only three days, and completely branded and optimized for reach and relevance in approximately two weeks.
1st Day: Give editors access to the platform and let them begin creating content, no training required.
3rd Day: Go live with your own domain and start sending instant email notifications to your whole workforce.
15th Day: Maximize reach and relevance with the launch of your branded native app featuring Push Notifications, downloadable via all public app stores.
People in a crisis have questions. Trusted answers put everyone at ease.
The Staffbase crisis communications app gives communicators a great way to stay on top of their colleagues' frequently asked questions — in the midst of a crisis or on any given day. A custom template based on best practices makes it fast and easy for you to create a single source of truth for your workforce. And an acknowledgement function will tell you who has or hasn't responded to important announcements.
Having a trusted source of information will especially matter in those moments when there's little time to spare. And with a central place for sharing static content where employees can always find the answers they need, communicators won't be overwhelmed with time-consuming emails and phone calls — but instead will be able to keep up with important, fast-breaking developments.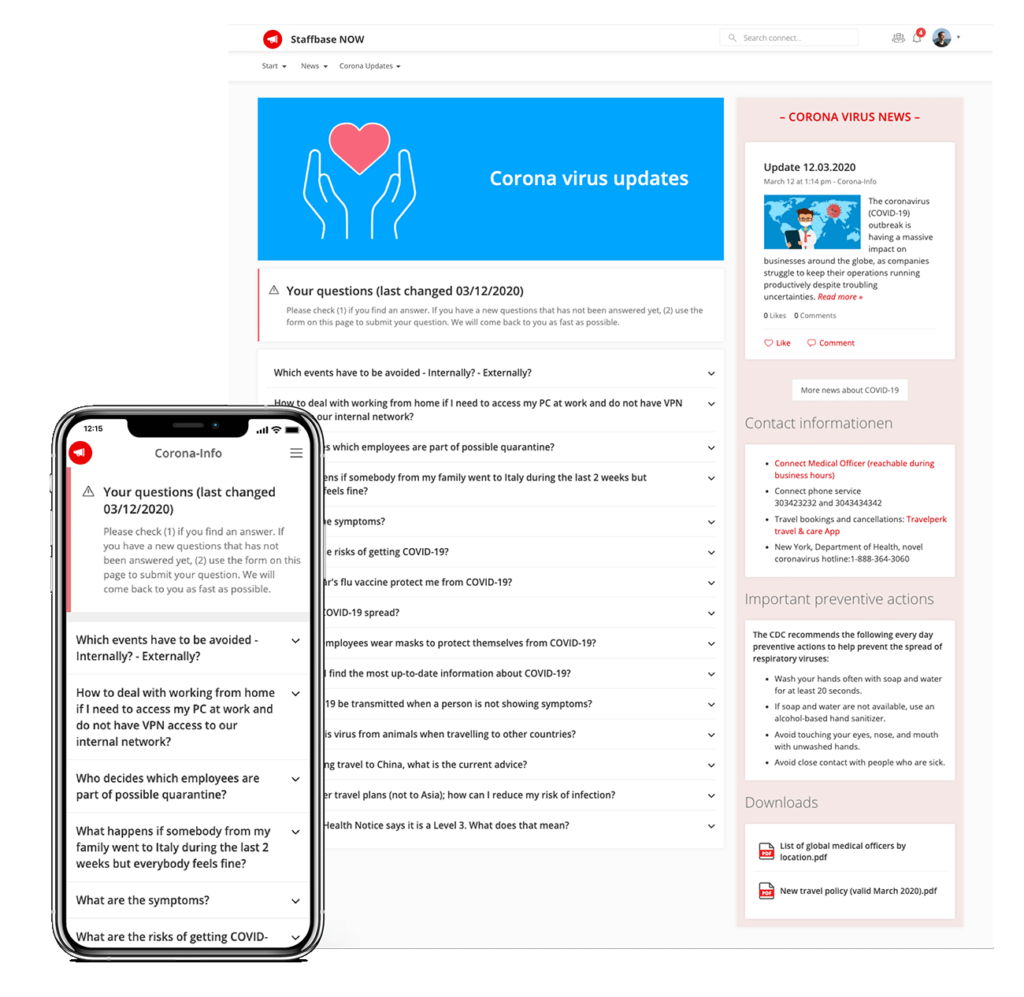 Now that you're ready for anything, what's next?
Our best practices for user management will make it easy to get your employees into the app, with onboarding options that use company or personal email, simple access codes, or integration with your existing user directory.
Staffbase also provides you with an experienced advisor from our dedicated customer success team. They will not only guide you through the design, launch, user onboarding, and content planning for your platform, but help you grow and broaden its effectiveness. You can rest assured that we'll be there when you need us.
And as with every Staffbase product, the app is compliant with ISO 27001 and SSAE-16 standards, ensuring full data security. All information is encrypted with daily backups and 99.9% uptime.
15 ways Staffbase customers managed Covid-19 with a crisis communications app:
Sending push notifications for crucial, time-sensitive announcements
Creating trusted global and regional news feeds
Sharing public information from relevant sources (the World Health Organization, government agencies, etc.)
Building directories of important emergency contacts
Informing employees about proper hygienic practices
Providing dedicated pages where crucial information can be found
Sharing internal guidelines on national and international travel
Activating an acknowledgement function to ensure important information gets read
Localizing specific messaging to targeted groups
Providing structured feedback channels
Distributing forms for submitting employee questions
Opening article publishing for both top-down and peer-to-peer information sharing
Posting videos and photographs showing useful tips for productively working from home
Sharing FAQs to free communicators from time-consuming emails and phone calls
Publishing protocols for when and how to report to a medical point person in the event of illness
"In crisis situations, our employee app is ideal for ensuring that everyone in charge has the same level of information and knowledge, because messages can be quickly sent directly to the mobile phones that people carry everywhere."

Kai Pagels, Product Owner, Online Media Service Team, DB Systel GmbH (a subsidiary of Deutsche Bahn)
Read more about employee communication apps: