Internal communications has had quite a year. 
You made it through the ups and downs of 2020, juggling urgent crisis comms, trying to boost remote employee engagement, and managing everything in between. 
But this post isn't going to rehash all of our collective internal comms trauma (we've probably done enough of that already this year). 
Yes, COVID changed a lot of things. 
But it also highlighted pain points in internal comms that have been bubbling under the surface for years.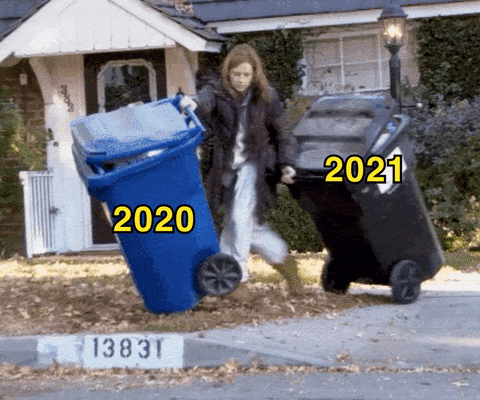 How do we know this? 
We don't have a crystal ball, but we do have Gallagher's State of the Sector—the definitive global report for internal comms. 
(You can download the 2021 State of the Sector Report here.)
Over the past 13 years, the State of the Sector reports have shed light on emerging trends in the IC profession. If you've had the chance to read any of these reports before, you know they're a great barometer to check against when you're trying to figure out what's working and what isn't working in your organization. 
Basically, Gallagher's State of the Sector is one of the only global benchmark reports for internal communications. 
This year, not only are we going to dive into the new 2021 report, we're going to trace these trends back, year after year, to pull out interesting insights and get a more in-depth picture of the state of internal communications.
TABLE OF CONTENTS
State of the Internal Communications Sector Report 2021
Gallagher's 2021 State of the Sector report paints a picture of a rapidly changing workplace—and the value of IC in navigating those changes. 
Although 2020 was a trying time, IC was finally able to definitively prove its influence in many organizations.
But there's still lots of work to be done.
To get a better sense of what's going on in 2021, it helps to first take at how we got here. 
2017 + 2018 State of Internal Communications: Digital growing pains
 2017 Analysis 
(Note: The 2017 State of the Sector report is based on 451 responses from around the world.)
According to the State of the Sector 2017 report, this is when employee social channels were beginning their slow rise in the IC profession. 
Yep. Even though this was only four years ago (believe it or not), face-to-face communication was still king in most organizations. 
But at the same time, employee mobile use was steadily increasing, flexible workplaces were starting to become more common, and employee social channels were emerging as a major trend. 
The social channels trend was largely thanks to Microsoft's shift to Office 365, which featured a bundle of products—including Yammer and SharePoint. 
Although these channels were widely adopted, there still was a major problem: no strategy was in place.
What we are seeing is the rise in these social channels being launched without a purpose or clear strategy to guide them. Whilst it is great to have access to new channels, the lack in many cases of the traditional internal communication team's influence or ownership is leading to poor government and a confused user proposition."
So new tech was being introduced, but without a long-term vision for managing that tech.
And, unsurprisingly, many internal comms pros ranked "technology not fit for purpose" as the second most significant barrier to IC success in their organization. (The first barrier: poor line manager communication.) 
In general, long-term vision and strategy for internal comms was not a priority in 2017. 
 2018 Analysis 
This report is based on 451 responses from around the world. 
Shockingly, this lack of purpose and direction didn't change in 2018. 
Internal technology "not fit for purpose" still held its place as the second most significant barrier to IC success. 

Social channel adoption was still happening, but slowly. Channels like Workplace by Facebook and Slack were implemented at a turtle's pace, and lagged far behind SharePoint and Yammer. 
Employee use was largely "limited": one or two social channels existed in any organization, but were used by less than half of employees. 
On top of that, 2018 didn't see any progress when it came to formal planning, with long-term vision and strategy still a low priority. Like the year before, many internal communicators were in reactive mode instead of proactive mode—for lack of either time, resources, or skills needed to succeed in their role. 

But internal comms pros were also recognizing some key areas to improve in. 
Here are the top 3 responses when asked: "Where will you be focusing your attention and investing your resources over the next 12 months?" 
Communicating strategy, values, and purpose
Improving digital channels 
Enhancing leadership communication 
How did these 2018 ambitions for improvement fare? 
To find out, let's jump to the results of the 2019 and 2020 State of the Sector reports.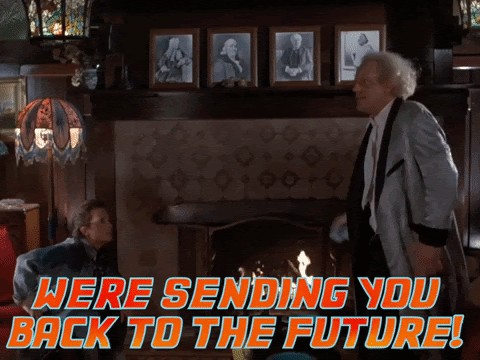 2019 + 2020 State of Internal Communications: Consistent barriers to success
 2019 Analysis 
(Note: This report is based on over 820 responses from around the world. )
The 2019 report showed some significant gains for the IC profession: 
Practitioners said that internal comms was perceived as playing a key role in employee engagement (72%) and having a clearly articulated purpose (75%) 
69% of internal comms pros said internal communicators and leaders agree on that purpose (up from 62% in 2018)
76% reported that internal comms and external comms are aligned (up from 63% in 2018)

But, even with the best of intentions, a lot of the barriers to success still remained the same, namely high volumes of communication. 50% said that an excessive volume of communications or lack of time for employees to engage with messages was holding them back (up from 45% in 2018).   
And although IC was gaining influence in conversations with leadership, 40% of internal communicators said that they weren't heavily involved in all stages of communicating change within their organization.
Overall, planning for the long-term was still a major pain point. 
In the 2019 report, only 38% of practitioners had a written IC strategy covering a period of more than one year—and measurement was listed as a low priority. 
The 2019 report also declared that "digital isn't the answer" and that internal channels were only making IC pros' jobs tougher:
Still we don't feel our digital workspaces are fit for purpose. And all the evidence points towards social media failing to deliver for communicators: half of us now make use of internal social channels, yet more of us rate these as terrible (14%) than amazing (12%). We continue to plough time and resources into digital channels, yet unless we begin doing so more strategically, we'll also continue to make things harder for ourselves."
 2020 Analysis 
(Note: This report is based on over 1000 responses from 45 countries.)
The rise in organizational influence continued in the 2020 report:
70% of internal communicators said that they and senior leaders agreed on the purpose of IC (an amazing accomplishment considering that in the 2015 report, that figure was 53%). 
Two thirds of respondents (66%) believed internal comms is seen as a key driver of the employee experience.
72% said the function plays a critical role in capturing and amplifying the employee voice.
However, the 2020 report also showed there had been little progress with internal comms plans and channel frameworks. The main focus of IC teams was to rely first and foremost on short-term tactical documents, such as communication plans for campaigns. 
In addition to this lack of planning foresight, 43% of 2020 survey respondents said that internal communication is still not consulted and involved at every stage of communicating change in their organization—which is closely aligned with 2019's figure (40%).  
To set the stage for the 2021 report, here are the areas comms pros were looking to improve in 2020 (compared to 2019 and 2018):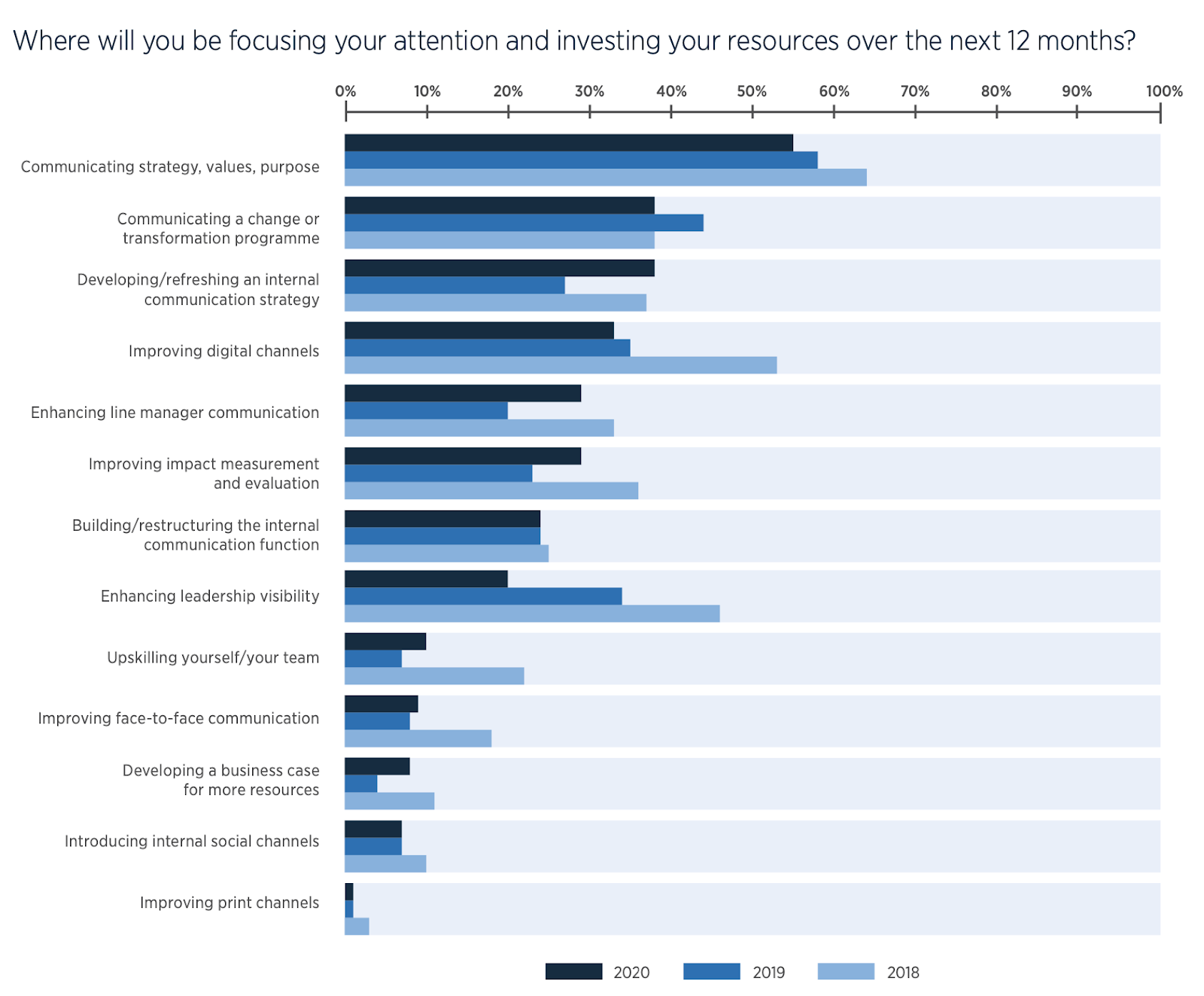 2021: Crisis exposes the underlying issues in IC
(Note: This report is based on 800 responses from 45 countries.)
After looking at the last four State of the Sector reports, it's clear that the barriers to success in internal communications have been persistent. 
There's too much information to communicate, tech is being introduced without a long-term strategy, and there isn't the time or resources to prioritize long-term vision and strategy. 
Despite best laid plans to focus attention and investment in those areas, IC pros have not prioritized them. 
And, unfortunately, as the COVID-19 pandemic forced organizations and internal communicators into crisis mode in March 2020, these barriers were only exacerbated.
Yes, the whole of 2020 was tough. But that's partly because the underlying issues in the IC profession were never addressed.
This leads us to the 2021 report and the top five barriers to success:
Volume of communications is too high - 37%
Poor line manager communication skills - 30%
Disengaged employees - 27% (this is the first year it's been in the top five barriers) 
Lack of analytics -  27%
Internal tech - 24%
It's only now, one year later, that we can see more clearly: COVID exposed the underlying issues in IC. 
The rise in disengaged employees, the lack of analytics, internal tech vision, and support is concerning. 
Internal communicators need to focus on finding solutions to mitigate—or even eliminate—these barriers.  
Because if they're left unaddressed, these barriers will only get worse. 
Investment needs to be a priority—here are the reported top IC investment trends for 2021:
Engaging teams around purpose and strategy - 49%
Developing IC strategy - 41%
Improving digital channels - 40%
Improving measurement - 35%
So what can you do next? 
Don't worry. We analyzed the report and found five major trends that internal comms professionals need to think about as we move into 2021 and beyond. 
Here are the top IC trends for 2021—and what you can do to make sure your internal comms approach is proactive instead of reactive: 
Trend #1: Internal comms is more influential than ever
At the beginning of the pandemic, internal communicators' workloads were intense to say the least. There was even more information to communicate—and more pressure to do so accurately and in real-time. 
This information overload took a toll on internal communicators' daily workflow and well-being: 
When we polled people at the start of the pandemic, 1 in 3 communicators said they were struggling with a lack of human resource in internal communication, 2 in 5 felt under pressure to deliver, and 1 in 5 felt considerably overworked."
It was a trying time. 
Now for some good news.
Despite those challenges, internal comms has persevered—and actually proven its worth and influence in the last year. 
According to the 2021 report, two thirds of IC professionals believe their level of influence on senior leaders has increased during the course of 2020.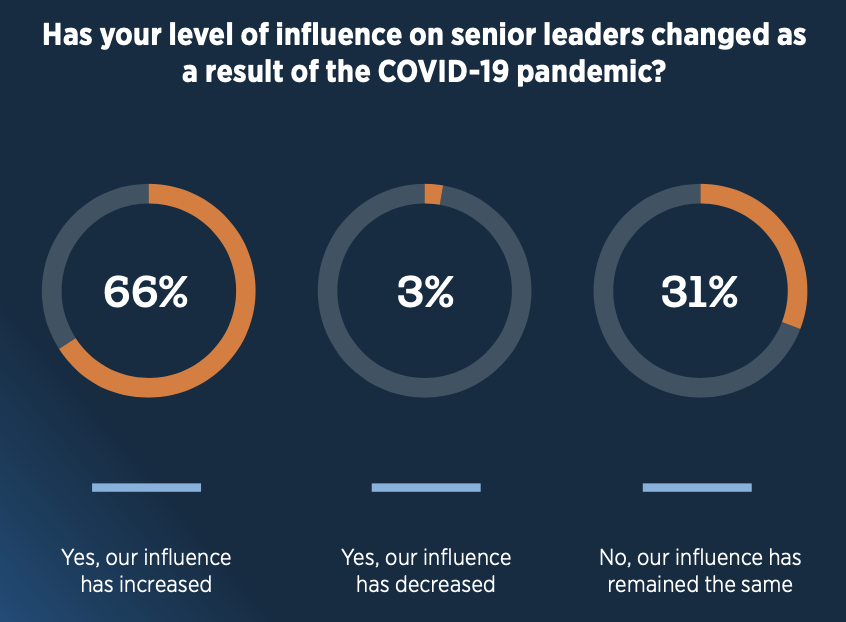 What does this mean for YOU? 
First of all, this increased influence is awesome.
Take a moment to celebrate that.
But let's focus on what this really means for you.
This huge opportunity was hard won, so let's not let it go to waste. 
This is the year to move from being reactive to proactive. 
But where do you start? 
First, think about how you can continue to build and solidify your influence. 
Demonstrate the value of internal comms
One way to flex that influence muscle is to make sure you are presenting your data in a compelling way to leadership. 
Data storytelling is the most powerful way to demonstrate the effectiveness and influence of your internal communications. 
Think about the challenges you've helped your organization overcome. 
Maybe you maintained job satisfaction levels in a tough time. Maybe you increased email open rates across remote offices. Or maybe you successfully rolled out a new channel or intranet. Whatever your 2020 win was, you can create a captivating story behind the numbers that shows how IC is vital to keep everyone connected in your organization. 
By incorporating data storytelling into your conversations with leadership, you'll not only prove the value of your internal comms efforts—you'll also craft a compelling business case.
Not sure about measurement or which data points to highlight? We've got you covered.
Start planning for the long-term
Sure, your organization overcame a lot in 2020, and it's good to highlight just how valuable internal communications was to navigating these changes. 
But now it's time to think ahead and show your leadership team that internal comms is valuable far beyond the pandemic. 
With a well-defined strategy, you'll be able to help shape the conversation around the value of internal comms in your organization in 2021 and beyond, and advocate for the budget you deserve. 
Need some inspiration to get going? 
We did a fabulous webinar with Local Wisdom's CEO and Founder Pinaki Kathiari about scaling your internal communications team, you can watch it here. 
We've got an easy-to-use internal comms strategy template that will help you save time, map out your tactics, and keep you focused on measurable results. 
And we've also put together an internal comms calendar template that you can use to plan your content well into 2021 and get everyone on the same page. 
Now is the time to flex your influence and keep up the momentum you've built. 
Trend #2: The digital experience is now the employee experience
The uptick in internal communicators' influence has largely been shaped by the disruption that employees have faced as they moved to remote-first workplaces. 
With corporate culture changing so drastically, internal comms became the backbone of the work-from-home experience. 
Here's a look at the top three communication channels in 2021 compared to their standing in 2020: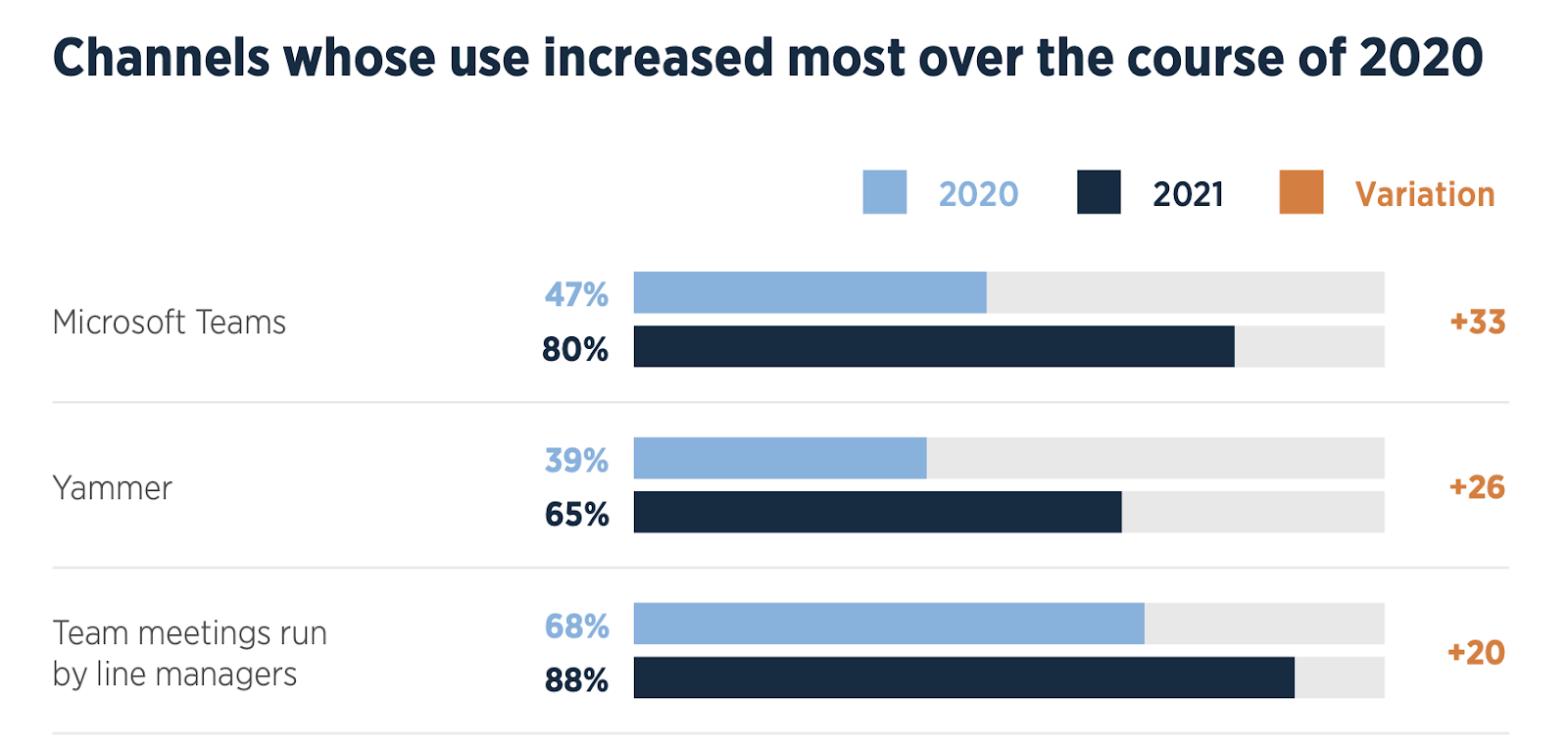 However, even with this massive increase in digital channel usage, long-term planning for these channels is still not a priority. 
Only 51% of communicators have channel-specific editorial calendars and only 50% have a channel framework. 
What does this mean for YOU? 
Just because a specific technology helped get your team through the early days of the pandemic doesn't mean it's necessarily working. 
It's time to move past the quick fixes of March 2020. After all, the digital experience is now the employee experience. 
From virtual town halls (check out our free template) to virtual holiday parties, all our cornerstone touchpoints of workplace culture have gone online.
There's also been a rise in digital communities for employees. 
With remote and flexible work options, more companies are investing in digital channels like Slack, Microsoft Teams, or Yammer for team-building and connection. 
Online communities have immense value and can help people connect, collaborate, and innovate. Heck, we even jumped on the bandwagon and created Comms-unity, a Slack channel where communicators from all over the world can get advice and network (you can apply to join here). 
Although these spaces can never fully replace the face-to-face office experience, it's vital to adapt to a digital format to keep your workplace culture alive—and thriving. 
Tony Stewart, head of digital at scarlettabbott, gave some advice to IC pros in our Ask the Experts webinar on digital community building:
It's the role of the internal communicator to ask: 'how do we nurture employees' social communities and keep them going?'

Because those communities underpin the culture of our business, which is a very important thing to look after.

And then, [think about] how the digital platforms you have at your disposal help support these communities."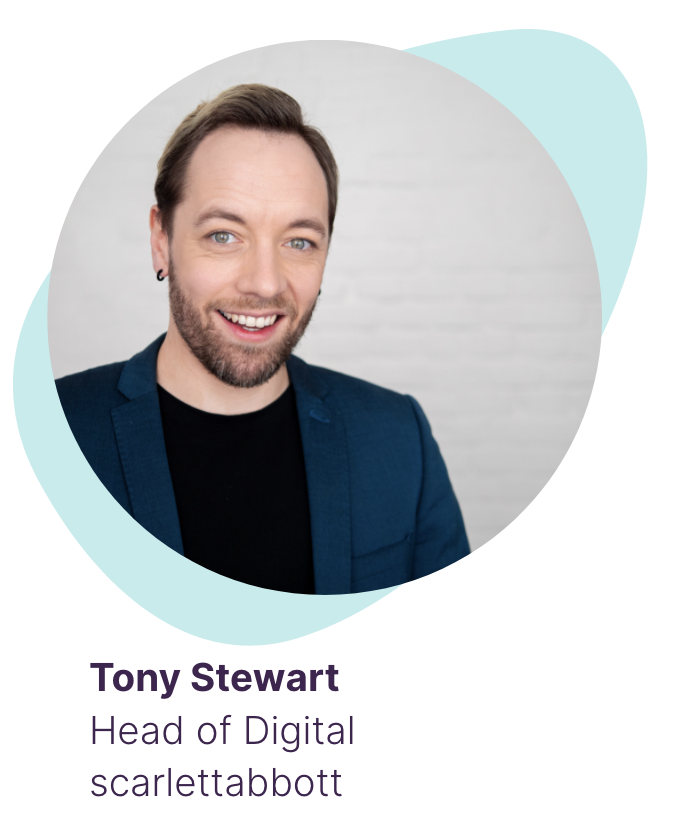 Digital is just another way to enable connection and collaboration. And that doesn't happen instantly. It takes hard work and planning to map out the purpose, vision, and strategy.
But don't worry. It's possible and immensely rewarding. 
Kevin McDougall, Employee Experience Director at Gallagher, recommends all internal communicators start by assessing their employees' current digital experience: 
Right now is the time to start thinking about your long-term digital strategy.

So take a good look at the current state of your digital experience: does it honestly fit the need of your employees?

Does it actually align with your established ways of working? Or have you been operating from a 'make do and mend' viewpoint with an 'it'll do for another month or so' mantra up to now?"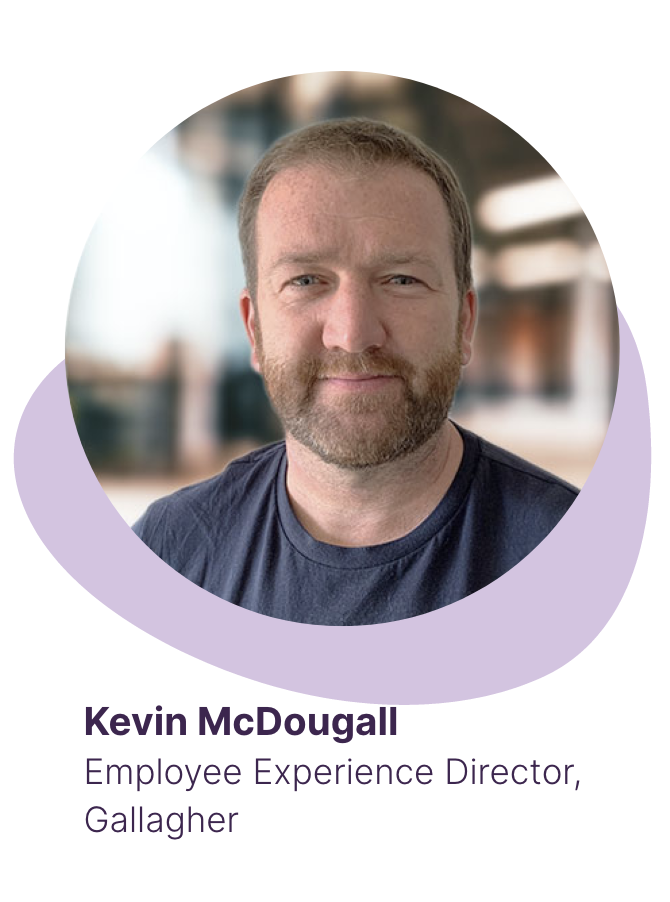 To get a sense of whether your digital communication channels are helping or hindering your employees' experience, evaluate and reassess: 
Which channels are cluttering your efforts and only creating more noise? 
Which channels are the most valuable and essential to your employees' experience?
How can you scale these sustainably for the long term? 
Trend #3:  A more empathetic workplace culture
Although many organizations are embracing the digital experience, organizations have also never been more people-focused. 
In particular, mental health and wellbeing, along with diversity and inclusion, are top of mind for 2021: 
That's because this past year has been both trying and transformative. Pivotal moments in the pandemic and social justice movements like Black Lives Matter have shifted perspectives and priorities around the world. 
Now, organization-wide cultural change is top of mind for leadership teams, too. 
The top 3 change-related programs planned for 2021 include: culture change (43%), process/procedure change (40%), and systems change (37%). 
As with any organizational change, employee feedback is more important than ever. 
When it comes to capturing and amplifying employee feedback, 85% of internal communications said that IC has a key role to play. 
"Over 1 in 3 internal communicators 'strongly agree' that the function plays a critical role in capturing and amplifying the employee voice, with a further 1 in 2 'agreeing'; just 15% disagree this is the case, down from 28% in 2020. 
It's clear that the importance of seeking feedback and ideas from employees has gone from strength to strength as organizations advance through the pandemic, too." 
What does this mean for YOU?
Times are a-changin'. 
Your organization might be looking at a complete culture shift, or maybe you're seeking insight from your employees to help guide systems change. 
Whatever lies ahead, you're going to have to get comfortable communicating change to your organization—because change is not going anywhere.
Once mastered though, change communication will have a significant impact on your employees' experience and your organization as a whole. 
And it will only strengthen you as a critical thinker and communicator. You'll be able to say that you weathered challenging times strategically and empathetically.
But it's not always smooth sailing. 
When chatting with Priya Bates ABC, MC, SCMP (president of Inner Strength Communication) in 2020, she emphasized that internal communicators need to consistently work on their change communication skills: 
I think we're doing a pretty good job providing the content, the facts, and what's happening.

But we're not actually telling people why we're making the decisions we're making.

We're so focused on telling them the stuff and checking the box and saying 'we did it', that we're not providing humanity, the context, the caring, and the reasons why we're making those tough decisions."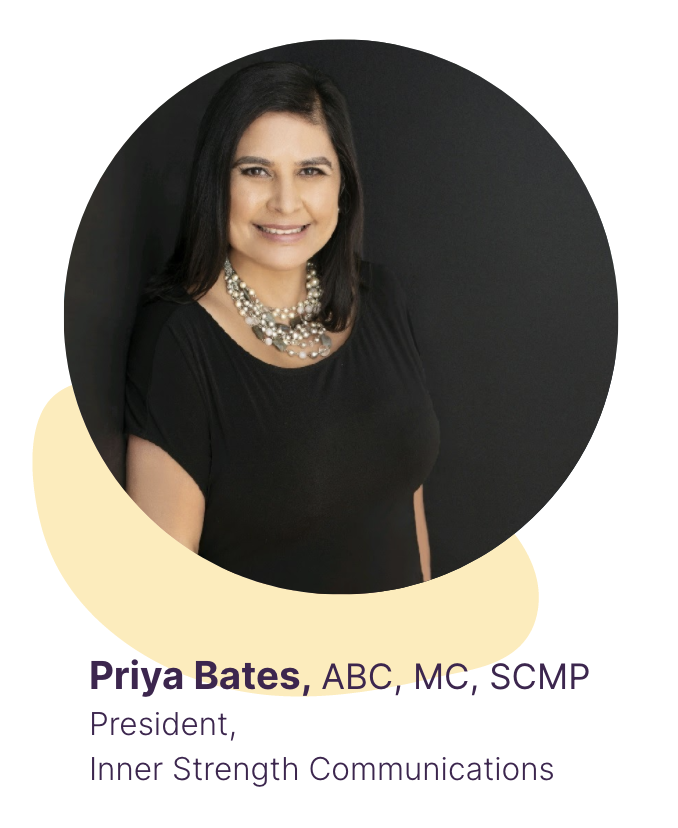 We couldn't agree more. 
It's been an emotional year, and if we lose sight of how our communications reflect and play into how everyone is feeling, they will be ineffective at best, and damaging at worst. 
On the flip side, if we can approach our communications with empathy, we have the opportunity to really make a difference. 
Empathetic communications and strategies positively impact employee happiness, alignment and, ultimately, retention.
Helen Deverell, an internal comms consultant, explains how an empathetic approach can help cultivate trust: 
People have to believe that what they will see from you is going to be genuine; that it's going to be in their best interest.

They need to understand the why."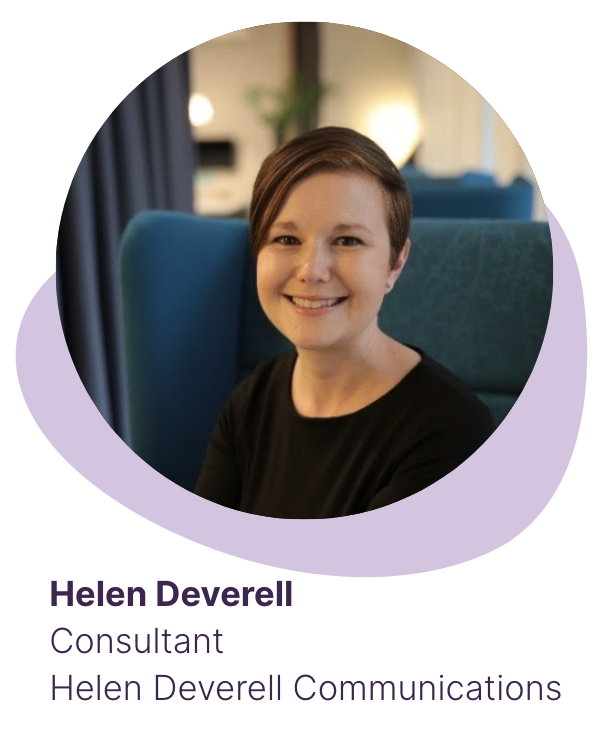 When employees see that you're being honest, genuine, and acting in their best interest by admitting what you don't know and committing to listening, you can make them feel more comfortable with uncertainty—and feel more connected. 
But how do you know your empathetic approach is working? 
It's time to talk about measurement… 
Trend #4: Measurement needs to be a top priority 
Let's acknowledge the elephant in the room: Measurement has long been neglected in internal comms. 
How do we know? 
Well, the past State of the Sectors have made that point clear with (guess what?) data. 
The jury is in. It's time to make measurement a top priority moving forward. 
Here's a look at the stats from the 2021 report: 
Measurement practices
Only 5% consistently benchmark IC practices with peer organizations
53% never benchmark, but would like to
20% rarely or never measure reach
25% rarely or never measure understanding
40% rarely or never measure satisfaction with IC
Measurement barriers
73% lack time and resources
51% lack metrics and technology
46% lack benchmarking data
39% lack data analysis technology
37% have a lack of skill in data analysis
27% say there's no interest from the business to measure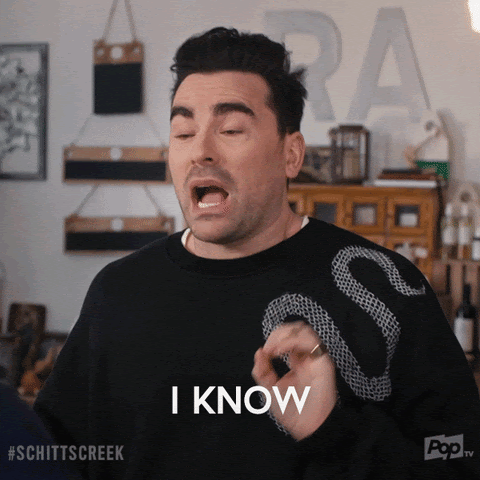 There's a lot to unpack here. 
First of all, measurement is essential to demonstrate the success of internal comms. 
As we mentioned earlier, 2021 cannot be the same old same old. The reality is that post-COVID, it may be harder to demonstrate how successful comms is without crisis after crisis. 
If you want to hold on to your increased influence in your organization, you need to set measurement benchmarks. You need to know what works and what doesn't and be able to prove it. 
Measurement is also an essential part of proactive communication—especially if you want to implement strategies that actually work and build trust with leadership.  
Many internal communicators are already one step closer to measuring the impact of their comms. According to the 2021 report: 
74% use engagement surveys (+10% over last year)
68% use pulse surveys (+25% over last year)
56% use email metrics
47% use line manager feedback
41% use social channels (down 6% from last year)
Both engagement surveys and pulse surveys have seen a significant jump in use, with email metrics not too far behind.
What does this mean for YOU? 
Measurement isn't as scary as it sounds. 
After making it through 2020, is there anything you can't do? 
But if your main barriers are still lack of time, resources, and technology… allow us to introduce ourselves
Staffbase Email can help you send engaging emails and measure both reach and employee feedback. 
How?
Pulse surveys
Pulse surveys are one way to get insight into what your employees really want. 
You can track sentiment, comments, and share your results with leadership to show how employees are reacting to company-wide initiatives. You also have the ability to customize your questions, response scales, and even the survey design and type. 
Pulse surveys are especially great for remote work. 
If you're missing opportunities for in-person conversations and feedback, this is one solution to keep your employees engaged and make sure their voices are heard. 
Email analytics
Want to get deeper insights into your audiences?
With Staffbase Email's analytics, you can get the insight you need to create data-backed, effective internal comms strategies. 
You can figure out which email content is most popular, what needs improvement, and how your communications design may be helping or hindering engagement. 
And, if you want more insight, you can even break down your analytics by employee segments—like open rate by department, location, or even job title. 
This helps you track trends across employee segments so you can identify which content resonates with which groups, where there may be engagement issues, and how to make your communications more relevant to certain employee groups. 
Trend #5: Email is still a powerful tool
Staffbase is all about helping you create meaningful internal communications. So we found it super fascinating that—out of all digital channels—email remained not only constant in use, but also pretty powerful.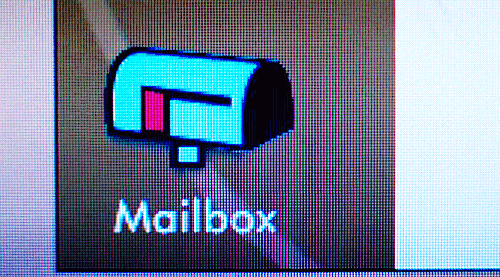 Year over year, email is consistently ranked in the top three for "very effective" or "quite effective" digital channels. 
And in 2021, that hasn't changed. 
This year's report reveals that email announcements are still the main channels used by organizations to share corporate messages.
Frankly, we're not really surprised. 
Why?
First of all, most people have an email address—it's a standard form of communication. Email also doesn't require VPN or workplace access. 
Further, the internal email tools available have become awesome, making it easier for internal communicators to design, target, and measure the messages they send.  
That's right. 
Email is finally evolving. 
One of the most interesting ways internal email is evolving is the rise of subscription centers.
Subscription centers give employees the opportunity to select, opt-in, or customize which emails they want to receive. (This should be pretty familiar to anyone who has worked in external communications, as they are a staple of email marketing.) 
And they're becoming pretty popular. The 2021 State of the Sector report saw 42% of internal communicators citing subscription centers as a key trend for the future. 
As the digital experience becomes the employee experience, it's no surprise that communicators are moving to this subscription center model. Employees are dealing with information overload and want to focus on the emails that are most relevant to them. 
Don't have a subscription center? 
Don't worry. A lot of people don't. 
You don't need a subscription center built into your comms platform to effectively do the same thing. 
All you need is the ability to create custom distribution lists. 
Like subscription centers, they allow you to cut through the digital noise by targeting employees with only the communications that are relevant to them based on segments like office, department, and location.
Using custom distribution lists helps you to reduce employee email overload while still ensuring all employees get your most important messages. 
One thing custom distribution lists have over subscription centers is that they don't allow employees to unsubscribe, so you never have to worry about employees missing relevant information. 
With more control over your lists, you can evolve the internal email channel in your organization and truly make it the most effective channel it can be. 
The problem with State of the Sector
We love the State of the Sector. 
As an internal communications technology vendor, it gives us huge insight to what problems our audience is facing and how we can help them improve. 
But if you're an internal communications pro and you're just reviewing the stats and lamenting all the barriers to your success, it's not going to be much help to you. 
This isn't the time to nod your head and agree, hope things change, and then go back to the same old same old. 
If the past reports are any indication, we've known the areas we need to improve for years. And unfortunately, if we keep on the course we're on, in the State of the Sector 2022 report, things might not look that much better.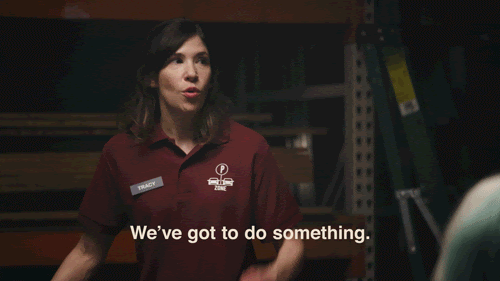 2021 is a call to arms: be proactive. 
Don't wait for another crisis. 
We need to start actively mapping out how we will reshape internal comms in our organizations. If nothing else, we need to prioritize planning for the long-term so our teams are better prepared to weather whatever unforeseen storm is ahead. 
Any year could bring  "unprecedented" situations. It's not just an overused word reserved for 2020.
There is no better time than now. 
And we're here to help.