If you treat an individual as he is, he will remain how he is. But if you treat him as if he were what he ought to be and could be, he will become what he ought to be and could be."

Johann Wolfgang von Goethe, possibly referring to the psychology behind team-building events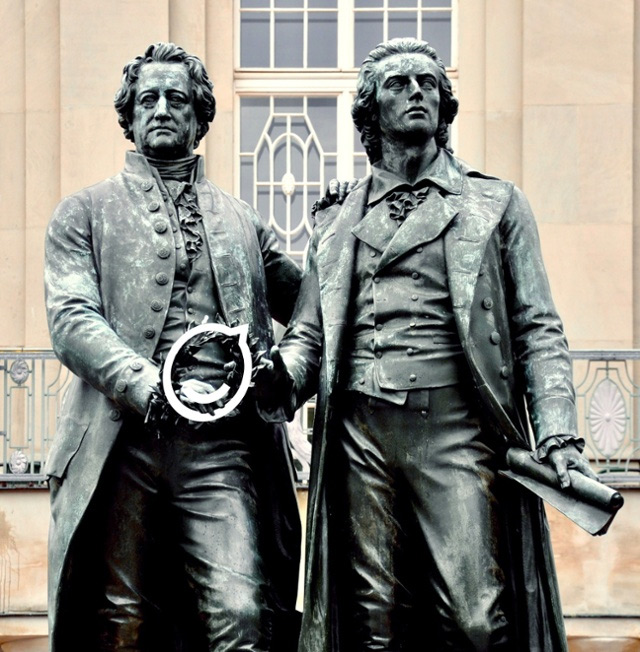 Ask any good German what first comes to mind when thinking about the city of Weimar and the answer is likely to be the name of the famed writer and statesman Goethe. But ask an employee of Staffbase and it's just as likely they'll tell you, "Bubble Soccer."
Weimar was the site of the recent Staffbase team event, two days of strategizing and fraternizing centered around the gorgeous Villa Haar, built in 1885 and modelled after the Villa d'Este in Tivoli. Bought by the textile merchant Otto Haar in 1905, it was briefly a home for orphans following the Second World War. Nevertheless, it's safe to assume that this was the first time the grounds had ever hosted a high-striker.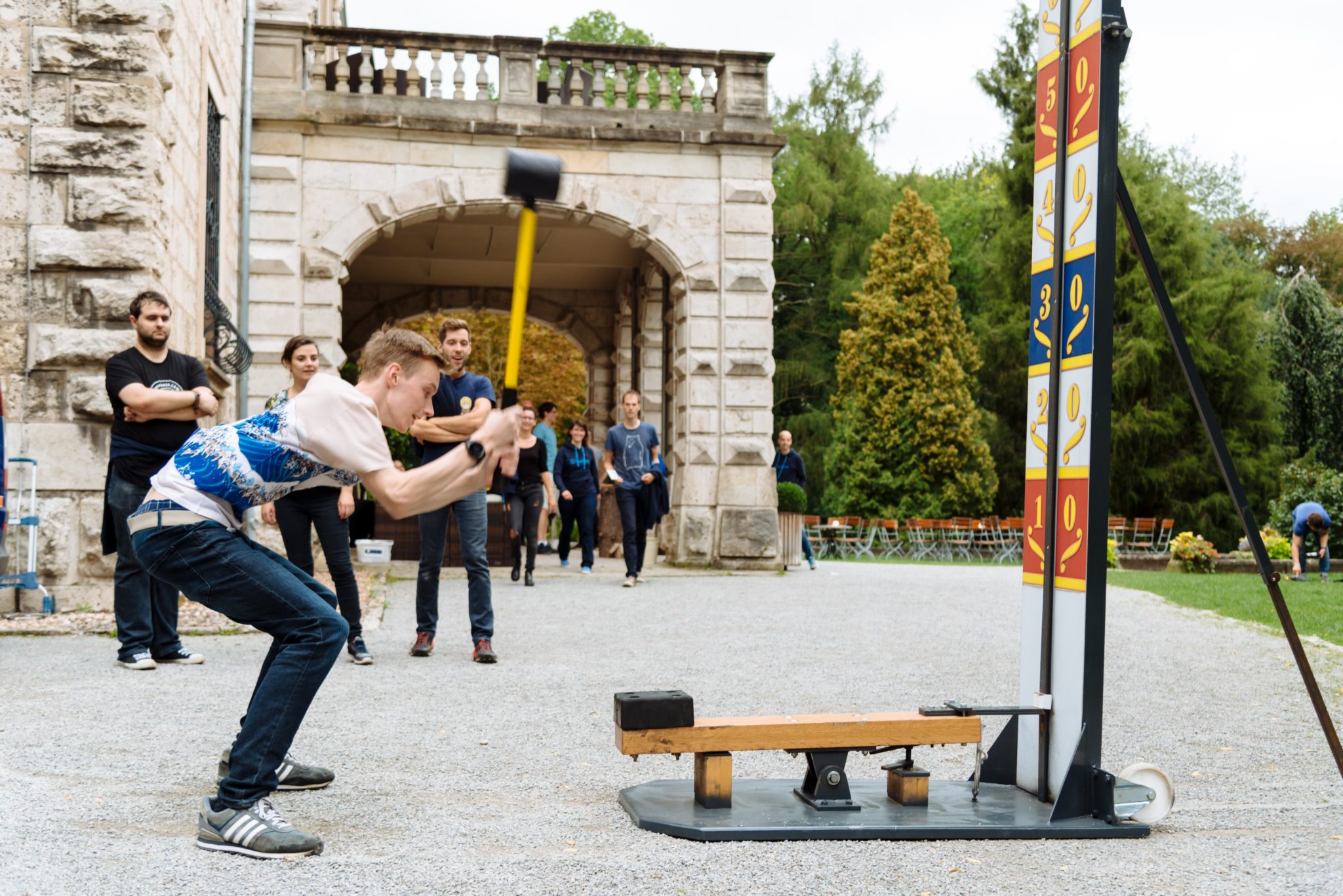 The event was particularly special for the inclusion of Staffbase's New York team. The five Americans arrived in Chemnitz two days before the event-ample time to admire the city's famed Karl Marx Monument and have a few local beers on the shores of the Schloßteich. The office also hosted a company-wide lunch featuring the German delicacy charmingly known as "pizza."
Divide and rule, a sound motto; unite and lead, a better one."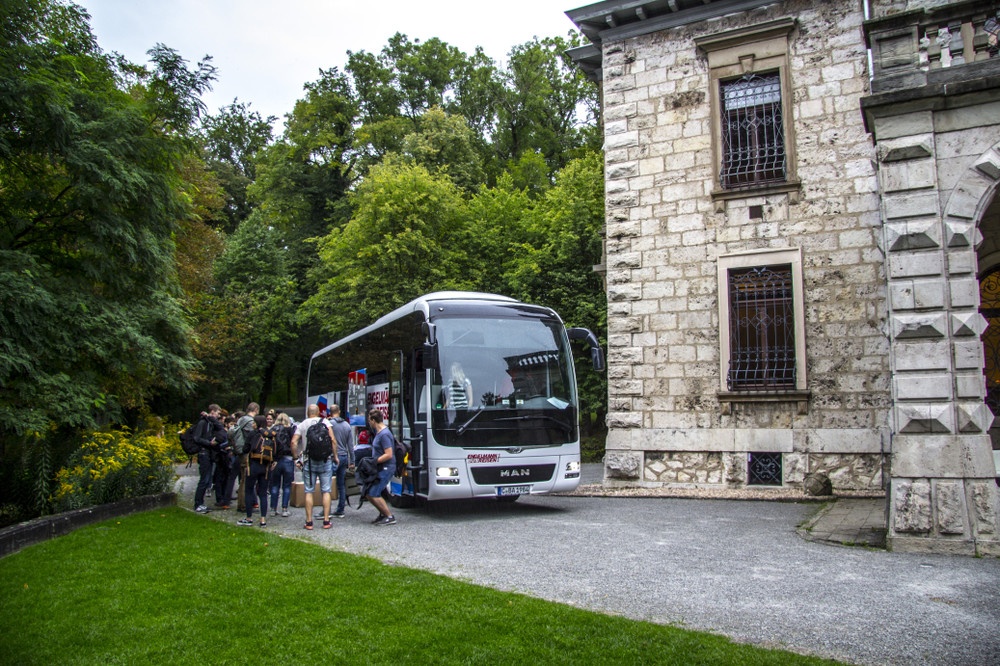 On Thursday morning, the entire Staffbase team of forty-four employees met and prepared to board a MAN bus (appropriate, as they're a valued customer). Seeing everyone gathered together, it was easy for some Staffbase veterans to recall that it was only two short years ago when the nascent Staffbase workforce could easily fit into a couple of river rafts. 
After learning just where it was they were all heading (which had been a very well-kept secret), CEO Martin Böhringer, moonlighting as a tour guide, announced the agenda for the next two days as well as a warning, "Get ready for some strategic thinking!"
Once the intrepid driver had navigated the narrow 19th-century lane to the villa, the team stepped off the bus and was immediately presented with custom hoodies sporting the Staffbase logo. And not a moment too soon, as temperatures were falling along with some light rain.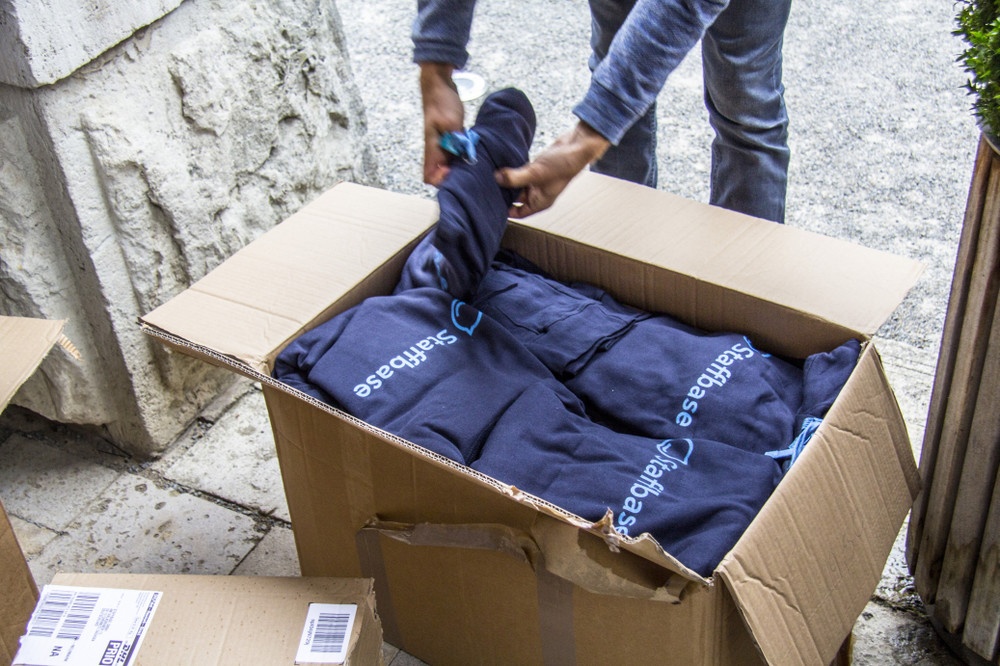 Coffee and cake were served before everyone gathered for presentations by Martin and co-founder/CMO Frank Wolf. The latter asked the crucial question, "Who are our customers?" The discussion focused on the challenge of building on the company's early achievements, and emphasized the necessity of "crossing the chasm" in order to successfully bring their cutting-edge employee app to a larger, albeit more difficult-to-reach market.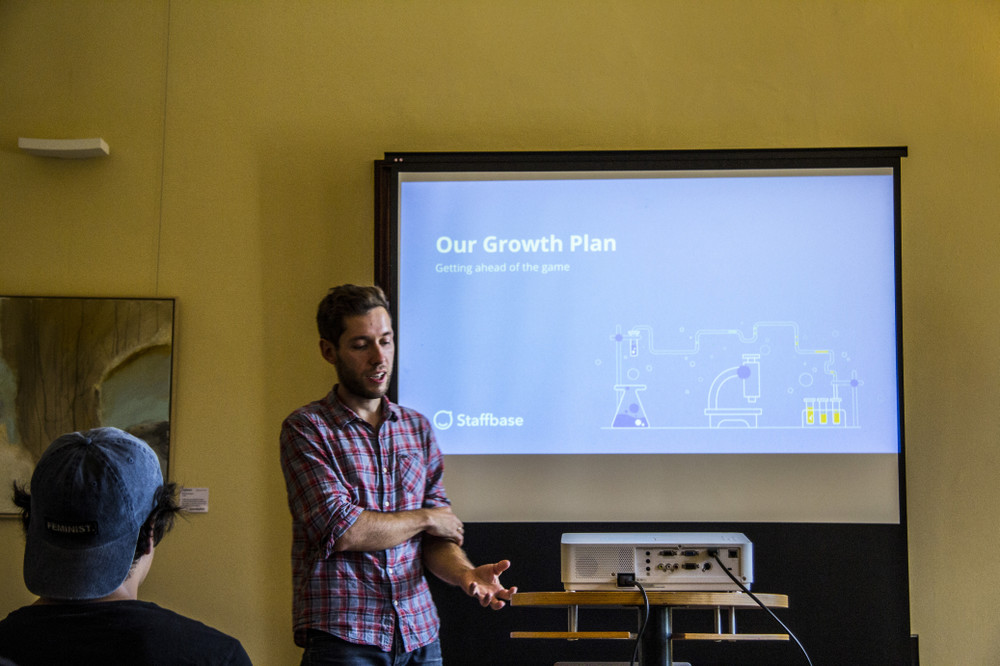 Martin followed with a presentation outlining Staffbase's continuing expansion, taking a quick look back at the company's rapid development, and discussing its ambitions for the next twelve months: targeted outreach to larger organizations; the hiring of new employees to meet the increased demands that will naturally accompany growth; and finding new facilities to accommodate the quickly multiplying staff. It would not be an exaggeration to say that the company's ultimate goal is for worldwide domination of the employee app market. But first it was time for lunch.
A Mittagessen of tomato and mozzarella, pulled pork, grilled veggies, and salad, and then it was back to work-but not before Frank led the entire room in a round of "Rock, Paper, Scissors" (aka Schnick, Schnack, Schnuck). It was the kind of ice-breaker for which Germans are supposedly averse, but it did the trick and soon everyone was getting down to business, splitting into departmental teams in order to brainstorm OKRs (Objectives and Key Results) for the remainder of 2017.
Many strong ideas were put forth, but the biggest takeaway might be seeing how every Staffbase employee-be they in Customer Success, Development, Marketing, Operations, Product, or Sales-seems eager to take on new challenges with ambition to match the great potential of the Staffbase employee app in transforming the way people work. It's been said that the culture of a company should reflect the virtues of its brand, and that is certainly true of Staffbase: innovative, adaptive, communicative, and fun. 
Enjoy when you can, and endure when you must."
Just when people may have begun to think that the day would be all work and no play, they were led out onto the beautiful grounds for some well-deserved Spaß. By late afternoon the rain had ended and the games began: basketball, (wooden) cow milking, the aforementioned high-striker (also known as a strength tester or strongman game), knife throwing, Stump (or Hammerschlagen), ping pong, and of course, bubble soccer. "Staffletes" picked numbers from a hat and split into teams of three, moving from station to station to face off in these surprisingly competitive matchups.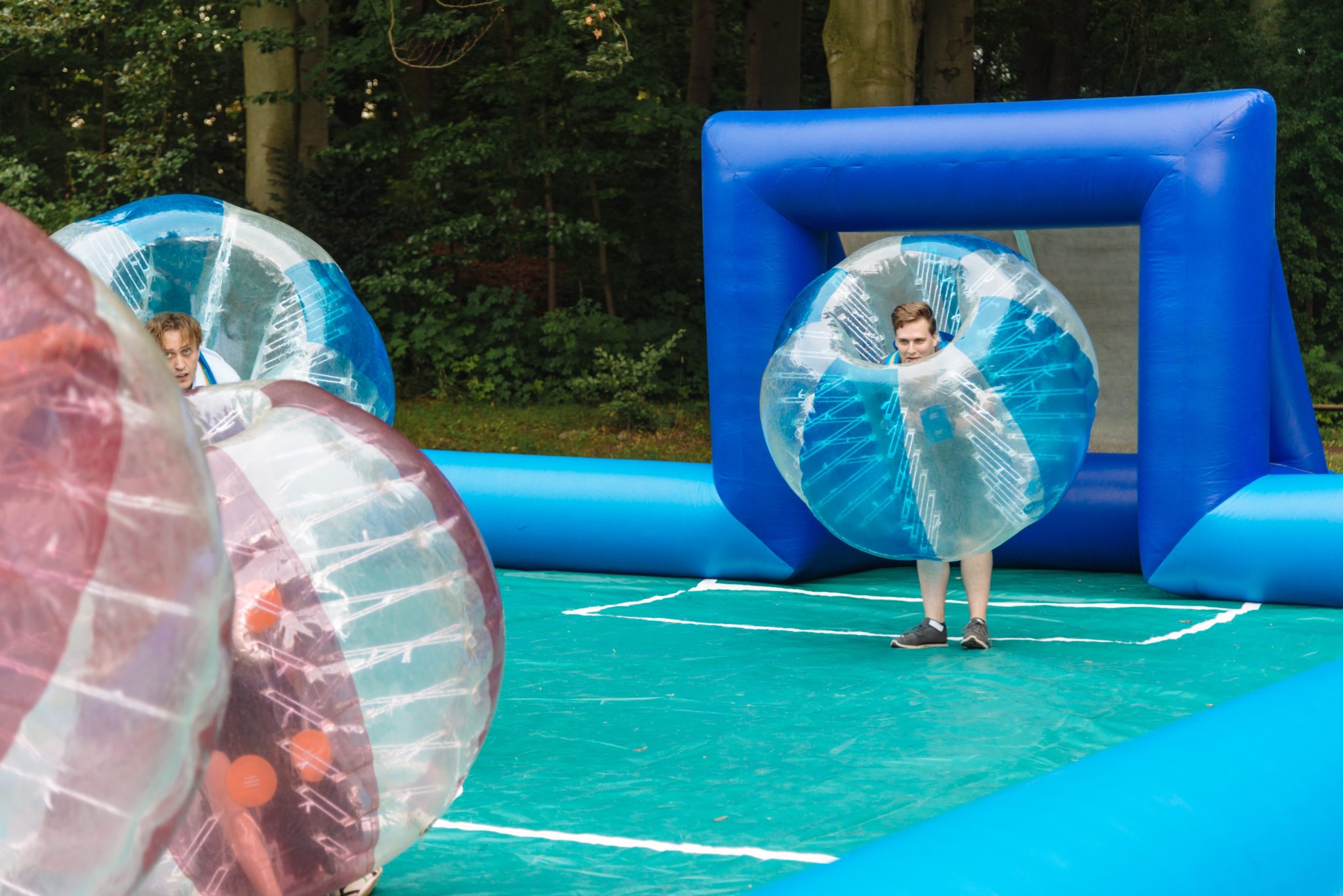 The winning team members James, Stefan, and Daniel were presented with Oscars for their performance, but their achievement was no act. As playful as the games were, doing them well took skill and teamwork. The joke was that the losing team would be tasked with opening a Staffbase branch in the Far East, but as of this writing, no one needs to be brushing up on their Chinese. At least not yet.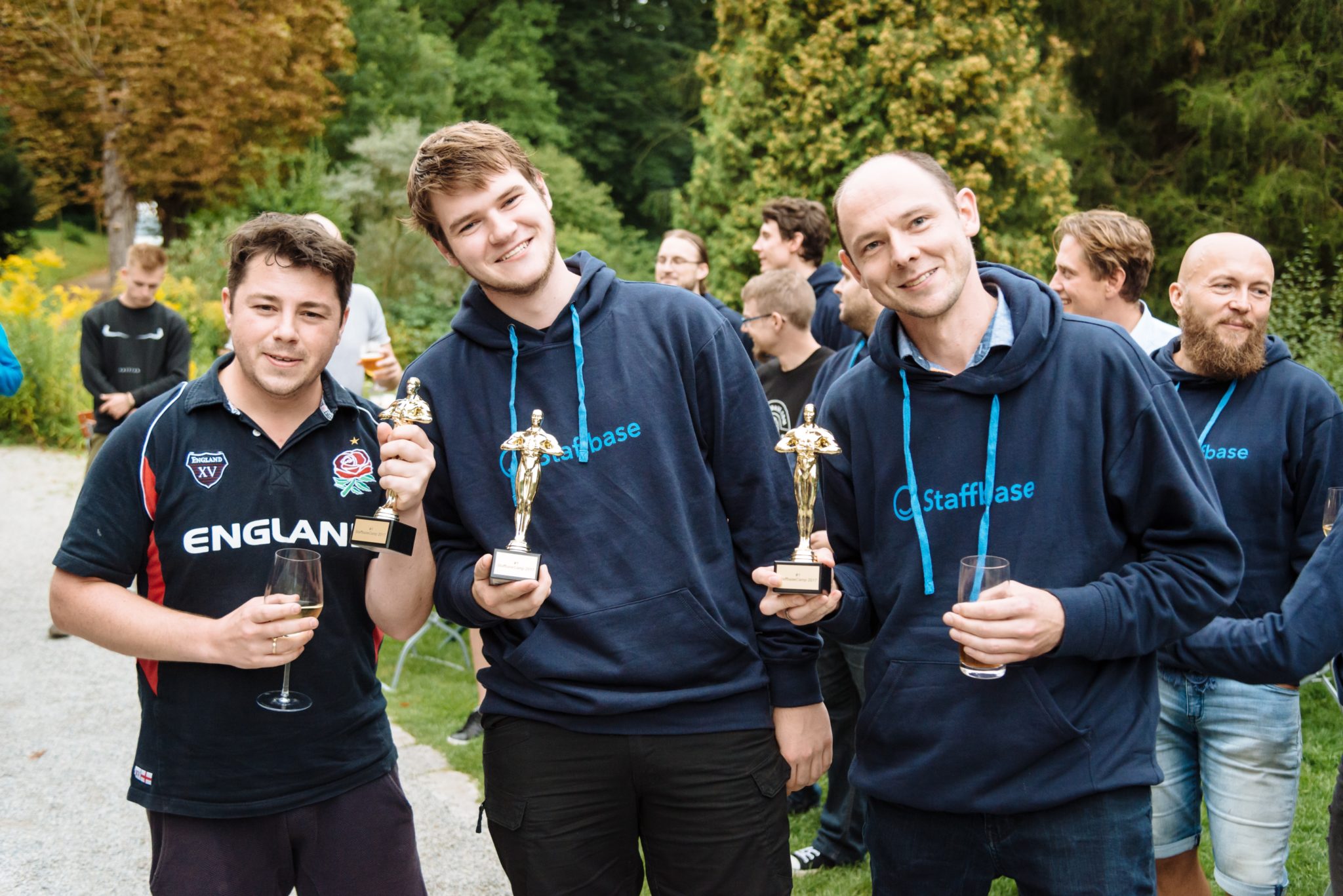 Not surprisingly, the games left everyone with a healthy appetite, which was met with a truly delicious BBQ feast. As the night wore on, we ate and drank while floating from table to table to discuss work, family-and even American football. The group then made the ten minute walk to their hotel (which created a bit of a buzz among team members who were aware that the establishment needs a better employee app). Collecting our room keys, we all went straight to bed for a good night's rest.
Not! 
Das also war des Pudels Kern."
If you want to truly experience the capital "R" Romanticism of Weimar, it's best to see the city at night. Just as the German intelligentsia would historically meet for daiquiris and disco dancing in the city center, so too did Staffbase disperse to various Kneipen and salsa clubs to get a better sense of the deep intellectual activities for which this cultural capital is so well known.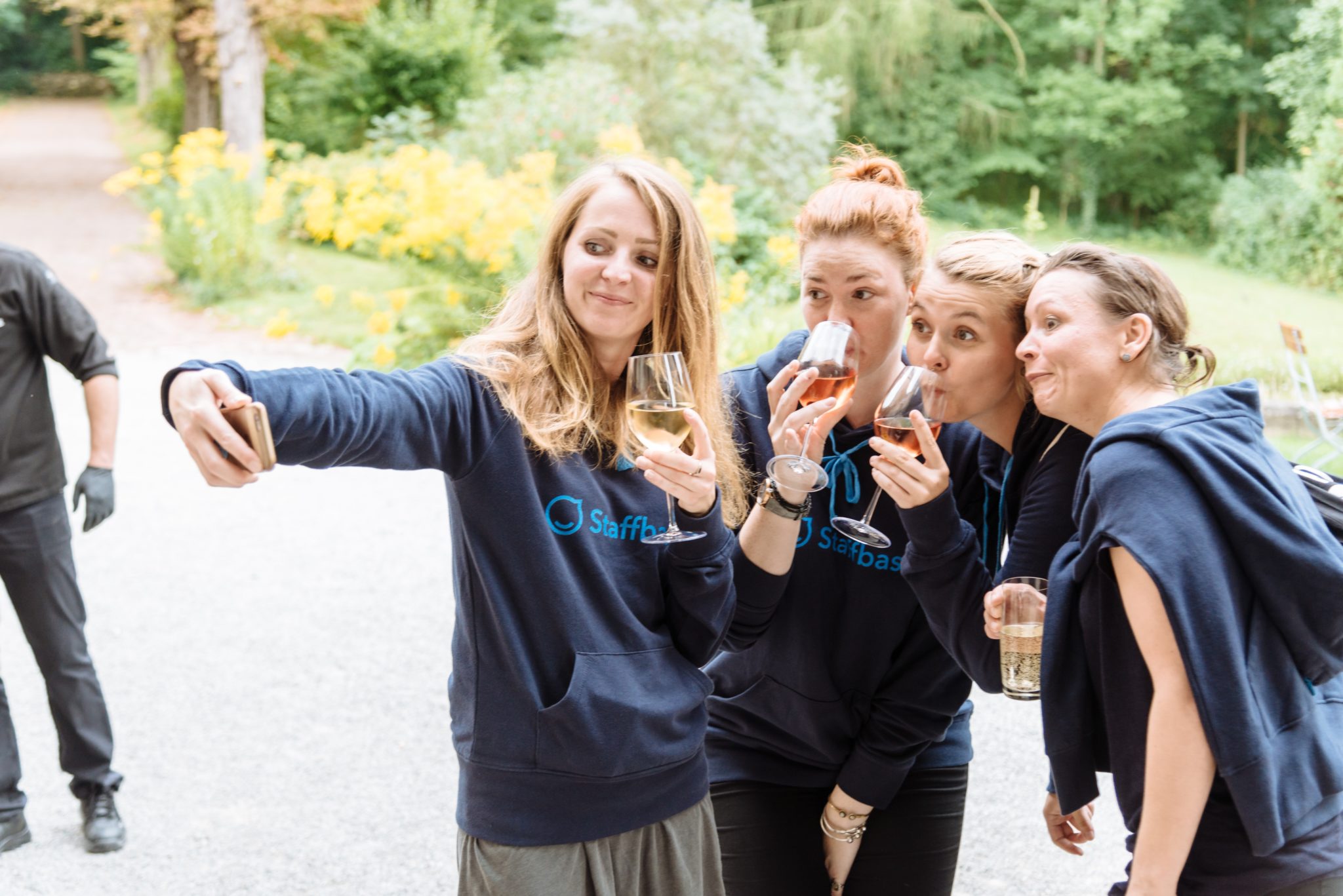 The following morning, those who had in fact made it to bed woke up (or not) and prepared to tour Weimar in two groups, one for English-speakers and the other for natives. Walking through the grounds of one of Weimar's famed parks, we were greeted by statues of Carl August, Bach, and even William Shakespeare, who seemed just as astonished to find himself in Weimar as some of our more sleep-deprived colleagues. Walking these illustrious paths led some Staffbase intellectuals to ponder certain eternal questions regarding the nature of aesthetic truth such as, "Could Franz Liszt have thrown a decent curveball?" and "Schopenhauer? Isn't that a breed of dog?"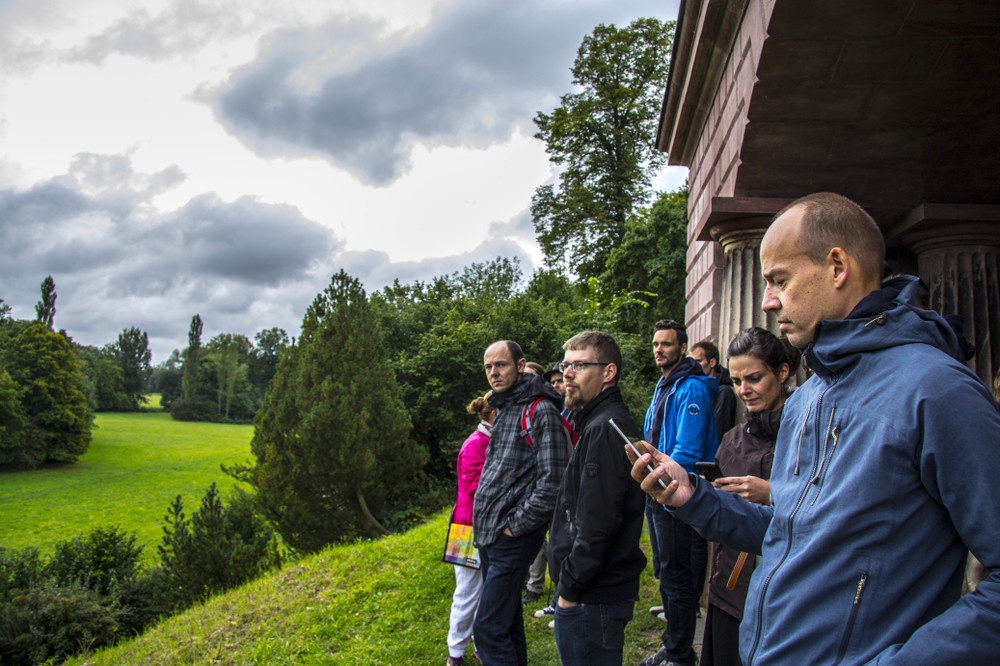 Saying goodbye to our American teammates, the Chemnitz-based staff retreated to a local restaurant where the chef was obviously head-over-heels in love. Following our meal, some drank strong coffee, some decided upon more alcohol, and others, in true German fashion, drank nothing at all, knowing that beverages would be free of charge back at HQ.
As the exhausted workforce returned to Chemnitz and stepped off what they now considered the official Staffbase "Team Bus," it was difficult not to imagine what the next year would bring, knowing full well that with a clear and realistic plan for our future goals now firmly in place, it would be full of fun and challenges, not so unlike the previous two days.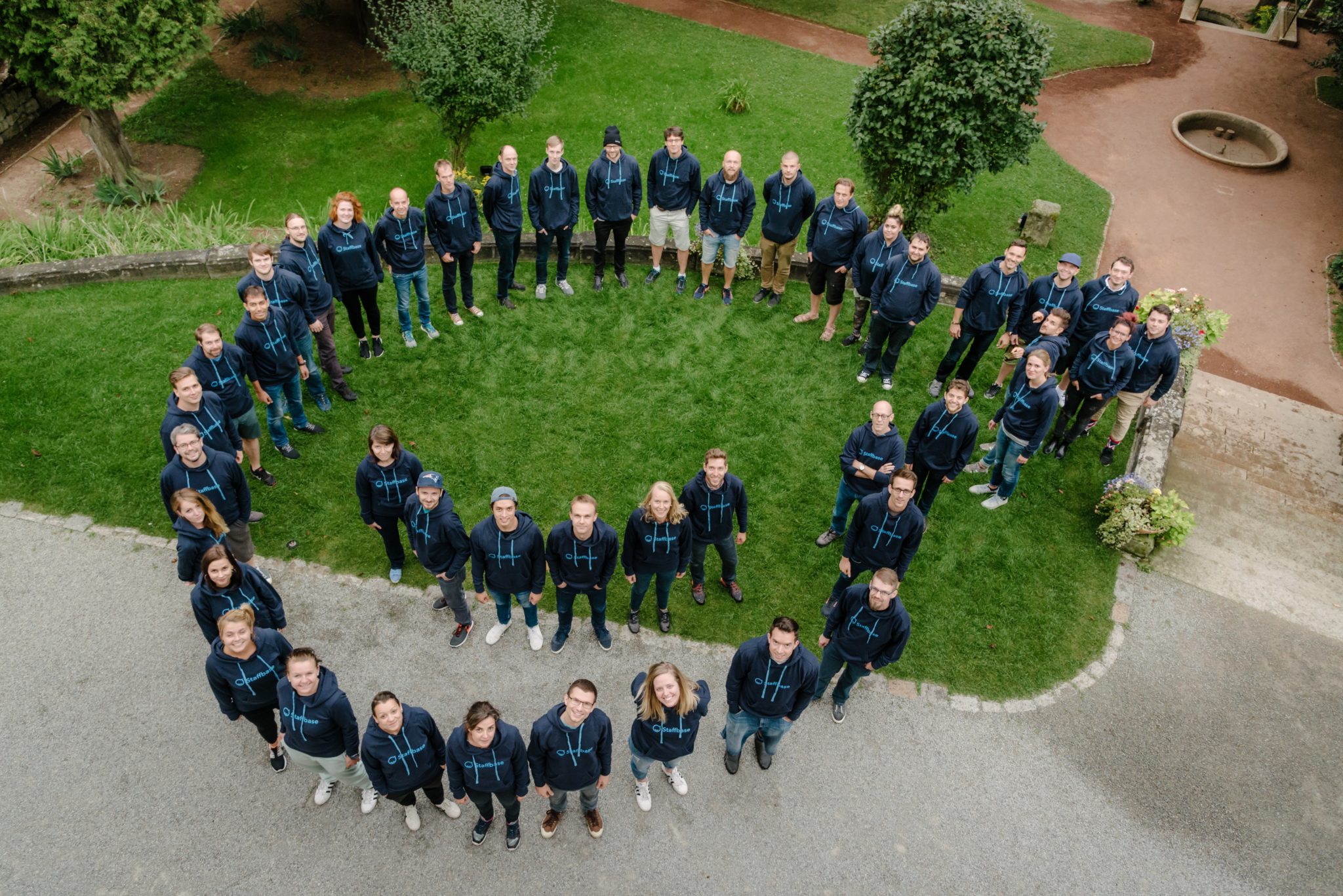 If you think you might be a good fit for the Staffbase team, why not get in touch? We're always looking for people like you!
Learn more about how and why companies choose Staffbase: